Have you ever discovered a brilliant teaching idea that you wish you had known sooner? Here are more than 40 amazing teaching hacks that will help you save time, organize your classroom, and solve your most challenging storage problems!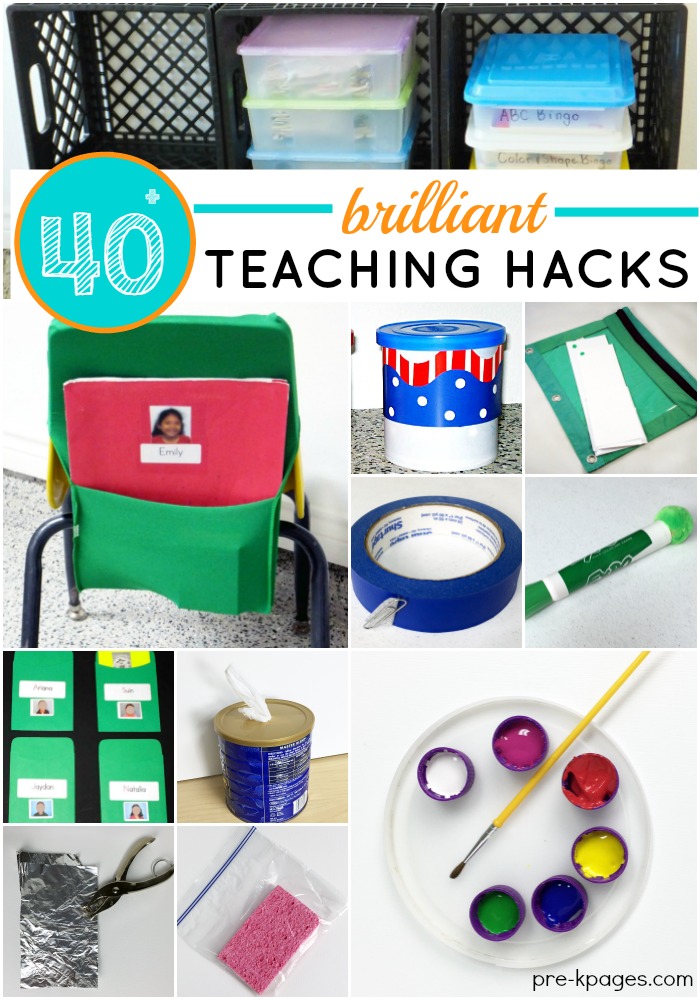 Brilliant Teaching Hacks
1. Cover your bulletin boards with inexpensive black bed sheets. They're fadeless and you'll never have to change them out again!
2. Use translucent, repositionable book covers as inexpensive highlighting tape
3. Use an inexpensive oil drip tray from the automotive store as a magnetic board in your classroom.
4. Plates- they're not just for food! Use white, disposable plastic plates as individual student whiteboards
5. Make your next open house a breeze with an adorable, done-for-you PowerPoint template to match your school mascot or theme.
6. Use a nuts and bolts drawer unit to organize and store your magnetic letters.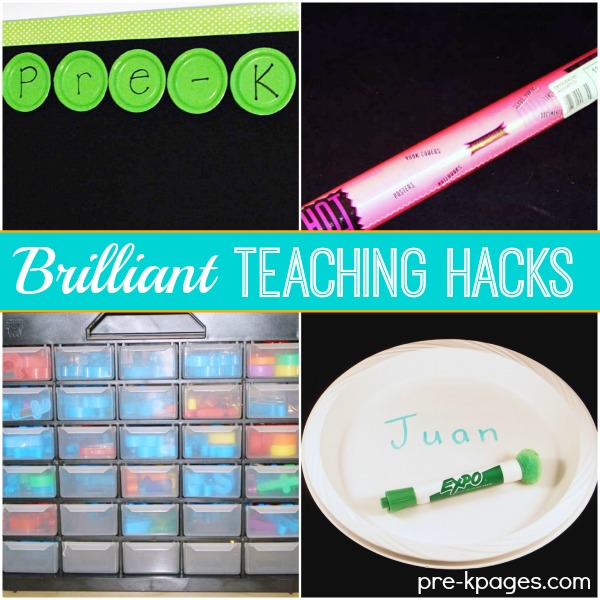 Hacks to Make Your Teaching Life Easier
7. Easily organize and streamline your Pre-K assessments with this printable, digital assessment packet.
8. Turn milk crates into seating for kids – they're perfect for storage too!
9. Create your own cubbies and classroom shelves with milk crates.
10. Create a free QR code poster and place outside your classroom door so parents can easily find your classroom info online.
11. Save time with these digital lesson plan templates that allow you to add your own info.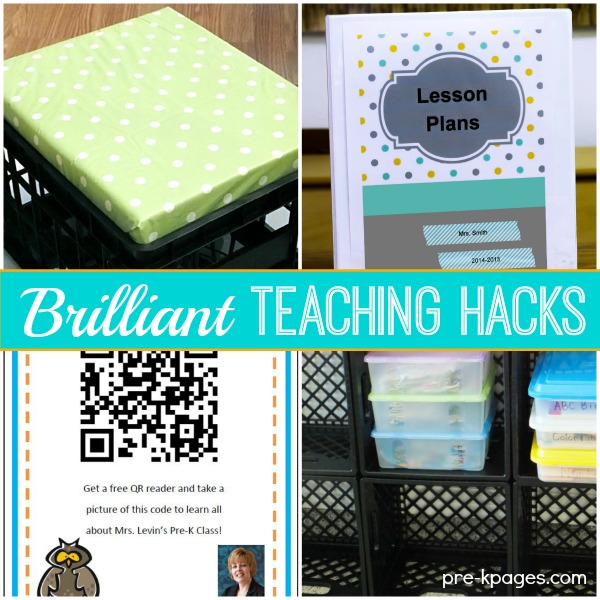 Amazing Classroom Hacks
12. Make your own flannel boards with pizza boxes
13. Use these tall ice cube trays for easy marker storage
14. Use this digital substitute planning guide to quickly and easily create everything needed for a sub!
15. Organize and store card games in these soap containers for easy card storage .
16. Turn a dollar store dish drainer into a classroom file organizer.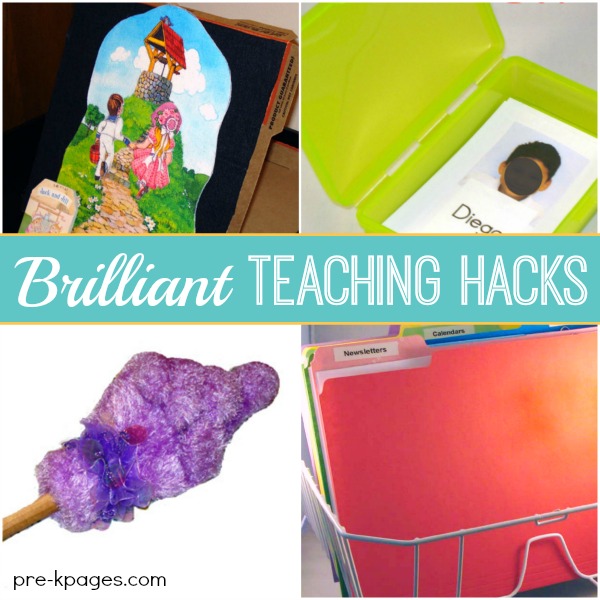 Teaching Hacks You Wish You Knew Sooner!
17. Make no-sew seat sacks for only a dollar!
18. Use pencil pouches to store pocket chart games.
19. Organize your classroom craft and office supplies with these printable labels!
20. Use plastic bags and duct tape to create a fun, reusable game board for your classroom.
21. Create an easy book check-out system your kids can use independently.
22. Use a nuts and bolts drawer to organize and store your office supplies on your desk.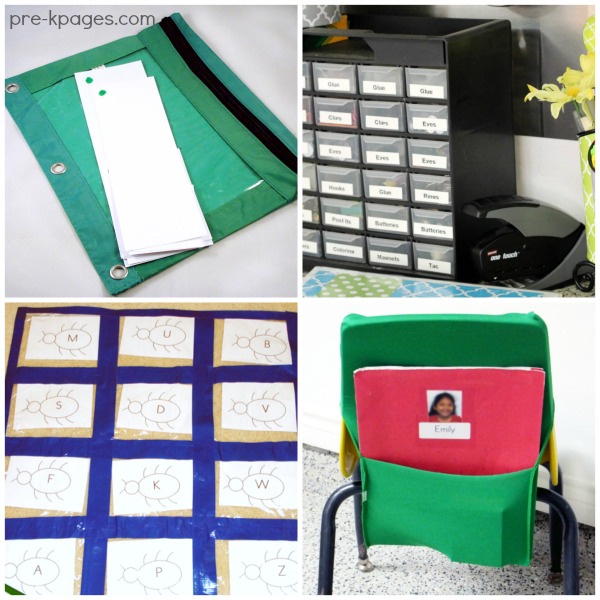 23. Use empty frosting containers to store your bulletin board border.
24. Super easy to make dry-erase pockets. (Pre-K Pages)
25. Store yarn or string in a empty cleaning wipes containers for quick and easy access.
26. Make communicating with parents a breeze with these adorable Parent Communication Notebooks to match your school mascot or classroom theme!
27. Put a paper clip on the end of a roll of tape so you don't lose your place.
28. Put plastic bags in paint cups for easy clean-up.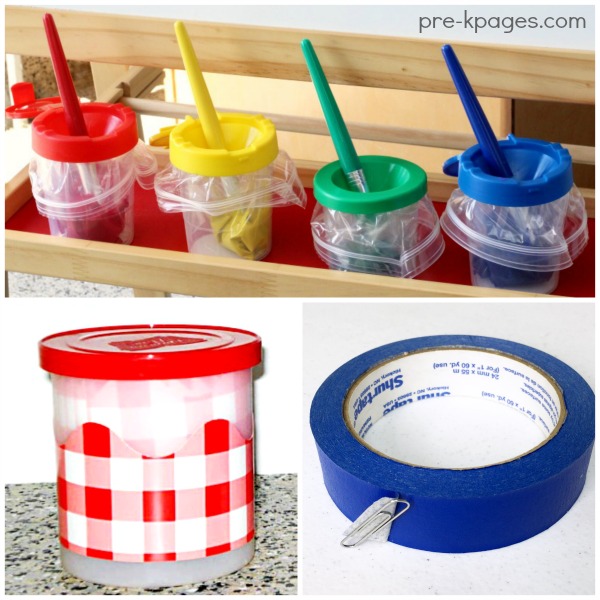 Brilliant Classroom Hacks for Teachers
29. Make your own watercolor paint with markers.
30. Hang a clear shoe pocket holder on a wall or door to organize your school supplies.
31. Use colorful washi tape to let your students know which markers they can use on dry erase boards.
32. Sharpen a dull hole-punch with tin foil from your kitchen.
33. Put a sponge in a sandwich bag and freeze. Perfect for when students get bumps and bruises on the playground!
34. Make paint palettes for your art center with plastic lids and bottle caps.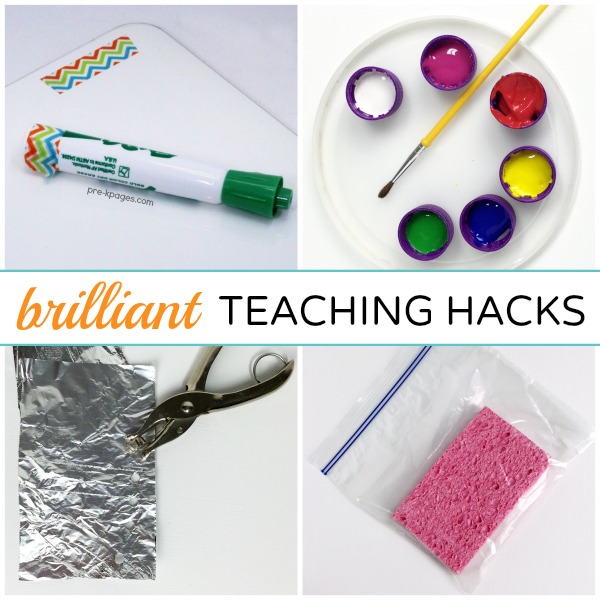 35. Store plastic bags in a coffee can for quick access at home or in the classroom.
36. Ditch the assessment binder and go digital with ESGI, a time-saving online assessment tool for Preschool, Pre-K, and Kindergarten teachers.
37. Use a free app like Remind to easily and safely text parents.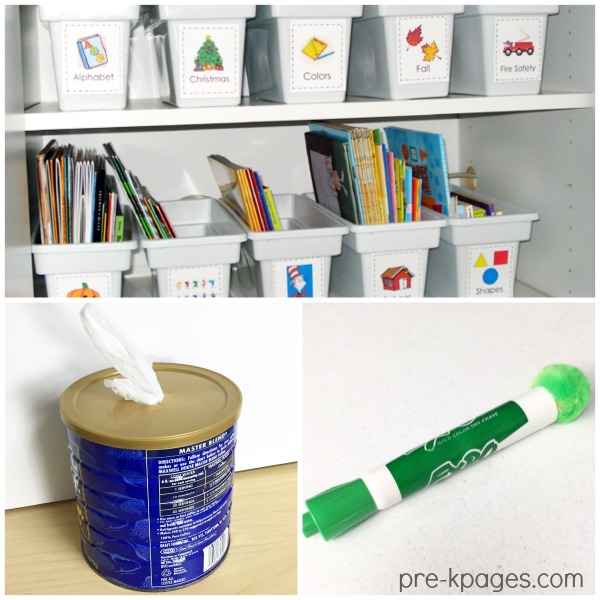 38. Hot glue pom-poms to the end of dry-erase markers for quick and easy erasers.
39. Use ice cube buckets from Wal-Mart to organize and store your picture books.
40. Want to save TONS of time on your Pre-K report cards? Try these electronic report cards that make filling out those pesky report cards a breeze!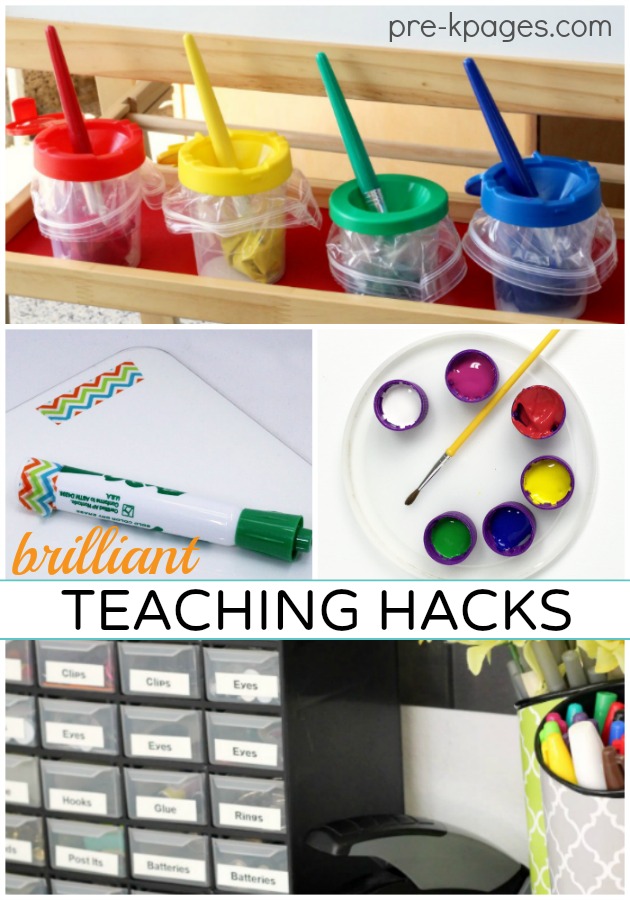 BONUS TIPS:
41. Katie has a super simple trick for saving your dried out markers! (Preschool Inspirations)
Do you have a brilliant teaching hack? Share it in the comments below!
The Teaching Trailblazers
Hacks are awesome, but if you really want to become a better teacher, the best place to discuss teaching best practices and get the support you need is in the Teaching Trailblazers. We have many printable lessons and on-demand video trainings to help you be the best teacher you can be! If you want to get on the waiting list for the Teaching Trailblazers, do it soon so you don't miss the next open enrollment period!