Do your kids love to play bingo? I love using games and activities in the classroom that are educational and fun.
I created this printable version of a bingo game that features environmental print; keep reading to get your copy!
Environmental print is the print found in the world around us such as signs and logos from familiar stores and restaurants.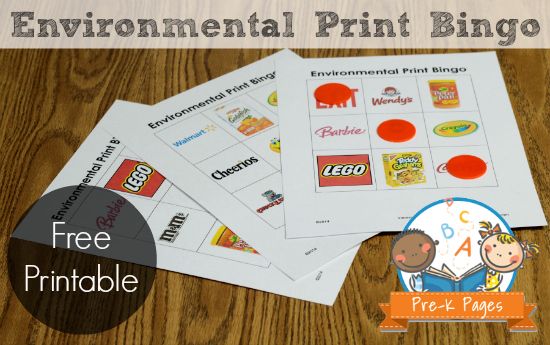 Environmental Print Bingo
When they play the environmental print bingo game, children in preschool and kindergarten are not only gaining confidence as emergent readers by identifying the signs and logos from the world around them, they are also practicing important skills such as taking turns, sharing, listening, and visual discrimination.
You may also want to pair this bingo game with another Environmental Print Activity.
Environmental Print Bingo Supplies
Here's what you'll need to prepare and play the environmental print bingo game.
Gems, bingo chips or similar small objects to cover the squares on the mats
Cardstock
Printer
Color ink
Laminating film
Scissors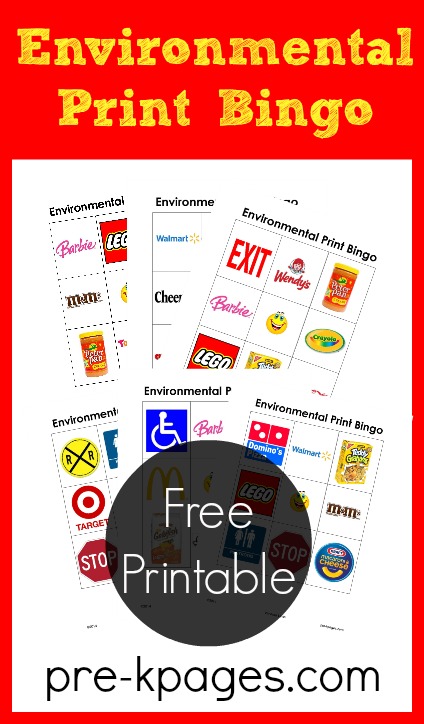 How to Play Environmental Print Bingo
First, start by printing out the bingo game mats and cards on cardstock; I have included six mats for use with up to six players. Next, laminate the mats and cards for durability. Then, cut out the cards.
Give one bingo mat to each child in your small group. Place the bingo chips or similar items in the middle of the table so all the children can easily reach them. You could also divvy up your items into small cups and give one cup to each child.
Invite each child to take one object and place it in the middle of their bingo mat on top of the smiley face; this is the "free" space.
Gather the bingo calling cards and place them in a stack face down in front of you. Select the card from the top of the pile and ask the children to "read" the card to you. Then, read the card aloud to them.
Students will place one small object on top of the matching picture on their mat if they have it. When a child gets three items in row vertically, horizontally, or diagonally they win. I like to use stickers, hand stamps for prizes, but small trinkets can be fun too.
Download the Environmental Print Bingo Game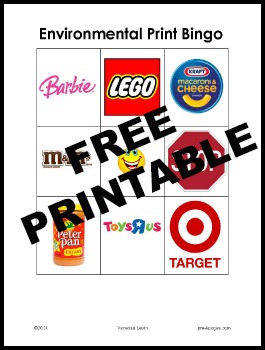 Click on the picture above to download the Environmental Print bingo game.
More Environmental Print Resources:
Fr*ee Printable Signs for the Block Center
Fr*eePrintable Pocket Chart Sentences