Learning "sticks" when the content is meaningful and connected to the child. Literacy skills are best developed when using words that are meaningful to the child. Names and environmental print are the two types of print that children encounter regularly and will begin to notice and read. Here are 12 engaging enviromental print activities to use in your pre-k, preschool or kindergarten classroom.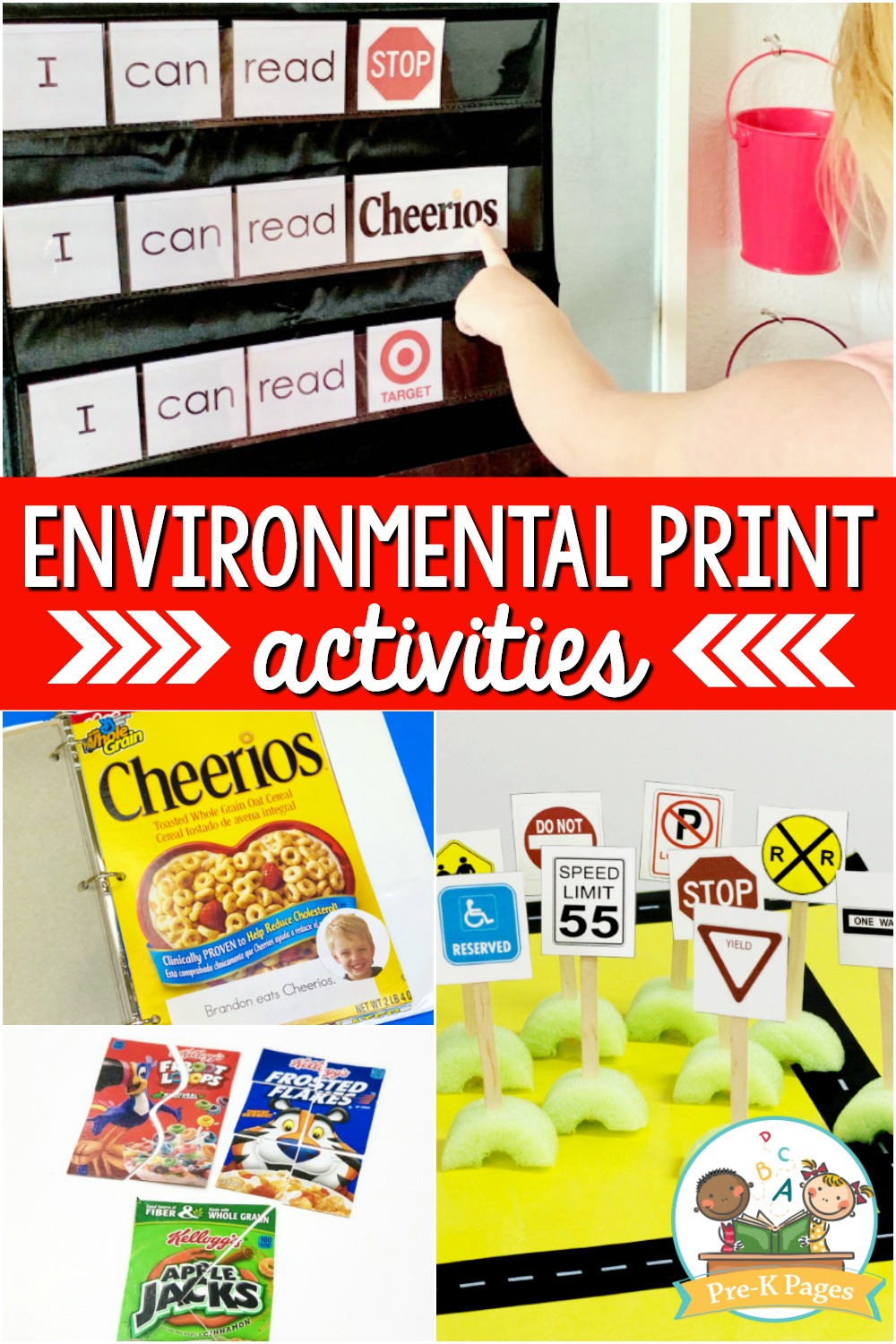 What Is Environmental Print?
Environmental print is the text that surrounds the child, that he sees regularly. Signs and logos on stores, bags, buildings, and product packaging become the text that children see daily and can begin to "read." Using this print can begin the journey of reading for preschoolers.
Why should I use Environmental Print in my classroom?
Using Environmental Print in the classroom is very meaningful to young children. The logos and signs they see in their daily lives hold great meaning for them. How many times have you driven by a McDonald's restaurant with your child in the car and he has shouted "Look! McDonald's!"? Children get excited when they can "read" the print in their environment.
Environmental Print is another way to build confidence in young children and get them excited about reading. When children are excited about reading and print holds meaning for them, they will learn much faster and begin to make connections to the world around them.
When children use the contextual clues found in Environmental Print to "read" then they will be able to transition into the functional print of school more easily.
Activities Using Environmental Print
Now that we have a good understanding of what environmental print is, we can look at some activities you might want to use in the classroom!
1. Environmental Print Bingo (Pre-K Pages) – I created this printable version of a bingo game that features environmental print; keep reading to get your copy!
2. Environmental Print in Blocks Center (Pre-K Pages) – I created a set of free, printable traffic signs for you to use in your block center to help you create a print rich environment in your classroom, keep reading to grab your copy!
3. Food Box Front Puzzles (Pre-K Pages) – Create some fun environmental print puzzles just by digging in your recycle bin!
4. Environmental Print Billboards (Growing Book by Book) – Create these fun mini billboards and you have an engaging reading activity!
5. Using Environmental Print In The Classroom (Kindergarten Chaos) – Here are some fun ways to incorporate enviromental print in the classroom from building sentences to sorting, and more!
6. Logos for Block Buildings (Brick by Brick) – Do your children love building blocks? Add logos and turn it into an environmental print activity!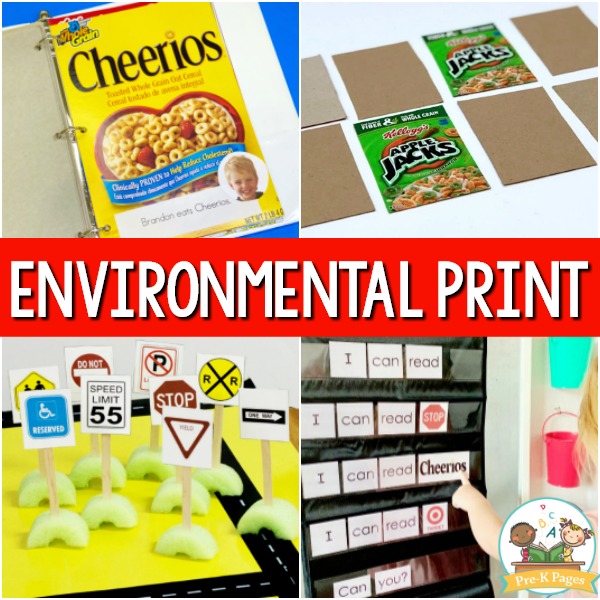 7. Puzzles from Recyclables (Munchkins and Moms) – Create these inexpensive puzzles by using your recyclable boxes.
8. Matching Game with Environmental Print (Learn and Play with Nana K) – Save your labels and turn it into an environmental print game!
9. Using Food Boxes (Trashable to Teachable) – Here are some more creative ways to use your old recycled food boxes for environmental print activities.
10. Alphabet Book (Dr. Jean) – Create an environmental print book!
11. Environmental Print Book and Wall (Mrs. Wood's Kindergarten) – Have your students bring in an environmental print from home and create a fun wall!
More Literacy Ideas from Pre-K Pages