100th Day of School Activities for Preschool, Pre-K, and Kindergarten.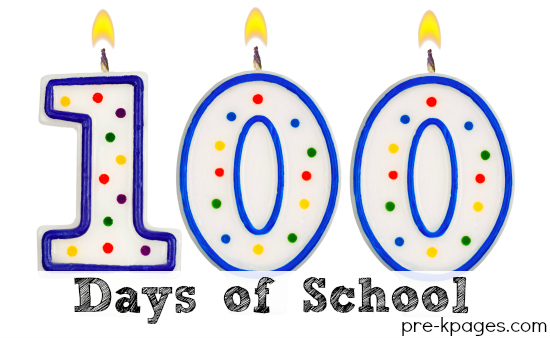 100th Day of School Books
100th Day Activities
100 Collections
Materials: note to parents, Ziploc bags, awards
Ask students to bring in collections of 100 things. Write a note to parents about your 100 collection activity, make sure to tell parents that the collections must fit into a gallon size Ziploc bag. Attach a gallon size Ziploc bag to each note. On the 100th day display all the collections and give awards for various categories:
Most unique collection
Heaviest collection
Lightest collection
Silliest collection
Softest collection
Stickiest collection
Coolest collection
Yummiest collection
100 Hunt
Materials: sticky dots, Sharpie marker, 100 Hershey kisses, number line
Write a number on each sticky dot, 1-100. Place a sticky dot (round, colored stickers found in office supply stores or office supply aisle at Wal Mart) on the bottom of each Hershey's kiss and hide the kisses around the classroom. Have your students hunt for the kisses and then place them up on top of a 100's grid. After all that hard work they can eat the kisses as a reward.
$100 Dollar Bill
Materials: photocopy and enlarge a $100 bill or a $100 bill notepad (found at Dollar Store), picture of each student, glue stick.
Glue each student's picture into the middle of the photocopied $100 bill. You can make these into a class book by gluing each $100 bill to the top of a sheet of paper and having each student draw a picture of what they would buy with $100 dollars.
100 Cans
Materials: Note to parents, Sharpie marker
Collect 100 cans for charity. Write a number on the top of each can with a Sharpie as the students bring them in. On your 100th day, before taking the cans to the charity have your students line them up in order from 1-100.
100 Pennies
Materials: clear jar, 100 pennies
Put one penny in the jar each day of the school year. On the 100th day let the students count out the pennies into groups of 10 or place them on a 100 grid.
100th Day Resources