Using play dough to explore the book Little Blue and Little Yellow by Leo Lionni is a fun and easy way to bring the book to life and help kids investigate color mixing concepts through hands-on play.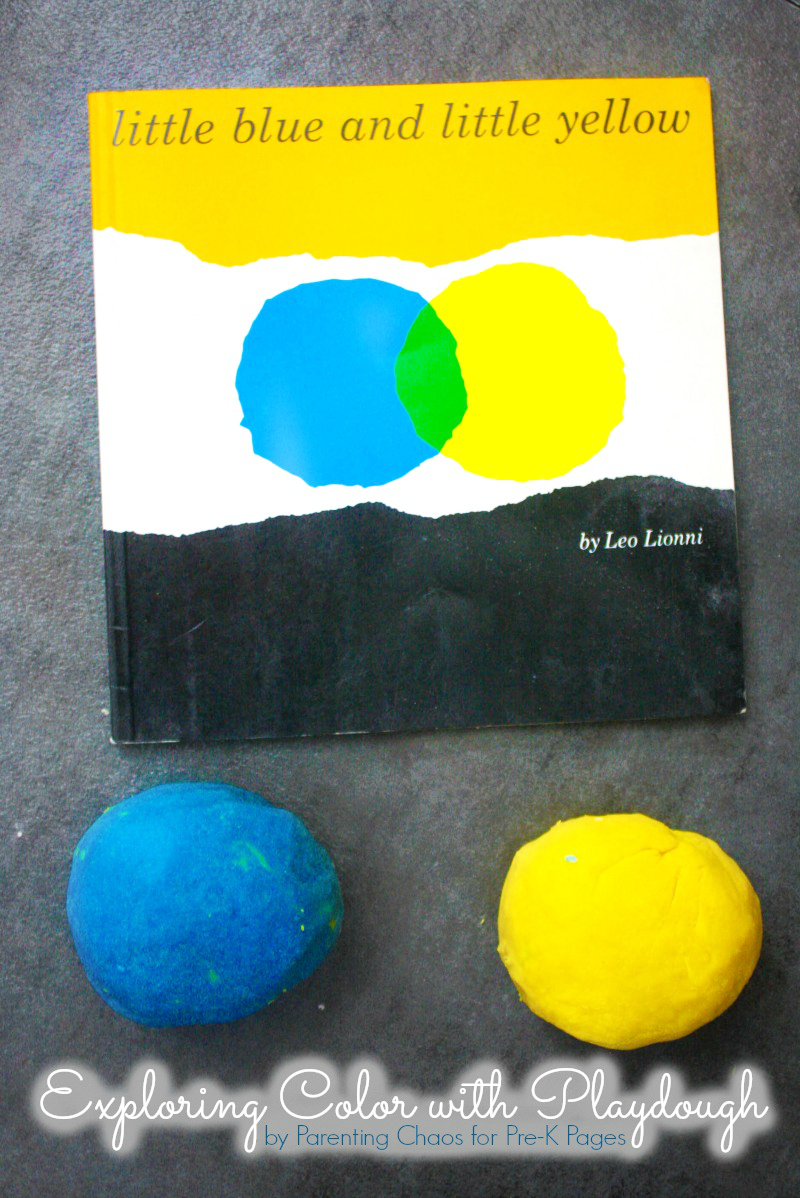 Little Blue and Little Yellow
In the book Little Blue and Little Yellow two little balls of colors are best friends. They live right across the street from each other and love to play together with all of their friends. One day Little Blue could not find Little Yellow, and this made him sad. After searching everywhere Little Blue finally found Little Yellow, and when they hugged, they hugged so hard they became Little Green!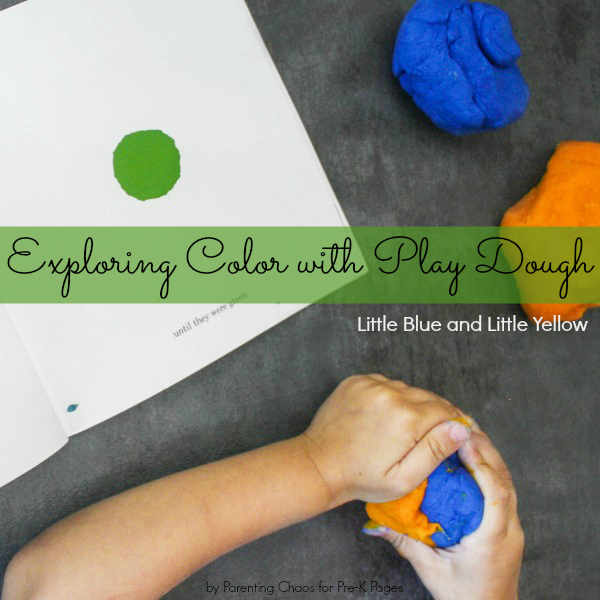 Little Blue Little Yellow Teaching Concepts
This book has many different concepts that it can be used to teach – from colors, to friendships, to prepositions. Since the main characters in the book are two little balls of colors, play dough is an amazing medium to use to retell the story. After reading the book we explored it more in depth at the table.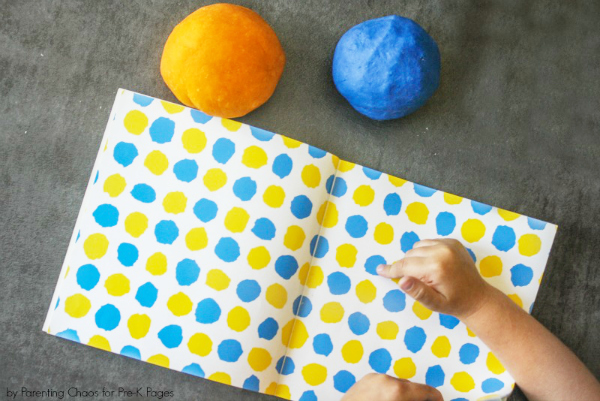 Exploring the Book
We started by exploring the cover: title, author, front, back, and binding. We talked about the characters and identified the colors.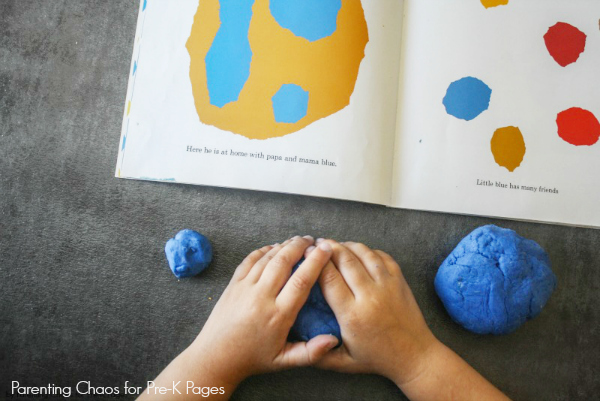 As we explored the characters we stumbled across Little Blue's family. This was the perfect opportunity to use the play dough to evaluate sizes and shapes through creating a different sized ball for each member of the family. Which quickly led to counting family…and then friends.
As we continued through the book Little Blue and Little Yellow, the kids noted the artwork and used their play dough to recreate the illustrations. As Little Blue went on the hunt for his friend, recreating the illustrations provided the perfect chance to sneak in some preposition work (ex: Can you make Little Blue look across the street?)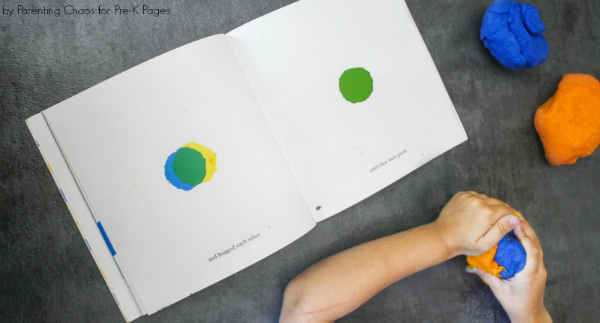 Exploring the Colors
Then we mixed! Being able to mix two play dough colors was the highlight of this activity! The kids had so much fun making and discussing their observations among each other.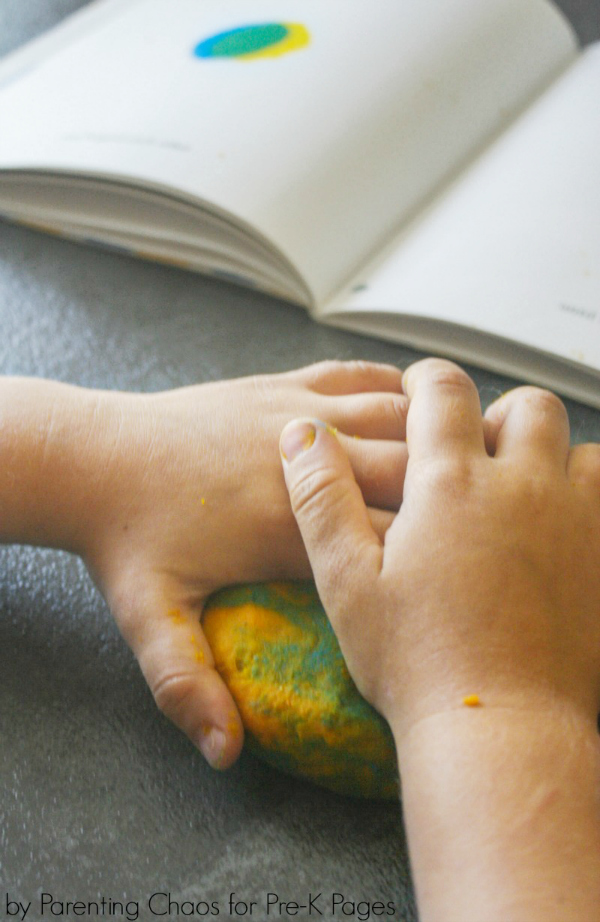 The colors twirled and marbled. It took a lot of effort to fully blend Little Blue and Little Yellow which was a great work out for the small muscles in their hands. This activity was great for fine motor!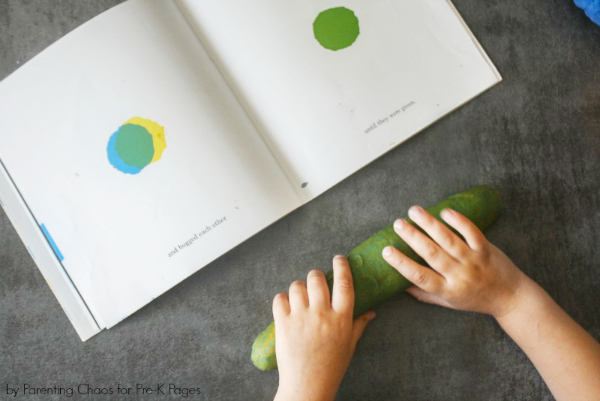 Little Blue and Little Yellow Play Dough Recipe
Items Needed:
2 cups of water
2 cups of flour
Yellow and Blue Crayons (2-3 each)
4 tbsp. Cream of Tartar
2/3 cup of salt
2 tbsp. Cooking oil (vegetable or coconut works best)
Instructions:
Bring one cup of water to a boil. Add in crayons (blue or yellow) and cooking oil.
While you wait for that to boil, mix together the dry ingredients in a large bowl.
Once boiling, pour the colored water into the dry ingredients and stir until fully mixed.
Set aside until cool.
Repeat for the second color.
BIO: Stephanie is an Early Intervention Specialist turned SAHM. She writes over at Parenting Chaos where she shares sensory play ideas, autism resources, and tips for learning through play.
More Activities to Explore Color—
Dog's Colorful Day: Color Matching
Mix It Up: Color Mixing
Lunch: Retelling and Rewriting
Green: One Color Sensory Bin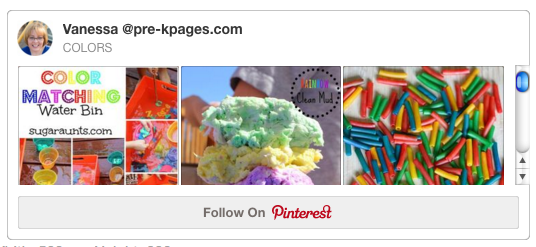 Follow my Colors Pinterest Board for more great ideas!