Dogs make everything better. So when I'm looking for a book and activity to help my kids work on a concept, we automatically gravitate towards books featuring dogs. Dog's Colorful Day by Emma Dodd is a wonderful book for helping preschoolers learn colors and counting, and it inspired a fun activity that is really easy too!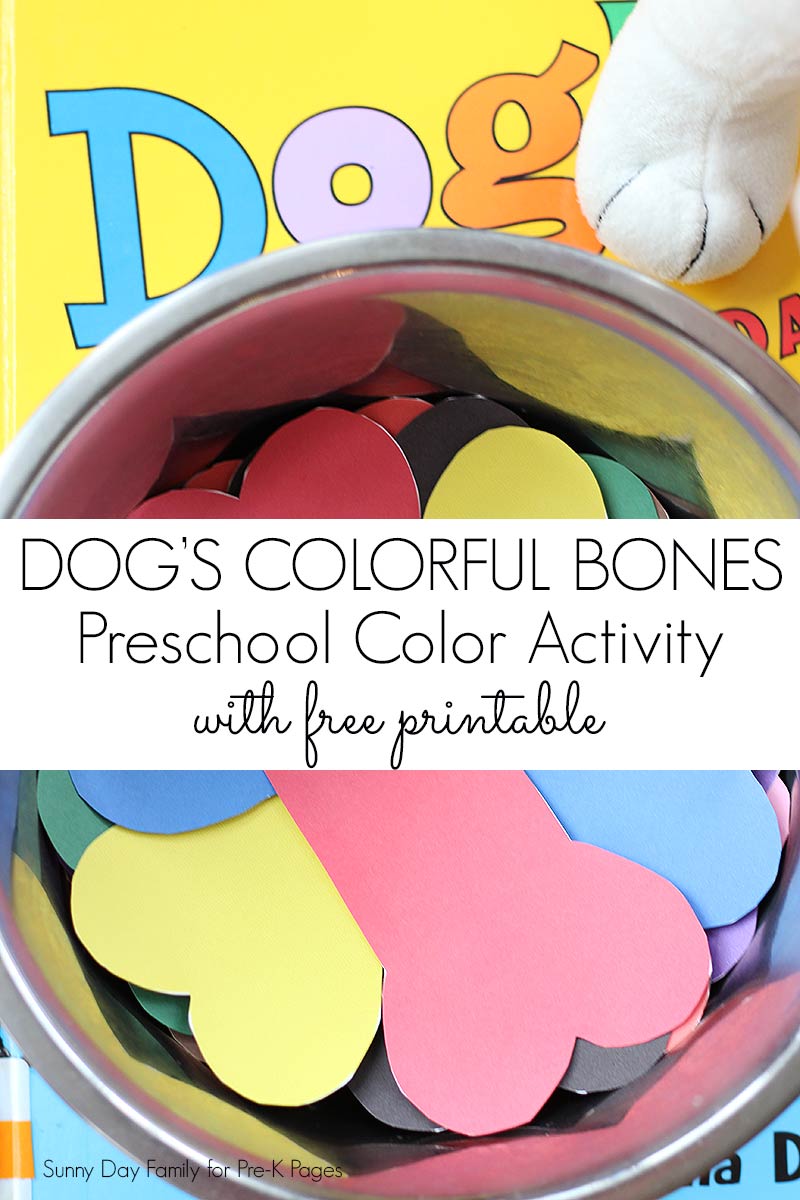 Dog's Colorful Day
Dog's Colorful Day follows the adventures of Dog, a white dog with a black spot on his ear, on a very messy day. As he goes from one mishap to the next, he becomes covered in a rainbow of spots – 10 in all! My kids and I enjoyed reading along with Dog and his colorful day, counting the spots and identifying each color. They especially loved the ending of the book, when a freshly clean Dog falls asleep dreaming of multicolored dog bones. This page inspired our activity – Dog's Colorful Bones!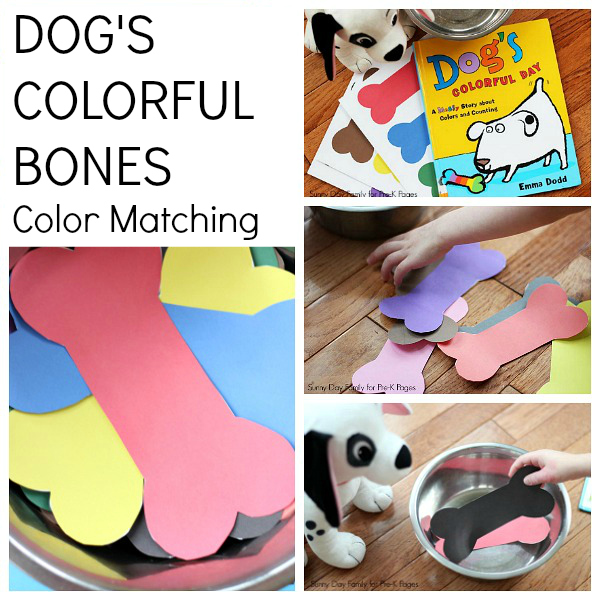 Bones Color Matching
This dog themed activity helps to reinforce color identification and counting for preschoolers, along with storytelling and a bit of pretend play, too. It's a great extension for Dog's Colorful Day and perfect for a pet theme unit, too. It is also really easy to set up! For this activity, you will need:
Copy of Dog's Colorful Day by Emma Dodd
Scissors
Clean empty pet bowl
Stuffed dog (optional)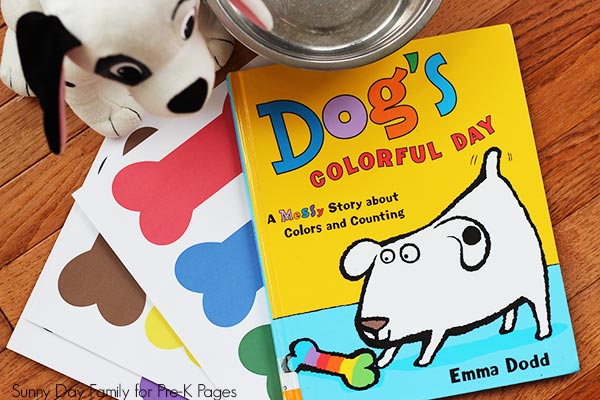 Begin by downloading and printing out a set of colored dog bones. I recommend printing on card stock and/or laminating them so that they are sturdy. Once your bones are cut out, set them next to an empty dog bowl and your stuffed dog. (Using a stuffed animal is not necessary for the activity but it makes it a bit more fun.)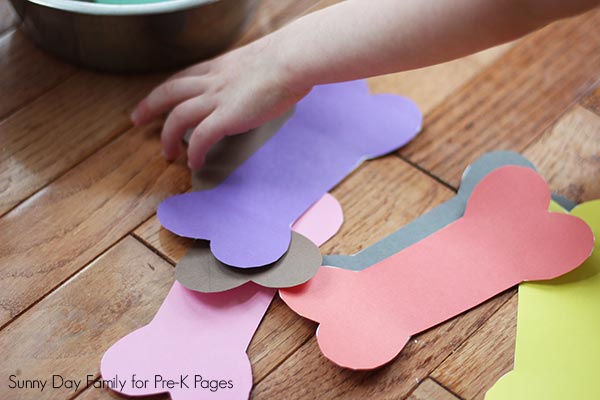 Gather your children for a reading of Dog's Colorful Day. As you read along, invite the children to choose the correct colored bone that matches with the color spot on each page. Have them drop the correct bone into the bowl to give their dog a treat!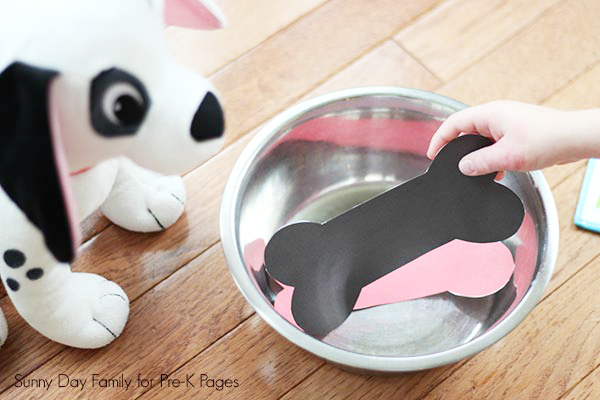 When all the bones are in the bowl, invite them to count how many they have. This helps to reinforce counting to 10 as well as colors. If you are doing this activity as part of a pet theme, you can also take this opportunity to discuss pet's needs, such as food in their bowls and proper grooming (point out Dog's bath in the book). Your animal lovers will really enjoy this fun and easy learning activity!
BIO: Laura is a mom to twin boys and the author of Sunny Day Family, where she shares fun activities and easy organizing tips. Learn more about her pets and find all her free printables here. Connect with her on Facebook, Pinterest, Instagram, and Twitter.
More Color Activities
Mix It Up: Color Mixing – Color mixing is one of my preschooler's favorite art activities. Combine this color mixing activity with a classic book like Leo Lionni's A Color of His Own and we have a winning combination that kids will love!
Cat's Colors: Colored Whiskers – If you have read the wonderful book Cat's Colors by Jane Cabrera, you know that cat sticks his nose and whiskers into each aspect of his world to share it with the book's readers. He shares how a variety of colors are found on his favorite things and in this favorite places.
Sort It Out: Color Sorting GameThis math and sorting game is inspired by the book Sort it Out by Barbara Mariconda. This activity encourages kids to practice fine motor skills, sorting skills, classifying skills, and counting skills.
Freight Train: Exploring Colors with Trains-The only thing better than a great book is pairing a great book with a great hands-on activity like this exploring colors with trains activity. Freight Train by Donald Crews is a book that is sure to delight young children. With simple pared down text and bright minimalistic pictures, the rainbow of colored train cars leaves a lasting impression on kids.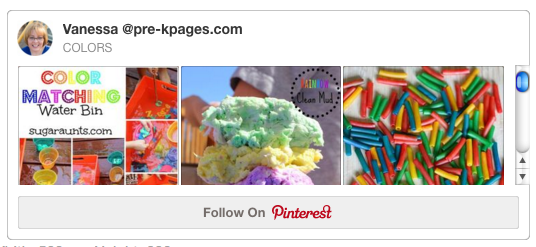 Follow my Colors Pinterest Board for more great ideas!