No books captivate my preschooler more than Herve Tullet's interactive picture books. His stories demand active reader participation on every page, while teaching and exploring fun concepts. Mix It Up is no different, exploring the magic of color mixing.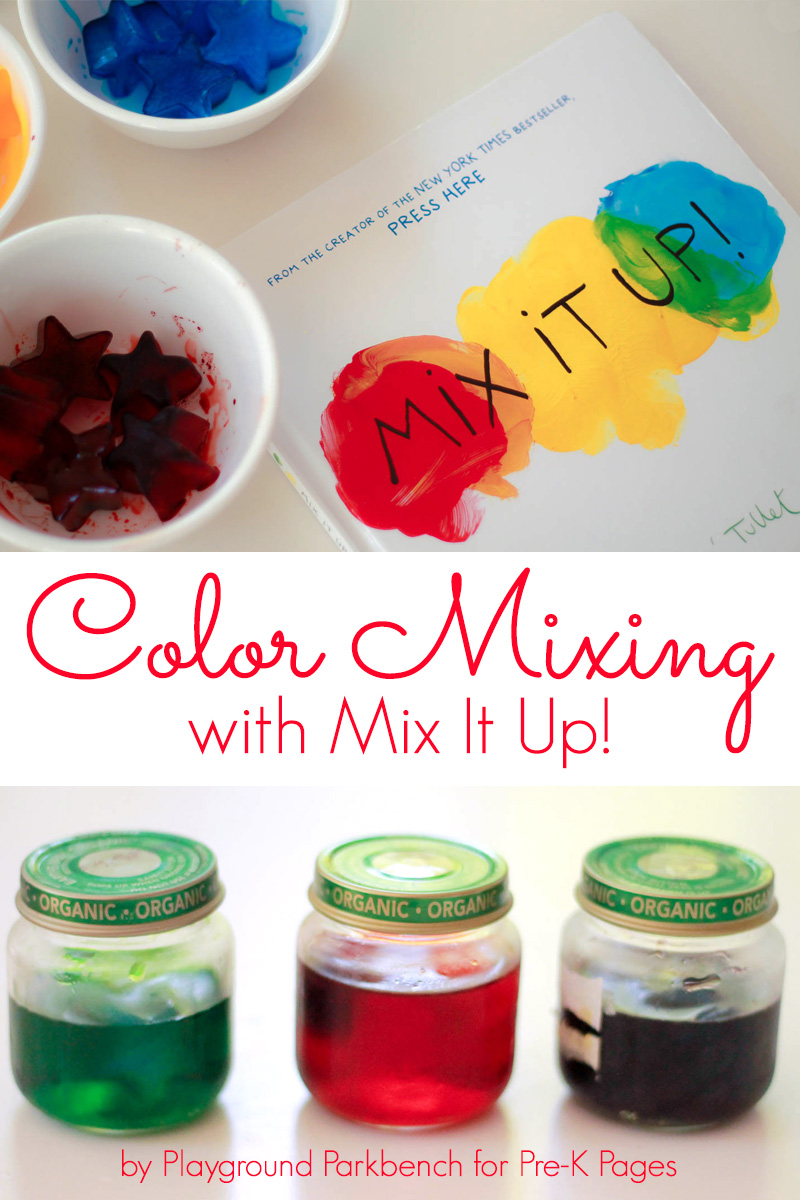 Teach Primary and Secondary Colors with Mix It Up
In Mix It Up, Herve Tullet uses his interactive picture books to teach preschoolers about the magic of primary colors and color mixing. As the pages turn, or as he directs you to mash pages together, children can pretend to mix primary colors, yellow and blue, to make secondary colors, green.
He then goes one step further, introducing white and black. Children learn to add white and black to colors to create lighter tints or darker shades.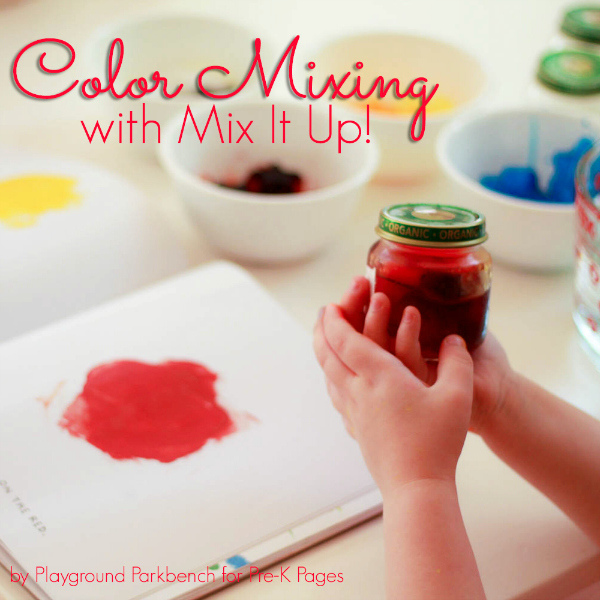 Mix Up Your Own Colors
After reading Mix It Up, your kids will absolutely want to do some color mixing themselves. Using colored ice, water, and baby food jars, you can do just that!
Supplies
Water
Ice cube trays
Food coloring
Black and white paint
4-5 small jars
Bowl of water
Tongs (optional)
Turkey baster (optional)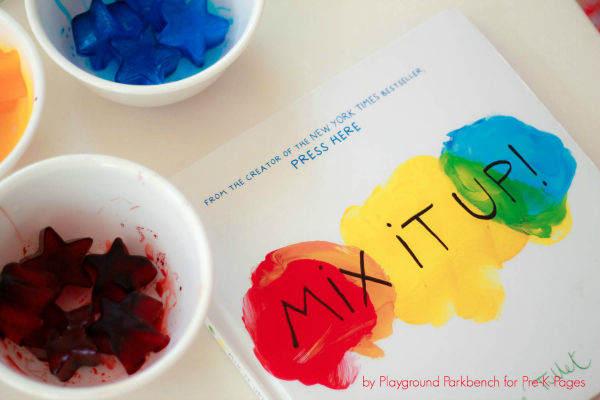 To prepare for this activity, you will need to make colored ice cubes in each of the primary colors, plus black and white. Fill an ice cube tray with water and add a few drops of food coloring to each space. Use more drops of yellow than of darker colors, like red and blue, for best results. For the black and white ice, add a few drops of black or white paint and mix well with the water in the ice cube holder. Freeze overnight.
Fine Motor Challenge
Once the ice is frozen, remove cubes to bowls, sorting by color: red, yellow, blue, black, and white. Set the bowls of ice on the table, along with a large bowl or cup of warm water. Give each child a small jar, and let them add two pieces of colored ice to their jars.
For an added fine motor challenge (and to save your fingers from turning all different colors), you can transfer the ice cubes with tongs.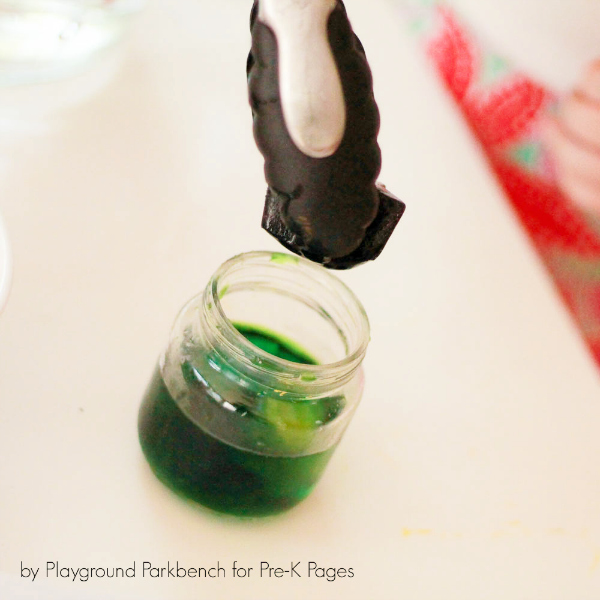 Next, use a turkey baster or pour water over the ice cubes to fill the jar. Now for the fun part. Close the jar tightly and Mix It Up! Shake the jar vigorously, until the ice melts and a new color is formed.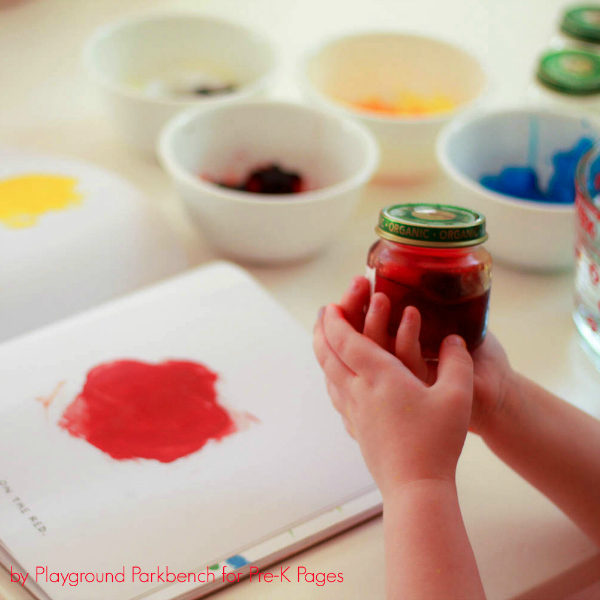 Make Color Mixing Observations
Your preschoolers will be fascinated by creating their own new colors. Encourage them to make observations about what they see. What happens when you combine two colors? What happens when you add white? Or black?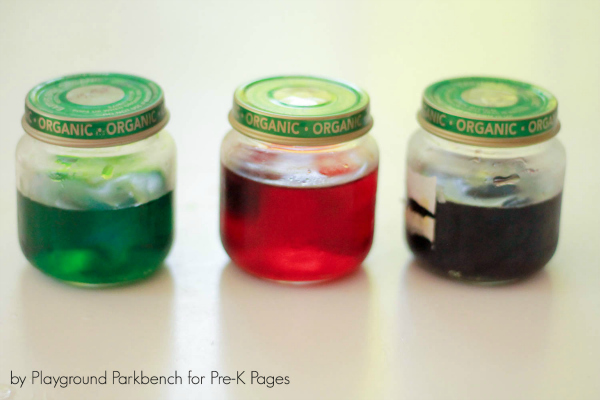 And of course, when you are done, they will want to play and make potions with it all. A messy table is a sure sign of a successful hands-on learning activity!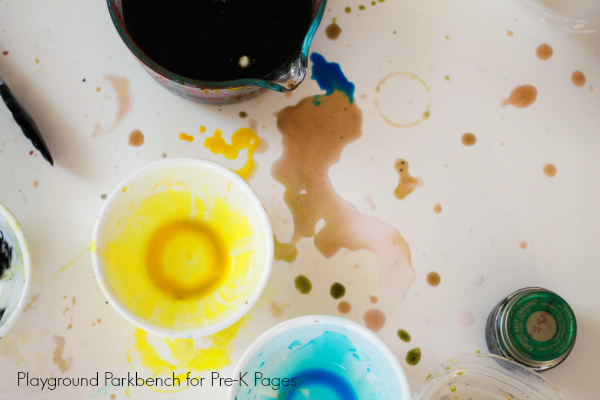 BIO: Meghan is a former hedge fund professional turned SAHM to Big M (4), Lil' M (2), and Baby M (8 months). She writes at Playground Parkbench, where she shares kids activities, parenting tips, and financial savvy for families. When she's not busy changing diapers or scrubbing glue off the craft table, you can find her on Facebook, Instagram, Pinterest, and Twitter!
More Activities for Colors—
Monsters Love Colors: Watercolor Resist
Dog's Colorful Day: Color Matching
Colored Corn Mosaic Art
Transportation Color Sorting and Mixing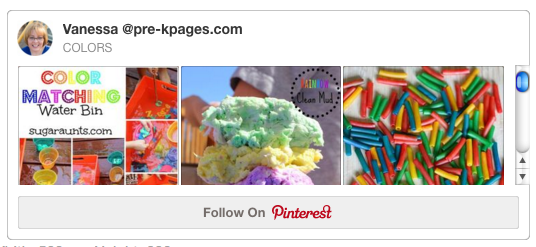 Follow my Colors Pinterest Board for more great ideas!