I love the book Lunch by Denise Fleming – it was one of my classroom favorites back in my teaching days. My son has fallen in love with this colorful book, too, so I came up with a simple retelling activity to go with our beloved Lunch.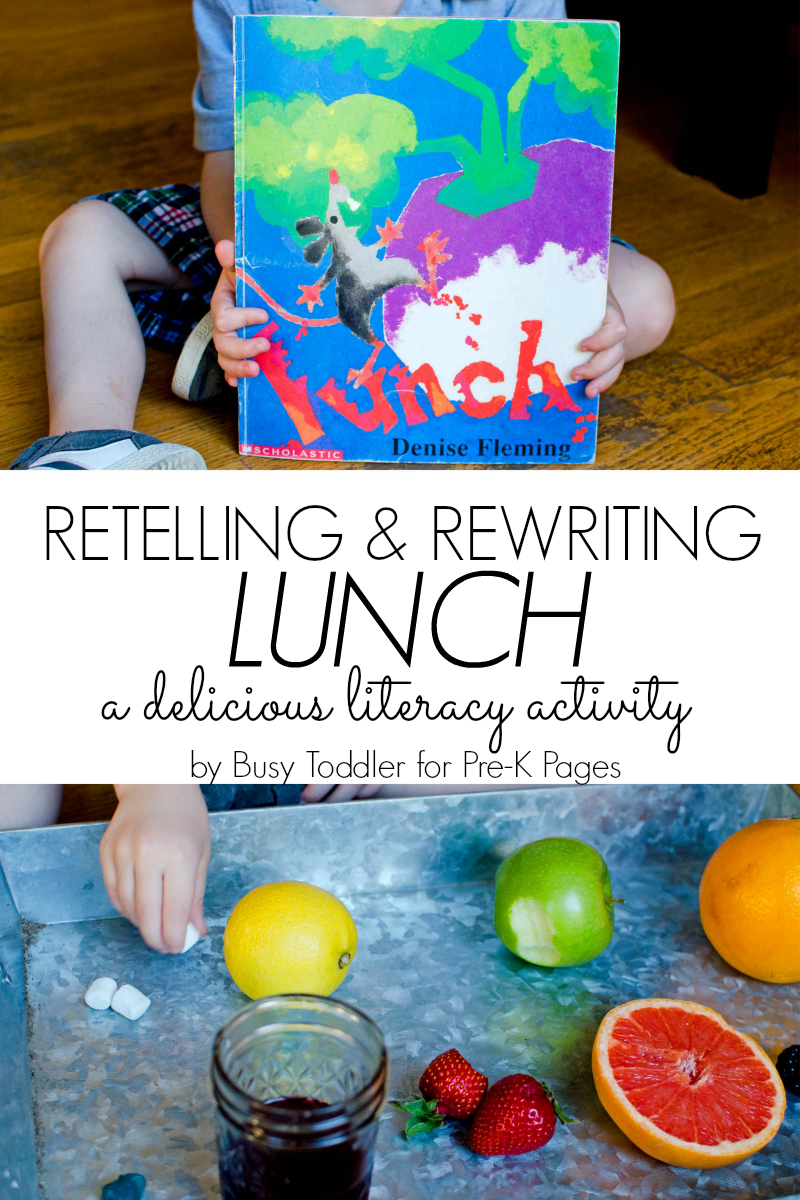 Lunch is a wonderful story following the meal of a sneaky little mouse. As he climbs the kitchen table, he finds all sorts of food to eat. Each food is identified by an adjective and color to describe the food. Children are encouraged to guess which food the mouse will eat next based on these descriptions (or clues).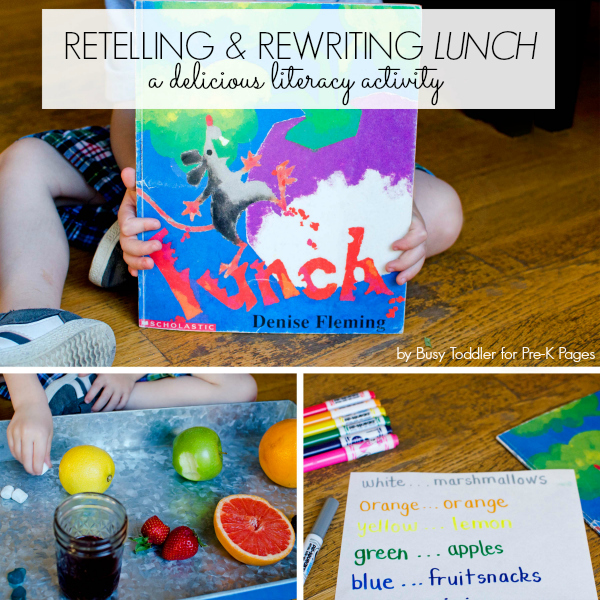 Retelling a Story
A key skill for reading and comprehension is retelling a story. Telling the key parts of a narrative, remembering details about the story, and understanding a story's order are important literacy skills. As kids build listening skills, they naturally develop their ability to retell a story. As they understand more about stories and how they work, they can reinvent the story, using their own ideas to create a new narrative.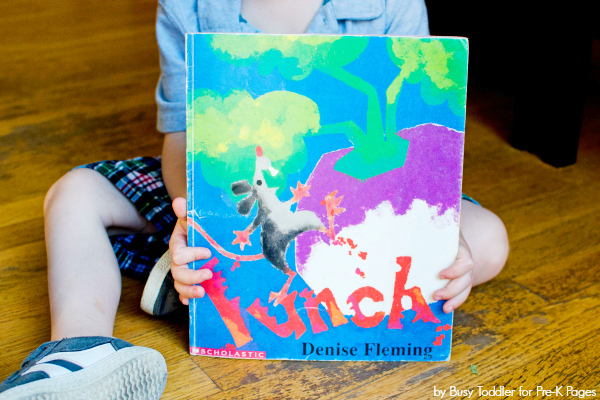 Retelling Lunch
Materials
Lunch by Denise Fleming
Pen and paper
Various foods
My goal for this book-based activity was to introduce story retelling to my son, Sam. I also wanted to add a small twist to the retelling and let him see how to rewrite a story. Retelling is a hugely important reading comprehension skill – think of all the books or articles you've retold to someone. We use this skill every day in the grown up world.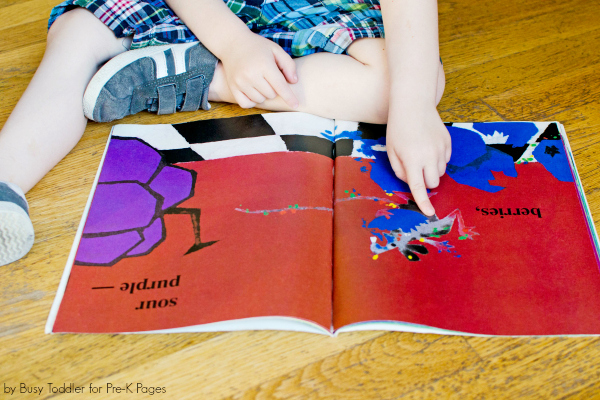 First, Sam and I read Lunch many times. Sam loves the colors and language of the story, guessing the food based on color or picture clue. After reading it a few times, we went back and did a story retell: together we retold the story of Lunch. "I remember that first, the mouse ate one crisp, white…"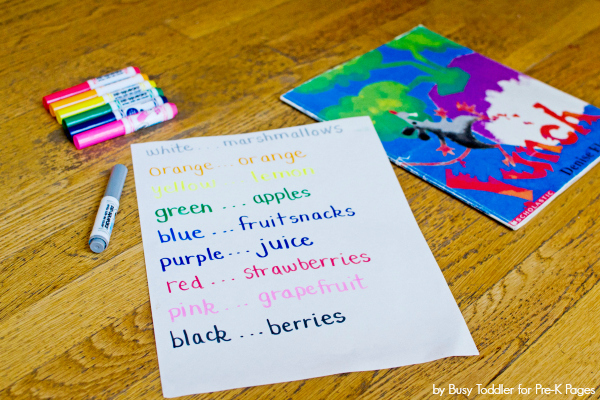 Rewriting Lunch
Our next step was to rewrite the book to be "Sam's Lunch". Together, we made a list of food that went with the colors in the book. "Sam ate a white…." and he yelled "Marshmallow!" at the top of his lungs. Sometimes, we even went right to the fridge or pantry to search for food to match our colored list; sometimes he came up with them from memory.
I loved this part of the activity because it really stretched Sam's thinking and forced him to really consider the different colors of the foods he eats. It was great for his color identification skills and learning to describe an object. He was so invested in this activity.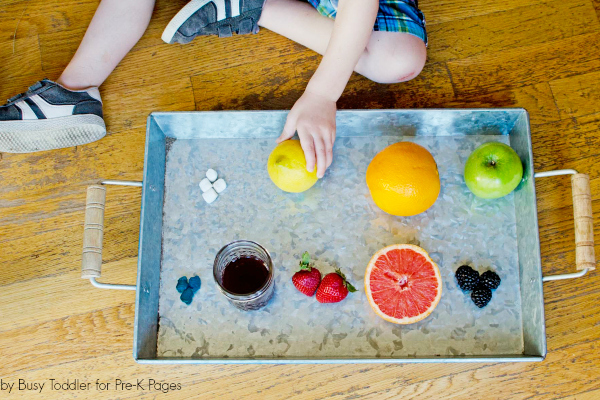 After we wrote down all the names of our foods, we gathered the actual food and placed it on a tray. I did a rereading of the book Lunch but substituted the mouse's food for Sam's food – pointing to each and encouraging him to help me retell this new version of the story.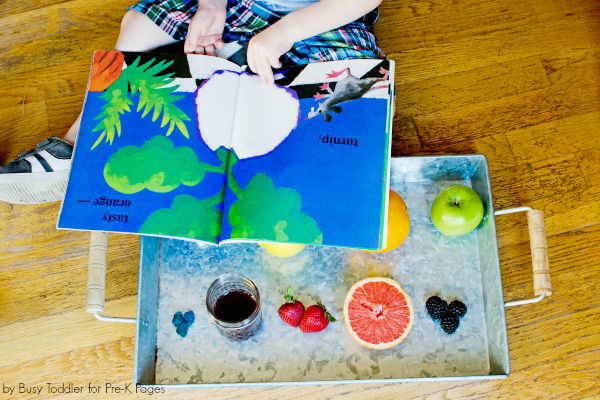 Need an extension? Try having your little learners come up with the adjective to describe the food they picked. "A fluffy white marshmallow."
BIO: Susie is a former teacher turned SAHM mom who's just trying to make it to nap time. She blogs about the simple activities she does with her kids at Busy Toddler. You can join her party on Instagram, Pinterest, and Facebook.
More Retelling Ideas—
Retelling a Spring Book with Puppets
Magnet Board for Retelling
Gingerbread Man Maps Writing Center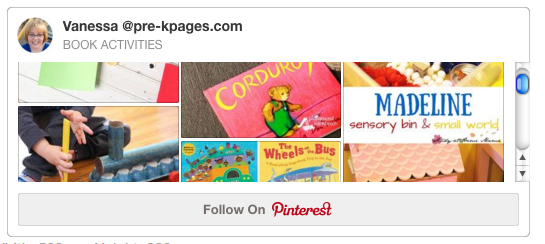 Follow my Book Activities Pinterest Board for more great ideas!