Story time is our favorite time of day, and I've found that when we can make our books interactive we enjoy it even more. Preschoolers have wonderfully vivid imaginations and love to take part in telling stories. Using puppets, along with other storytelling props, is an easy and fun way to make books come to life for preschoolers. We've found a wonderful book to incorporate into puppet storytelling and it's perfect for Spring!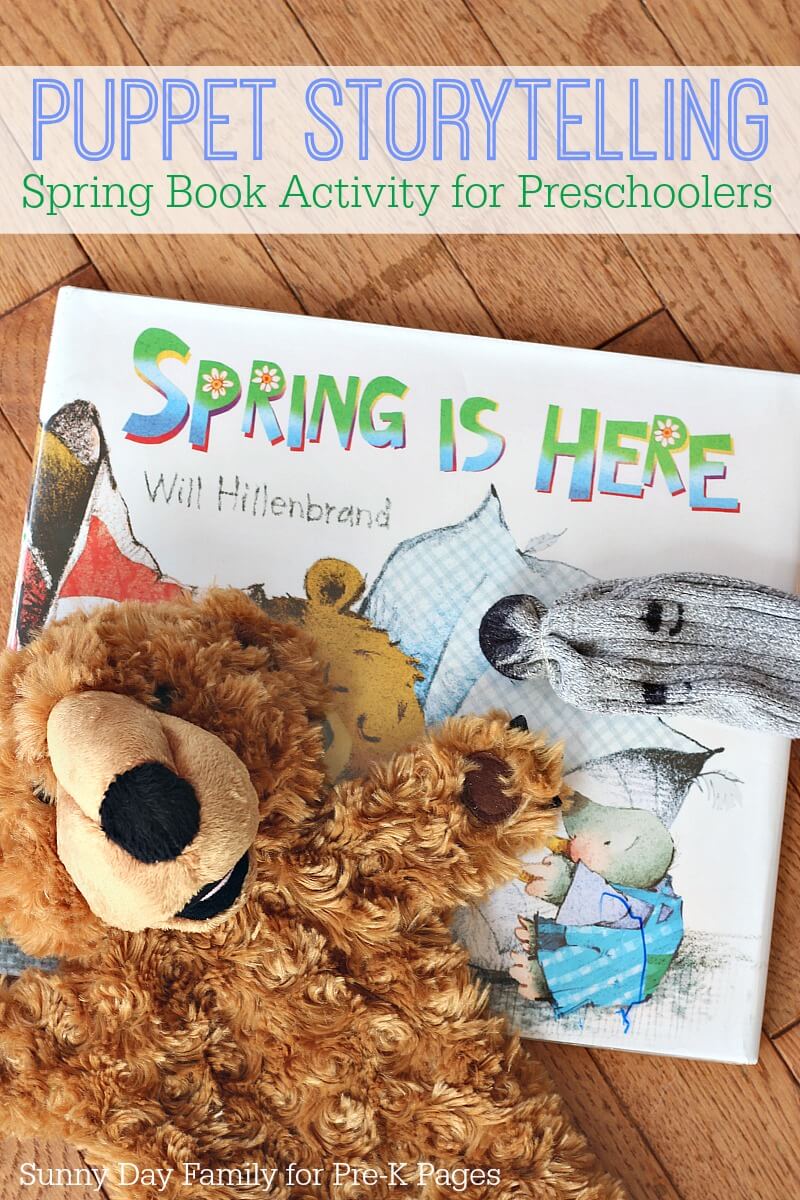 Puppet Storytelling With A Spring Theme
Spring is Here by William Hillenbrand is a wonderful book to use for puppet storytelling. It centers on two friends, Bear and Mole. Mole wakes one morning to discover that Spring has arrived, and he can't wait to tell Bear…but he is still sleeping! Mole tries everything until he finally succeeds in waking Bear…and wears himself out in the process. With only two characters and lots of action words, Spring is Here is perfect for incorporating the use of puppets and for engaging preschoolers in acting out the story.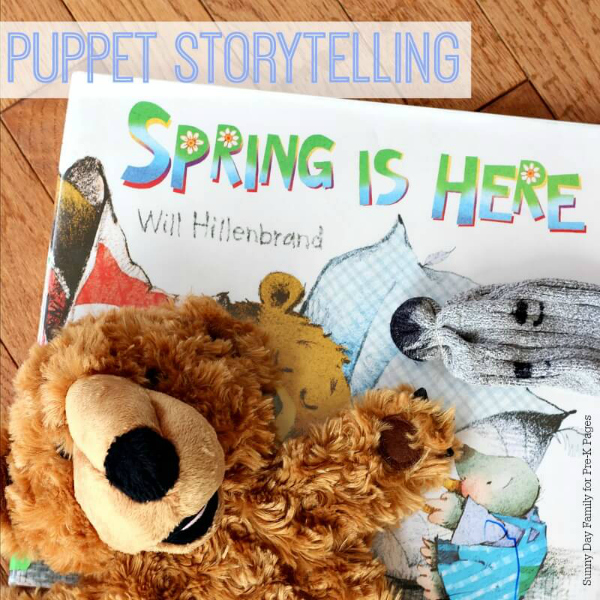 Storytelling with Puppets and Props
You only need two puppets for a Spring is Here storytime – Bear and Mole. We used a bear puppet from Amazon (that looks remarkably like the bear in the book!), but decided to make our own Mole. To make an easy mole sock puppet, you will need:
Gray sock
Cotton Ball
Gray thread
Black Marker
First, stuff the cotton ball into the end of your sock. Wrap the thread around the sock at the base of the ball and tie in a knot to create the nose. Color the nose with black marker, then draw two eyes and eyebrows above. That's it! Your mole is ready to play.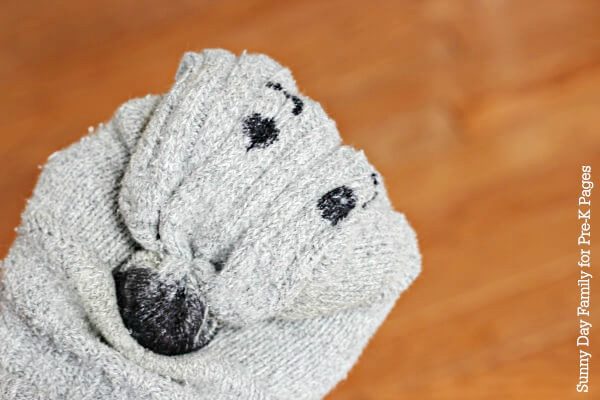 Use Puppets to Retell
Place your bear and mole puppets in a basket along with accessories that are featured in the book. Mine included a pillow and blanket for Bear, Mole's horn, and various dishes and pretend food for Bear's breakfast. Invite the children to story time.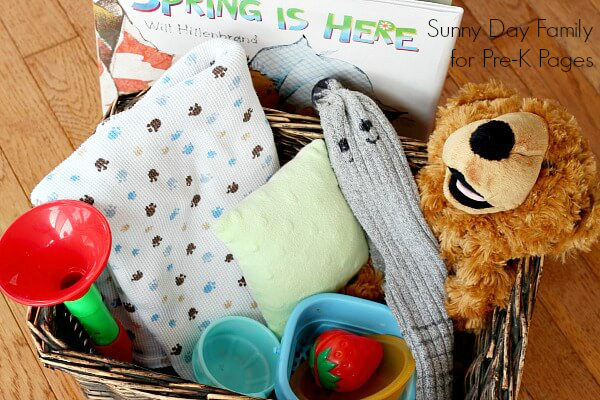 As you read Spring is Here, use the puppets and props to help tell the story. First, you can be the Bear and have the children take turns wearing the Mole puppet. They will have lots of fun recreating Mole's efforts to wake the snoring bear!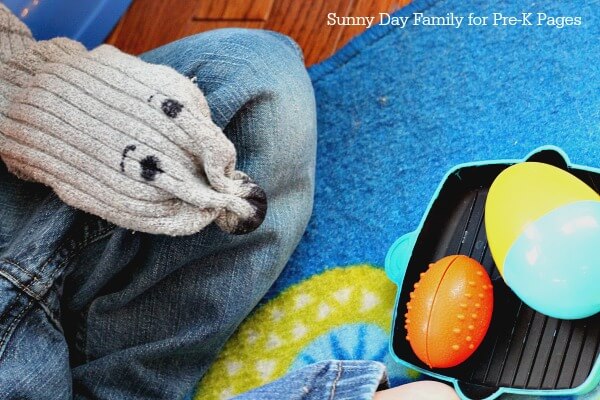 You can also have the children take turns using each of the puppets to act as the characters and recreate the scenes in the book. My boys especially loved helping Mole make breakfast and finally waking up Bear!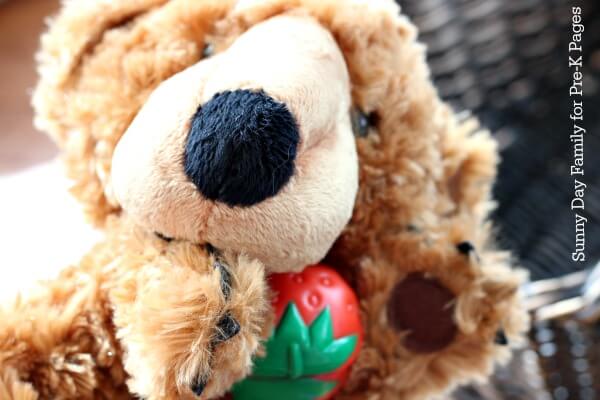 Using puppets for storytelling is a wonderful learning activity for preschoolers, and Spring is Here is the perfect book for a Spring storytime! We had so much fun playing with Bear and Mole and I hope you do, too.
BIO: Laura is a mom to twin boys and the author of Sunny Day Family, where she shares fun activities and easy organizing tips. Find all her kid's book resources here. Connect with her on Facebook, Pinterest, Instagram, and Twitter.
More Spring Ideas
Spring Movement Games (Pre-K Pages) – This is a fun and active movement game to work on gross motor and literacy skills. And, you only need a few supplies to prepare the whole group activity.
Spring Splat Art (Pre-K Pages) – Gather your kids together, cover as many surfaces as you can, lay out the supplies and stand back. Splat art might be messy, but it's fun and beneficial in many areas of your preschoolers development.
Flower Play Dough (Pre-K Pages) – Kids love play dough any time of the year, spring, summer, winter or fall. When you make your own play dough you can get creative with your colors and ingredients to make it extra fun for your kids.
Flower Alphabet Match (Pre-K Pages) – This alphabet activity will have children learning about uppercase and lowercase letters with a fun spring twist.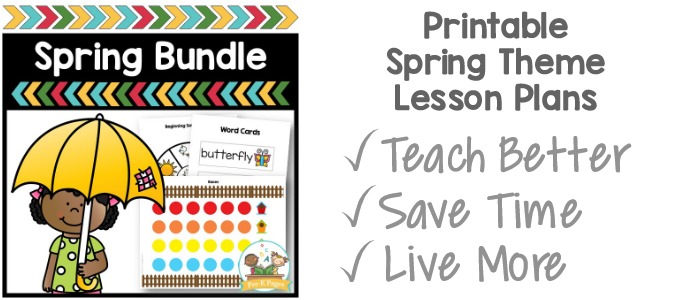 More Spring Ideas