"Run, run, as fast as you can. You can't catch me. I'm the Gingerbread Man." Are you planning a gingerbread unit this season? It's such a versatile theme that can be used across many subjects, including writing and social studies. And with this gingerbread man writing activity is perfect for you gingerbread themed preschool unit.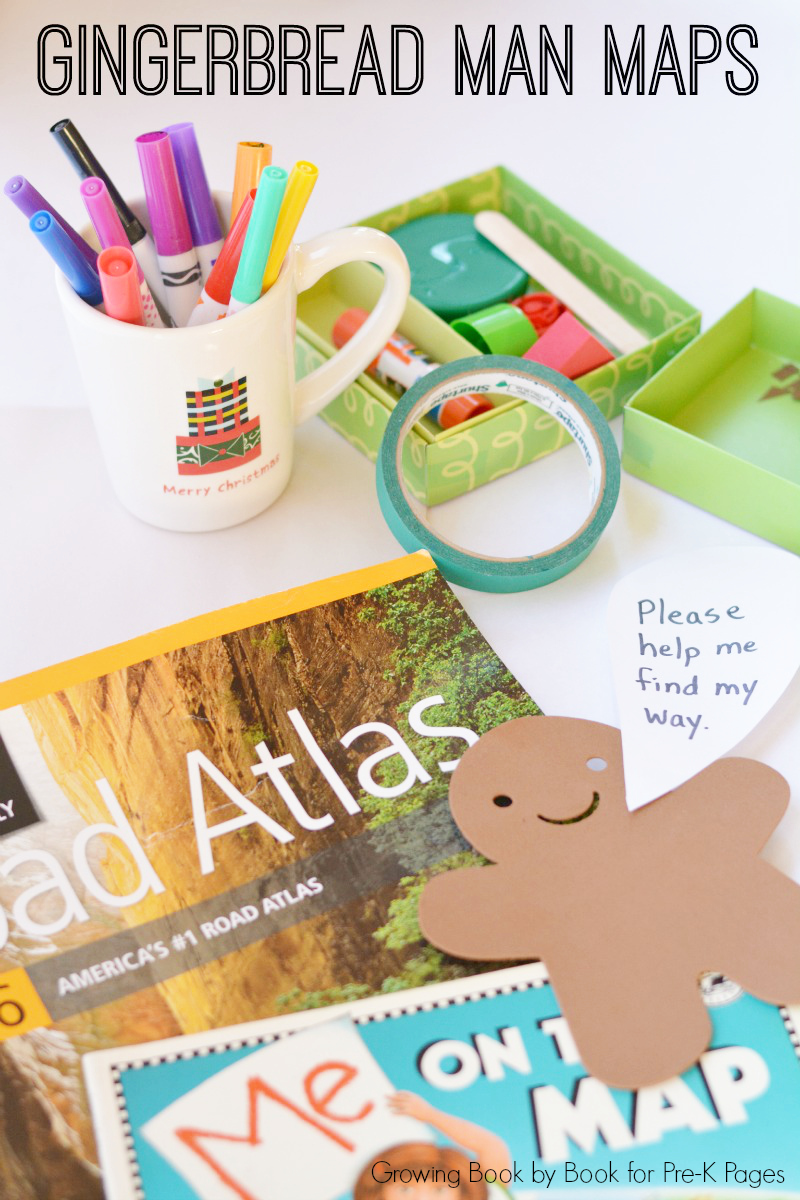 Gingerbread Man Maps
This gingerbread-themed writing center helps young students learn and grow through making maps.
Inspired by the main character in the familiar story, The Gingerbread Man, students will create a map to help the Gingerbread Man find his way to a destination.
Writing Center Skills
The skills covered in this activity include:
comprehension: retelling the major events in the story
writing: expressing ideas through emergent writing for a variety of purposes
fine motor: use tools for writing and drawing
logic and reasoning: use symbols and images to represent something not present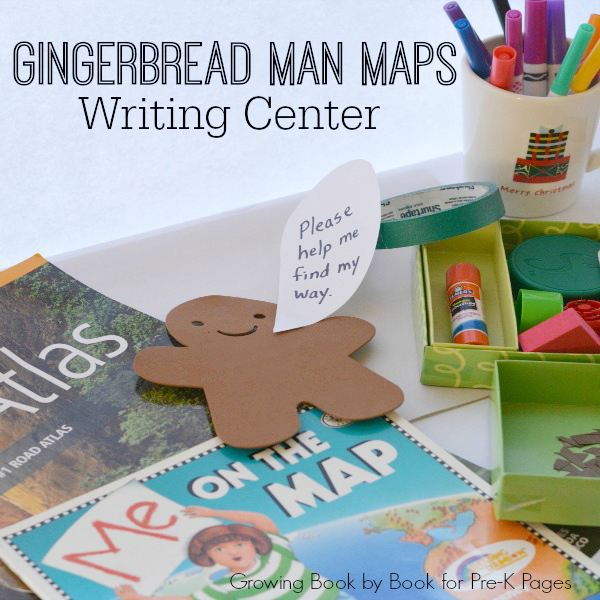 Gingerbread Man Writing Center Supplies
These are the supplies you will need for the map writing center.
Blank paper
Writing supplies (crayons, markers, colored pencils)
Gingerbread Man (made from paper)
Brown construction paper
glue sticks
shape templates
chart paper
books about maps (An atlas and Me On The Map, by Joan Sweeney, are two good choices.)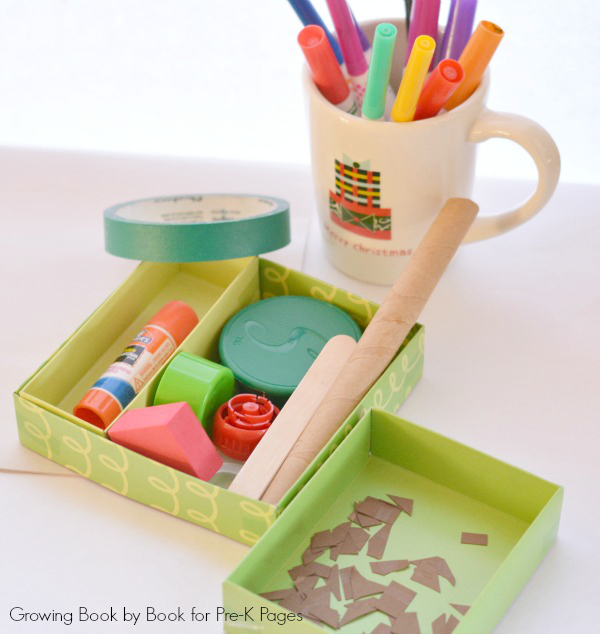 Setting Up the Gingerbread Man Writing Center Activity
Start by setting up your writing center as a map-making station.
Fill the center with blank paper, writing materials (crayons, markers or colored pencils), torn brown pieces of paper (to represent cookie crumbs), shape templates, glue sticks, and books about maps.
Add a little Gingerbread Man with a sign that says, "Please help me find my way."
Introducing the Gingerbread Center
Gather the children and orally retell the story of the The Gingerbread Man. Invite the children to make a map to help the Gingerbread Man get somewhere. Show them a few different ways they could draw a map on chart paper.
You may also want to show the kids an atlas or the book Me On The Map by Joan Sweeney.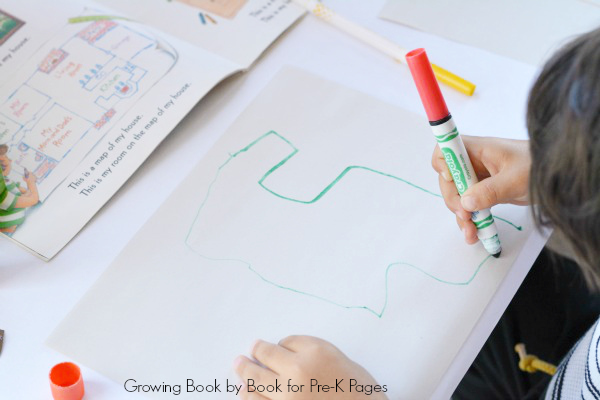 Show the children the tools that are available and demonstrate how to use each one.
The shape templates can be used to draw lines, houses, or trees. Torn pieces of brown paper can be used to represent cookie crumbs.
Invite the children to glue a cookie crumb trail on the map to show the Gingerbread Man the route he should take.
Some kids may choose to create a map that retells the route the Gingerbread Man took in the story. Others may prefer to create a map of the classroom, their home, or the park.
After center time, invite the children to share their maps with the class.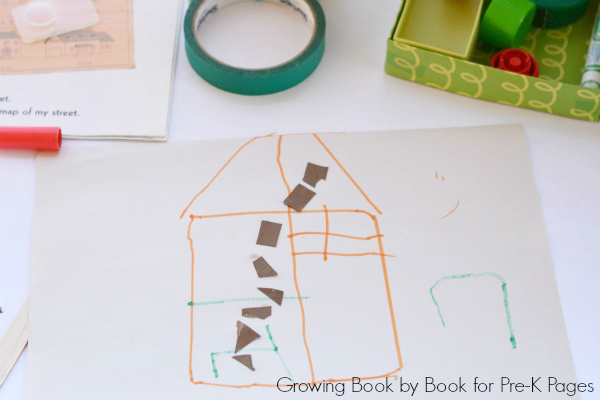 Jodie is the creator of Growing Book by Book where she shares book lists, reading and writing activities, and literacy-building tips for young children. She is also the proud mom of 2 little boys- check out their playful preschool year! You can connect with her on Facebook and Pinterest.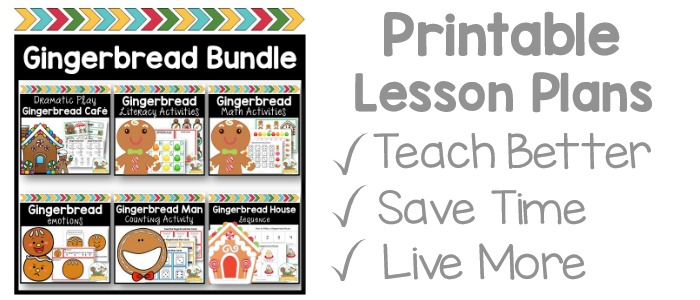 More Gingerbread ideas