Mardi Gras is a wonderful celebration for kids to have fun getting involved in. With these Mardi Gras for kids activities and craft ideas involve a variety of fun learning opportunities- such as books, sensory bins, so much more!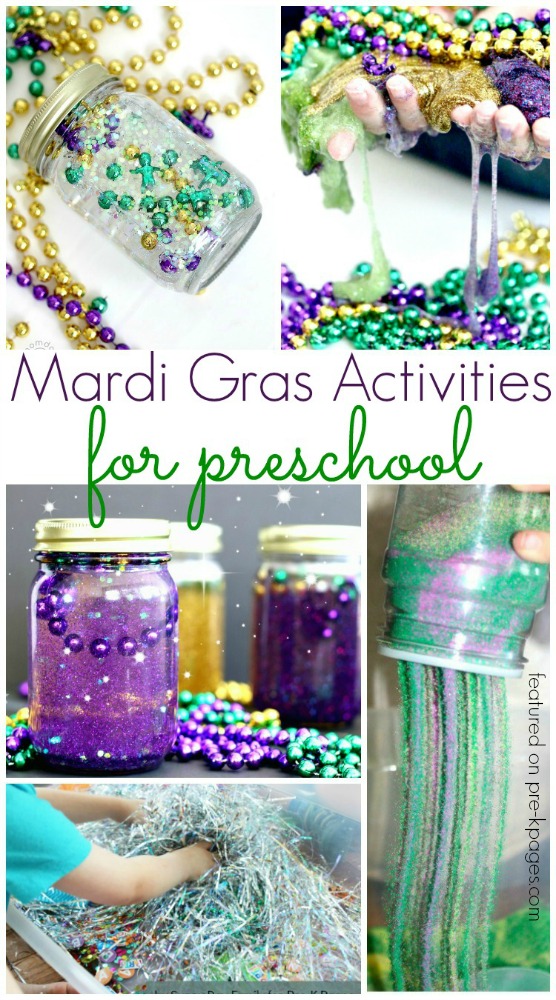 What Is Mardi Gras?
Many families and communities celebrate Mardi Gras. It is a day (or some times several days) of celebration before Lent and preparation for Easter.
While the day has Catholic Christian connections, many different people celebrate the holiday. Parades, beads, and cake are all traditions associated with the holiday, and these are all things that your children may enjoy exploring. The traditional colors – purple, yellow, and green – are also fun aspects for kids. Exploring this theme may be a great jumpstart for your spring. Check out these activity ideas.
Mardi Gras Activities for Kids
These crafts and activities can involve all the traditional ways to celebrate. Plenty of purple, gold and green.
Party Sensory Bin (Pre-K Pages) – Inspired by the book Alphabet Adventure by Audrey Wood, this Alphabet Party sensory bin is guaranteed to liven up any preschool lesson on learning letters!
Mardi Gras Masks with Printable (Little Pinch of Perfect) – Celebrate with this printable craft that kids can decorate.
Mardi Gras Play Dough (Still Playing School) – Make homemade play dough and color it purple, green, and gold!
Mardi Gras Activities (JDaniel4's Mom) – Both a mask and a necklace of beads can be fun learning tools as well as Mardi Gras party elements. Enjoy three different learning activities in this post.
Snack for Kids: King Cake (JDaniel4's Mom) – This easy fun kids version of Kings Cake is a great way to celebrate!
Mardi Gras Calming Jar (MomDot) – This purple, gold, and green calming jar will mesmorize your kids!
Mardi Gras Books for Preschoolers (eLeMeNO-P Kids)- For those of you who may want to learn more about this super fun celebration, this list of books for preschoolers will help with that! They are fun, bright and colorful, and cultural to what all those who celebrate!
Painting with Beads (Where Imagination Grows) – Have fun creating process art with your kids by using some fun beads.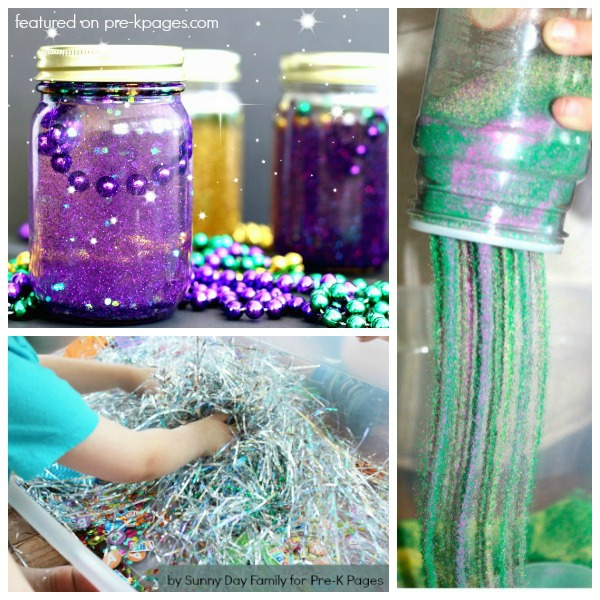 Mardi Gras Crafts And Activities
Just some simple craft supplies is all you need to enjoy some of these activity ideas.
Shakers and Masks (Mom to 2 Posh Lil Divas) – Have your kids make their own masks and shakers out of recycled water bottles!
Mardi Gras Cupcakes (eLeMeNO-P Kids) – Grab a cake mix and some food coloring and make these cupcakes with your kids!
Mardi Gras Slime (MomDot) – Purple, gold, and green glittered slime will be a favorite with your kids!
Candy Necklaces (No Time for Flash Cards) – Grab some Twizzlers and make these colorful inspired necklaces!
Easy Paper Plate Masks (Mom to 2 Posh Lil Divas) – These masks can be easily made with a paper plate. Add some feathers and have your kids decorate.
Mardi Gras Activities (Inner Child Fun) – These Mardi Gras activities for kids will have you throwing your own parade and celebration in ease.
Craft Sand Sensory Bin (Little Bins for Little Hands) – Use purple, gold, and green sand to create this fun sensory bin.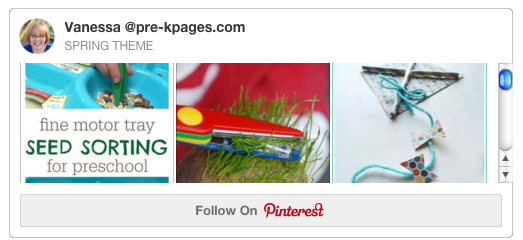 Follow my Spring Pinterest Board for more great activity ideas!