Inspired by the book Alphabet Adventure by Audrey Wood, this Alphabet Party sensory bin is guaranteed to liven up any preschool lesson on learning letters!
Alphabet Adventure is the story of a lowercase alphabet trying to get to the first day of school. When little i loses his dot, all of the letters must help him find it or they will never make it on time! While they're in search of the dot, they come upon the capital letters having a party. This fun part of the story inspired our Alphabet Party sensory bin.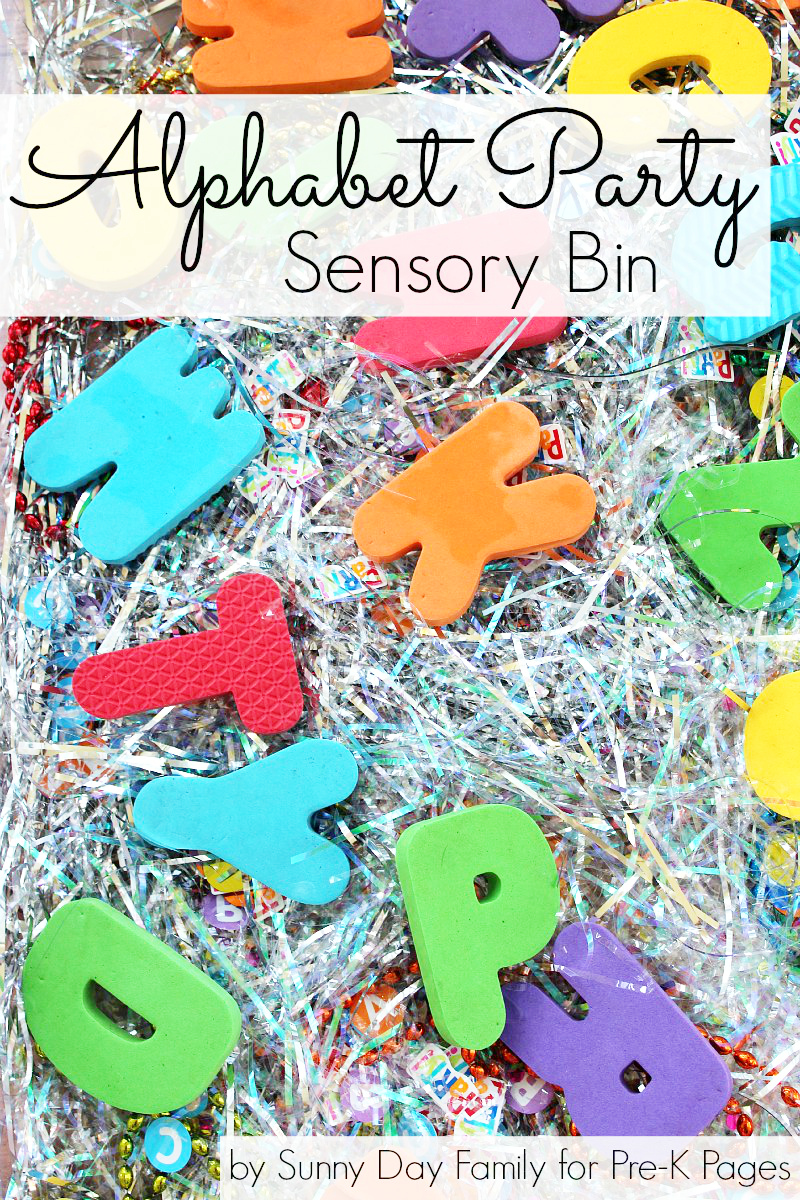 Why Use a Sensory Bin in Preschool?
Sensory play is open-ended, meaning there is no clearly defined outcome of playing with or exploring the materials inside the bin.
Children use their senses and creativity to explore the materials offered in a sensory bin on their own without the expectation of an end product.
To recap, sensory bin play is meaningful to young children and provides opportunities for open-ended play.
Sensory play is incredibly beneficial to preschoolers, who thrive from hands on experiences. Creating a sensory bin is an easy way to provide an opportunity to touch and explore different textures and shapes.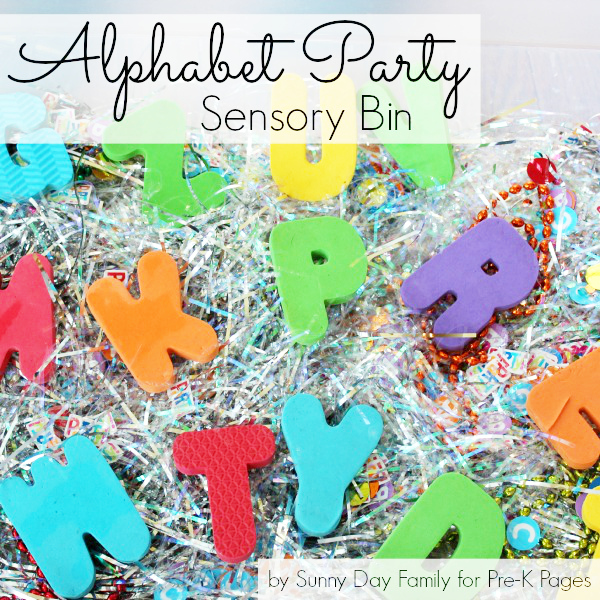 Preparation
To create an Alphabet Party sensory bin, you will need:
Alphabet Adventure by Audrey Wood (or another alphabet book for preschool!)
Large shallow bin (I used a plastic under bed style box.)
Shredded paper (I used 1 bag of translucent and 1 bag of silver gift bag filler.)
Assorted confetti (Be sure to include dots!)
Foam letters
You can add in any other party supplies that you have. Our bin included some party horns and plastic beads left from New Year's or add some Mardi Gras beads and this becomes a fun Mardi Gras activity!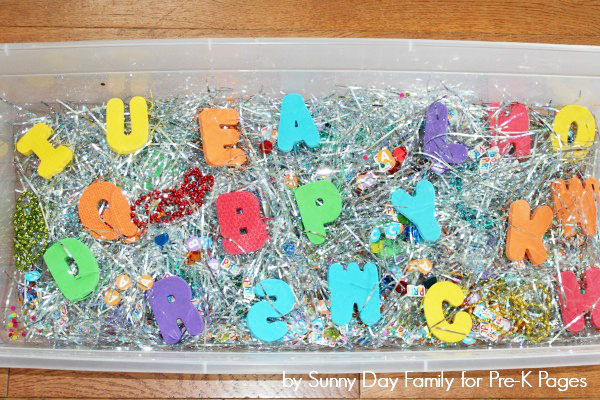 Play!
We began our play by reading the book Alphabet Adventure. We talked about all the different places that little i's dot could hide and we tried to find the dot on each page. Then I brought out the Alphabet Party sensory bin and invited my boys to explore.
At first I just allowed them free time to explore the different textures and shapes in the bin. They loved digging their hands in the paper and trying to use the party horns as shovels.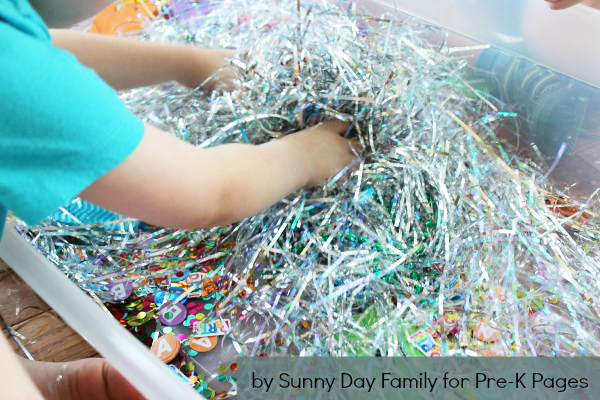 After some free play, I asked them to help find specific letters in the bin. This was great practice for them as they are just beginning letter recognition. Older children can have fun trying to spell words from the letters in the bin.
I also asked them to try to find the dots in the box – just like we searched for little i's dot in the book!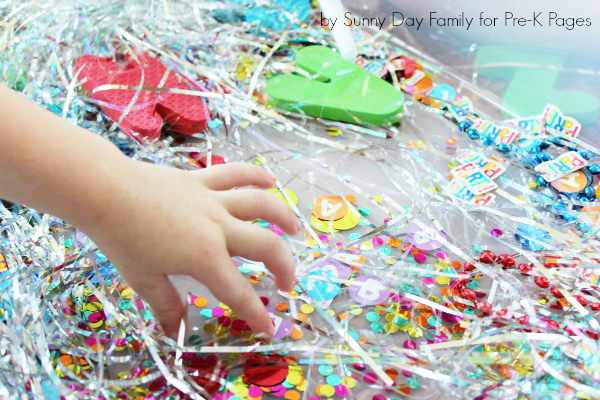 The Alphabet Party sensory bin is a wonderful activity that can be used in a number of different ways, from open ended exploration to letter recognition to word formation. We really enjoyed making it and have had even more fun playing with it!
BIO: Laura is a mom to twin boys and the author of Sunny Day Family, where she shares fun activities and easy organizing tips. She has a passion for early literacy and all things kids' books! Connect with her on Facebook, Pinterest, Instagram, and Twitter.
More Sensory Bins To Try
If you like this sensory bin then you may also enjoy these other sensory bin ideas that you can use in your pre-K or kindergarten classroom throughout the year.
Sensory Table Ideas For Preschool And Pre-K – Are you looking for sensory table ideas for your preschool or pre-k classroom? Then you're in the right place! The sensory table is a very popular place in most early childhood classrooms.
Halloween Sensory Bin With Spaghetti- Need Halloween sensory play ideas for your preschool classroom? You can make this easy colored spaghetti for a super fun Halloween themed sensory bin. This squishy Halloween sensory spaghetti is sure to be a big hit with your kids!
Halloween Black Bat Sensory Bin – Your little learners will have a blast with this black bat sensory bin for Halloween! It's super quick and easy to set up for your preschool classroom or in your own home.
Easter Sensory Bin For Preschool – This Easter sensory bin is super quick and easy to set up at home or in your classroom. With plastic eggs and fun shredded colored paper your students will love this!
Dinosaur Sensory Bin – This super simple kinetic sand recipe is easy to make for the sensory bin or table in your classroom. Your little paleontologists will love roaring and stomping their dinosaurs through the sand!
Christmas Water Beads Sensory Bins – This Christmas sensory bin uses green, red, and white water beads. Children will enjoy handling, scooping, and pouring the beads to enhance their fine motor skills and improve hand-eye coordination.
Fall Sensory Bin –  No matter where you live, your little learners will have a blast with this fall themed sensory bin! It's super simple to set up at home or in your preschool classroom.
More Sensory Bin Ideas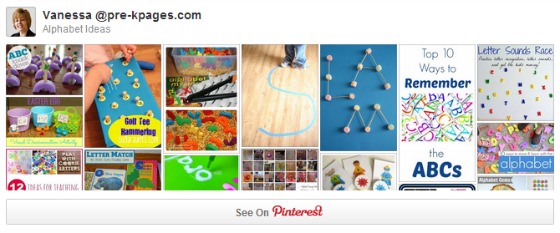 Follow my Alphabet Pinterest Board for more great ideas!