Color mixing is like magic to both preschoolers and monsters! The creatures in the book Monsters Love Colors by Mike Austin just love colors. Kids can join in the fun after reading this silly story with this magical monster painting activity!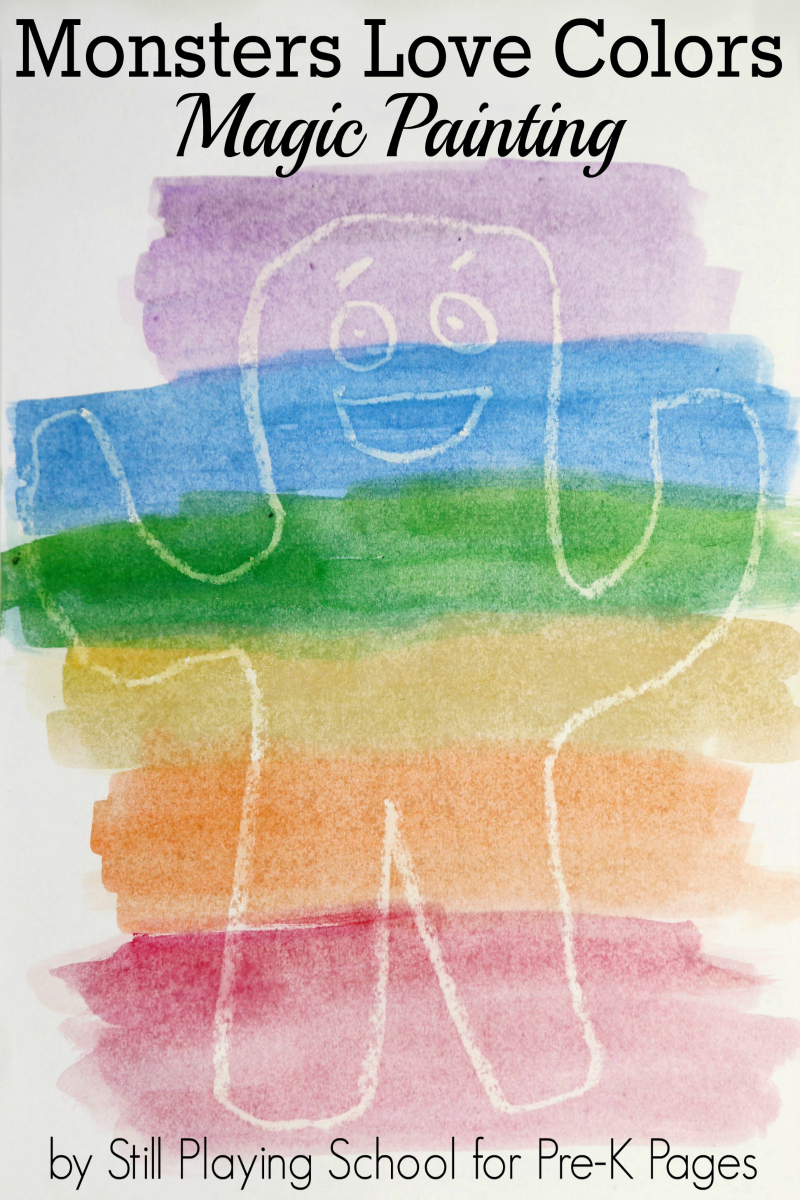 Monsters Love Colors
The monsters identify their favorite colors in the book. They use the primary colors (red, blue, and yellow) to create the secondary colors (purple, green, and orange). The action words and expressive language will have children asking for this story over and over again! We've created an art activity that allows children to experience the color mixing described in the book in a hands-on way.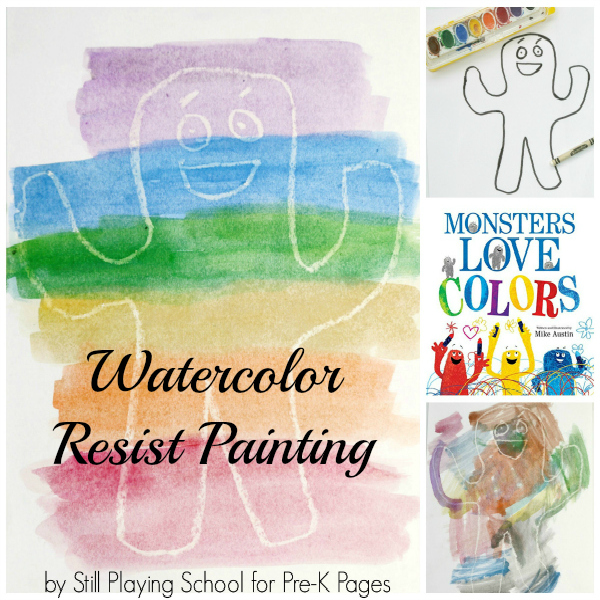 Prepare the Painting Activity
You will need:
Paper
A white crayon
Watercolor paints
Water
Paintbrushes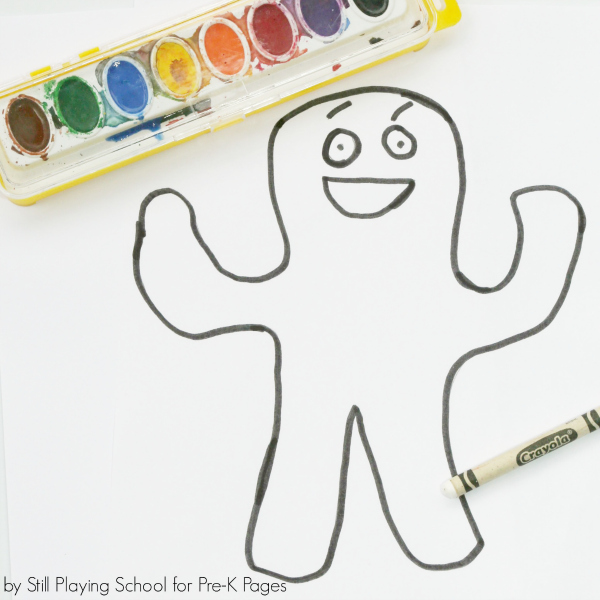 To prepare this activity, I drew our monster first with black marker. You can see that ours is very simple with a few details like the ones in the book (the eyebrows and smile). Next I put a new sheet of blank paper over the black marker pattern and traced the monster this time with the white crayon. Alternatively, you could simply freehand the monsters on the white paper with a white crayon. We used regular copy paper but you might experiment with paper that is a bit thicker for better absorption of the watercolor paint.
Teacher Tip: If you are preparing this activity for a whole classroom of students, ask a parent volunteer to trace the monsters with the white crayon!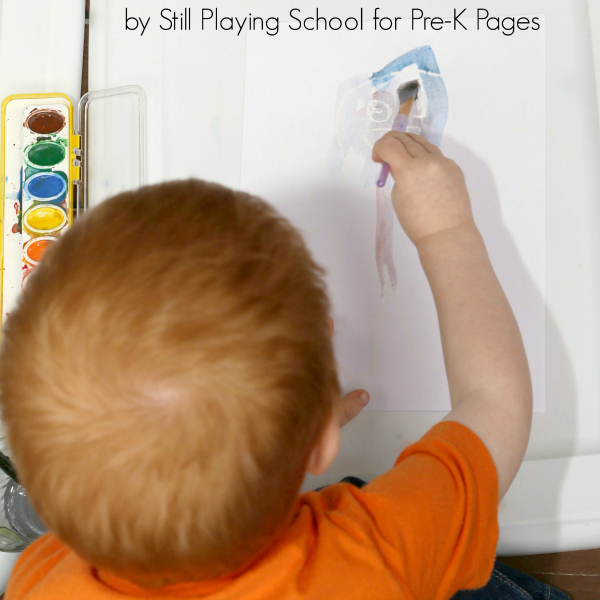 Watercolor Resist
After reading Monsters Love Colors, ask children to identify their own favorite color. Will they paint a monster with their favorite color or mix several colors to create a rainbow like the last monster in the story?
Give each child a paper with the white crayon monster drawn on it. As the children begin applying the watercolor paint to the paper, the white crayon will resist the color, allowing the monster to appear on the paper like magic! Kids absolutely love this activity with any theme.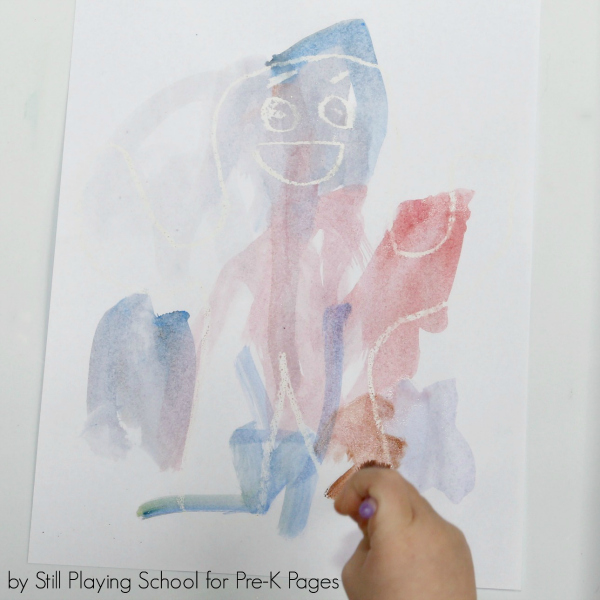 I remind our preschoolers the order of using watercolor paints. "Water, paint, paper!" We also discussed how to mix the secondary colors with the primary ones as we experimented with the combinations both on a mixing tray and on our papers. Monsters love colors but so do our preschool kids!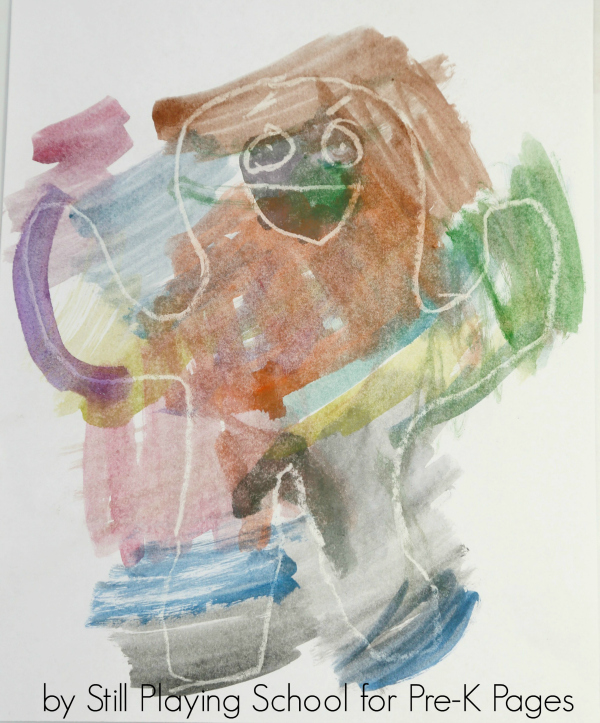 BIO: Devany LeDrew is a former kindergarten teacher who writes at Still Playing School where she shares play based learning activities. She specializes in fine motor activities and has co-authored two books of fine motor ideas! Follow Still Playing School for more engaging ​educational ideas on Facebook, Instagram, Pinterest, and Twitter!
More Activities with Color—
Freight Train: Exploring Color with Trains
Pete the Cat Inspired Art Prints
Dog's Colorful Day: Color Matching
Mix It Up: Color Mixing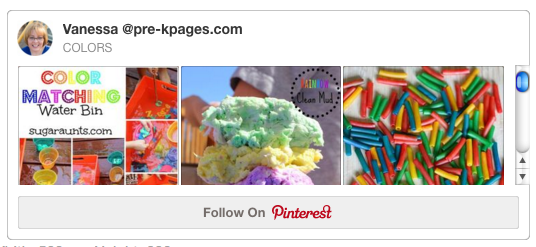 Follow my Colors Pinterest Board for more great ideas!