Incorporating nursery rhymes and other rhyming games is a great way to develop literacy skills. Expanding into a nursery rhyme theme allows preschoolers to investigate these familiar characters. This game connects with the Muffin Man and encourages building literacy and letter recognition skills.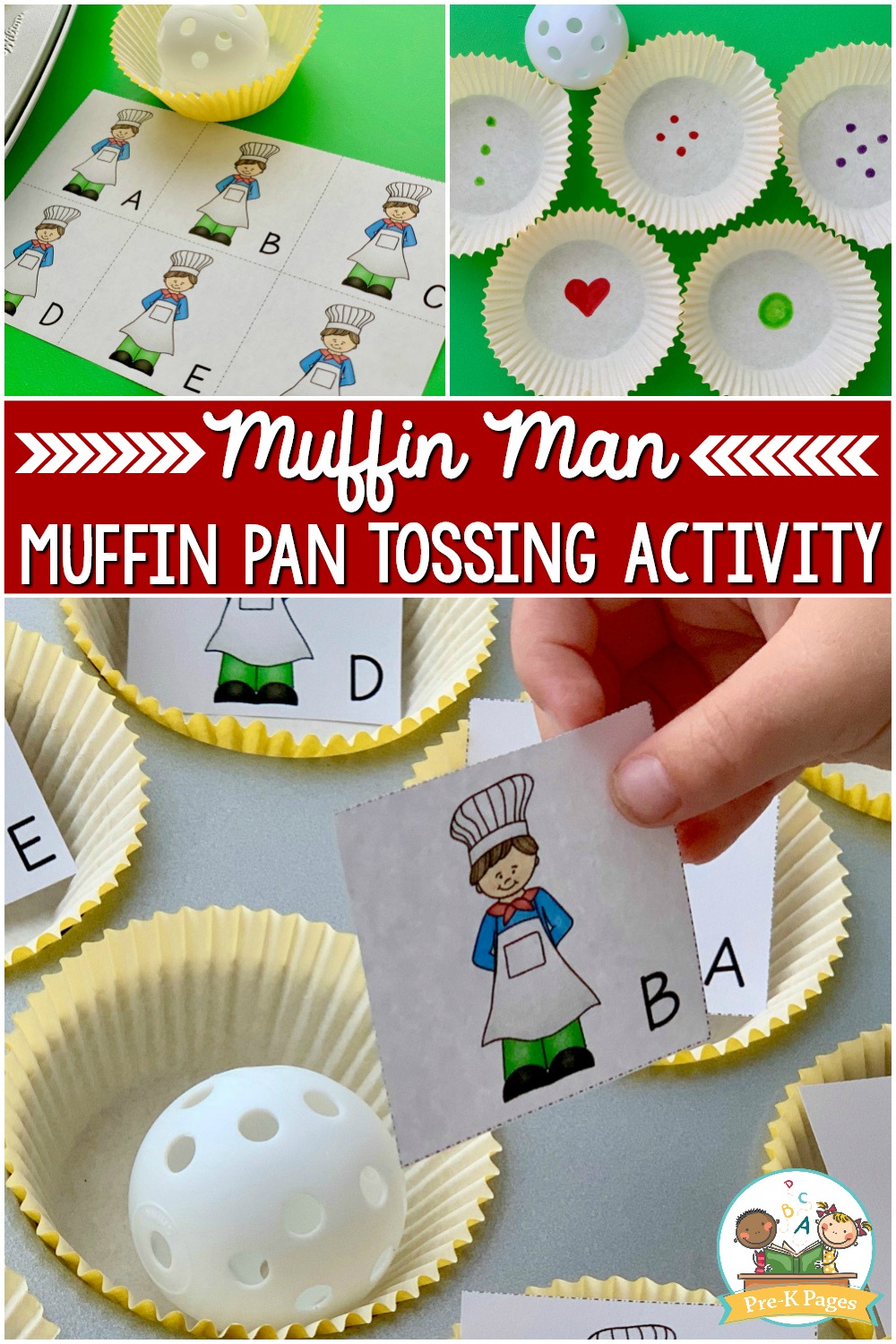 Muffin Man Literacy Skills
This activity focuses on letter recognition skills. Children can begin to recognize the differences in the letter shapes (visual discrimination). They can name the letters. You can focus on just uppercase or lowercase. Or you could mix these letters for older preschoolers, helping them master the letters.
Preschoolers toss balls, using their gross motor skills. Directing the bounce of the ball helps kids develop more control over their muscles. This game will engage those children who enjoy more active learning as well.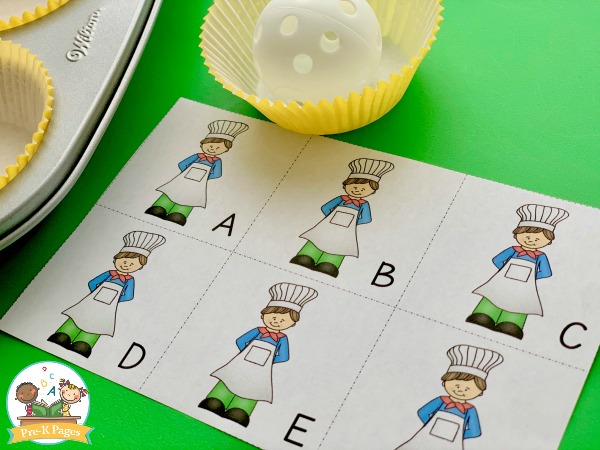 Muffin Pan Tossing Activity
Materials Needed
Muffin Pan
Paper Muffin Cups
Table Tennis Balls
Scissors, tape
Optional: marker, stickers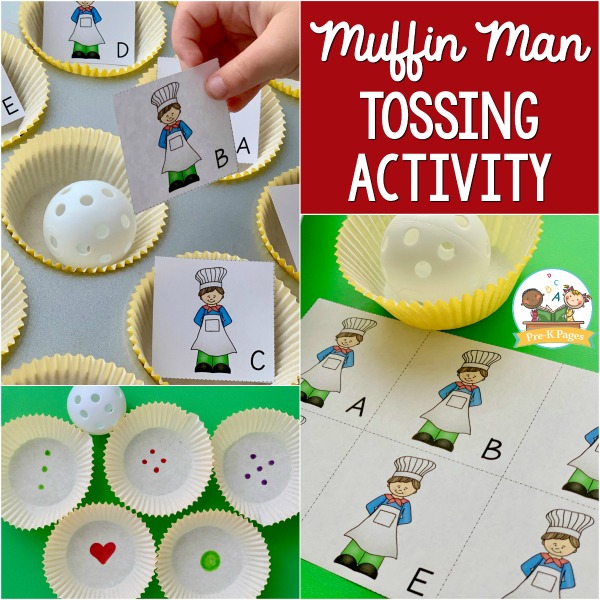 Prepare the Game
Print out the letters with the Muffin Man. I printed them at 50 percent so they would easily fit in my muffin cups.
Cut out the letters and tape them into the muffin cups. Place muffin cups in the muffin pan.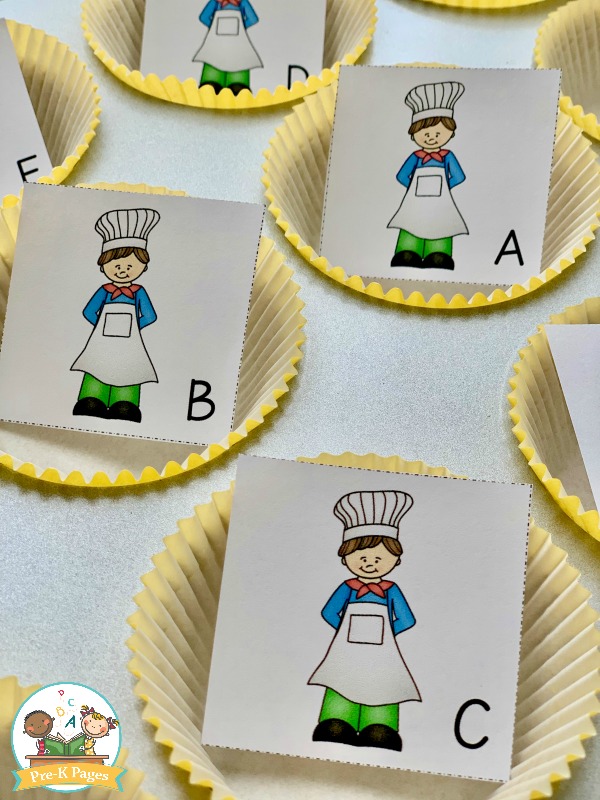 Set the muffin pan on a table or the floor. You may want to place it against a wall to keep the balls from going all over the room. I used a cardboard tri-fold board to place behind the muffin pan instead.
Play the Game
Invite a child to toss the ball into the muffin pan. Lead kids to stand close to the muffin pan to toss. I prefer for kids to bounce the ball on the table or floor and into the muffin pan.
When the ball lands in a muffin cup, invite the child to name that letter. Older children could tell the letter sound or name a word that begins with that letter sound.
Be prepared for wild balls and practice bouncing the ball into the muffin pan. You may want to place the game with plain muffin cups. Kids could practice bouncing the ball into the muffin pan before adding letter recognition to the game.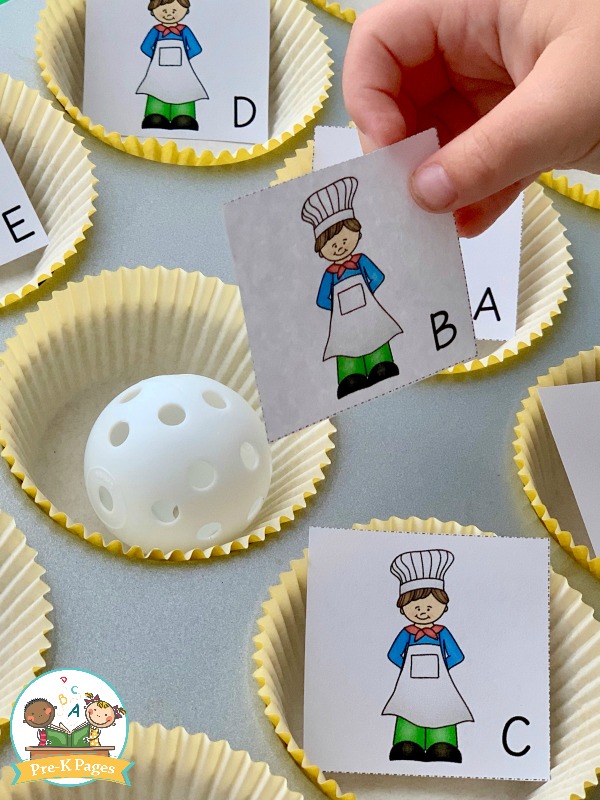 Variation
Use a marker or stickers to place other things in the muffin cups. Draw shapes or quantities of dots. Place color or shape stickers in the cups. Or use stickers of various objects (to reinforce initial sounds). Adapt the game to go with the concepts you want to focus on.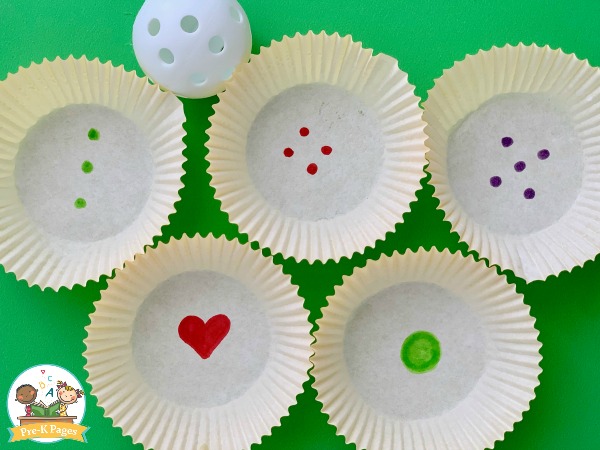 Contributed by R. Scott Wiley
More Nursery Rhyme Activities