Have you ever entered your email address to download a freebie…and then been disappointed by what you got? I know I have plenty of times! 
When you're trying to find new ideas for your classroom, freebies can be very helpful. But it can also go in another direction—one where you catch yourself thinking…
"Huh? That's it? I could've Googled that!"
So when I create freebies and bundles, I'm particularly mindful of trying to provide the very best resources and in plentiful fashion. 
And for quite some time, I've been making a list of my favorite alphabet activities and games—things I've picked up along the way that I found precious and effective but were too small to give away individually.
Recently, I've finally collected enough to finish my bundle, and today I want to tell you all about it!
We have a bunch of games to break down—car games, board games, magnetic letters… You name it! 
And for each and every one, I've created printables that I'm going to share with you for FREE at the end of this episode.
There's a lot for us to explore, so let's get going!
Top 8 Alphabet Games to Use in Your Preschool and Pre-K Classroom
TLDR? Scroll down to the bottom of this post to grab your freebie bundle!
1 – Alphabet Fishing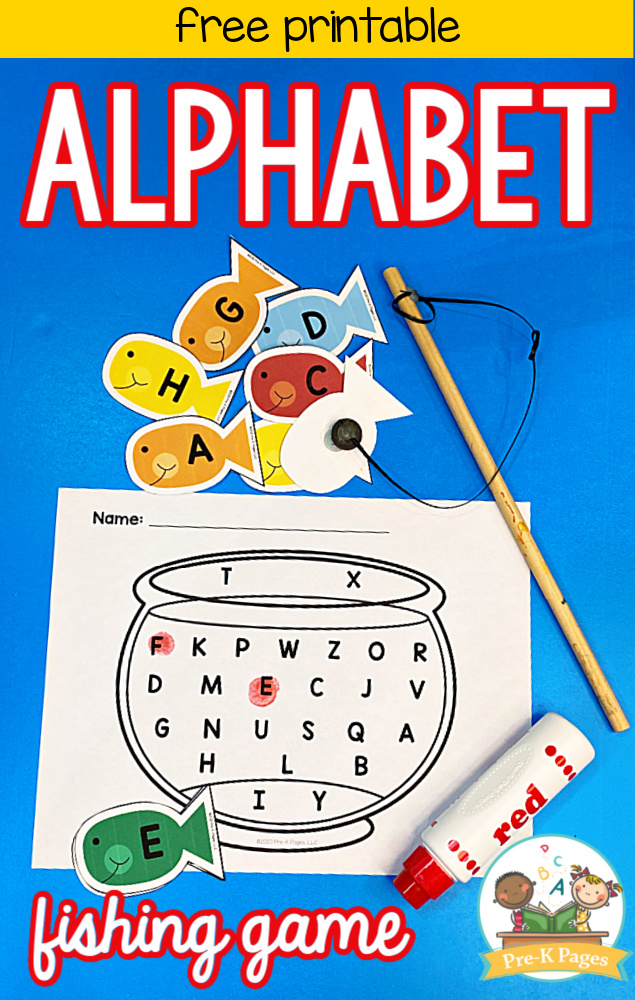 This is one of the most effective alphabet games I've ever used! I can't tell you exactly why, but children between the ages of 3 and 6 simply can't get enough of it! It's fascinating!
Even though it's a powerful teaching tool, alphabet fishing sets can be so costly. Luckily, you won't need to waste money on fancy brands because I'm confident my homemade method works just as well.
The real breakthrough I've had with this printable came entirely by accident. I was waiting in line to use the laminator, and I met a woman who was laminating washers, those little round metal discs you can buy for pennies. 
Now, I don't recall what she was using them for, but it was some kind of magnetic activity. I immediately got the idea to apply this for a DIY alphabet fishing game. And it worked perfectly!
So what I have for you are images of fish with different colors with lower and upper case letters. Pro tip—I highly recommend using brightly colored cardstock because it makes the fishies really pop out!
2 – Alphabet Board Game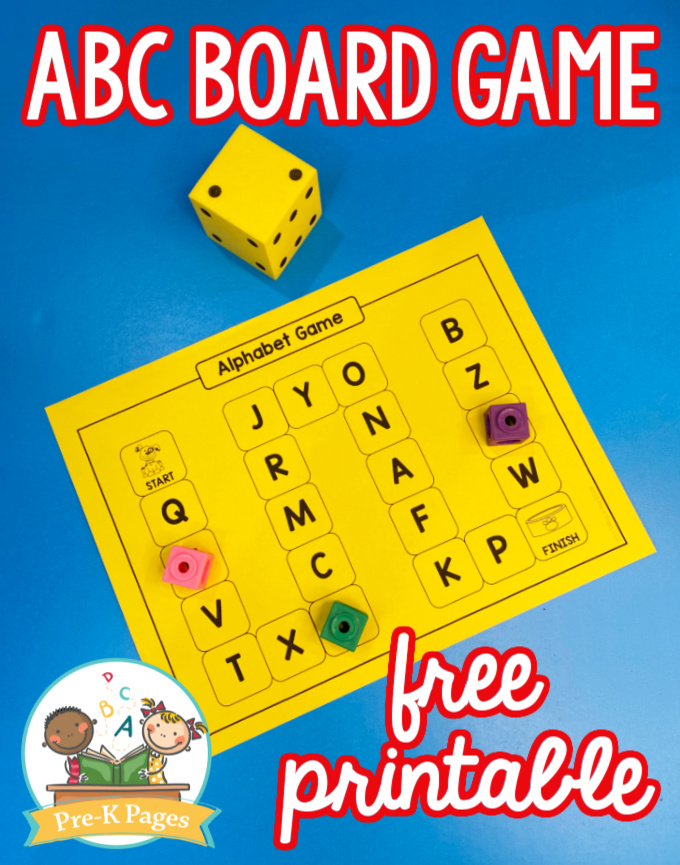 ABC board games are perfect for small group activities! And I'm pretty sure every classroom uses them, but the ones in my printable have a crucial advantage.
They're editable!
This gives you more control over how your students learn because you can use their assessment scores and adjust the boards accordingly.
Another way to adjust the difficulty is by using different board sizes, by varying numbers of letters on the board. Inside my bundle, you'll find three versions—easy, medium, and hard. This will help you differentiate, and not overwhelm students who shy away from "hard things."
3 – Alphabet Roads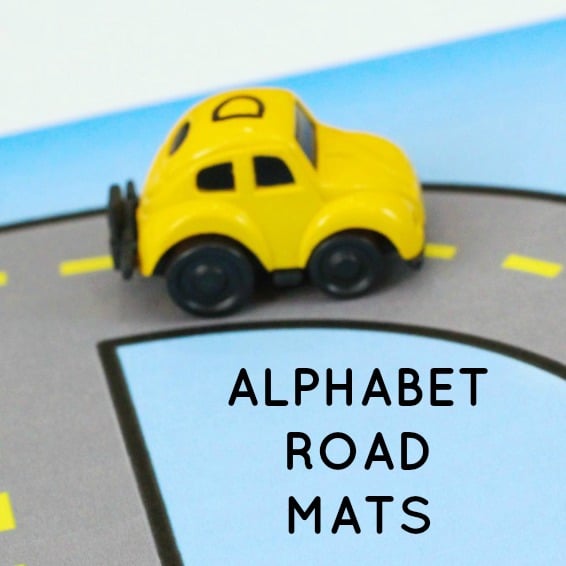 Do your students love playing with cars? Then this is the alphabet game for you!
Alphabet roads are hands-on, interactive, engaging, and tons of fun! Inside this printable, you'll find 52 different racetracks, one for each alphabet of the alphabet in lower and upper case variation. 
I personally like the little plastic ones you can get at any type of store that sells party supplies for cars. They're easy to buy, cheap, colorful and they don't make a lot of noise. Perfect for early childhood professionals on a tight budget!
4 – Alphabet Sensory Cards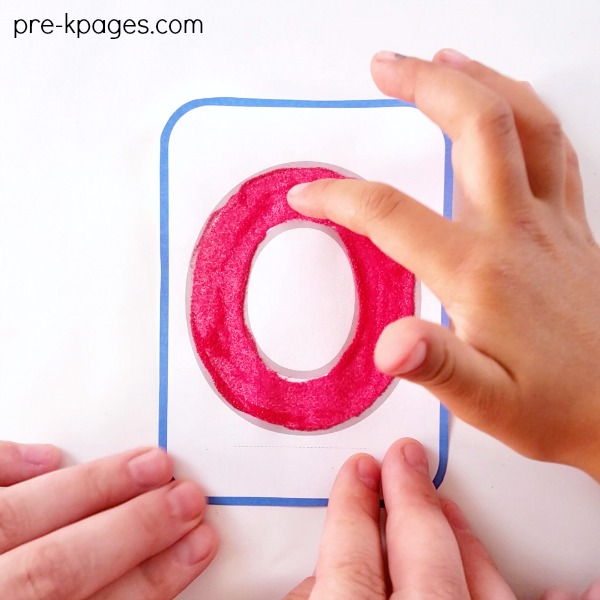 See it, hear it, say it, do it—this is the most effective way for children to learn the letters of the alphabet.
Alphabet sensory cards leverage this approach because it allows kids to go through all of these steps.
Once you print the letters out, cover the inside of the letters with liquid glue and then sprinkle them with sand, Kool-aid, or other ingredients you can think of to create a fun, multisensory experience.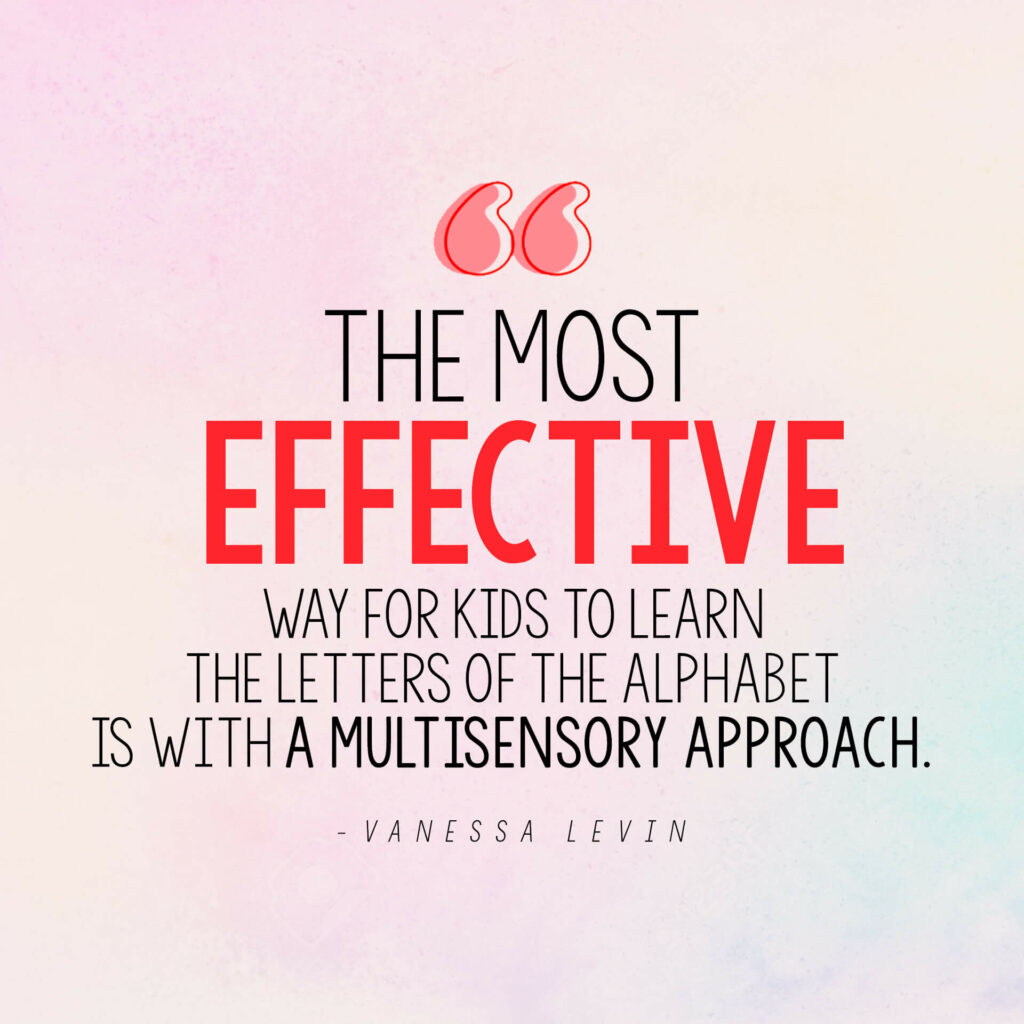 5 – Chicka Chicka Boom Boom Magnet Tree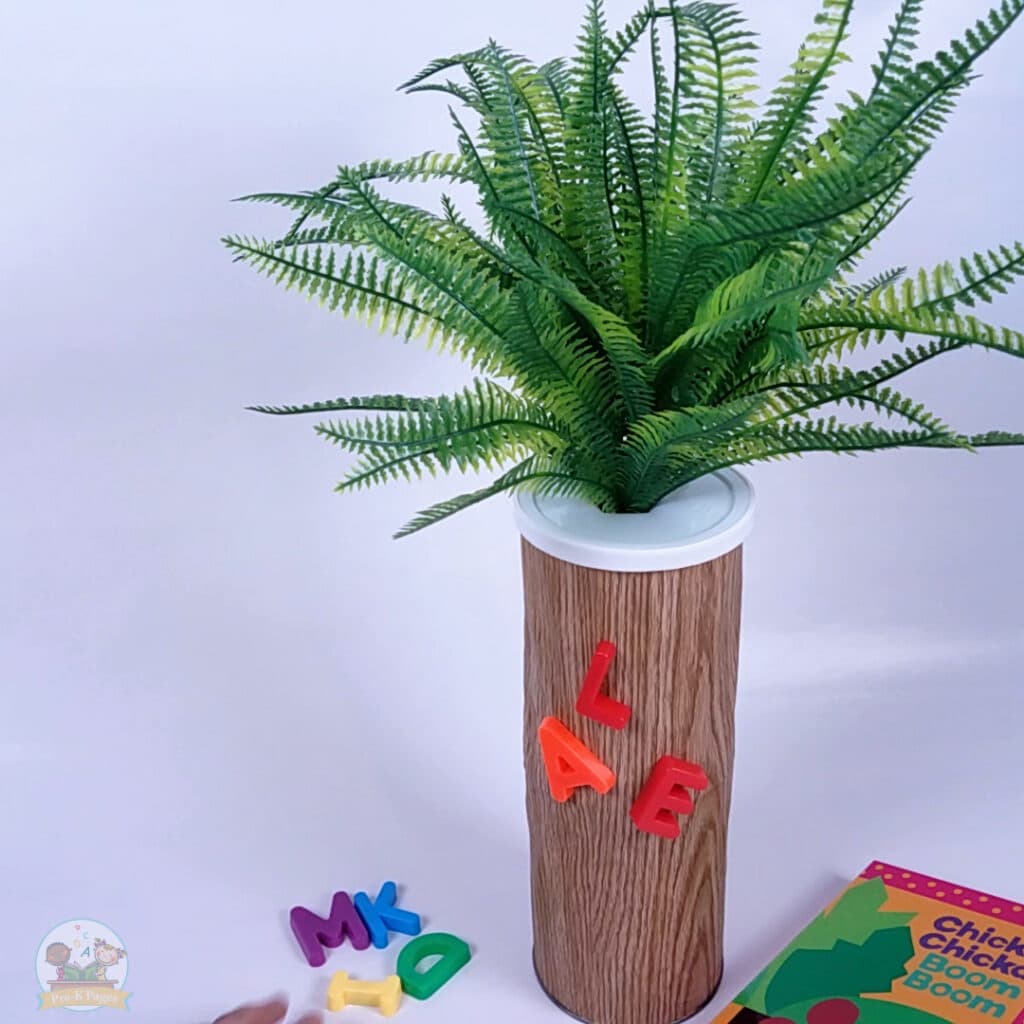 Chicka Chicka Boom Boom Magnet Tree is one of the most engaging alphabet games out there! You can check out this detailed tutorial on how to make your own, with just some tape, metal cans, brown paper, and a few fake fern leaves.
The game is simple—as you're reading the story, children come up to place the letters on the magnet tree. What I've created for you is a special printable you can use for independent practice.
So now, as the kids come up to place the letter magnets on the tree, they can mark them on their printable mat with a bingo dot marker. This adds an extra level of engagement to the game and facilitates learning!
6 – Parking Lot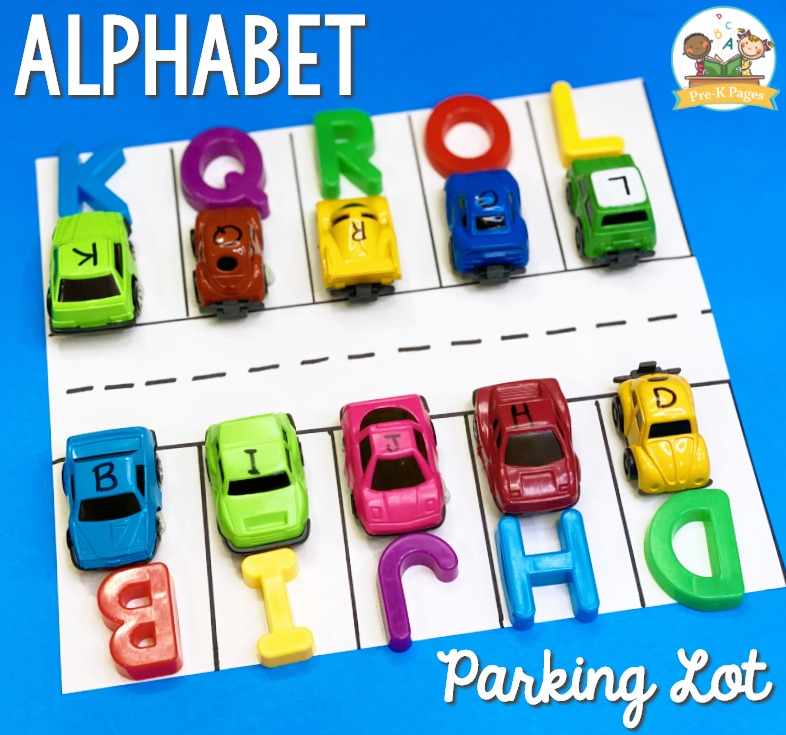 Here's another great alphabet game you can play with cars!
Using another one of my editable printables, you can create personalized parking lots for each student. All that's left to do is tape or write letters to the top of each car and have children match the car with each parking space.
Simple, fun, and effective!
7 – Alphabet Puppy Chow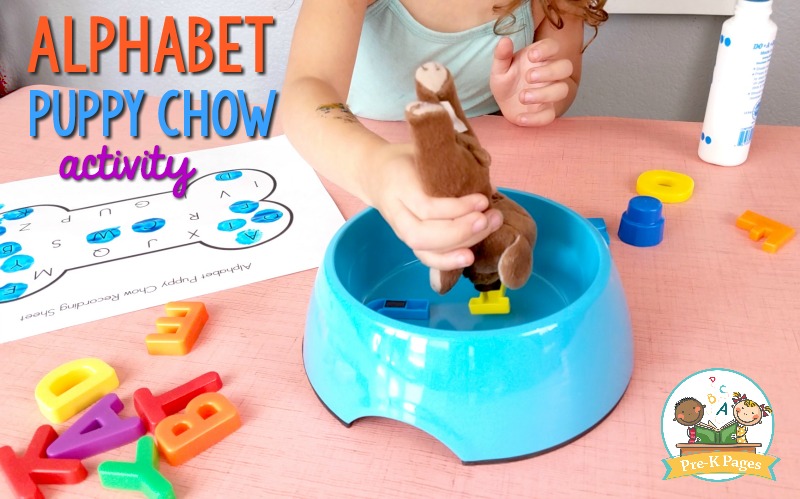 The original idea for the alphabet puppy chow game comes from Dr. Jean, and it's a brilliant concept. You take a stuffed doggie toy, glue a button magnet to its nose, and fill a bowl with magnetic letters for it to chow on.
It's great fun, but I also noticed some kids may need extra guidance to keep them focused on the letters. Sometimes, they focus more on playing with the puppy and making dog noises and less on the letters.
So I created this printable dog bone recording sheet for kids to mark each letter they pull out and track their progress.
8 – Wikki Stix Alphabet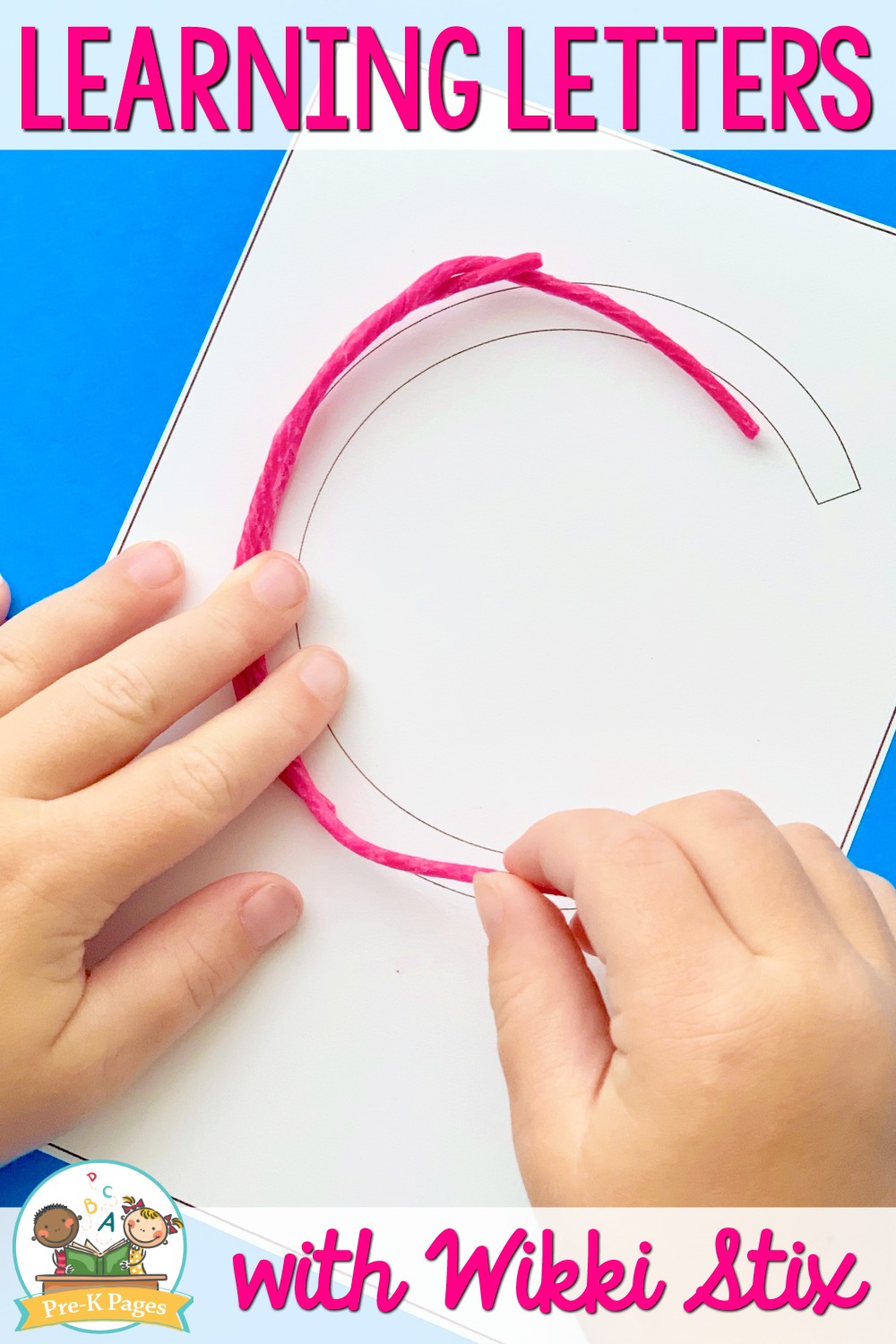 Wikki Stix are pieces of waxed strings you can easily manipulate and stick to paper, other objects, or even to each other. You may come across them under a different brand name, and they will work just as well.
I first used them a very long time ago, and they're amazing for tactile learning. Once again, you'll find the outlines for the letters in both lowercase and uppercase versions. Simply print them out, and have kids shape the Stix to follow the letters. This is another great example of a multisensory technique.
Easy-peasy!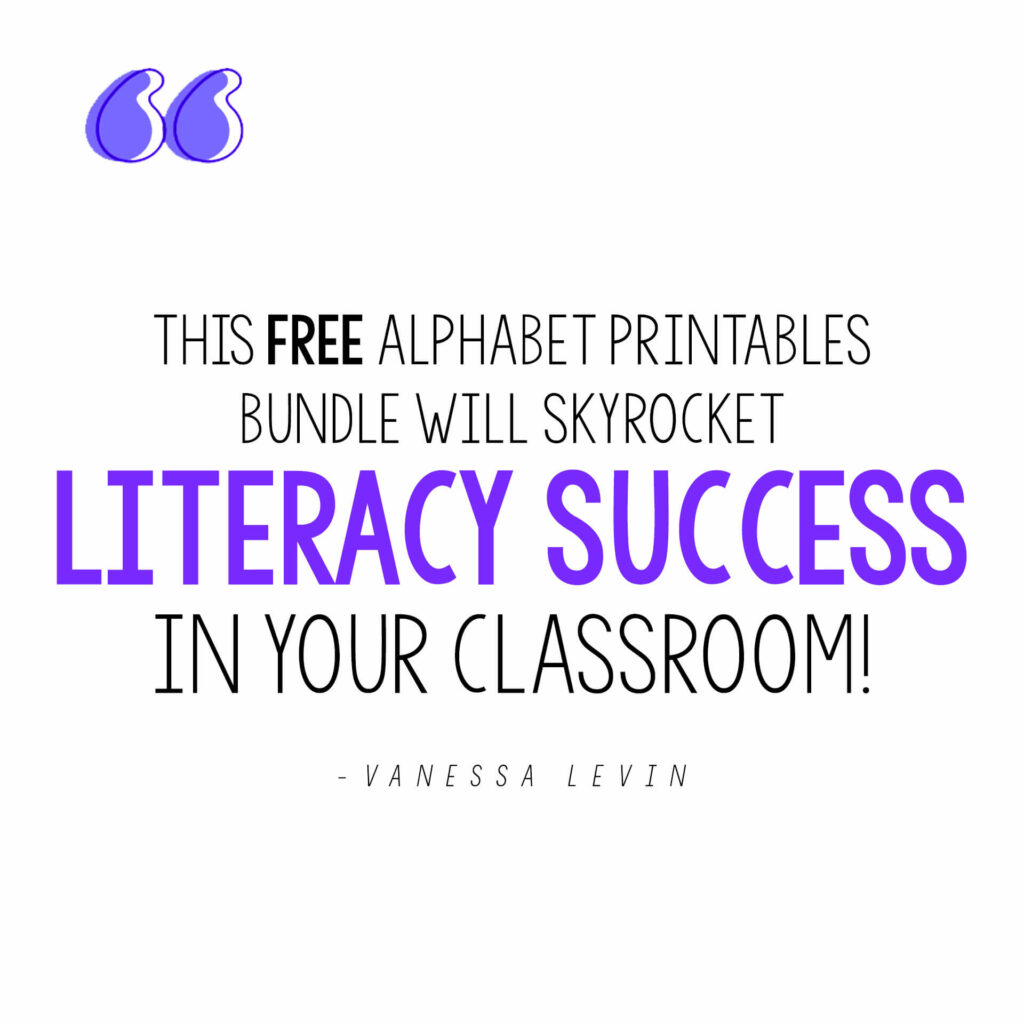 I hope you have as much fun and success with these alphabet games in your classroom as I have. To download the full alphabet freebie bundle for free, go here.

Links Mentioned in this Episode