Are you looking for fun, hands-on ways to help your kids learn the letters of the alphabet? This alphabet parking lot literacy activity is so engaging your kids won't even realize they're learning!
When you provide your little learners with playful opportunities to interact with letters they're more likely to learn the concept you're trying to teach. Keep reading to grab your free parking lot printable!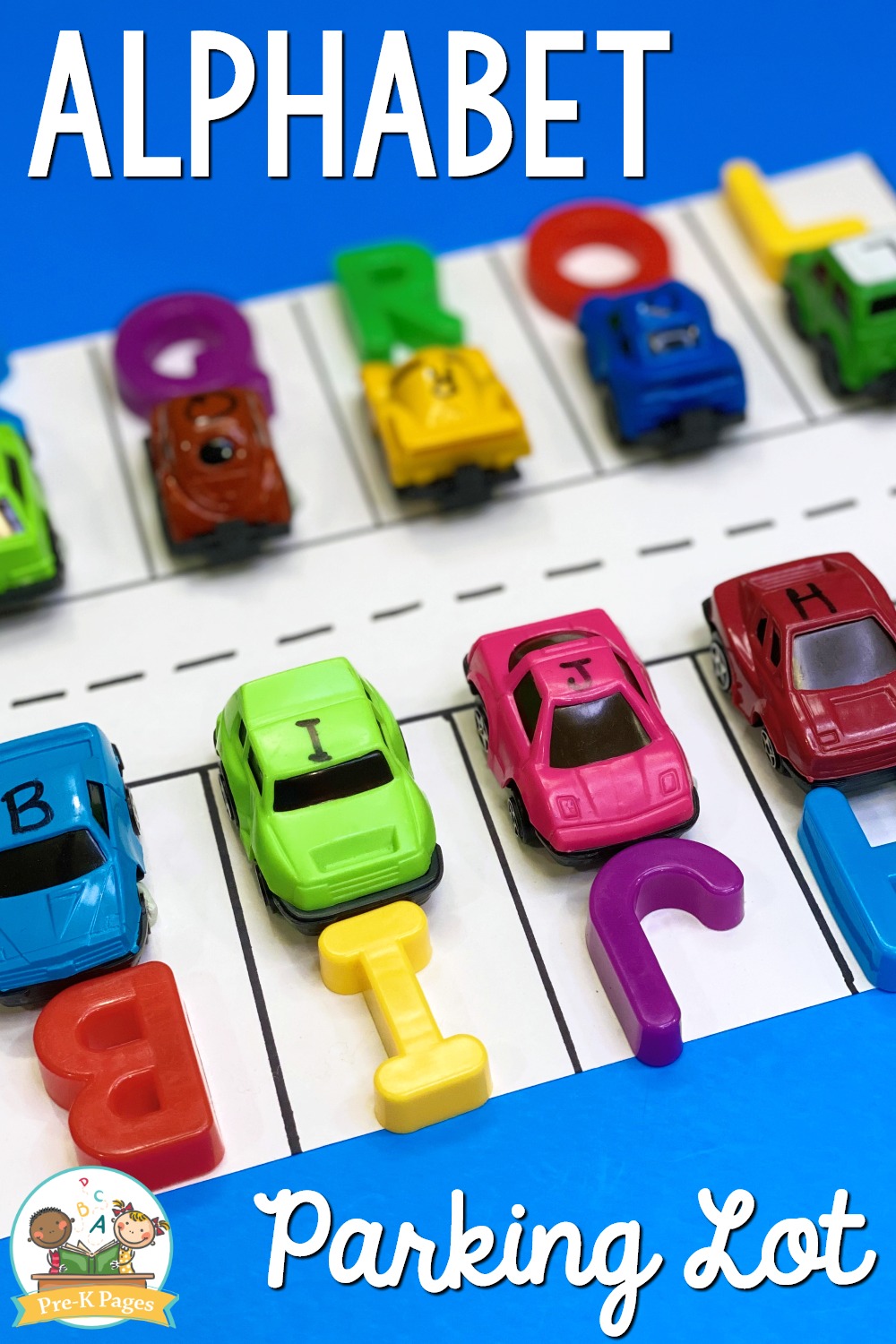 ABC Car Parking Lot
This ABC car parking lot is the perfect letter recognition activity. What could be more fun that driving toy cars around and then parking them in the parking lot?
This activity will hold the interest of your kids for longer periods of time than any worksheet ever could. And they'll even beg you to play it over and over again because they won't even realize they're learning.
Letter Recognition with Cars
It's pretty quick and easy to set up a letter parking lot for your kids, you may even have some of these things already. Here are the materials you'll need to get started.
You'll only need the sticker dots if your cars don't have blank space for writing on the top. I was able to write directly on the cars pictured here, but you may have different cars.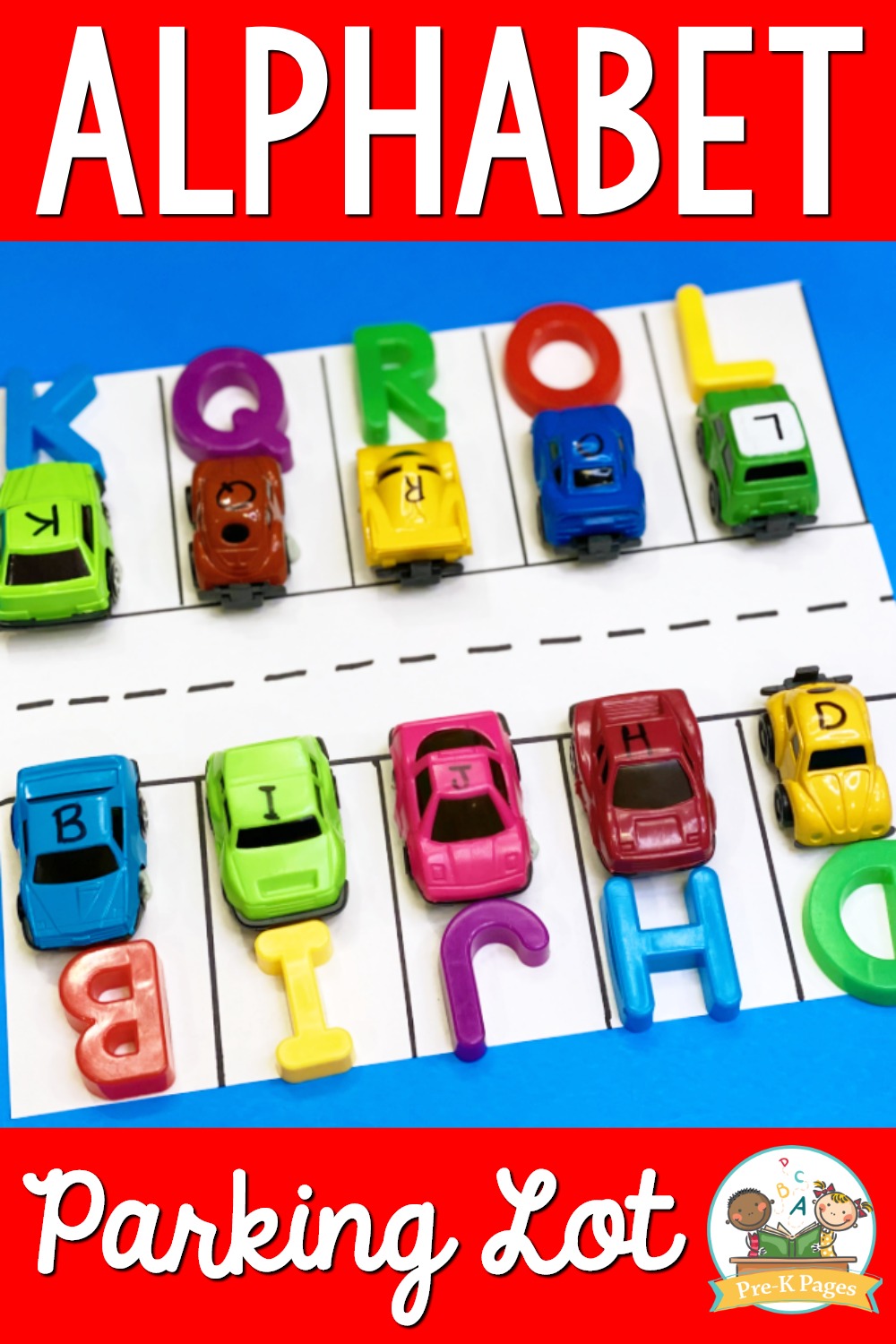 Engaging Letter Activity
Another great thing about this ABC parking lot activity is that you can differentiate it for the needs of your individual students. If you have some little learners who need extra practice matching uppercase letters, then use the uppercase magnetic letters in your parking lot.
If you have some kids who are ready to match upper to lowercase letters, then use lowercase magnetic letters in your parking lot.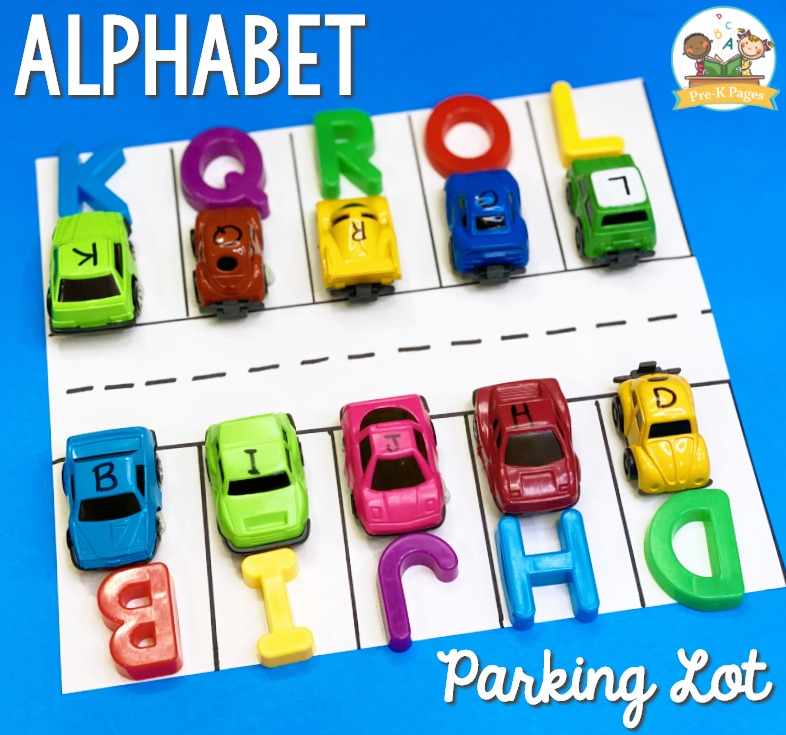 Hands-On Letter Activity
To prepare the activity, start by writing one letter of the alphabet on the top of each toy car with your permanent marker, or use the sticker dots.
Next, create your lot with your permanent marker and ruler. You could use the cardboard from a shipping box, a poster board, or cardstock paper for your parking lot. In the pictures here I used a sheet of regular A4 cardstock to create a small parking lot, but you can choose whichever method works best for you.
I also created a free printable parking lot template for those of you who prefer a done-for-you version. You can use it as is, or print a few and tape them together to create a larger parking lot.

Alphabet Car Parking Lot
You're probably wondering why I didn't just write the letters of the alphabet in the parking spaces instead of using magnetic letters. If so, great question! There's a very good reason why I chose to use magnetic letters instead of just writing the letters directly on the lot.
I didn't write the letters in the parking lot because young children learn letters more quickly when they can touch and feel the shape of the letters. Touching and feeling the shape of letters helps children retain information in their long term memory.
If you write the letters on the parking lot, your activity suddenly becomes less effective. When you use magnetic letters your students also have more control over the activity. Plus, it's less work for the teacher this way – which is a win-win in my book!
More Literacy Ideas