Let's make your lessons this Halloween so good it'll be almost *scary*!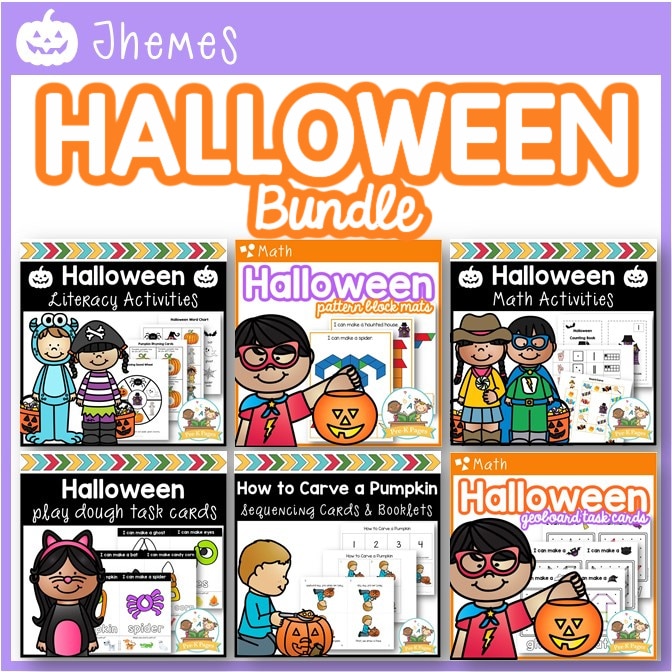 Make learning fun and engaging with this HALLOWEEN BUNDLE! This package is all treats and tricks packed with research-based and effective teaching resources helping you engage your students while they revel in the Halloween fun!
10 resources to make planning a Halloween theme in your preschool, pre-k, or kindergarten classroom a breeze! The moment you have this bundle, you'll have everything you could ever want for unforgettable Halloween-themed teaching.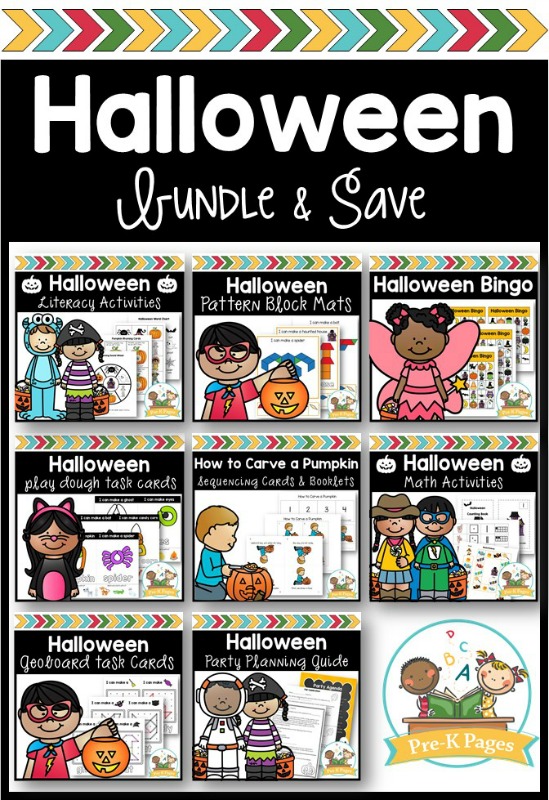 What You Get
EXCLUSIVE Halloween Lesson Plans + Editable Templates
Completely done-for-you customizable lesson plans, essentially saving you endless hours of planning!
Halloween Literacy Activities
66 pages of activities that progress your students' learning while also engaging them in sound games, rhyming games, vocabulary word cards, and more!
Halloween Math Activities
57 pages of instant hands-on math learning made to make math a blast! You'll witness your students fall in love with math each of the activities included in this package. (…which is also crucial for their future preparedness for school!)
Halloween Party Planning Guide
The ultimate planning guide to create a memorable event you'll quickly mark on your calendars and share excitedly with your students!
Halloween Geoboard Mats
Make learning to write and problem-solve into a fun game that 'tricks' your student into learning, strengthening their hands for future writing lessons!
Halloween Pattern Block Mats
You'll have what you need for a super fun group activity, helping them recognize shapes and patterns while being immersed in a Halloween theme.
How To Carve A Pumpkin Sequencing Activity
Ready to give your class an activity they'll never forget? Try out this pumpkin carving activity and get ready to give them an amazing Halloween-time memory! For "bonus points" bring your own pumpkin to class and demonstrate pumpkin carving—they'll be thrilled to tell their parents all about it.
Halloween Bingo
Throw in a classic game with a classic holiday for a reliably fun time that'll have your kids excited each time you say "BINGO!"
BONUS: Halloween Play Dough Counting Mats
11 printable color mats that teach your students number sense and fluency while also being immersed in all things Halloween!
This package is perfect for small group instruction or for large classes, too. We designed our Halloween Bundle to cover WEEKS of teaching with fun lessons your students will ask for again and again!
Don't forget that it's also:
Done-for-you
Research-based
Fun for you and your students
Playful
Hands-on learning in math, literary, science, and more!