Prepare to "feast" on all the Thanksgiving teaching resources in our Thanksgiving Bundle!
You'll have everything you need to make this holiday theme a fun one for you and your students.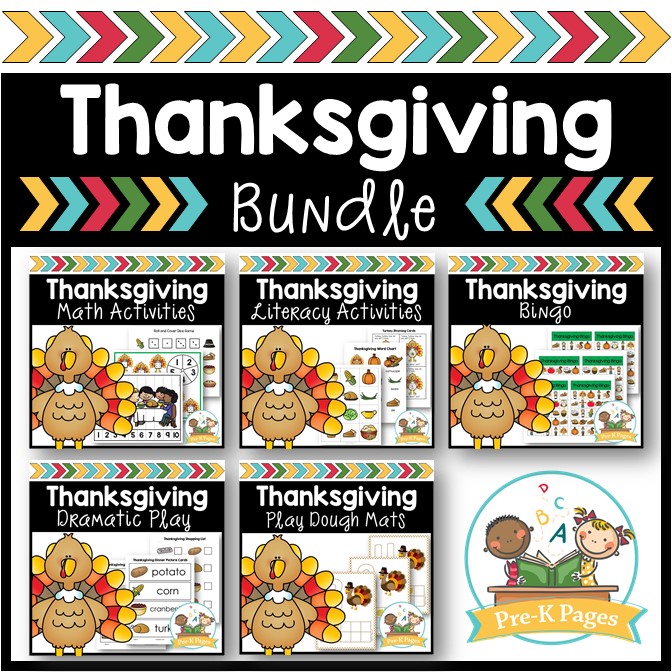 From done-for-you lesson plans, math, literacy, games, dramatic play, and more – we promise you'll feel super "thankful" for every part of this bundle.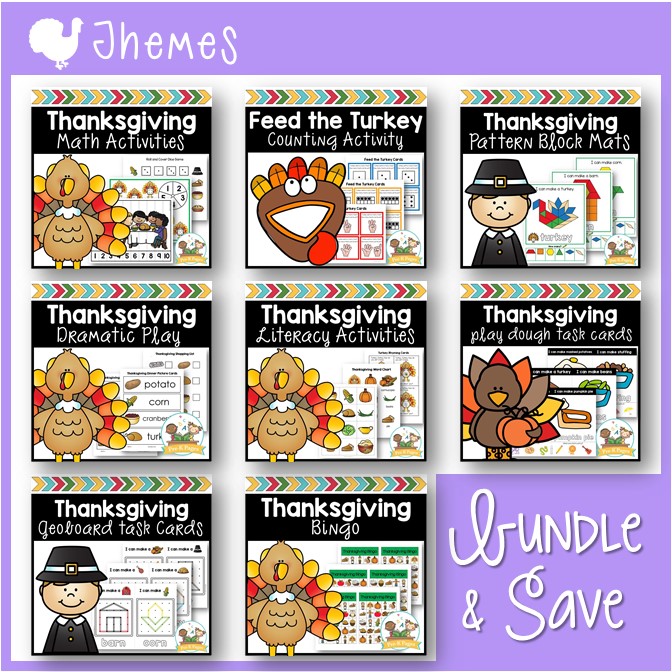 What You Get
EXCLUSIVE Thanksgiving Lesson Plans + EDITABLE TEMPLATE!

Save yourself countless days of planning by using our totally done-for-you Thanksgiving-themed lesson plans.

95 pages of fun hands-on Thanksgiving literacy activities that help your students with syllables, rhyming, sequencing, letter identification, and more!

65 pages of Thanksgiving math activities that prepare your students to meet the early learning standards for counting, number recognition, graphing, patterning, and other math-related skills.

Feed the Turkey Counting Activity

The perfect Thanksgiving-themed math activity that develops your students' strong number sense skills while having fun!

Thanksgiving Geoboard Mats

It's shapes practice with a Thanksgiving twist! Develop problem solving skills, spatial awareness, and fine-motor muscles while mixing fun and learning!

Thanksgiving Pattern Block Mats

The perfect small group activity in your math center! Make shape practice even more fun with mats ideal for table time, quiet time or your morning teaching session!

Thanksgiving Play Dough Task Cards

Combine fine-motor skill development and art with Thanksgiving-themed play dough task cards that'll have your students in awe of their creations and asking for more!

Thanksgiving Visual Discrimination

Teach your students to recognize objects, symbols, and other images easier and faster (hint: this is a precursor to reading!) with our Thanksgiving-themed matching games massively popular with students and teachers.

Thanksgiving Bingo

A classic! Bingo never stops to entertain and excite, no matter the age. Grab your Thanksgiving Bingo set to have the perfect game that develops multiple skills—and inspires laughs every time!

Thanksgiving Mini Dramatic Play Kit

Decorate your class' favorite section with Thanksgiving-themed items that support the growth of oral language skills, writing, math, and literacy!

Ready to have a blast teaching your students number sense and fluency within the number 10? Get printable color mats that add a little Thanksgiving touch to this super fun activity!
Remember, Our Thanksgiving Bundle Is Also…
Done-for-you
Research-based
Fun for you and your students
Promote hands-on earning and exploration
Include activities for math, literacy, and science