Preschoolers love Pete the Cat books! There's something about that funny blue cat the kids are just drawn to. Today I'm sharing with you a very fun sensory and process art activity to go along with Pete the Cat's first book, I Love My White Shoes.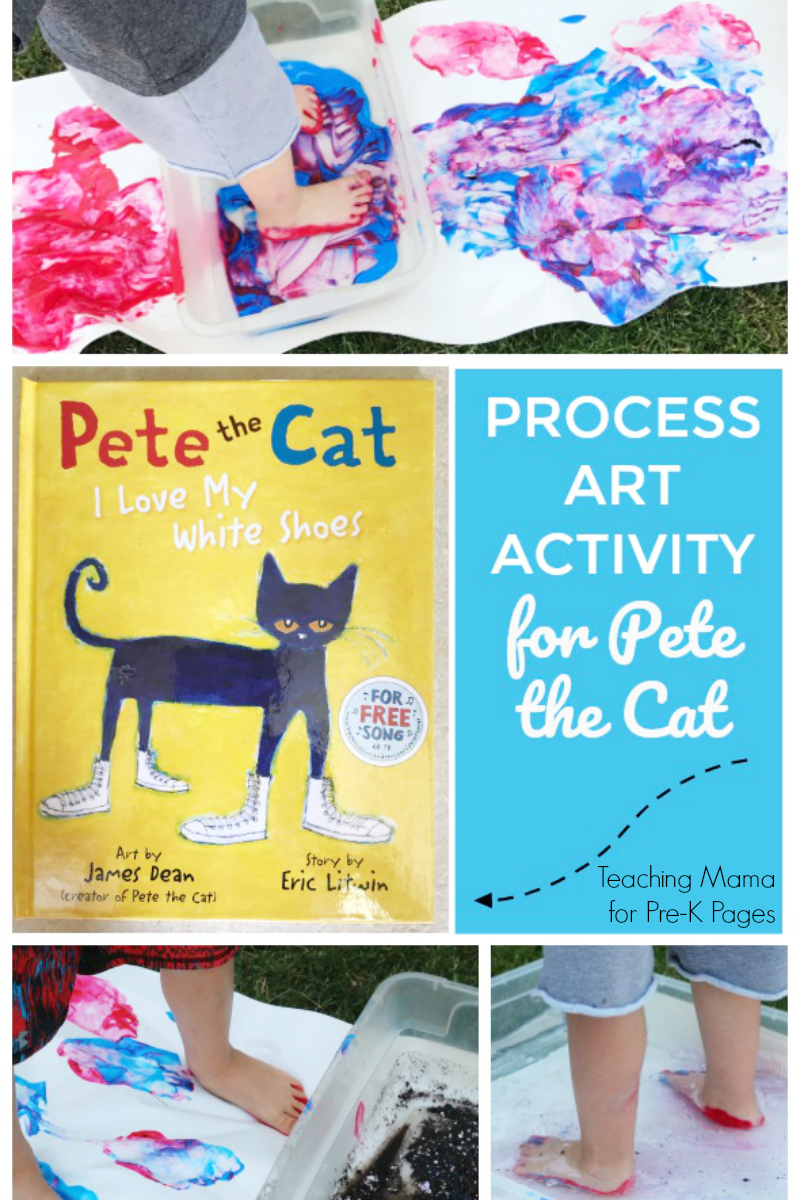 Pete the Cat: I Love My White Shoes
In the story, Pete gets new white shoes. However, he steps in four different things on his walk that change how his shoes look! But no matter what happens, Pete doesn't get upset and he keeps on walking and singing!
After reading the story, you can do this fun activity that helps children work on retelling this cute story. This is also a neat process art and sensory activity. Things can get pretty messy so make sure to do this activity outside.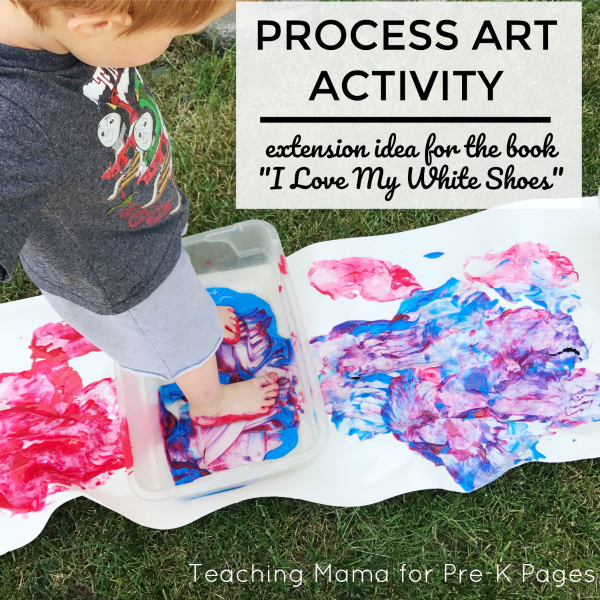 Foot Painting Activity
Here's what you need:
4 plastic bins (1 larger bin use a plastic baby pool)
washable red paint
washable blue paint
mud
water
old towels
easel paper (or large sheets of paper)
Set the four plastic bins in a line in a grassy area. In the first bin, pour in red paint. In the second bin, pour in blue paint. Add some space in between the bins.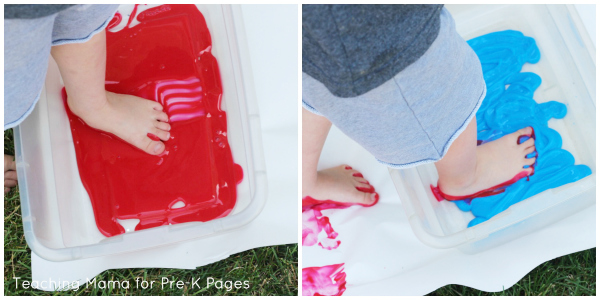 Next add a bin with mud. Lastly add the large bin filled with water. Set a towel at the end of the line.

Place a long piece of paper underneath all four bins so that kids will walk with their painted feet onto the paper and create art!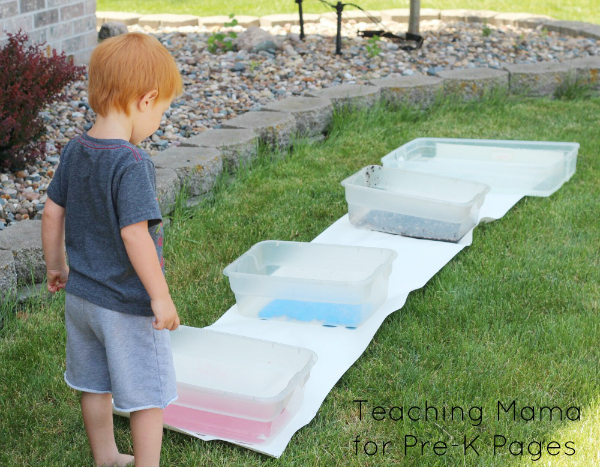 Have the children walk along the line. Start with the red bin and end with the water bin. Sing the song from the book while children walk through the line!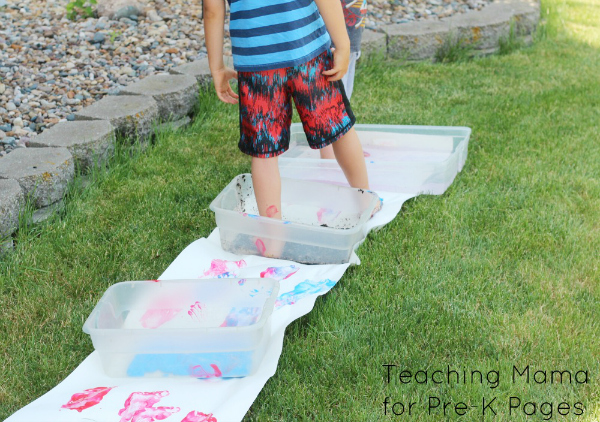 You may want to hold a child's hands in case the paint gets too slippery! My son loved this activity so much, he went through the line about twenty times! When you are done, let the paint dry and hang up the feet-painted paper around your room. You may even see that the red and blue colors make purple!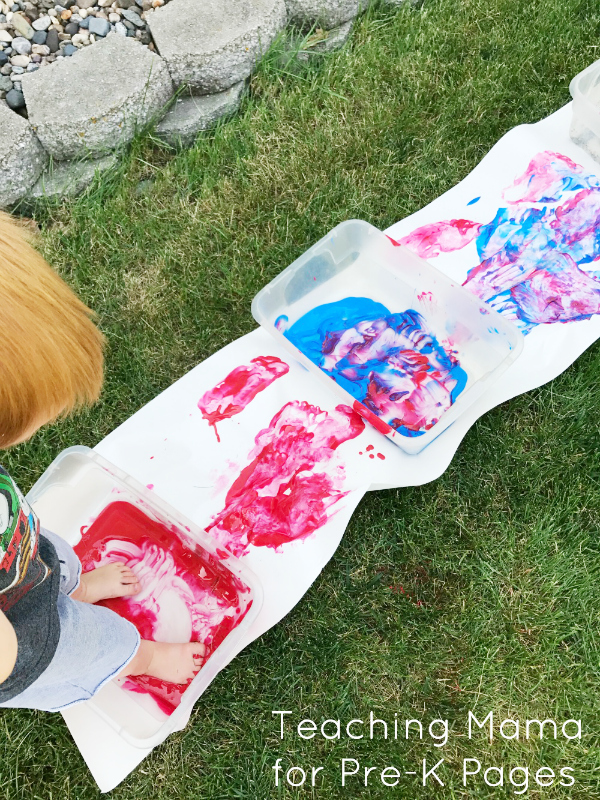 Not only is this activity so much fun, but kids learn to retell what happened in the story, they have a neat sensory experience on their feet, and they create art! We were inspired to do this activity from our monthly children's book clubs that my child and I attend. During these book clubs, we read quality children's books and do neat hands-on learning activities each month. There are so many wonderful extension ideas for books. Check their Web site or Facebook page. (And check out the extension ideas here on Pre-K Pages!)
Hope you'll try this activity out!
BIO: Angela is the writer and creator at Teaching Mama, where she shares hands-on learning activities for babies, toddlers, and preschoolers. She is a former teacher, turned stay-at-home-mom to 3 wonderful boys. You can connect with her on Facebook, Pinterest, or Instagram.
More Pete the Cat Ideas—
Pete the Cat Inspired Art Prints
Where Is Pete the Cat Activity
Pete the Cat Rhyming Activity
Button Counting Math Activity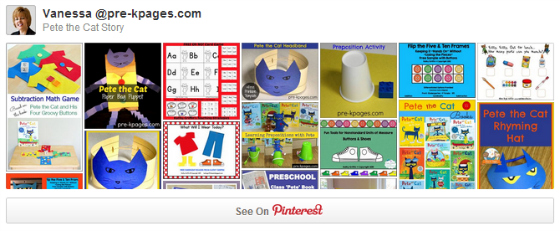 Follow my Pete the Cat Pinterest Board for more great ideas!