Buttons make great math manipulatives! I have a whole bag of different sized colorful buttons that have been useful in hands-on math. They can be used for sorting, making patterns, counting, etc. Today I combined some of my buttons with a math puzzle for a simple and unique math activity for preschoolers.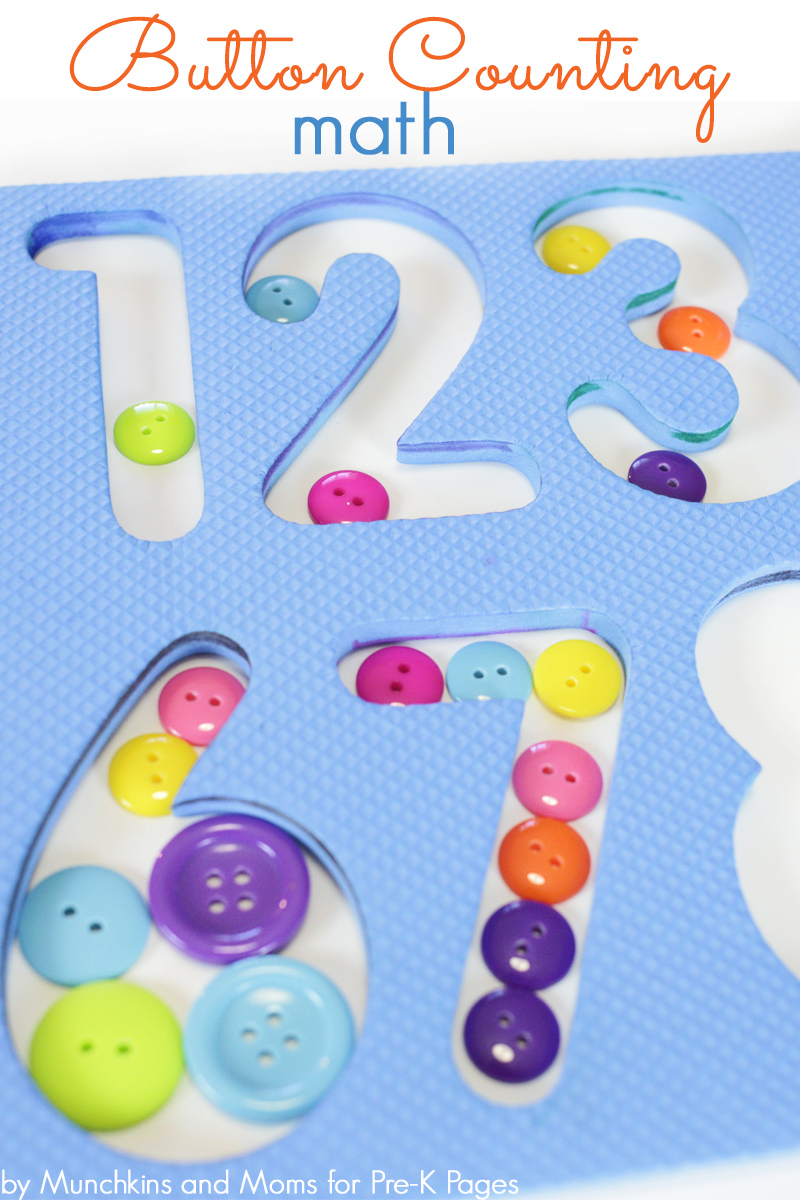 I first came up with this activity while reading Eric Litwin's classic book Pete the Cat and His Four Groovy Buttons. My kids love reading that story, and combining it with this simple math activity made for a great extension to the book!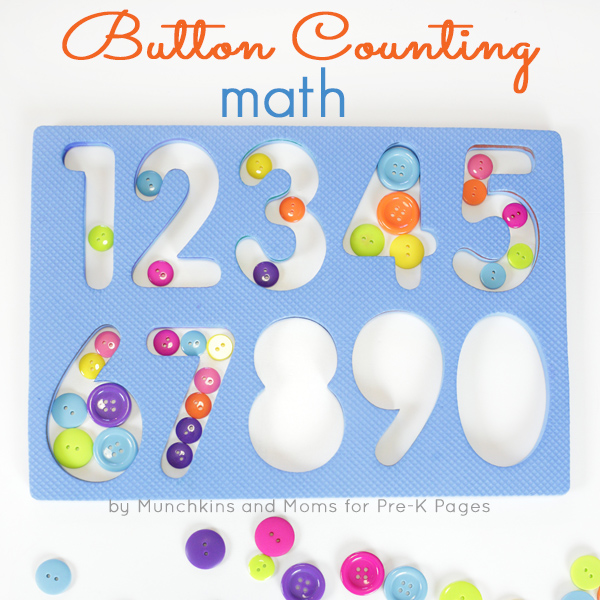 Button Counting Math Activity
Supplies
Foam puzzles are my favorite. They are so versatile and can be used for countless activities (besides just being a puzzle!). You can use the puzzle pieces inside of sensory bins, or you can use the empty frame for other math activities. If you look closely you can see marker spots because we've even used the frames as stencils. See? So versatile!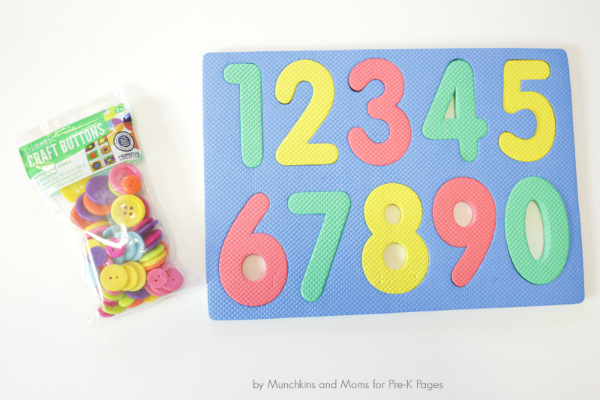 Setting Up the Activity
For this activity, we removed the puzzle pieces and used just the frame. (You could use the number pieces in a sensory bin center in another spot in the classroom.)
I set out the puzzle frame with a handful of buttons and invited my kids to fill the numbers with the matching number of buttons.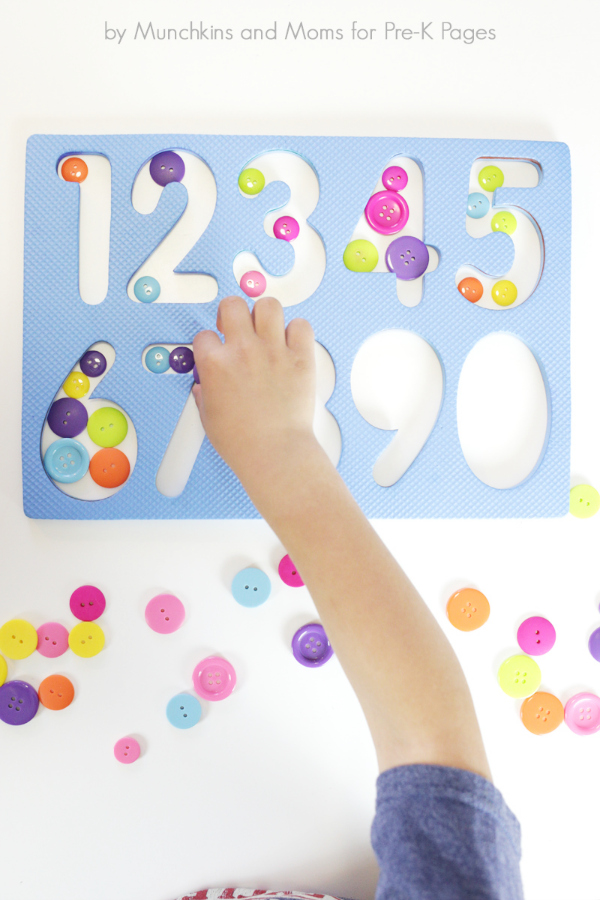 Button Counting and Math Skills
Filling each number with the corresponding number of buttons is great math work! It gives kids the opportunity to work on number recognition, counting, and one-to-one correspondence (the skill of counting one item per number counted).
There's also some great fine motor work going on here. Pinching each button and arranging it into the small number space helps strengthen the muscles of the thumb and pointer finger (important for developing proper pencil grip).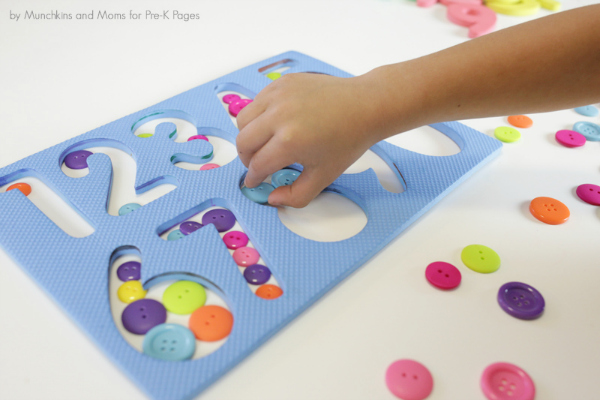 There's also a little bit of planning and critical thinking skills going on when kids do this activity. Since the large buttons won't fit in some of the small spaces (like the number 1 or 7), kids will have to think about which buttons would fit best in each number.
Safety note: Small buttons may present a choking hazard. Make sure children are properly supervised when doing this activity.
BIO: Clarissa is a former elementary teacher and writer of the blog Munchkins and Moms. She loves to share creative preschool activities that are both playful and educational. Check out some of her popular posts such as Watercolor Numbers Art, a perfect accompaniment to this activity! Don't forget to follow her on Pinterest, Facebook, Instagram, and Twitter for more creative ideas!
More Counting Ideas—
Catching Bugs Counting Game
5 Green Frogs Printable
Homemade Counting Game
Counting Games and Activities for Preschoolers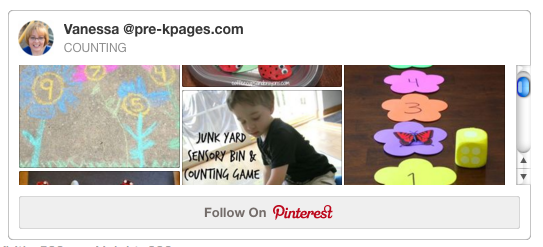 Follow my Counting Pinterest Board for more great ideas!