The one thing teachers don't have a lot of besides money is time. There's never enough time in the day to finish everything that needs to be done!
That's why today, I'll be sharing my 10 favorite classroom purchases; items that have saved me time or made my teacher life easier.
Some of these things I've used for a very long time and I couldn't live without in my classroom, while others may be new to you.
My purpose isn't to get you to buy a bunch of things. Instead, I'm sharing my perspective about things that I like and have found helpful in the classroom.
That way, you won't have to waste your time and money on stuff you don't need.
Let's dive in!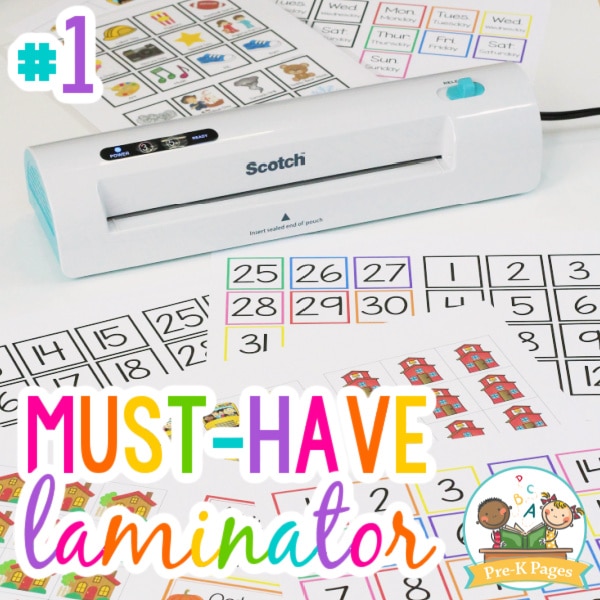 #1 – Personal Laminator
Once I found out about personal laminators, I never looked back.
You see, at my school, we had a giant professional laminator. But you'd always find a long line of teachers waiting to use it! Besides, it always took a really long time to heat up.
On the other hand, my personal laminator is always quick to heat up because it's small, and it always does a consistent job. Plus, the film is a lot thicker and nicer compared to the industrial ones.
The best part? It has saved me hours of standing in line!
Personal laminators are super inexpensive, and you can find them in stores like Costco or simply order them on Amazon.
#2 – Spring-Loaded Scissors
The scissors I was given when I was working at the public school were such junk. They didn't even cut well and were very loosely put together.
So, finding out about Fiskars spring-loaded scissors for adults was a real game-changer for me. When you're cutting, it takes a lot less force. So, you can cut for longer without your hand cramping up!
I will say – they weren't cheap. They were the same price as the personal laminator but these little babies are so worth the price. I'm never going to teach without these again!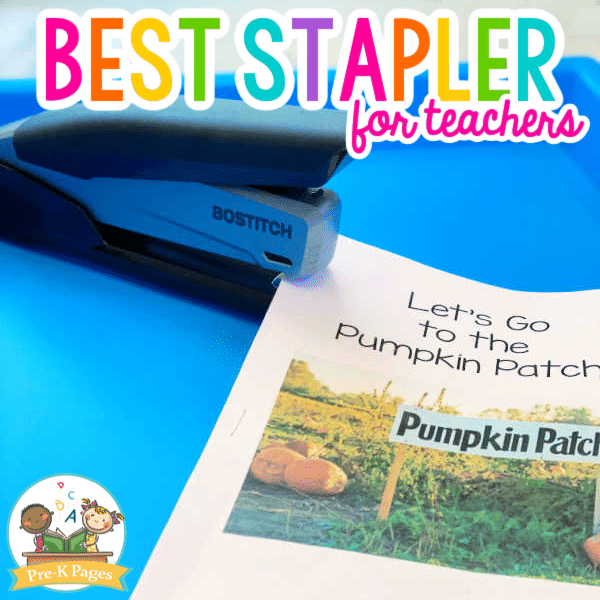 #3 – One-Touch Stapler
I absolutely cannot live without my One-Touch stapler. I remember my very first year of teaching here in the States. Putting up bulletin boards using a heavy, old-school stapler was difficult and really hurt!
To get it to staple, you had to bang on it really hard. I had to use my two hands. But not anymore!
My One-Touch stapler is lightweight and comfortable to use. In fact, I have one in my office at home and two in my classroom. They are amazing!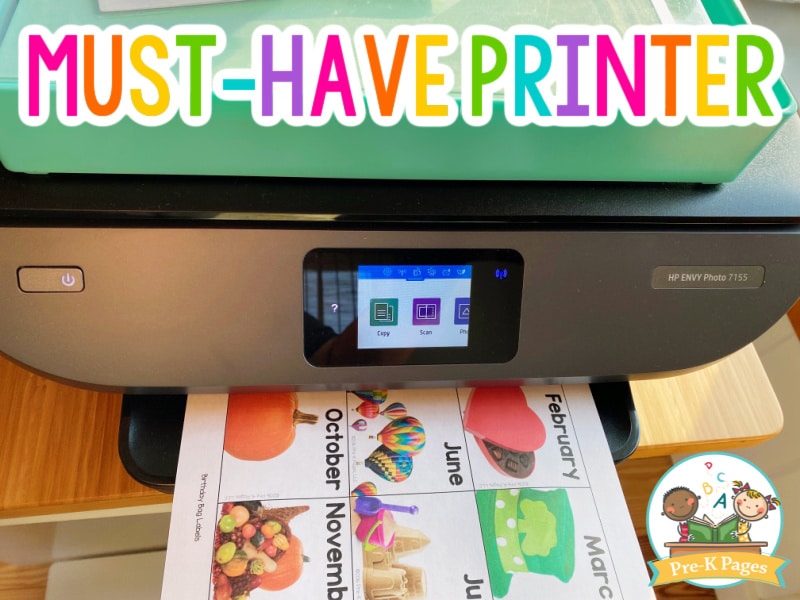 #4 – HP Instant Ink Wireless Printer
When I first found out about the HP Instant Ink printer about six years ago, it was like the heavens opened and the angels were singing. I can't even imagine how much this changed my life!
At my school, we had very little access to printers, and we were very restricted on the amount of ink we could use. So when I heard about this HP Instant Ink printer, I knew I needed to get one.
They are relatively inexpensive and work on WiFi. I've had mine for about six years, and it's still going strong!
And what I like the most about it is that it's a smart printer. When you're running low on ink, it sends some kind of magical message through the airwaves to HP, and they instantly ship you the ink by mail. No more late-night Sunday trips to Walmart to buy ink!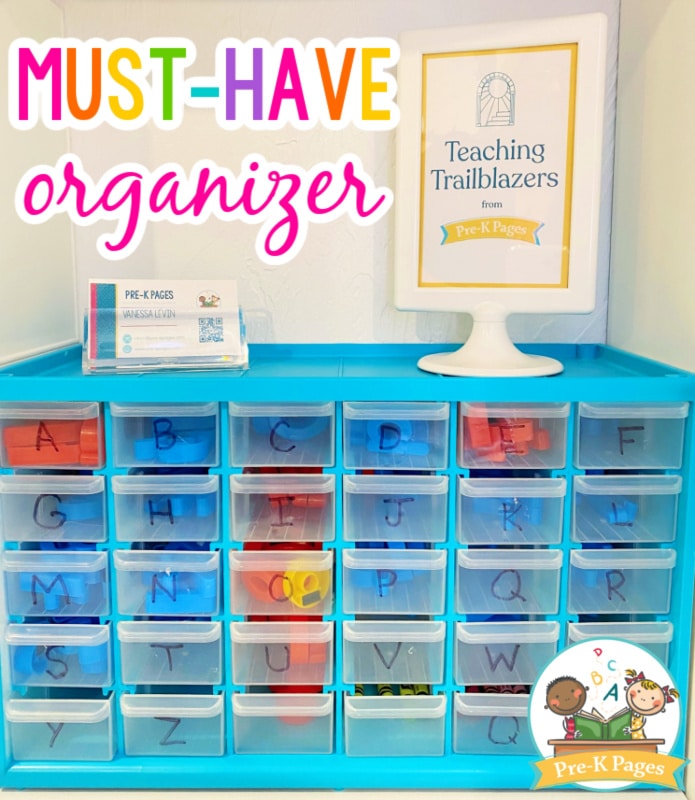 #5 – Nut and Bolt Drawer Organizer
These are super useful for storing office supplies and classroom materials. I have several of them, and I use them for many different things. You can use a label maker to label each of the drawers and keep everything organized.
I've had substitutes tell me how grateful they were for the office supplies to be stored that way. Because when a sub comes in, they don't like to rummage through your drawers looking for stuff.
So having all your supplies stored in a nut and bolt drawer organizer will make everyone's life much easier!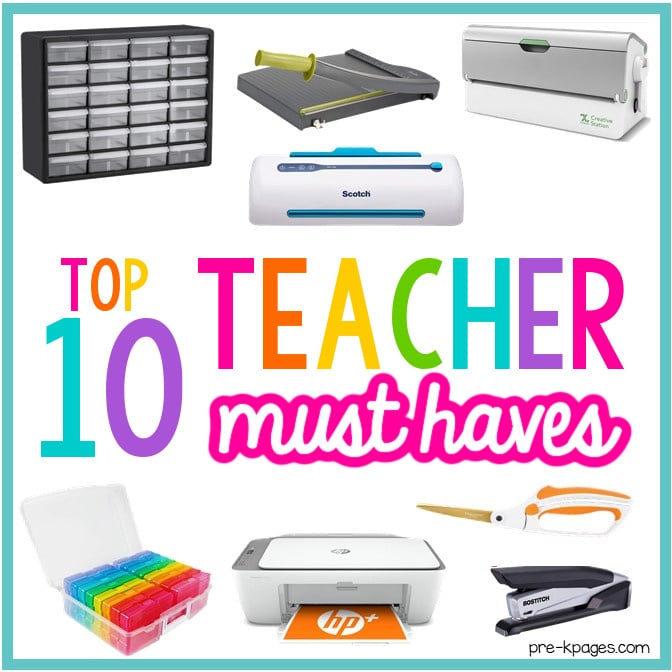 #6 – Paper Cutter
The paper cutter you usually find in a teachers' workroom are in terrible shape.
The blade hasn't been sharpened in ages, and the blade arm is off, making it very hard to cut right. Just as with the laminator, there's typically a long line to use it.
What's worse, I know many teachers who've had severe accidents with those big guillotines.
So, it's better to have a small paper cutter in your classroom. It's safer to use, and you won't have to run down to the teachers' workroom all the time.
If you make sure the blade remains sharp and use it properly, it should last you a long time. Having my own paper cutter in my classroom has definitely saved me a lot of time and stress!
#7 – Creative Station Xyron Machine
How cool would it be if you could make your own stickers?
With the Xyron machine, you can. You just roll any paper through, and it makes it stickable!
I just love my Xyron Machine. It doesn't take up a lot of space, and it sits really nicely on a shelf.
I mostly use the sticky feature for my projects. Still, you can also put a magnetic roll inside and create magnetic pieces. Isn't that awesome?
Finally, one of the best things about the Xyron is that it doesn't need electricity. You could use it in a tornado, in a blackout; it doesn't matter!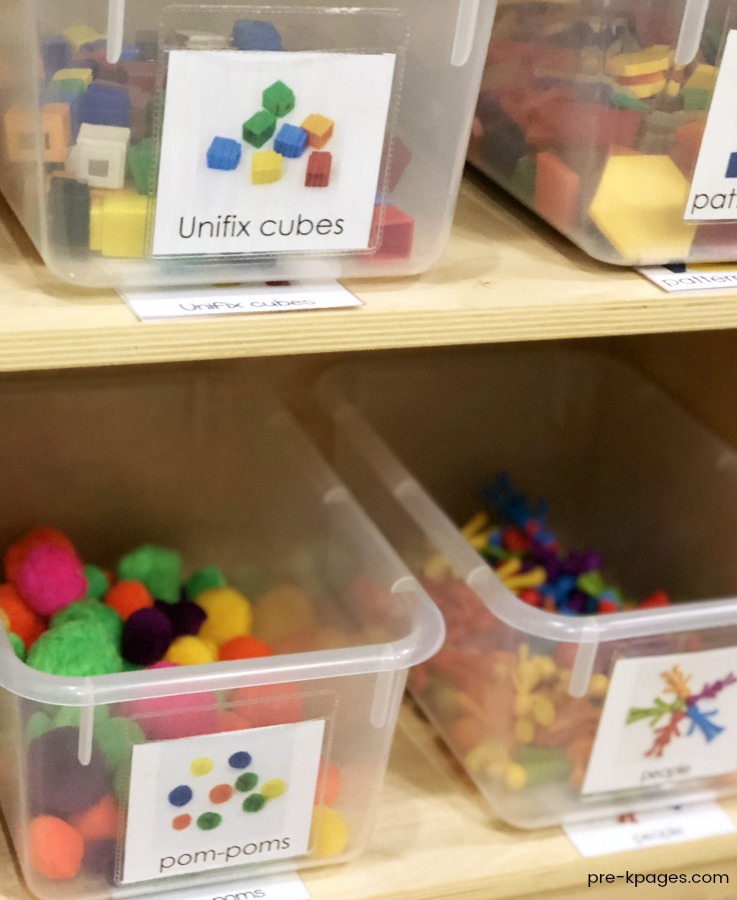 #8 – Sticky Pockets
The clear sticky pockets from Target's Bullseye Playground are great for labeling all kinds of things.
I use these to label all the tubs in every one of my centers. I just place any picture I want inside the pocket and stick it to the plastic tub!
You can find them in packages of 20 for only $3. They're not always available, though, so when you see them – stock up!
#9 – Clear Tubs
The plastic tubs you can get from professional teacher supply places are usually colored too brightly for my liking.
Kids are loud themselves. We don't need to add to that loudness with lots of bright colors everywhere!
So, I love clear tubs. They help calm the classroom a little bit because the colors aren't shouting at us all over the room.
Plus, I don't have to worry about matching any themes or anything like that.
You can get fantastic clear tubs for a less than $2 at IKEA. They hold up really well, and if they get lost or broken, they're easy to replace.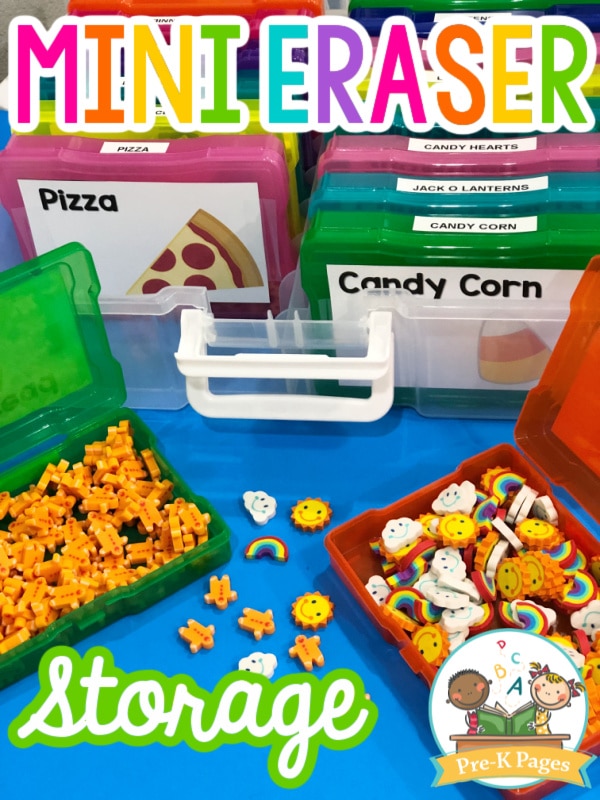 #10 – Iris Rainbow Cases
I use these Iris Rainbow Cases are little colored cases to store small items I want to keep organized.
They are actually supposed to be cases for storing photos. But of course, teachers have found many great uses for these little boxes in the classroom.
For example, I have a portable container filled with rainbow cases, each one with a different kind of mini eraser in it. That way, if I want to have certain cases out at certain times for the kids to use, I can easily find it.
Having the cases inside the container also allows me to take all mini erasers anywhere I want. This is why I often prefer using rainbow cases rather than nut and bolt drawer organizers.
So, those are my top 10 classroom must-haves for preschool teachers. I hope you enjoyed the read! Stay tuned for more tips and tricks for the early childhood educator. Onward and upward!


Links Mentioned in this Episode