Like a lot of children, my son loves THINGS THAT GO. So he really enjoyed this transportation art preschool activity of combining two of his favorite things: transportation and art!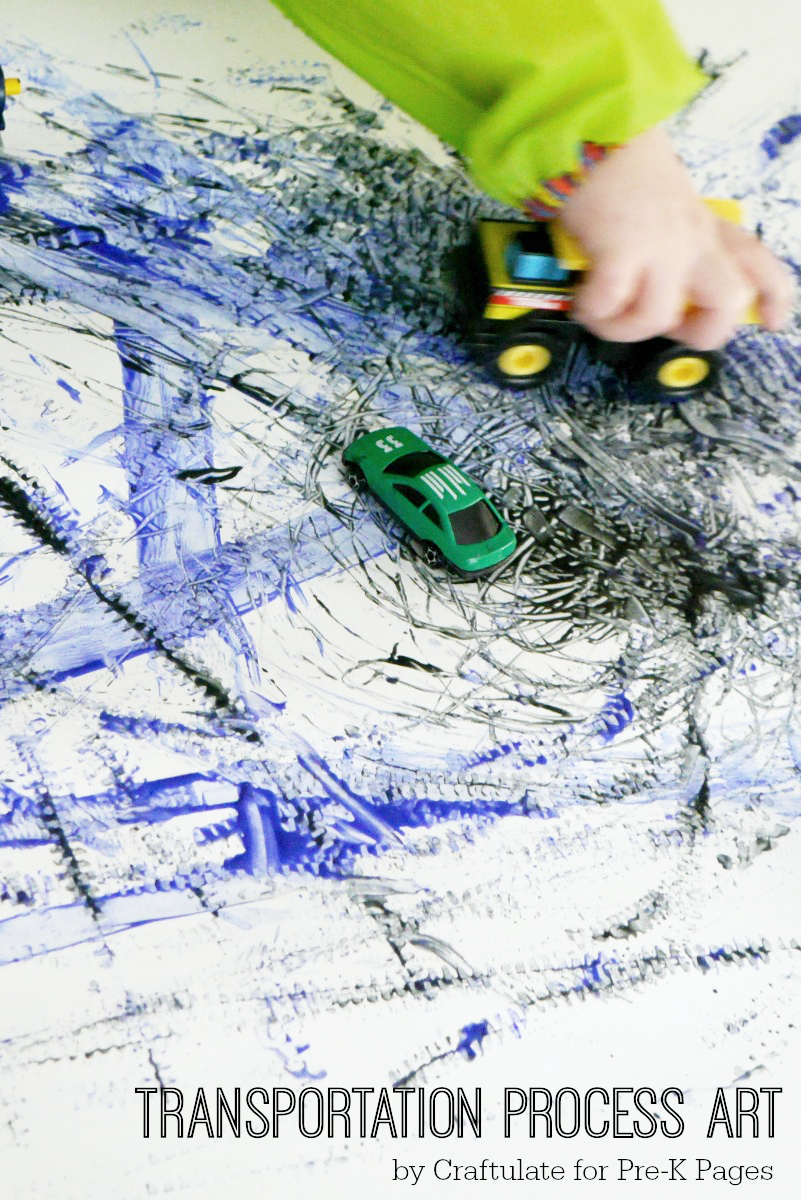 Transportation Process Art Activity For Preschool
This transportation art preschool activity was a great way to explore color and lines. It also allowed us to explore cause and effect: What happens when I do this? What happens when tracks cross or the colors mix?
Process art is a great way to explore these types of ideas. Children can try different things and see what happens. And often the results are surprising!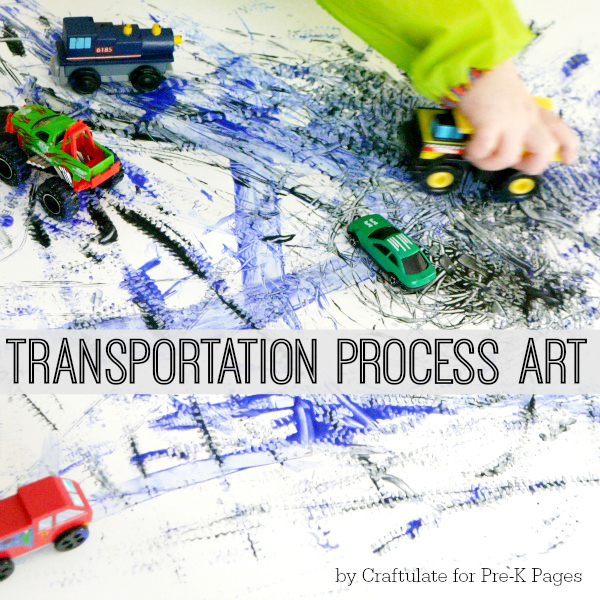 Transportation Vehicles For Art Activity
First we collected a range of toy vehicles that would leave different tracks:
steam train,
roller
monster truck
fire truck
dump truck
airplane
race car
excavator
I tried to avoid the wooden toys because the toy's paint can flake off after repeated washing.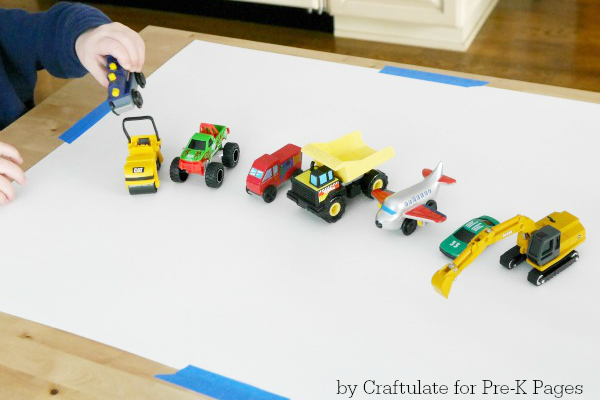 Process Art Prep
I poured a little blue washable paint onto a large poster board that I had taped to the table. He chose to start with the roller that made big wide sweeping tracks.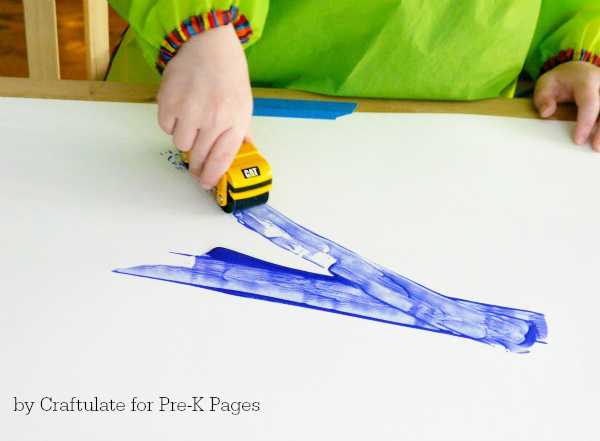 Then I added some black washable paint and he chose the excavator as his next painting tool.
This vehicle had tracks rather than wheels, so it made some interesting prints on the poster board – although my son did have to press down quite hard to get the tracks to print. They were quite slippery once they had paint on!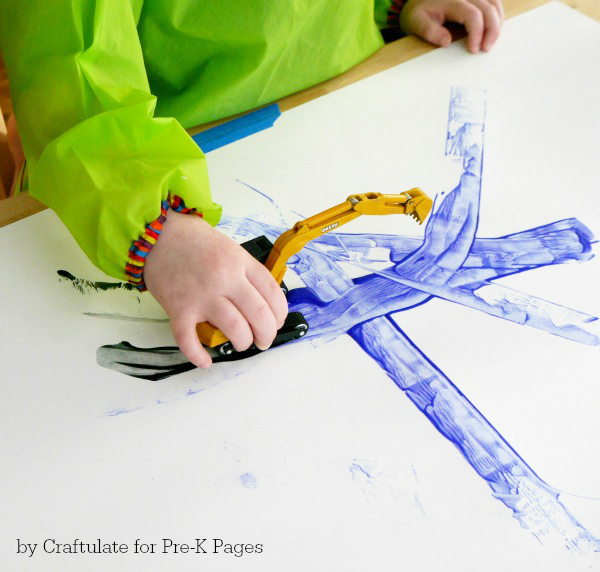 After that he tried the rest of the vehicles – with the aim of covering the whole poster board!
The monster truck and dump truck have really interesting tires and made some great tracks. He particularly loved making "donuts" with the race car!

Transportation Painting
This activity would be such fun with a group of four children – they could each have a different color paint and vehicle, each on a different side of the poster board, and make as many tracks as they can!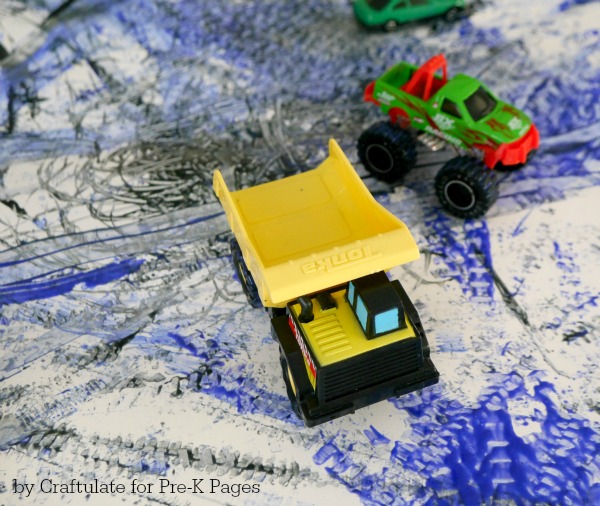 Final Transportation Art Masterpiece!
And here is the final artwork!
This is probably one of my favorite process art pieces that we have ever made! There are so many interesting tracks, shapes, lines, and more! I have hung it in our basement where his transportation toys are kept.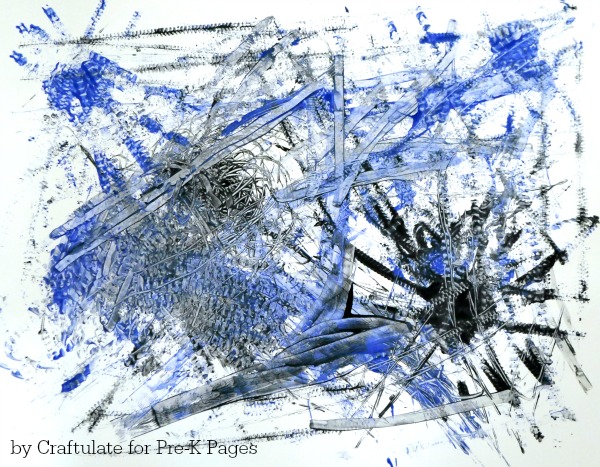 Clean-Up
Clean-up was really easy – especially with no paintbrushes! Each vehicle just needed a quick rinse and the paint came off without any problems.
The next day my son REALLY wanted to try this activity again. We did, but with a difference! Head over to Craftulate to see how we formed letters of the alphabet with the vehicles!
BIO: Georgina is a mom that loves to do lots of activities with her son. She blogs about art, crafts and activities for young children on Craftulate. Connect with her on Facebook, Instagram, Pinterest, and Twitter.
More Transportation Themed Posts—
Transportation Preschool Theme Books
Transportation Color Sorting and Mixing
Building Bridges Engineering Activity
Transportation Literacy Printables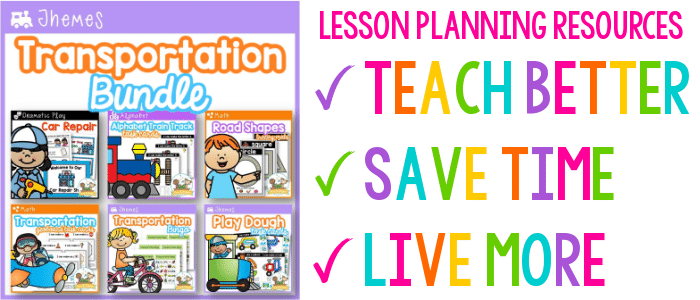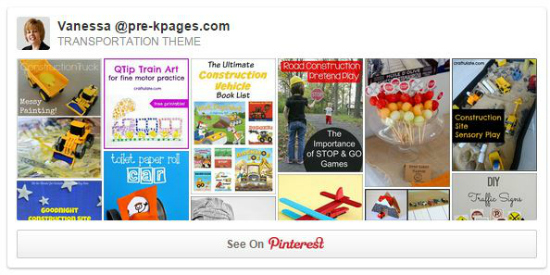 Follow my Transportation Theme Pinterest Board for more great ideas!