Who plans, designs, and builds bridges? Some of our community helpers do! Civil Engineers plan and design bridges for our construction crews to build. These important community helpers get us where we need to go, especially if we have to cross large bodies of water like rivers. There's a lot of work that goes into building bridges, and it takes special skills to create a safe bridge for your community.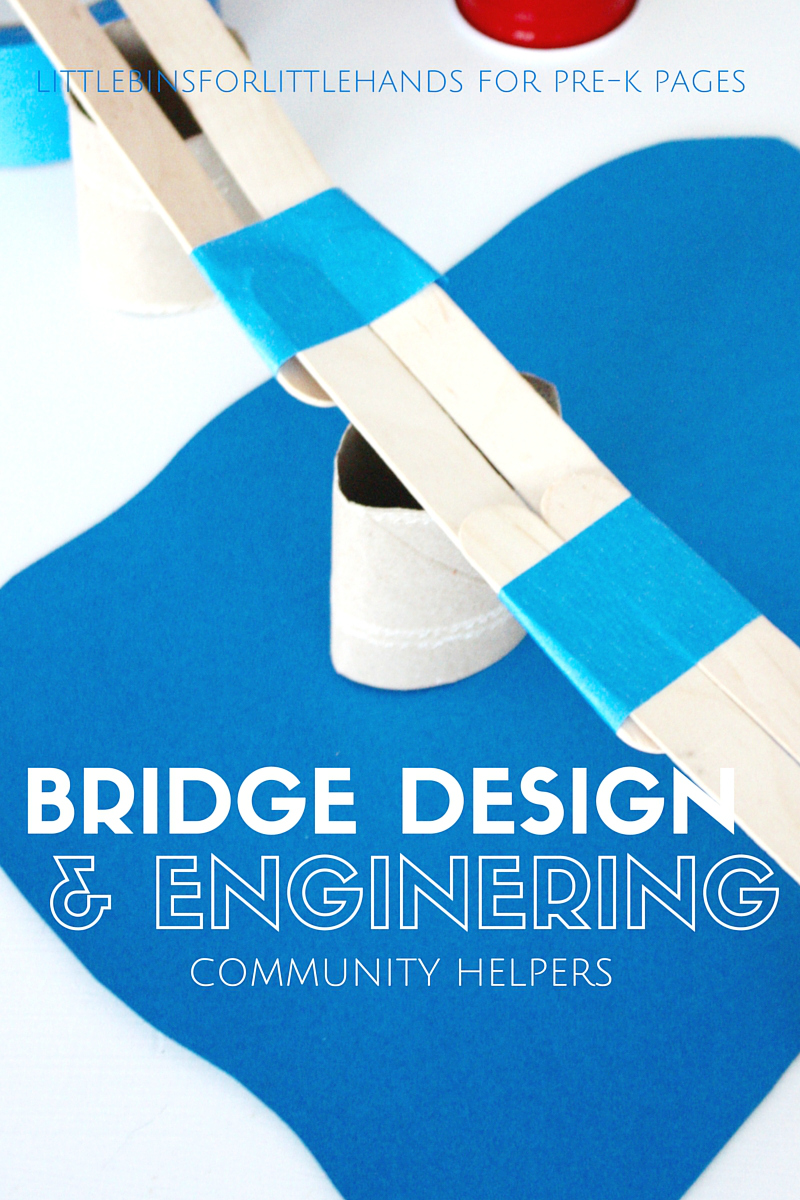 Building Bridges Activity
This bridge building activity is a great engineering project for kids. It starts with the planning and designing process and ends with the building process. Design and engineering are parts of STEM which stands for science, technology, engineering, and math. STEM is a big part of the world around us and is definitely used in building bridges!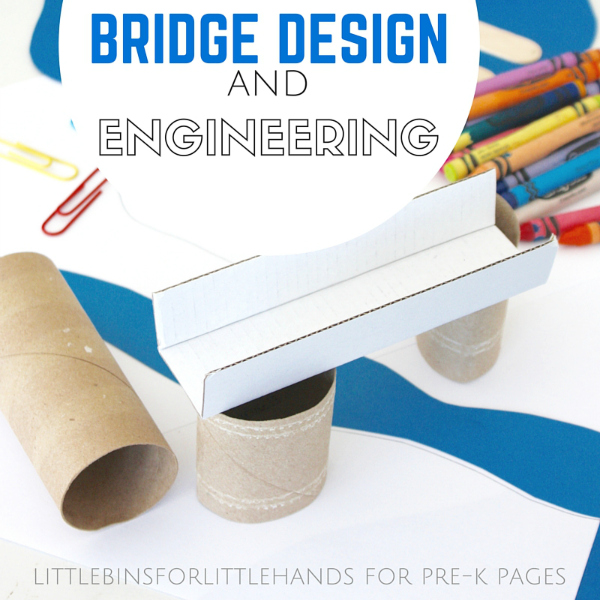 An engineer must take into consideration many things when planning a bridge or even fixing an old bridge.
How long must the bridge be? What is the water like?
What is the land around the water like? Rocky, muddy, sandy?
Who will be using the bridge? Cars? Pedestrians? Bicyclists? Big trucks? All vehicles?
What materials should be used to build the bridge?
What style should the bridge be? (This would be a great time to provide pictures of different styles of bridges for kids to check out.)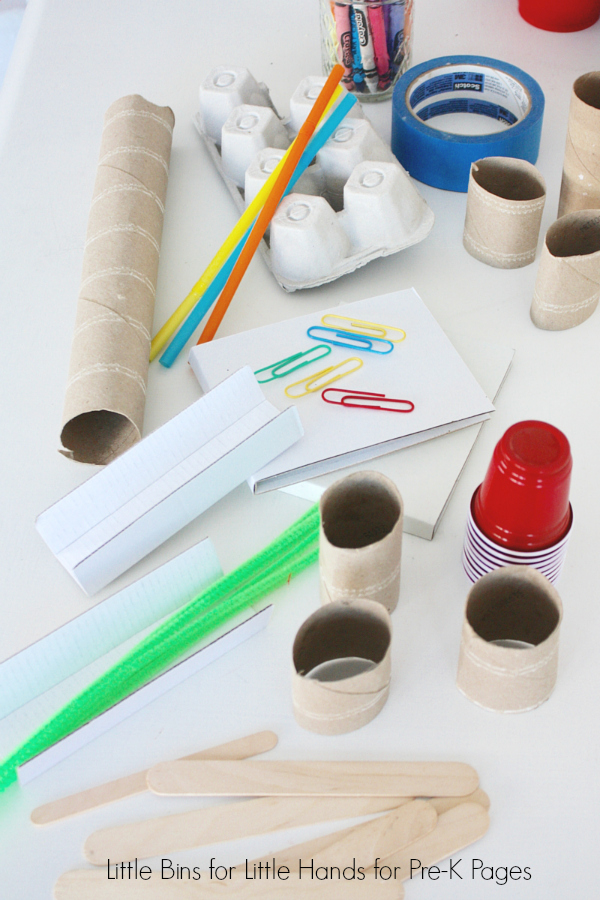 Supplies Needed
Paper, pencils, and crayons or markers for planning and drawing bridges
Blue paper to use as water for constructing and building bridges
Building supplies can include cardboard tubes, pieces of cardboard, popsicle sticks, plastic cups, straws, pipe cleaners, styrofoam, egg crates, or whatever you have on hand. I save everything.
Tape and paper clips are easy ways for young kids to attach materials without a mess, but glue can certainly be added, too. If applicable, provide appropriate scissors.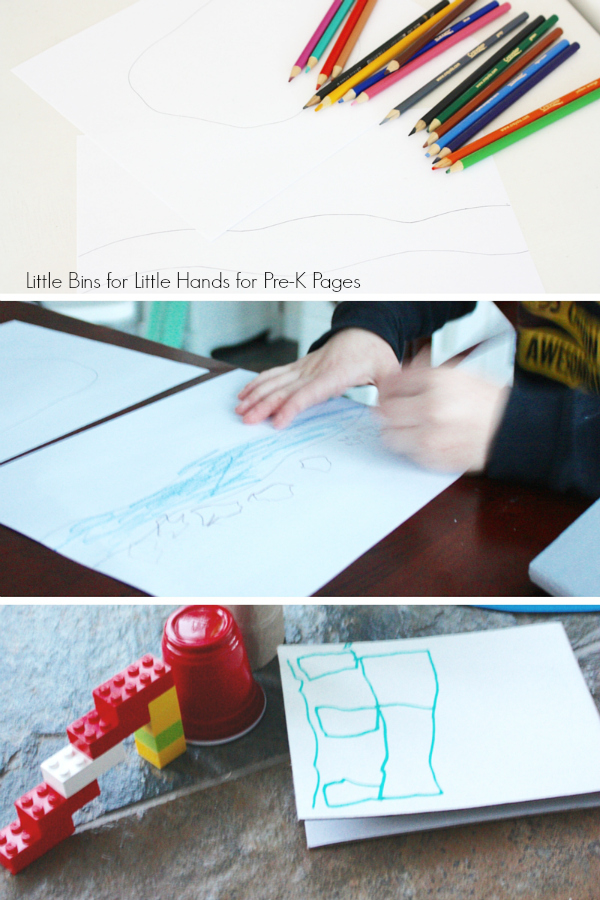 Plan and Build
We started our bridge building activity by taking a look at different styles of bridges on our iPad. My son's favorite was the drawbridge. We also discussed how strong our bridge should be. Will it be for cars or just people? We also talked about the landscape around the bridge. He decided it was rocky. The next step was to use paper and pencil to develop a design for our new bridge. I had pre-drawn samples of water for him to use, and he colored and designed his bridge.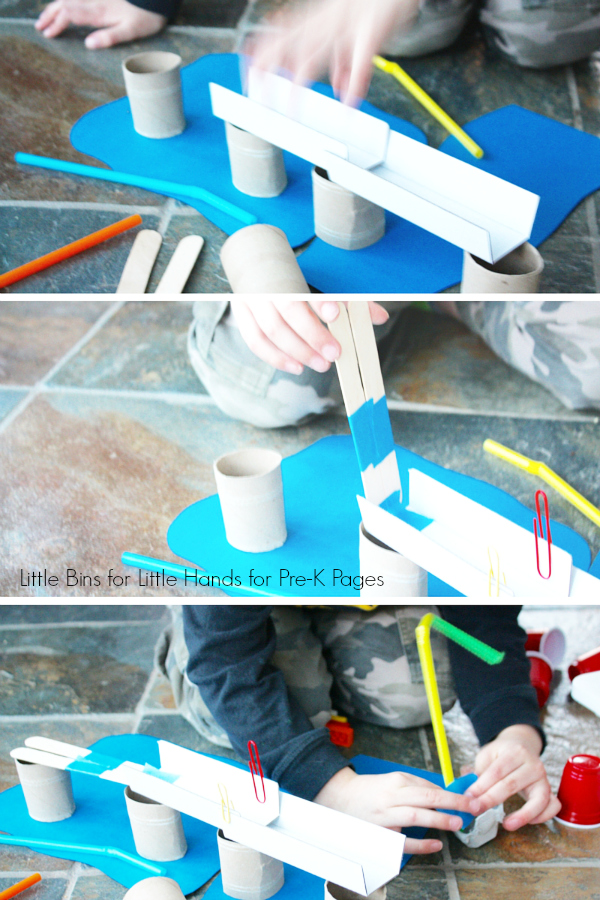 Next we moved on to the building stage. I cut out several bodies of water from blue construction paper to use for building bridges. With a set body of water, he could build the bridge accordingly. He decided to put two bodies of water together. He used most of our materials to make his bridge. You will see he even included a drawbridge and built his own boat. Originally he had decided that only pedestrians and bicyclists would be crossing the bridge.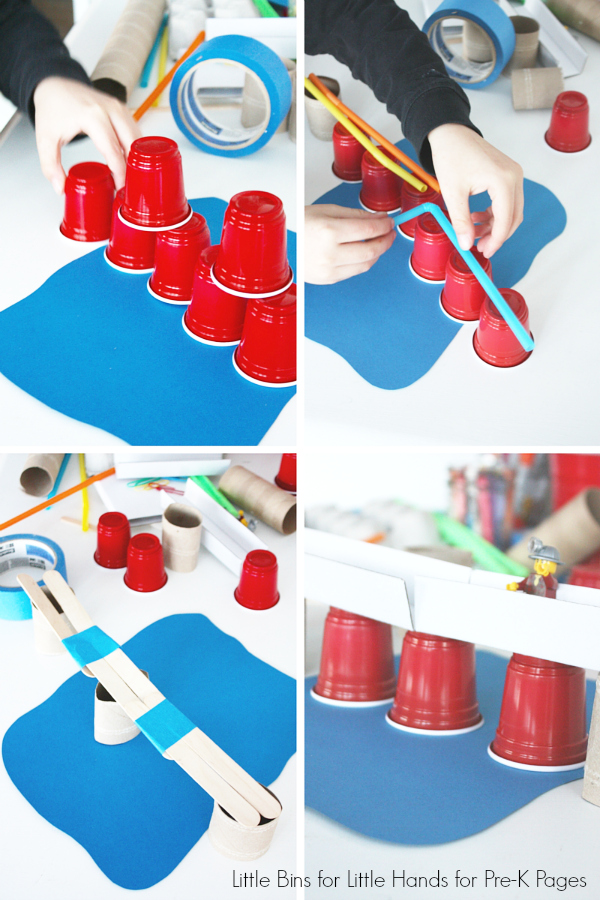 This bridge planning, designing, and engineering activity has so many possibilities for kids to be creative, explore different materials, test ideas, problem solve, and use fine motor skills, too! It also makes use of common supplies you would already have at home or in the classroom making it perfect for large groups or an afternoon project with the family.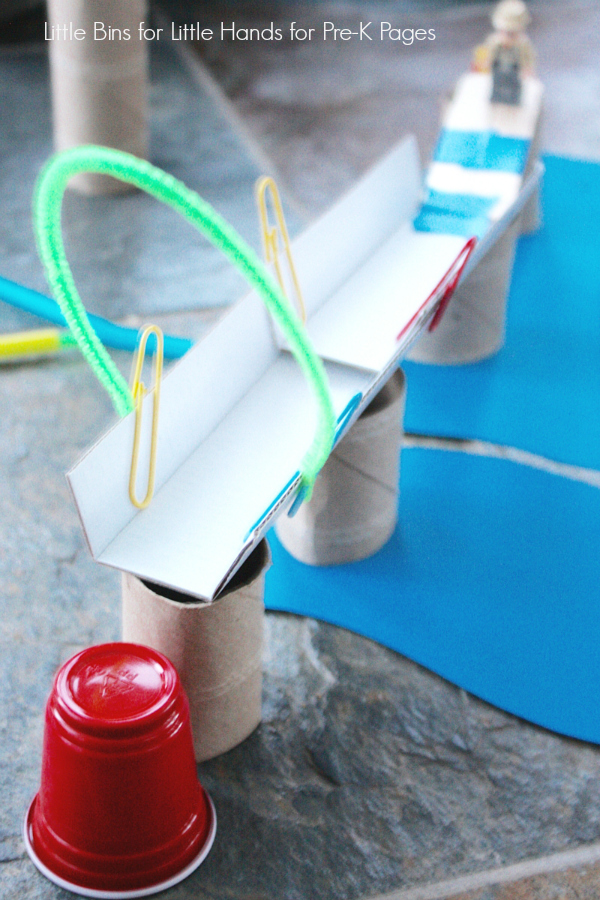 Our community helpers including engineers, designers, contractors, and construction workers all work very hard to build safe bridges for our communities. Bridges are very important for connecting places and allowing us to travel easily. Do you have bridges in your town? Do you cross bridges often? Next time you do, point out the bridges features. Ask your child what they think about the bridge? Can you build the same bridge?
BIO: Sarah is the creator of Little Bins for Little Hands where she shares simple science experiments, STEM activities, and tactile sensory play recipes. She is also the proud mom of a busy little boy. Check out their favorite science experiments and STEM projects all year long! You can connect with her on Facebook and Pinterest.
More Science Ideas