Isn't it just fascinating how children love to learn about transportation and vehicles? When you use a child's interest as inspiration for learning opportunities your kids will be more engaged and have fun learning- a win-win! Here are some of my favorite transportation books for preschoolers to get you started.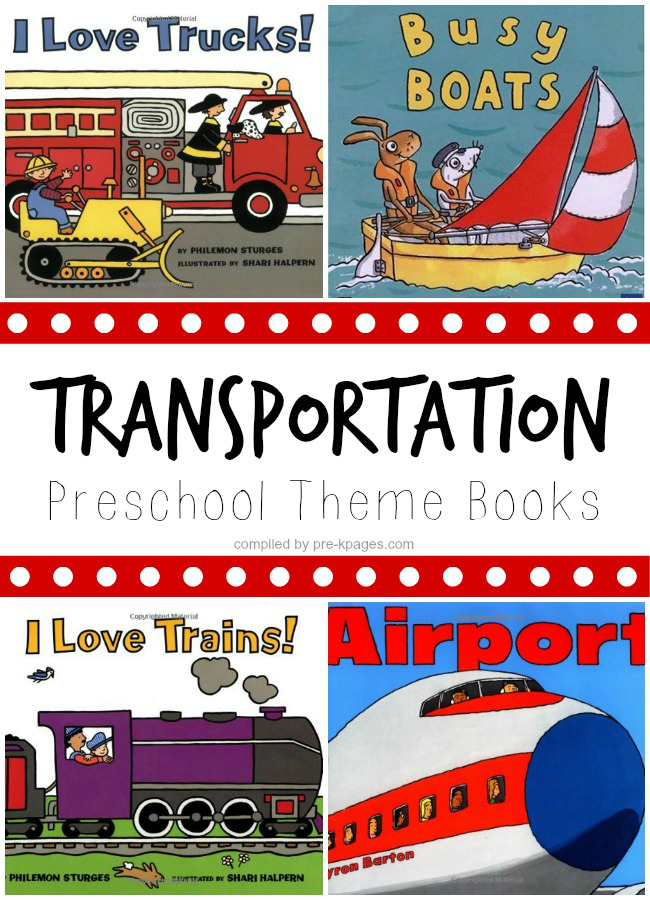 Transportation Books For Preschoolers
Books about Trains
I Love Trains! by Philemon Sturges – A lovely rhyming picture book introducing preschoolers to trains and the jobs they do.
Freight Train by Donald Crews –  This is a great book with clear bright illustrations show all the cars of a train bringing the excitement of movement through day and night, country and city.
The Little Engine That Could by Watty Piper – A classic story of a train filled with toys and gifts for little boys and girls and the challenges the little train encounters along the way. This memorable tale will have everybody rooting for victory and chanting along!
Chugga-Chugga Choo-Choo by Kevin Lewis – As the simple large-lettered text chugs along, the child's train set comes to life with bold and bright illustrations. In the course of the book, the toys bustle about to make sure the steam engine is loaded up with freight and finds its way (through the country, around the mountains, into tunnels, and across the river) to its destination–the city.
Books about Trucks
Truck by Donald Crews – In this wordless picture book, a large, bright red trailer truck packed with tricycles moves through pages of fog, truck stops, and crowded highways.
I Love Trucks! by Philemon Sturges – Travel with vivid paintings through the roaring world of rumbling trucks and reveal each truck's special job.
My Truck is Stuck! by Kevin Lewis – In this lyrical read-aloud, young drivers are introduced to the ins and outs of hauling, beeping, and repairing — get ready for a fun ride!
Trucks by Byron Barton – This very simple picture book about transportation will delight the youngest, but still has plenty to offer older preschoolers and beginning readers.
Best Transportation Books
Books about Boats
Little Toot by Hardie Gramatky – A classic story of bravery and courage that is sure to delight the next generation of readers for years to come. When Little Toot, the tugboat who does not want to tug, ends up all alone on the open water as a storm is rolling in, it's up to him to save a stuck ocean liner!
Boats by Byron Barton – Beloved children's author Byron Barton brings us yet another transportation favorite with simple text and vibrant illustrations to engage even the youngest of readers.
I'm Mighty! by Kate McMullan – You think this tug's too small to pull in ships twenty times his size? Think again! This guy is 100% MIGHTY! A great opportunity to introduce a new vocabulary word your kids will love!
Busy Boats (Amazing Machines) by Tony Mitton – Calling all future first mates and captains! This engaging and informative picture book is full of sail boats, row boats, ferry boats and speedboats: find them all and discover how they work.
More Transportation Theme Favorites
Goodnight, Goodnight, Construction Site by Sherri Duskey Rinker- A must read story about construction vehicles that your little construction workers will be begging to hear over and over again!
Digger Man by Andrea Zimmerman – A picture book for the very young that celebrates a child's excitement for construction vehicles.
Flying by Donald Crews – A lovely adventure for very young children!
Airport by Byron Barton – From the excitement of arrival to the wonder of taking off, Airport captures all the magic of an airport with joyous and powerful images and simple text. Perfect for first time fliers!
School Bus by Donald Crews – What is large (or small), bright yellow, and filled with students? School Bus!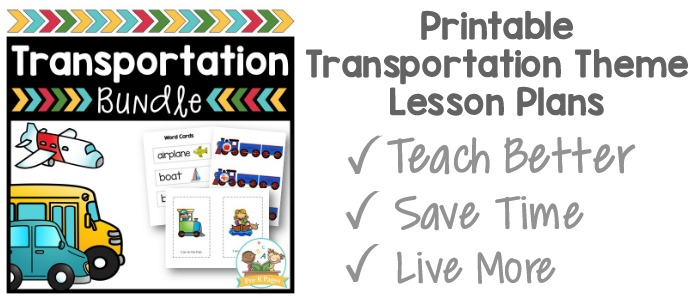 More Children's Book Lists