Goodnight Gorilla by Peggy Rathmann is one of our favorite books! It's also the perfect companion for a zoo theme activity in your preschool or kindergarten classroom. Your little learners will have fun playing and learning with this fun zoo book activity.
Goodnight Gorilla tells the story of a group of zoo animals who escape their enclosures to follow their unwitting zookeeper home and into bed, much to the surprise of his wife.
Goodnight Gorilla includes several wordless pages, which are wonderful to spark children's imaginations. One of these pages inspired this activity.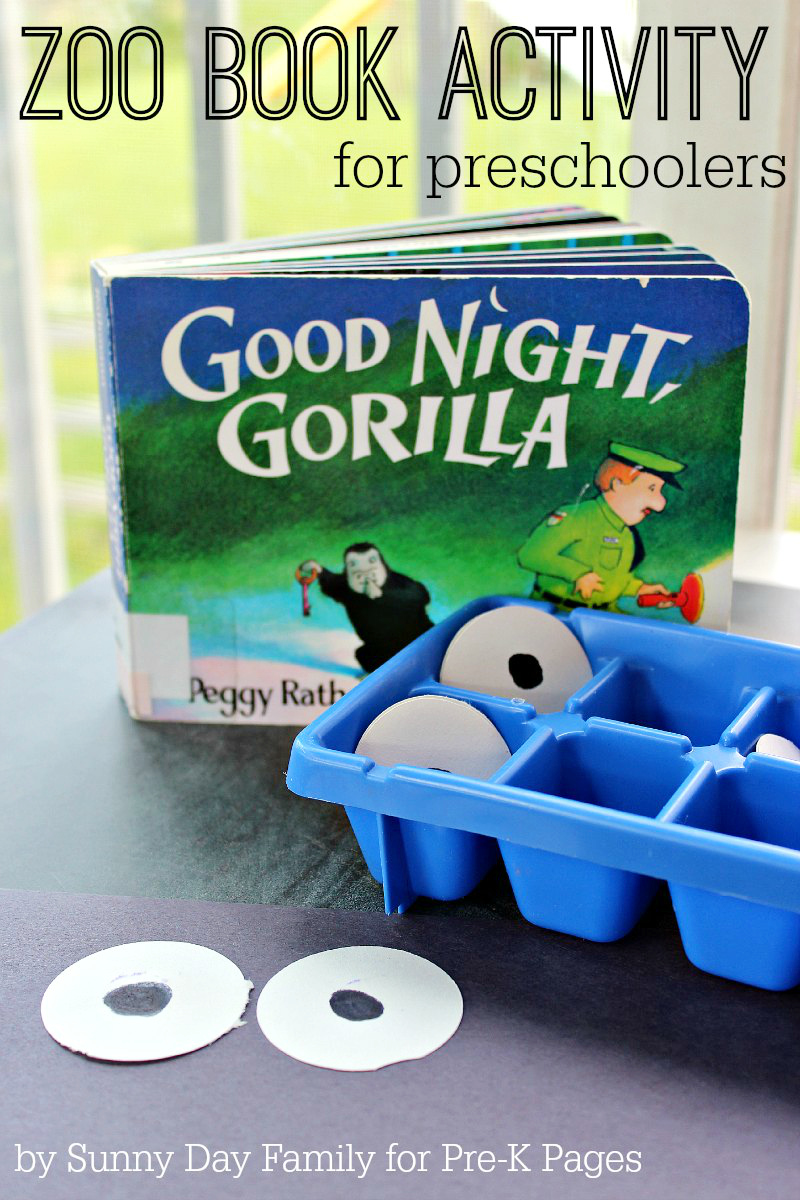 Zoo Book Activity
In Goodnight Gorilla, the zookeeper's wife says goodnight and turns out the lights, only to be greeted by a chorus of "good nights" from the animals who have snuck into her bed. Her surprised eyes open wide in the dark bedroom. We thought it would be fun to see what the animals' eyes would look like in the dark too!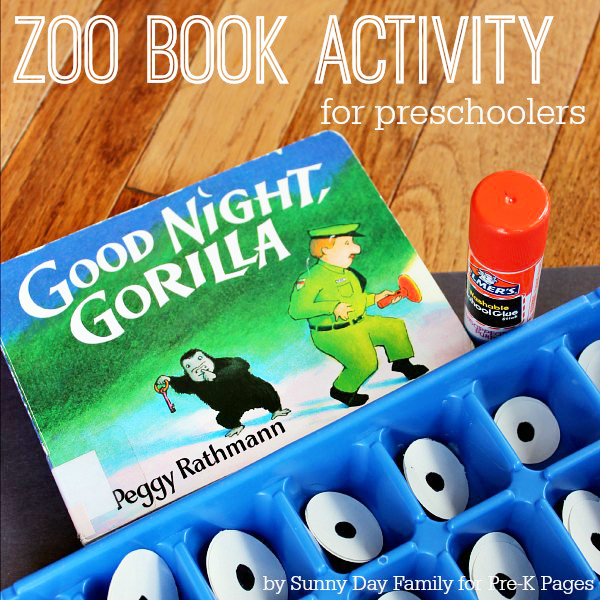 Learning Opportunities
This zoo book activity combines a number of learning opportunities for preschoolers, such as:
Reading and early literacy
Zoo animal identification
Size classification
Sorting and comparing
Fine motor skills with glue and paper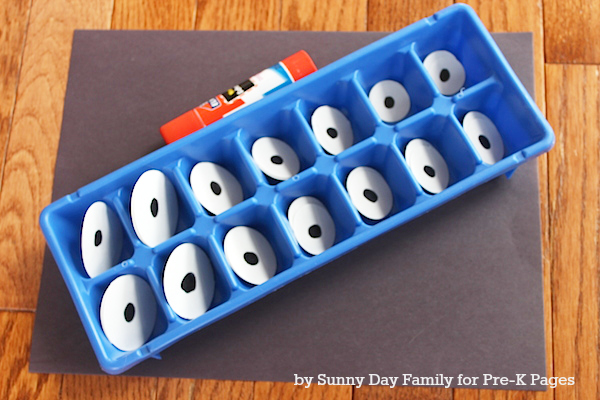 Set Up for Goodnight Gorilla Activity
This activity is very easy to set up and requires minimal materials. You will need:
Goodnight Gorilla by Peggy Rathmann
Black and white construction paper
Black Marker
Glue
Tray or small containers for sorting
Cut out 7 pairs of circles in a range of sizes. These will be the eyes for each animal in the story. Draw a pupil on each eye with black marker.
Depending on the ages of your children, you can begin with the eyes sorted by size or ask the children to help match and sort them. Give each child an assortment of paper eyes, a piece of black paper, and a glue stick.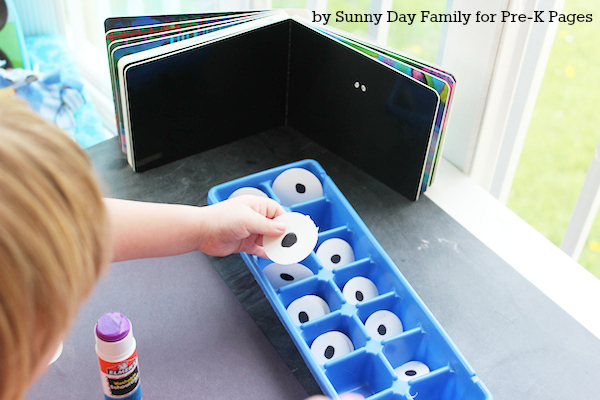 After reading the book, invite the children to choose a pair of eyes. Ask them whose eyes they would be. Are they big like an elephant or small like a mouse? Or, as you read the book, stop when each animal appears and ask the children to choose which eyes would belong to that animal.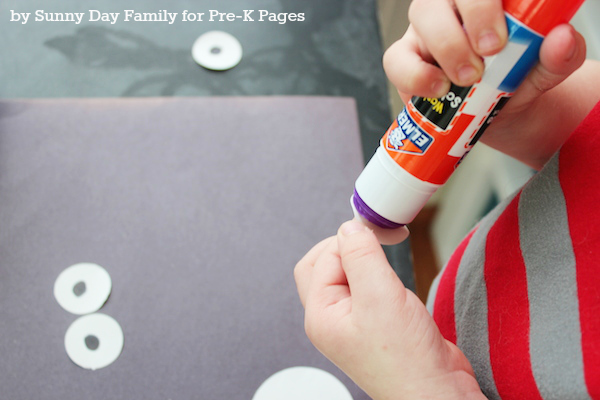 Then invite them to put glue on the eyes and stick the eyes to the paper. Using the glue stick on paper is great for fine motor practice.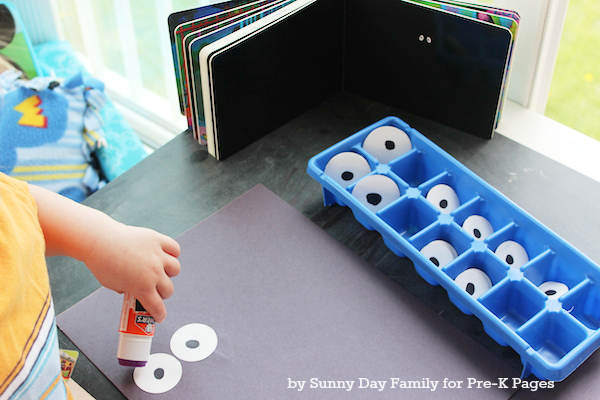 As they are choosing and gluing eyes to the paper, you can discuss matching pairs and size comparison.
And when they are finished, you have a fun craft to keep!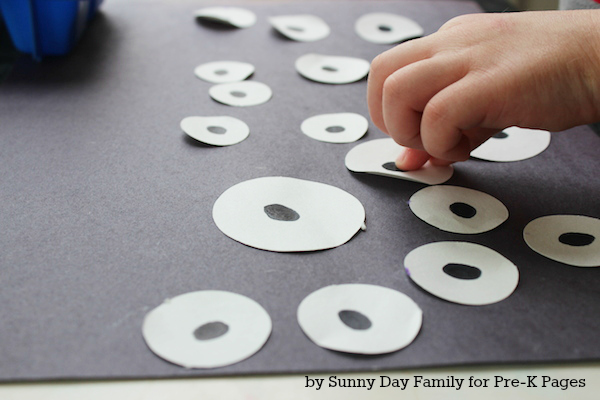 We enjoyed this activity so much! It was easy to set up and provided a number of learning opportunities. Plus it used one of our favorite books and was a lot of fun too!
BIO: Laura is a mom to twin boys and the author of Sunny Day Family, where she shares easy and engaging activities and crafts. She has a passion for early literacy and makes books come alive with activities like her Farm Read & Play with Mrs. Wishy Washy! Connect with her on Facebook, Pinterest, Instagram and Twitter.
More Zoo Ideas—
Zoo Animals Roll and Move Game
Preschool Books About the Zoo
Zoo Animal Fine Motor Activity