It's summertime and you know what that means – you can find pool noodles at every store. Pick up a few additional pool noodles for your classroom. (Or wait a few weeks until they are on sale. You can get a lot more bang for your buck.) Use those noodles for all kinds of learning experiences in learning centers and outside, and for literacy, math, and science. Check out these 20 (plus!) ideas for pool noodle fun.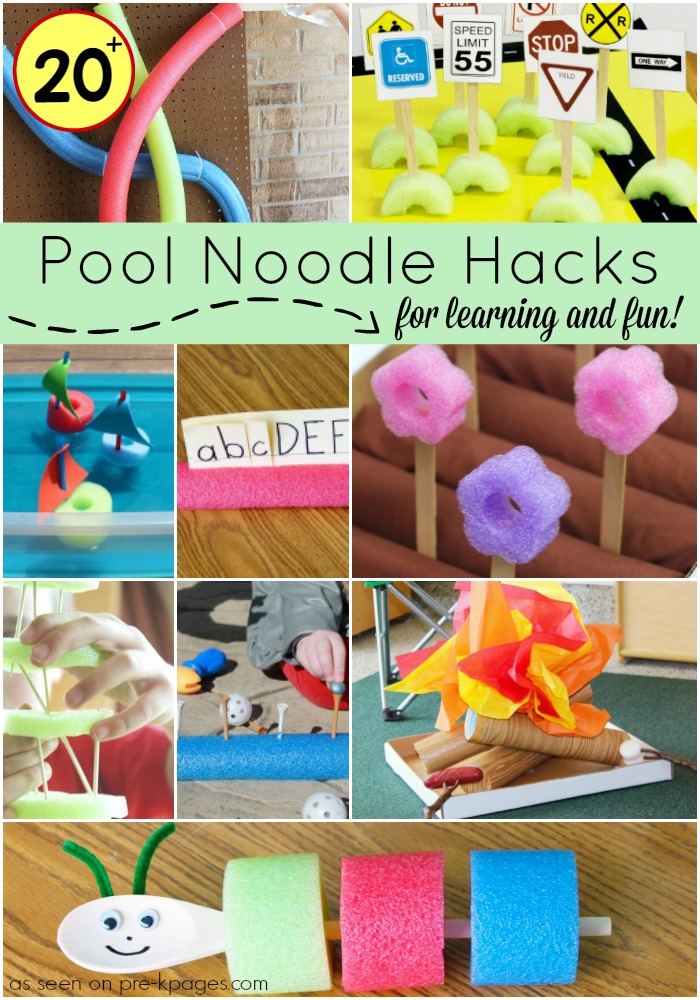 20 Creative Ideas for Pool Noodles
From arts and crafts, to games, to even using for learning activities there are so many creative uses for pool noodles!
1. Pretend Campfire for Dramatic Play (Pre-K Pages) – This is a quick and easy tutorial that will show you how to make a super cute, pretend campfire. Your little campers will have a blast sitting around the campfire roasting pretend marshmallows and singing camp songs or telling ghost stories!
2. Pool Noodle Letter Matching (Pre-K Pages) – I'm sharing how to create this super easy letter matching activity using pool noodles, which makes for a fun literacy game for your preschool or kindergarten classroom.
3. Pool Noodle Center Sign Stand (Pre-K Pages) – I'm going to share how to make center sign stands using pool noodles.
4. Syllable Caterpillar (Pre-K Pages) – This literacy game focusing on syllables is so easy to make and the total cost is only a few bucks.
5. Pretend Play Garden (Pre-K Pages) – These pool noodles with contoured edges are just what I have been looking for to create a dramatic play garden!
6. Environmental Print Block Center Stands (Pre-K Pages) – I created a set of free, printable road signs for you to use in your block center to help you create a print rich environment in your classroom, keep reading to grab your copy!
7. Pool Noodle Water Wall (Teaching Mama) – This is a neat activity that will keep kids busy all summer long! I call it our Pool Noodle Water Wall! It is so much fun and I know your kids will absolutely love it!
8. Pool Noodle Airplanes (JDaniel4's Mom) – Use some pool noodles to create these fun airplanes in this STEM activity your preschoolers will love.
9. Building Pool Noodle Structures with Toothpicks (Little Bins for Little Hands) – Grab some pool noodles while they are cheap in the summertime and have a busy STEM-filled summer.
10. Pool Noodle Crafts (Fun-a-Day) – From painting to building, there are so many possibilities to explore with a pool noodle!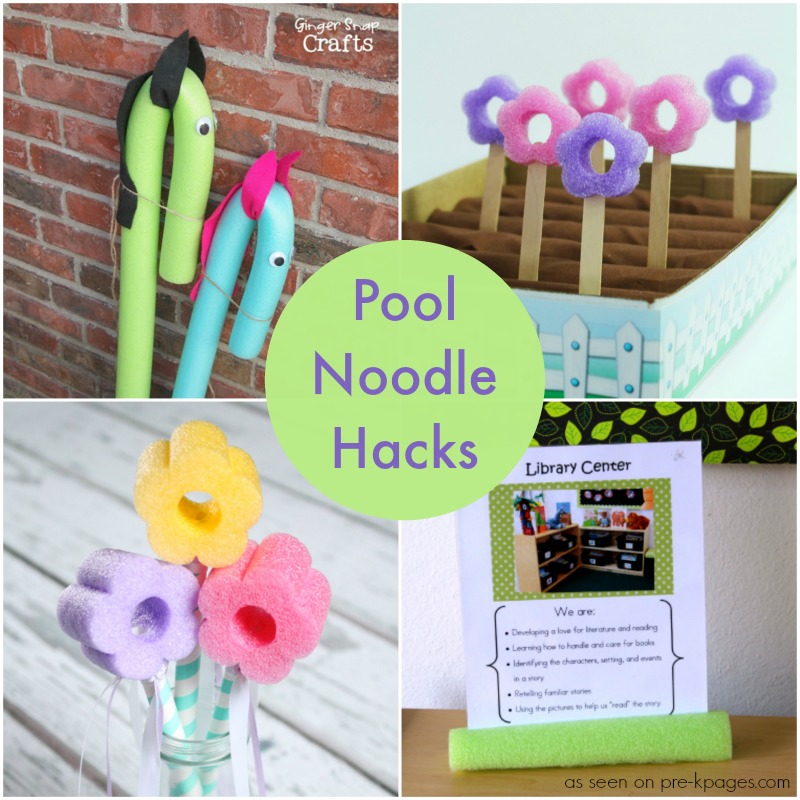 11. Hammer Golf Tees into a Pool Noodle (Playground Parkbench) – Cut a pool noodle in half and watch your little ones have fun hammering golf tees into it.
12. Pool Noodle Fine Motor Activity (My Mundane and Miraculous Life) – Have your toddlers work on their fine motor skills in this easy to set up pool noodle "donut" activity.
13. Moving Noodle Robots (Teach Preschool) – Your youngsters will have a blast with this pool noodle robot that actually moves!
14. Pool Noodle Chains (Teach Preschool) – Cut up a noodle and watch your preschoolers have fun creating chains and working on their fine motor skills.
15. Pool Noodle Water Hose Play (Teach Preschool) – If you happen to have an extra pool noodle on hand and a water hose, then you have all you need for a very fun day of water play!
16. Pool Noodle Boats and Water Bin (Frogs, Snails, and Puppy Dog Tails) –  I cut up some pool noodles for a pool noodle water bin. One of the things we tried last year was pool noodle boats.  They kids had a lot of fun with them in the bath tub.
17. Quiet Blocks (I Can Teach My Child) – Here is another way to utilize pool noodles–making them into quiet blocks! If you have wood laminate floors means that blocks are really, really loud! Not so with these quiet noodle blocks.
18. Pool Noodle Obstacle Course (Learn Play Imagine) – Grab some cones, pool noodles, and more to make this fun obstacle course!
19. Alphabet Basket (The Educators' Spin on It) – Make some alphabet blocks out of pool noodles, and watch as your little ones name letters, make words, and even play "alphabet basketball"!
20. Marble Run (Frugal Fun for Boys) – Cut a pool noodle in half lengthwise and you will see you have discovered a perfect marble run!
BONUS IDEAS!
Pool Noodle Bubble Wand Flowers (Create, Craft, Love)
Pool Noodle Ponies (Crazy Little Projects)
How do you use pool noodles at home or in the classroom? Add your ideas in the comments.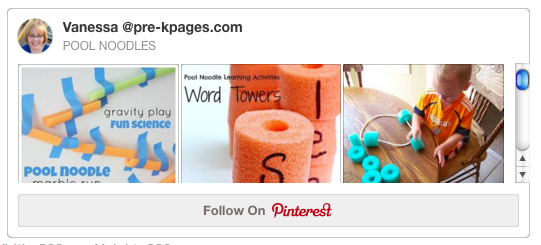 Follow my Pool Noodles Pinterest Board for more great ideas!