It's summertime and you know what that means – you can find pool noodles at every store. Pick up a few additional pool noodles for your classroom. (Or wait a few weeks until they are on sale. You can get a lot more bang for your buck.) Use those noodles for all kinds of learning experiences in learning centers and outside, and for literacy, math, and science. Check out these 20 (plus!) ideas for pool noodle fun.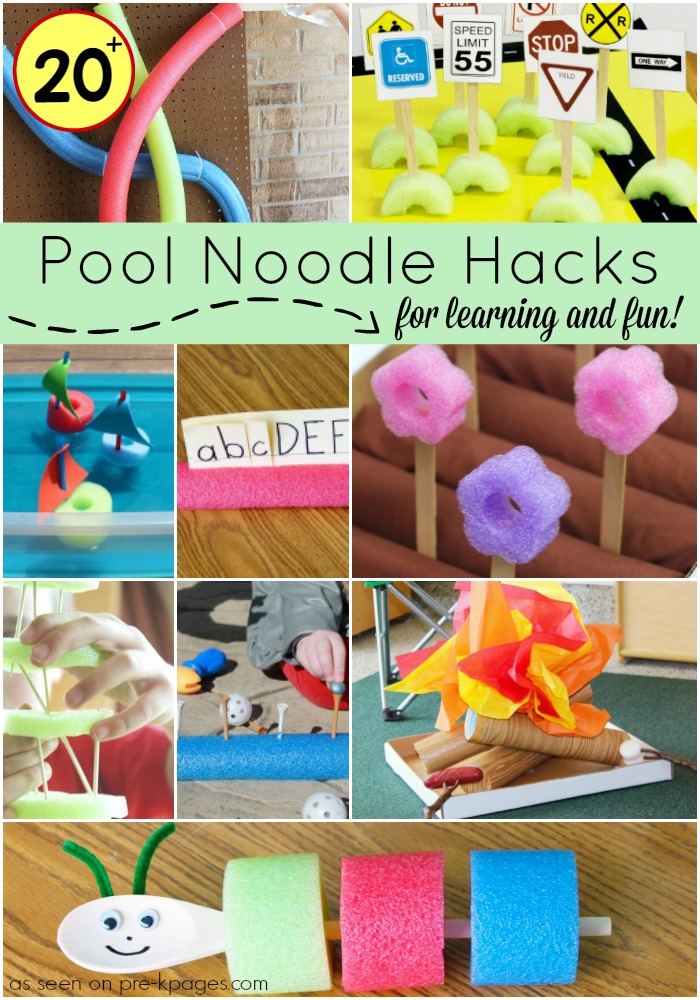 Ideas for Pool Noodles
1. Pretend Campfire for Dramatic Play (Pre-K Pages)
2. Pool Noodle Letter Matching (Pre-K Pages)
3. Pool Noodle Center Sign Stand (Pre-K Pages)
4. Syllable Caterpillar (Pre-K Pages)
5. Pretend Play Garden (Pre-K Pages)
6. Environmental Print Block Center Stands (Pre-K Pages)
7. Pool Noodle Water Wall (Teaching Mama)
8. Pool Noodle Airplanes (JDaniel4's Mom)
9. Building Pool Noodle Structures with Toothpicks (Little Bins for Little Hands)
10. Pool Noodle Crafts (Fun-a-Day)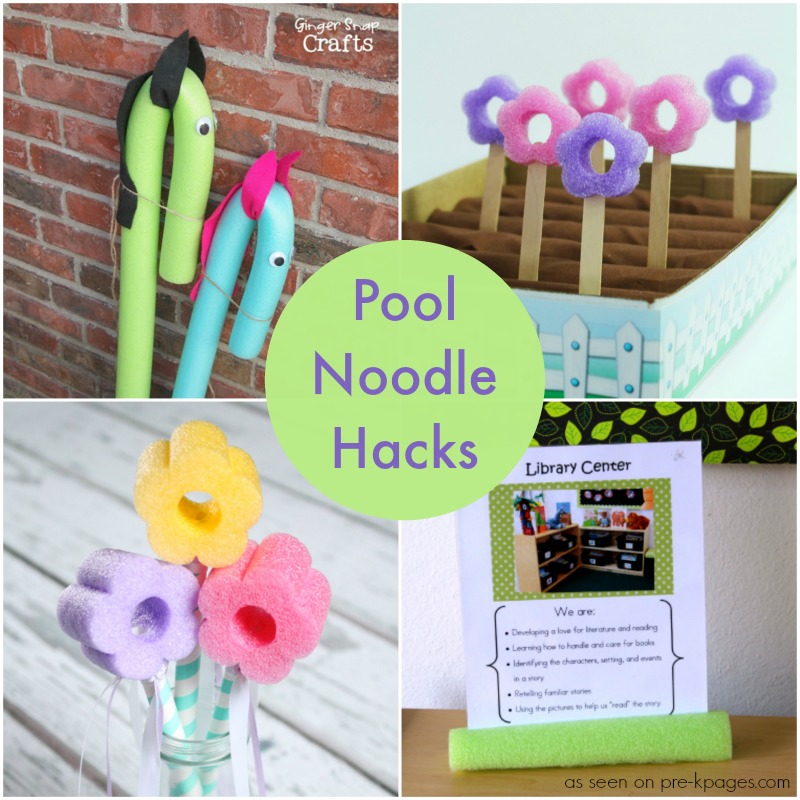 11. Hammer Golf Tees into a Pool Noodle (Playground Parkbench)
12. Pool Noodle Fine Motor Activity (My Mundane and Miraculous Life)
13. Moving Noodle Robots (Teach Preschool)
14. Pool Noodle Chains (Teach Preschool)
15. Pool Noodle Water Hose Play (Teach Preschool)
16. Pool Noodle Boats and Water Bin (Frogs, Snails, and Puppy Dog Tails)
17. Quiet Blocks (I Can Teach My Child)
18. Pool Noodle Obstacle Course (Learn Play Imagine)
19. Alphabet Basket (The Educators' Spin on It)
20. Marble Run (Frugal Fun for Boys)
BONUS IDEAS!
Pool Noodle Bubble Wand Flowers (Create, Craft, Love)
Pool Noodle Ponies (Crazy Little Projects)
How do you use pool noodles at home or in the classroom? Add your ideas in the comments.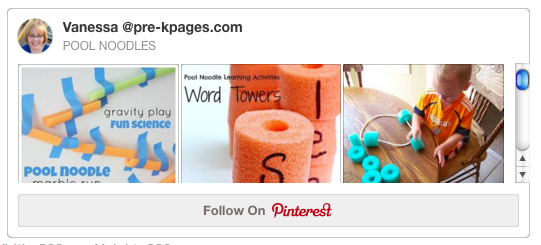 Follow my Pool Noodles Pinterest Board for more great ideas!