Are you feeling overwhelmed by the thought of setting up centers in preschool? Maybe you have a million questions swirling around in your head, like "How do I know which centers I need? What should I put in each center?"
Then there's the additional challenge of setting up centers in your already-crowded early childhood classroom so your kids can easily use, enjoy, and learn from them. Setting up centers in preschool or kindergarten can be challenging for both new and veteran teachers alike.
If you've ever wondered what centers are, why they're important, and what successful centers look like, you're in the right place!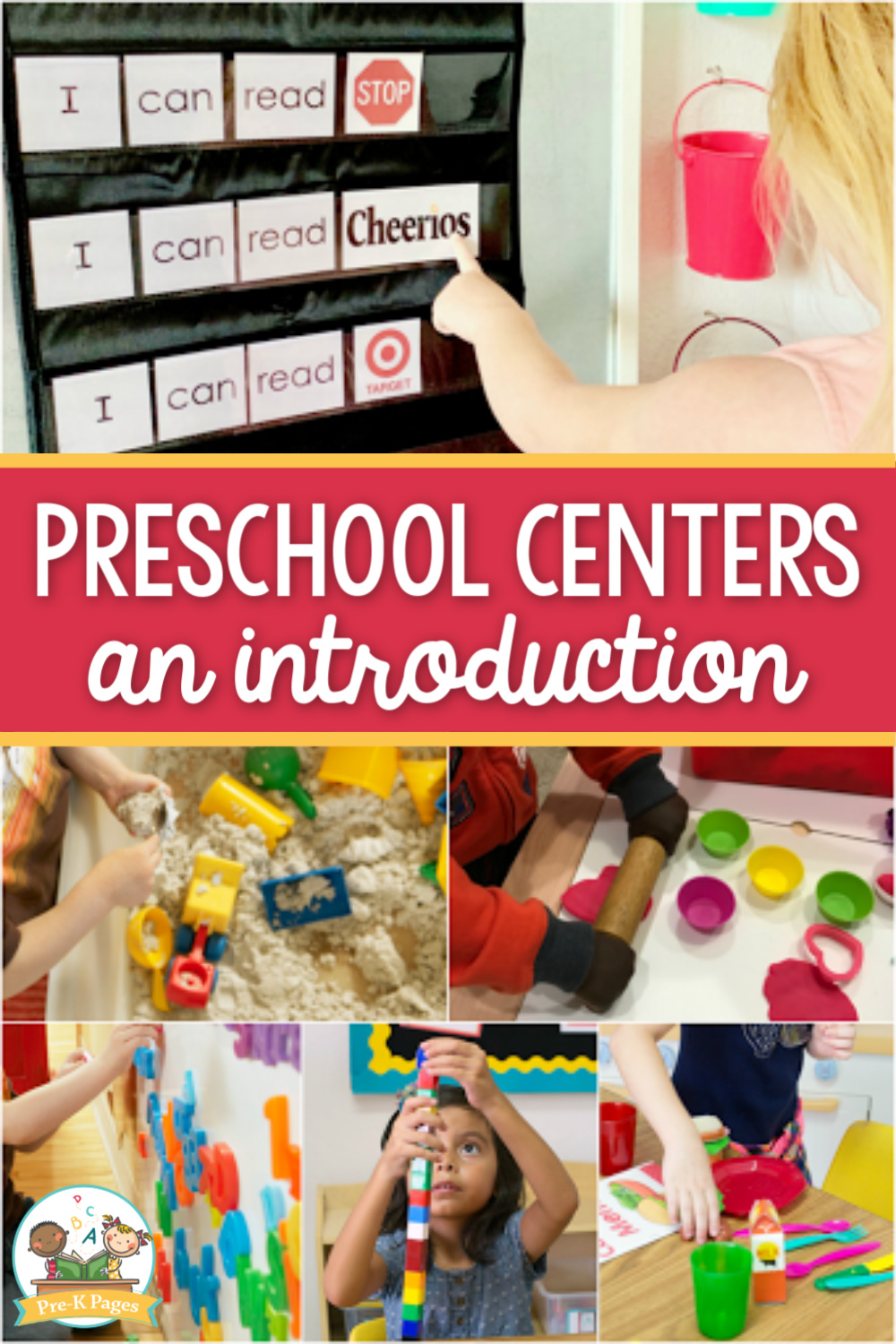 What Are Centers in Preschool?
Learning centers in the preschool classroom are clearly defined areas, each one with a specific focus.
Here are some examples of centers you might choose to have in your classroom:
Each center in your classroom should be intentionally designed and set-up to encourage your little learners to freely explore the materials housed there.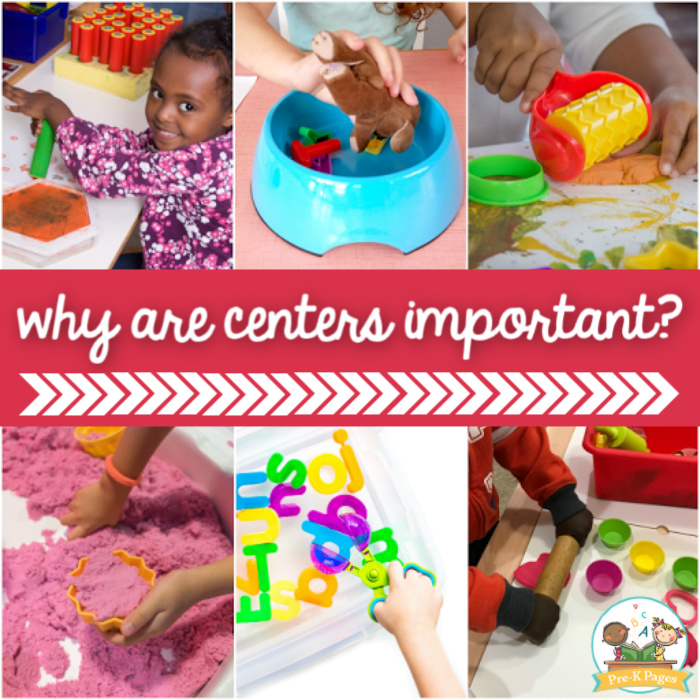 Why is it Important to Have Centers in Preschool?
There are many benefits of having centers in your preschool or kindergarten classroom. Centers allow young children to learn in the most meaningful way, through hands-on play experiences, which is why they're such a vital part of a high-quality preschool classroom.
The three main benefits of center time are:
Oral Language Development
Self-Regulation
Social Skills
Some additional benefits of learning centers are:
When children are invited to explore centers independently, discipline problems may be reduced because they're able to to practice self-regulation.
Student engagement increases when your students are allowed to choose their centers and explore hands-on activities at each center.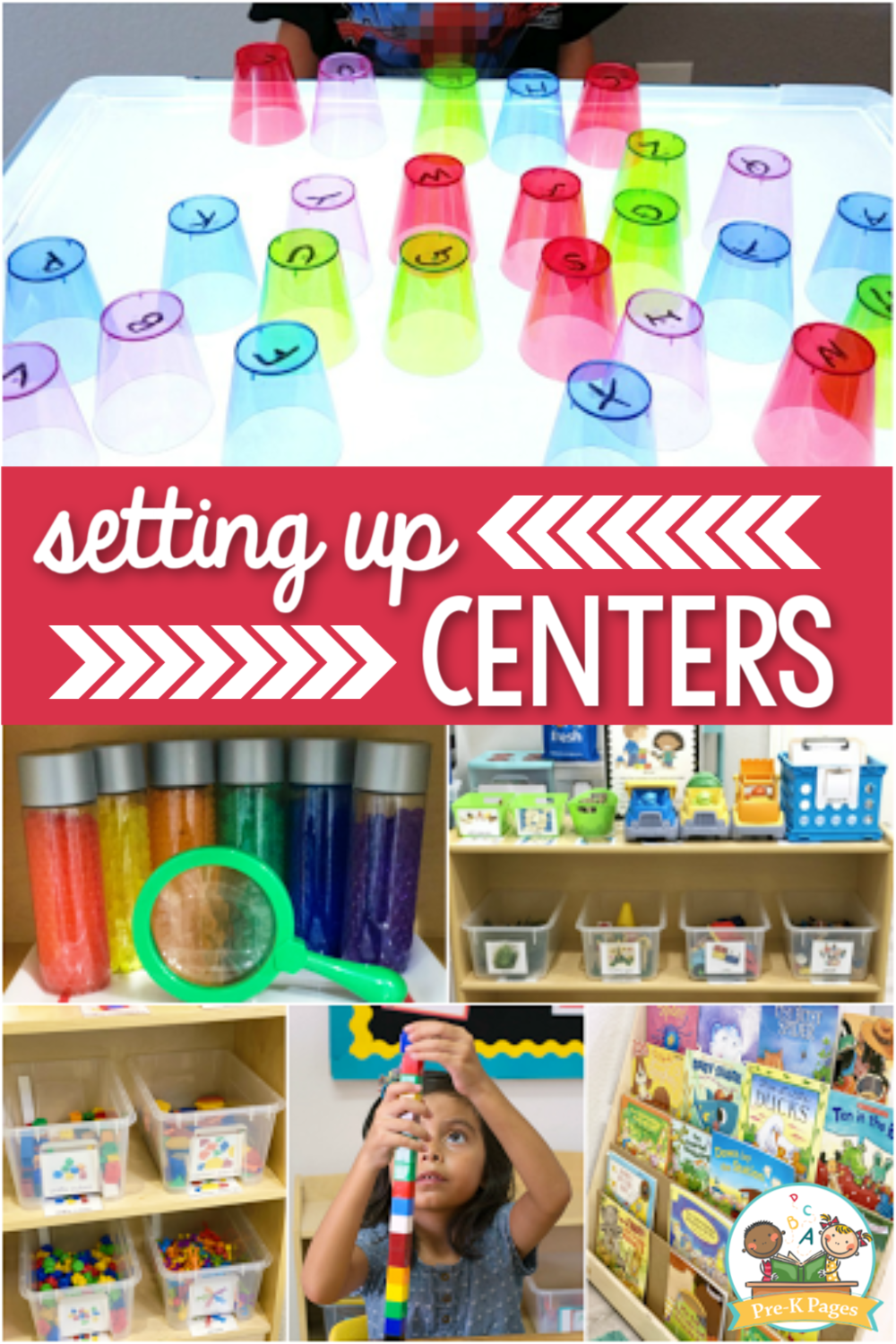 Setting Up Preschool Centers
There are several factors to consider when determining which learning centers you're going to have in your classroom, the materials you should include in each area, and how they should be set up.
It can be daunting! That's why I've created this super handy (and free!) center essentials guide to help walk you through everything. Be sure to grab it.
I'm not going to lie, setting-up and preparing your centers requires time and intentional planning, but investing this time up front has big payoffs for you and your students later in the school year.
When setting up learning centers in your classroom, it's important to group similar centers together. Your centers such as the writing center, listening center, and reading or library center are usually quieter than others. While your block center and dramatic play center are areas that are noisier by nature.
Your whole group meeting area should be large enough for all children to sit comfortably. Defining this space with a rug helps children become familiar with the boundaries.
It's best to keep your messier centers like the sensory center and the art center on hard surfaces that are easy to clean, near a sink if possible. Your science center will work best near a window if you have one.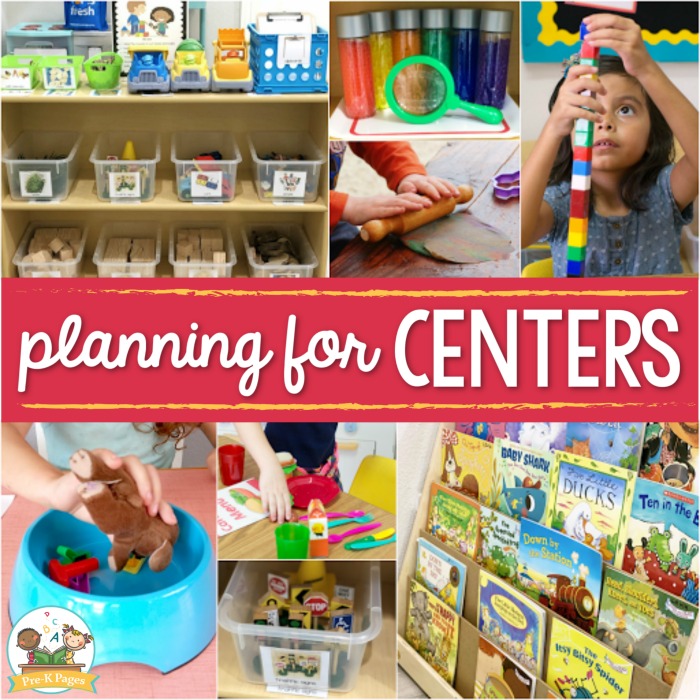 Planning for Learning Centers
Once you've set-up your learning centers, you can include materials and activities in your lesson plans for each of the specific areas to ensure you're supporting optimal learning in every center.
It's important to give your children choices for selecting centers. but, too many choices can quickly become overwhelming. When you group centers that focus on similar skills together, you can provide your students with opportunities to choose without overwhelming them.
You'll also want to have a plan for managing centers, and a plan to quickly and easily label your centers.
For more information about centers, you can download my free Center Essentials Guide that walks you through setting up successful centers step-by-step.
Preschool Learning Center
Have you always dreamed of setting up amazing, self-directed preschool learning center for your classroom…but feel like something is missing? How do you know which centers you need? What should you put in them?
Center Essentials Guide
Get your ultimate, step-by-step guide for setting up centers HERE