Identifying colors, exploring and comparing colors, learning color names – all are important concepts for preschoolers. One fun and effective way to learn about color is by using color mixing activities. But there are other ways to explore color and identify them. Below are more than 30  color activities for preschoolers for exploring color that use ways to compare or contrast but do not mix colored water or paint.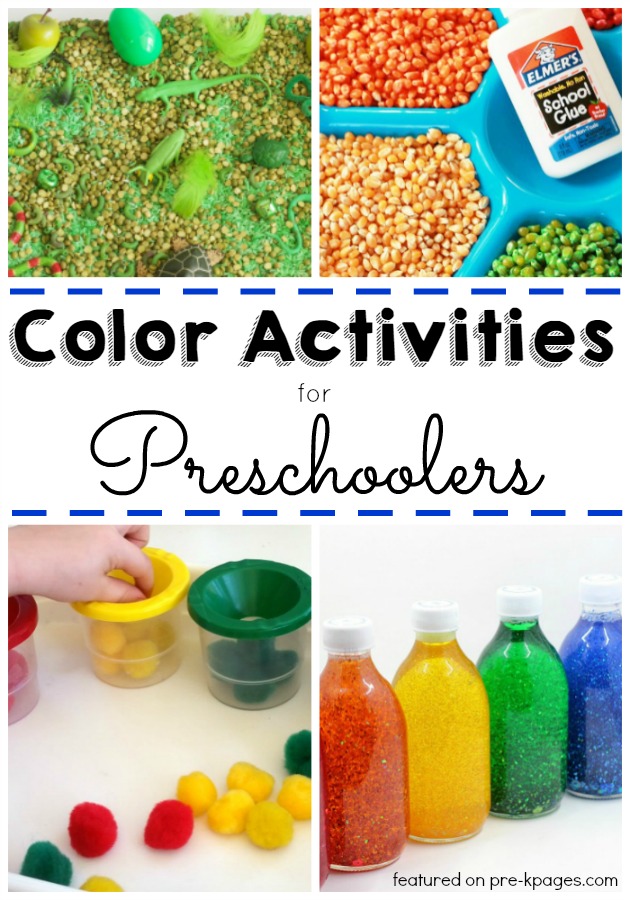 Activities to Explore Color
1. Green Sensory Bin (Pre-K Pages) – This simple book introduces children to the color green in a beautiful way. The die cut pages offer a clue of what's to come on the next page, which builds excitement and anticipation as you turn each page. The beautifully illustrated pages use different shades of green and invite the reader to spend time examining each page carefully. This the perfect book to read aloud to preschoolers and to explore color.
2. Color Matching Bones (Pre-K Pages) – Dog's Colorful Day by Emma Dodd is a wonderful book for helping preschoolers learn colors and counting, and it inspired a fun activity that is really easy too!
3. Colored Corn Mosaic Art (Pre-K Pages) – These mosaics would be a great addition to a harvest or Thanksgiving theme.
4. Color Sorting Game (Pre-K Pages) – This math and sorting game is inspired by the book Sort it Out by Barbara Mariconda. This activity encourages kids to practice fine motor skills, sorting skills, classifying skills, and counting skills.
5. Color Theme Activities (Pre-K Pages) – Colors Theme Activities for Preschool, Pre-K, and Kindergarten
6. Colorful World Book (Prekinders) – You can print out the pictures, included in the post, to create this colorful world book.
7. Sorting by Color (Prekinders) – Here are some quick low cost ideas to teach sorting by color.
8. Giant Color Dice Game (Prekinders) – Print out and make these fun color cubes to learn color sorting.
9. Color Pattern Cards (Prekinders) – Print out these pattern block cards to use with any colored math counters. You can use cubes, bear counters, dinosaur counters, farm animal counters, or bug counters.
10. Matching Color Hues (Prekinders) – Paint sample cards from the hardware store are free and can be used for lots of activities. This activity can be used when learning about colors, and could also be included in a science center.
11. Rainbow Colors at the Sticky Easel (Teach Preschool) – It is always fun to change up the easel and so for a little change and this sticky easel is perfect for a little rainbow color exploration…
12. Colored Bean Bag Toss Game (Teach Preschool) – Preschoolers will love color sorting with these colored bean bags and buckets!
13. Red Sensory Bin (Parenting Chaos) – Activities such as this red sensory bin are a great way to start introducing colors in a playful stress-free manner.
14. Very Hungry Caterpillar Color Sorting (Parenting Chaos) – This is a quick and simple toddler activity that is a super fun way to celebrate the The Very Hungry Caterpillar by Eric Carle book!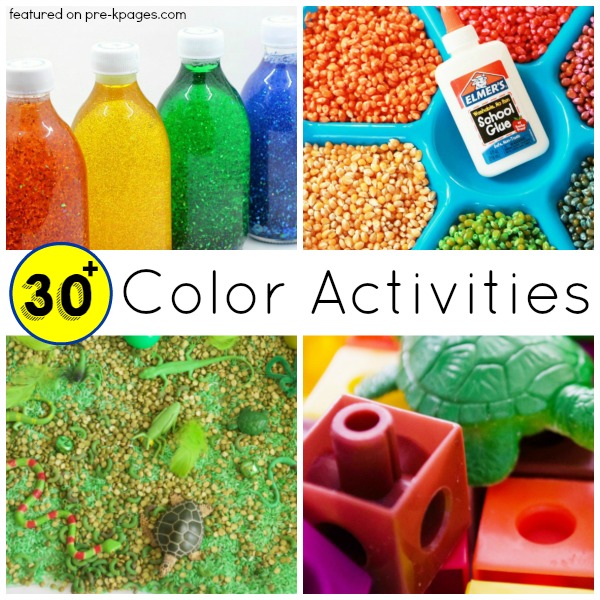 Activities to Explore Colors for Preschoolers
15. Color and Pattern Busy Bag (Raising Little Superheroes) – For this Colors and Patterns Busy Bag, children will practice identifying colors and creating patterns using simple materials that can easily be taken anywhere you go.
16. Practicing Colors and Patterns (Crayon Freckles) – Practice your colors and patterns with your toy vehicles and other household objects.
17. Color Search (Meaningful Mama) – Have your toddler color sort using easy gift bags and items around the house.
18. Color Graphing Game (JDaniel4's Mom) – Make this fun giant graphing game with a little tape and some legos and then practice counting and color sorting.
19. Nature Color Search (Teach Mama) – Use mason jars to then have fun sorting nature in this color search game.
20. Preschool Color Songs (Teaching Mama) – Preschoolers LOVE songs and it is very important to bring music into the preschool classroom or home preschool. Here are 10 preschool songs about color to enjoy!
21. I Spy Tray (Busy Toddler) – Have fun playing a I spy game and identify colors in this game.
22. Learning Colors with Play Dough and Crayons (Sunny Day Family) – This is a really easy preschool activity that helps reinforce learning colors and uses materials you probably already have at home – play dough and broken crayon pieces.
23. Bear Sees Colors Busy Bag (Craftulate) – This busy bag is the perfect activity to accompany the book Bear Sees Colors.
24. Numbers and Colors Grid Game (Little Bins for Little Hands) This is a super simple grid game to practice numbers and colors.
25. Experiments with Color and Flowers (Powerful Mothering) – Your preschoolers will love experimenting with coloring the flowers in this activity.
26. Color Gross Motor Games (Still Playing School) – Check out these fun color gross motor games for your preschoolers.that will keep your toddler entertained and engaged!
27. Color Glitter Jars (Fun-a-Day) – Your toddler will have so much fun learning their colors with these beautiful glitter jars made with corn syrup.
28. Rainbow Collages (Brick by Brick) – Use paper plates and colored paper to create these fun rainbow collages. This process art activity will help your toddler learn colors as well.
29. Match and Build Patterns (Preschool Spot) – This activity helps children learn that each section in a pattern matches the first section, all sections look the same, and once matching sections are put together they can build different patterns.
30. Pom Pom Color Push (Munchkins and Moms) – Use push cups and pom poms for this fun color sorting activity.
31. Outdoor Ball Color Sort (Stir the Wonder) – This idea can be used for learning or reviewing any number of things in a fun way that gets the body moving!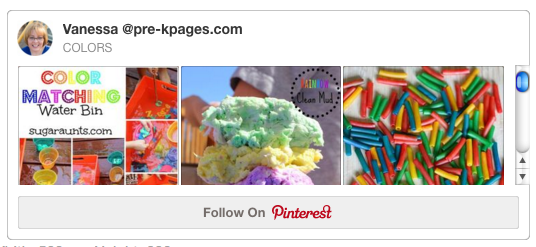 Follow my Color Pinterest Board for more great ideas!