Identifying colors, exploring and comparing colors, learning color names – all are important concepts for preschoolers. One fun and effective way to learn about color is by using color mixing activities. But there are other ways to explore color and identify them. Below are more than 30 ideas for exploring color that use ways to compare or contrast but do not mix colored water or paint.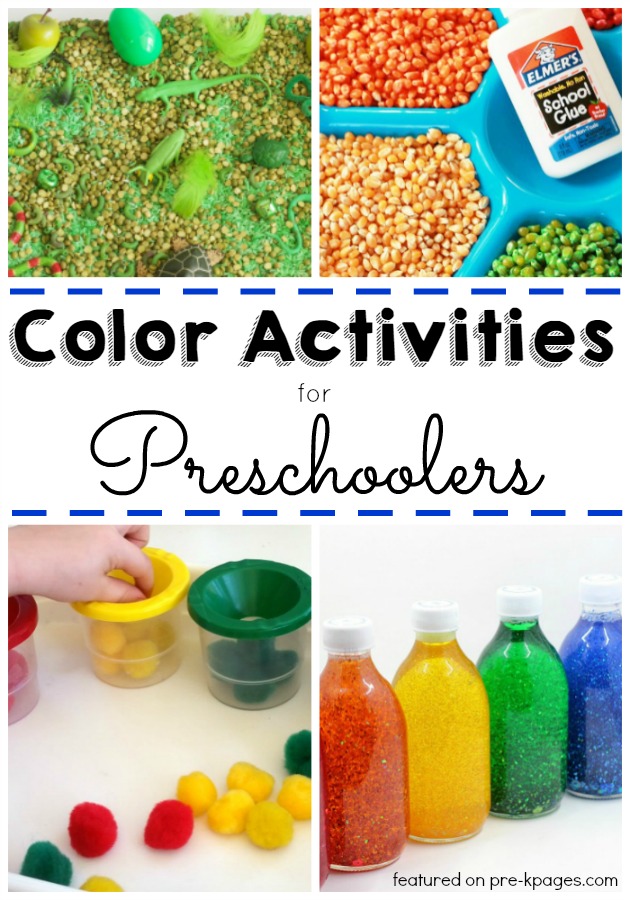 Activities to Explore Color
1. Green Sensory Bin (Pre-K Pages)
2. Color Matching Bones (Pre-K Pages)
3. Colored Corn Mosaic Art (Pre-K Pages)
4. Color Sorting Game (Pre-K Pages)
5. Color Theme Activities (Pre-K Pages)
6. Colorful World Book (Prekinders)
7. Sorting by Color (Prekinders)
8. Giant Color Dice Game (Prekinders)
9. Color Pattern Cards (Prekinders)
10. Matching Color Hues (Prekinders)
11. Rainbow Colors at the Sticky Easel (Teach Preschool)
12. Colored Bean Bag Toss Game (Teach Preschool)
13. Red Sensory Bin (Parenting Chaos)
14. Very Hungry Caterpillar Color Sorting (Parenting Chaos)
15. Monsters Love Colors Sensory Bin (Enchanted Homeschooling Mom)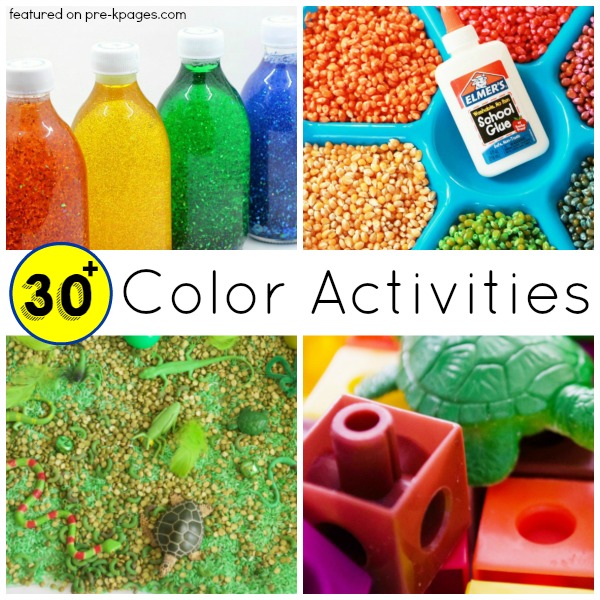 Activities to Explore Colors for Preschoolers
16. Color and Pattern Busy Bag (Raising Little Superheroes)
17. Practicing Colors and Patterns (Crayon Freckles)
18. Color Search (Meaningful Mama)
19. Color Graphing Game (JDaniel4's Mom)
20. Nature Color Search (Teach Mama)
21. Preschool Color Songs (Teaching Mama)
22. I Spy Tray (Busy Toddler)
23. Learning Colors with Play Dough and Crayons (Sunny Day Family)
24. Bear Sees Colors Busy Bag (Craftulate)
25. Numbers and Colors Grid Game (Little Bins for Little Hands)
26. Experiments with Color and Flowers (Powerful Mothering)
27. Color Gross Motor Games (Still Playing School)
28. Color Glitter Jars (Fun-a-Day)
29. Rainbow Collages (Brick by Brick)
30. Match and Build Patterns (Preschool Spot)
31. Pom Pom Color Push (Munchkins and Moms)
32. Outdoor Ball Color Sort (Stir the Wonder)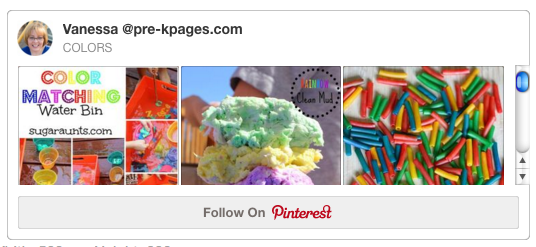 Follow my Color Pinterest Board for more great ideas!