Activities for teaching sorting skills in Preschool, Pre-K, and Kindergarten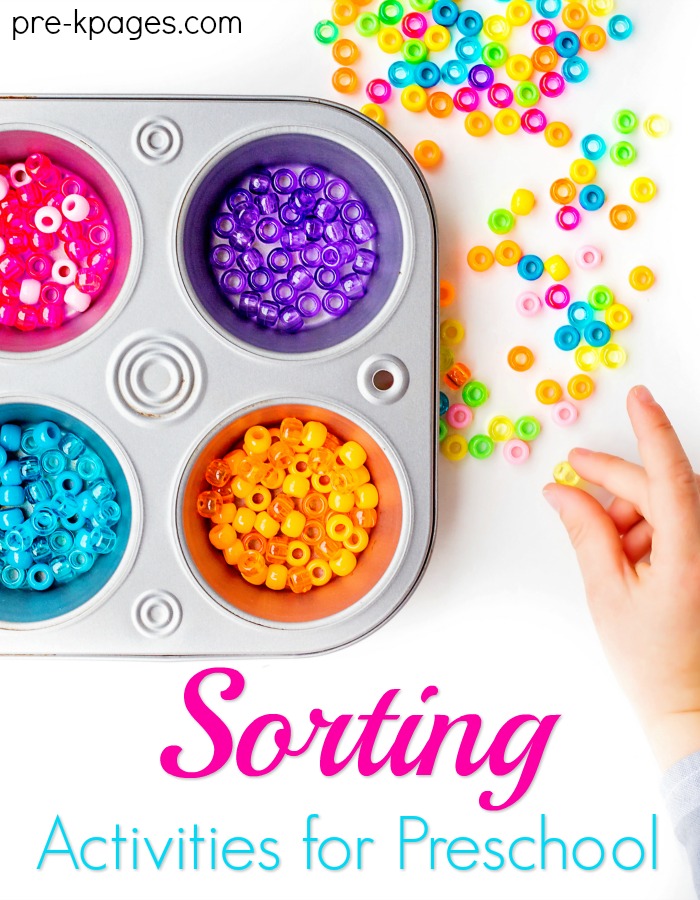 Sorting Activities for Preschool
Activities and ideas for teaching sorting skills in preschool, pre-k, or kindergarten classrooms. Teach children to sort using various attributes.
Sorting is a foundational math skill for preschoolers. It can take months or even an entire school year for young children begin to understand the concept of sorting and the various ways to sort. For this reason it is important to provide your students with plenty of sorting practice all year long.
Objective: Sort, classify, and order objects by size, shape, color, and a variety of other attributes.
Books about Sorting
Using Music to Teach Sorting
I routinely use songs to help reinforce math skills in my classroom. I have used HeidiSongs Musical Math DVD with great success in my classroom. The Musical Math DVD has a specific song for teaching sorting that is very effective. HeidiSongs work because they use a multi-sensory approach which adds movement to each song so the students sing the song and move at the same time. When combined, these strategies provide a more meaningful experience that will promote retention of the concept being taught.
Sorting Activities
Animals


Materials: inexpensive erasers from Oriental Trading to go with your theme, sorting mat
You can find erasers to match just about any theme. Students can sort the erasers by type on a paper sorting mat. I made this sorting mat by tracing circles on a blank sheet of paper.
Sorting by Color

Materials: white vinyl tablecloth (from dollar store), colored permanent markers, variety of different colored objects for sorting (see Color Boxes section on Colors page)
Students enjoy sorting items by color with this giant sorting mat. Sit students in a circle around the mat and pass around a basket full of different colored items. Each child takes an item from the basket and places it on the appropriate circle.
Other materials for sorting
Shells
Keys
Buttons
Seeds
Pom Poms
Paint sample chips
Thematic Sorting Activities
I have many thematic sorting activities on the individual Theme Pages.
Math Resources
Disclosure: Pre-K Pages is a participating member of the Amazon Services LLC Associates Program.
More Math Ideas from Pre-K Pages