A construction site is a great place. It's full of noisy trucks and lots of activity. Many preschoolers enjoy seeing what goes on there.
A construction theme helps preschoolers explore their community or the people who live and work in a community.
Check out these construction activities for preschool for your community helper theme, a construction/building theme, or as part of engineering and STEM.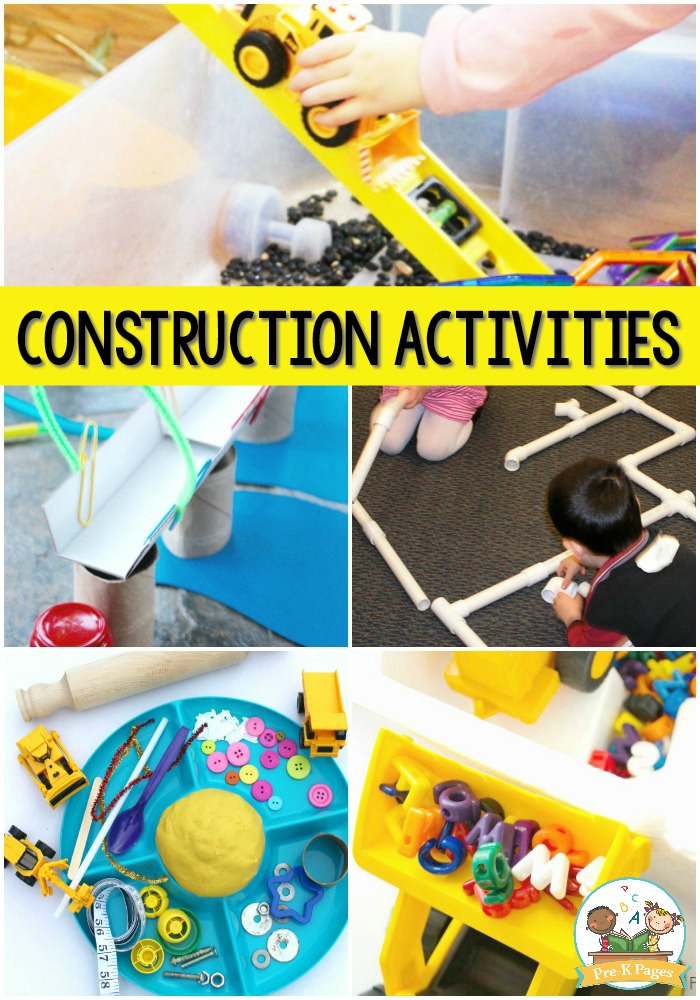 Construction Theme Activities for Preschool
Construction Trucks Sensory Bin (Pre-K Pages) – I'm really excited to share with you this Construction Sensory Bin that my daycare kids created and the creative process behind their creation.
Construction Site Alphabet Dig (Pre-K Pages) – Easily put together, this construction site alphabet dig supports open-ended play and learning. If you are preparing for a community helpers theme, a construction site is always a huge hit with kids.
Alphabet Under Construction: Fine Motor Activity (Pre-K Pages) – After reading the book Alphabet Under Construction by Denise Fleming, your children are going to be more than ready to construct, craft, and carve letters of the alphabet.
Workshop Dramatic Play (Pre-K Pages) – Do you have a dramatic play center in your classroom? Are you looking for other ideas for the center? A workshop dramatic play center could be a fun place for boys and girls to explore and play.
Building Bridges Engineering Activity (Pre-K Pages) – This bridge building activity is a great engineering project for kids. It starts with the planning and designing process and ends with the building process.
Let's Build! (Not Just Cute) – Lots of ideas in this post! From process art to sensory bins you will definitely the perfect activity to go along with your construction theme.
Magnetic Construction Site (Educators' Spin On It) – Discover through a fun magnetic construction themed activity about magnets!  Create a magnetic construction site!
Sand Play Dough (Frogs, Snails, and Puppy Dog Tails) – Bring the construction theme to life with this simple sand play dough recipe! Your kids will have a blast playing with it.
Sorting Construction Vehicles (JDaniel4's Mom) – This fun activity is filled with kids challenges. It features a construction site themed sensory bin. Your children will use the toys in the bin to dig up pictures that they will later sort.  These kids challenges activities were created to go along with the book Goodnight, Goodnight Construction Site
.
Build with Pipes (Brick by Brick) – Students will enjoy building, connecting, and just figuring out how to put these PVC pipes and connectors together.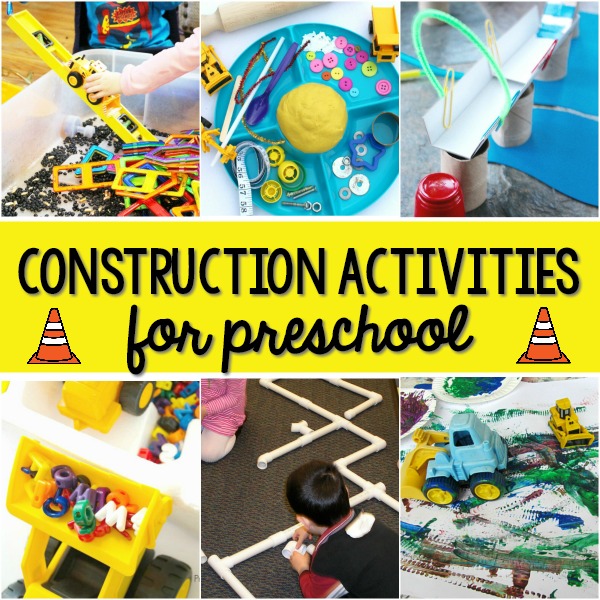 Preschool Activities for a Construction Theme
Design and Build a Truck (Mama Smiles) – Can you design and build a truck? This construction themed STEM challenge for kids gets them thinking like real engineers.
Construction Site Counting Game (To Be a Kid Again) – This activity focuses on counting and learning numbers with a construction site counting game for preschoolers.
Fill a Truck Fun (Craftulate) – Using magazines you can create a dumptruck and the "loads" that your preschooler will have fun filling up again and again!
Calming Construction Site Sensory Play (B-Inspired Mama) – This sensory play activity uses Lavender oil for a calming construction site activity.
DIY Bulldozer Blade (LalyMom) – Laura is sharing one of her cardboard crafts- it's a super easy cardboard box bulldozer blade! Your toddler will have fun pushing this bulldozer blade around.
Painting with Toy Trucks (No Time for Flash Cards) – Have fun creating process art by using toy trucks and paint. Your students can explore color while they roll the construction trucks around in the paint.
Hammer Painting (Brick by Brick) – With some paint, a hammer, and some paper, your preschoolers can create their own hammer  process art activity!
Be an Architect! (No Time for Flash Cards) – Your preschoolers will love being an architect with this homemade bluprint paper.
Play Dough Construction Site (Hands On As We Grow) – This is an easy engaging task for preschoolers. All you need is some play dough and toy construction vehicles.
DIY Impact Hammer [Jackhammer] (LalyMom) – All you need is some cardboard to make this impact hammer. Your preschooler will love being able to become a construction worker with this craft.
Neighborhood Under Construction (Teach Preschool) – Build your own community in this activity. You can also incorporate math in this construction theme activity as your preschoolers explore the bluprints and build.
Construction Tools and Play Dough (Teach Preschool) – Have your preschoolers use toy construction tools and have fun building, cutting, and hammering playdough.