Learning about community helpers is important to raise altruistic children, beginning in preschool (and even earlier in the home). Of all the helpers in our community, those that work in the Animal Shelter are the dearest to my heart as our three pets – 2 dogs and a cat – were all adopted from our local shelter. So I set up a dramatic play Animal Shelter for my twins to learn more about where our animals were from.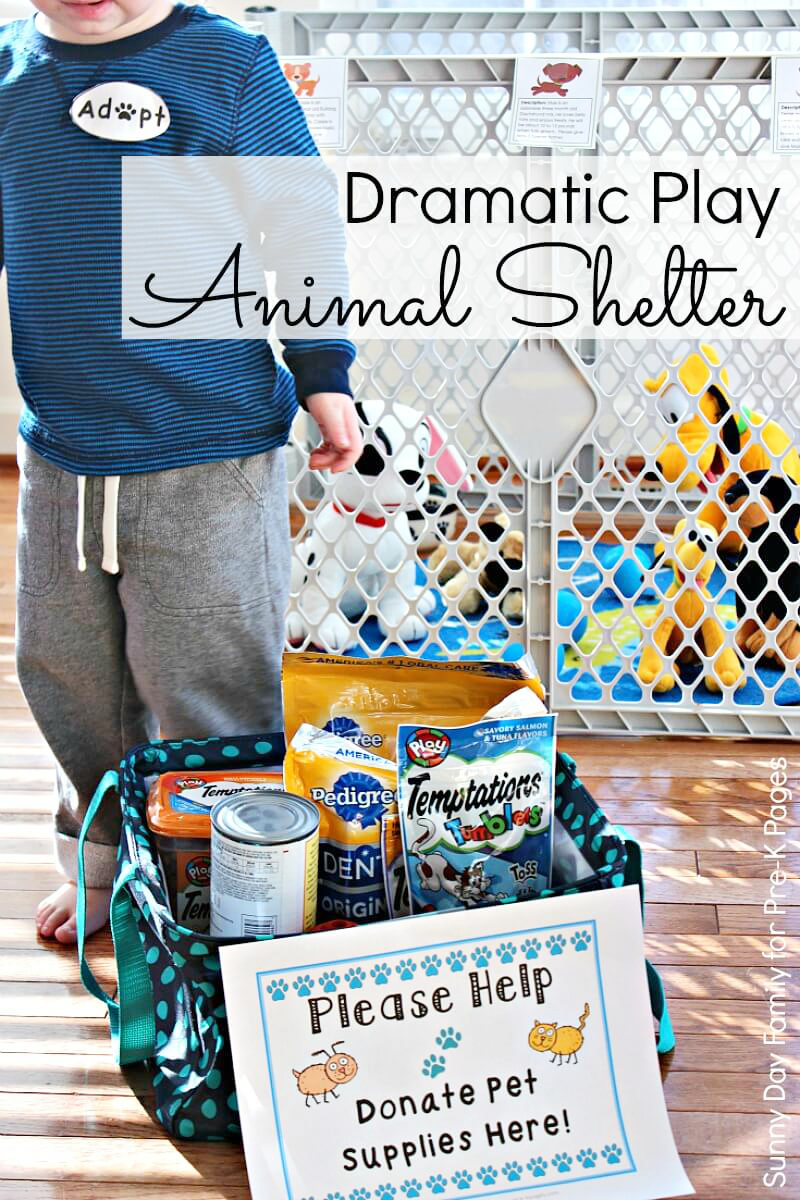 Animal Shelter Dramatic Play
Learning through dramatic play is one of our favorite things. I love to set up scenarios for my twins to explore, work together, and flex their imaginations. There are so many learning opportunities in dramatic play, and our animal shelter provided several of these, as well as lessons in animal care and providing for our community.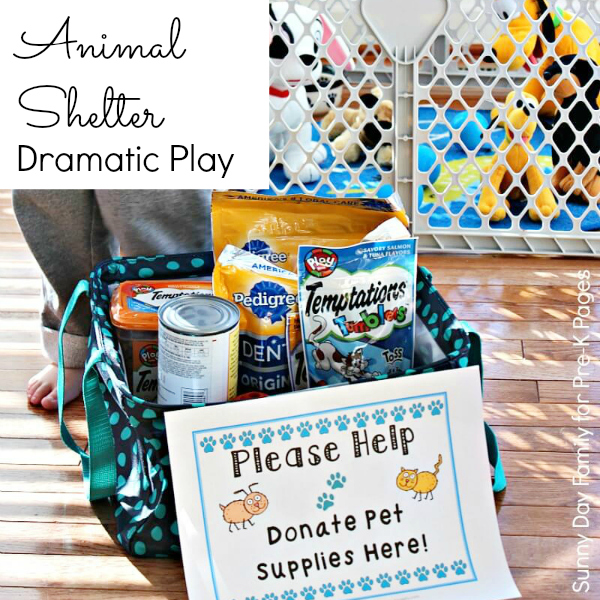 We used the Pre-K Pages Dramatic Play Animal Shelter Kit as the basis for our pretend animal shelter. The kit has everything you need including a comprehensive set of printable signs, forms, and labels that make setting up the dramatic play center a breeze. There are also resources on developing altruistic behavior and service learning as well. After printing everything out, we got to work setting up our own shelter.
I started by explaining to my three-year-olds what an animal shelter is and why animals live there. I used our own pets as examples to help them understand. They were so excited to help me set up our pretend shelter and be community helpers, too.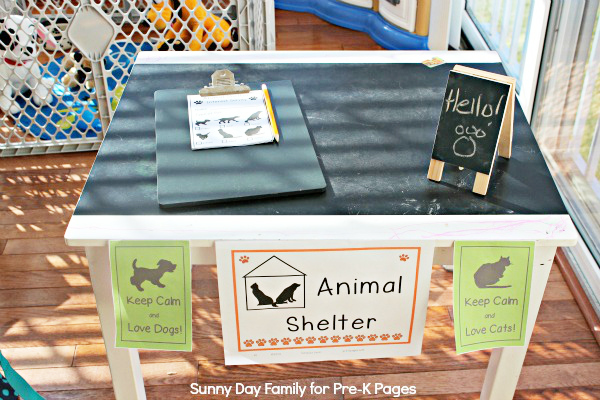 We started with the front desk area, using our art table. We set up a welcome sign and a clipboard for our adopter paperwork. (For more play opportunities, add additional office props such as telephones, computer keyboards, and so forth.)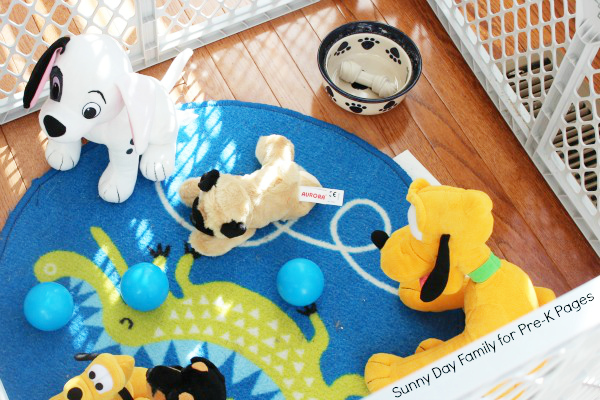 Next, we set up an area for our dogs for adoption. I used a flexible baby gate to create a pen, and the boys helped me fill it with a soft rug, toys, treats, and a bowl (a wonderful way to explain what pets need). Then we added our favorite stuffed dogs along with printable kennel cards from the dramatic play kit.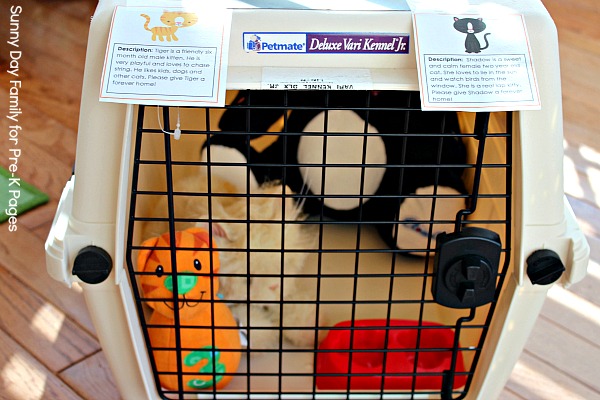 We used our cat's carrier for our cat space (we have a big cat). We included several items our cats would need and made sure they were safe and secure inside.
Finally, we set up a bin for donations. We picked up extra treats and food on our last grocery trip, and the boys helped me put them in the bin. If you are setting this up for a classroom, the dramatic play kit has lots of resources to help you.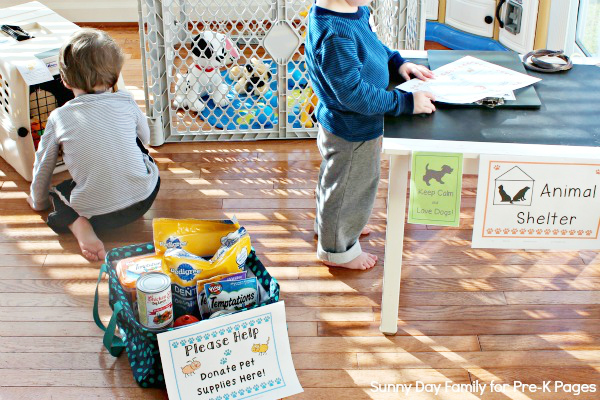 Time to play! The boys took turns "working" in the shelter and visiting. They loved taking care of the animals and then adopting pets of their own. Next up is a trip to our local animal shelter to deliver our donations and thank the real life helpers we have learned about.
BIO: Laura is a mom to twin boys and the author of Sunny Day Family, where she shares fun activities and easy organizing tips. Check out her pets and pet activities. Connect with her on Facebook, Pinterest, Instagram, and Twitter.
More Community Helper Ideas—
Construction Site Alphabet Dig
Dramatic Play Veterinarian's Office Printables
Eye Doctor Alphabet Activity
Fire Truck Counting Game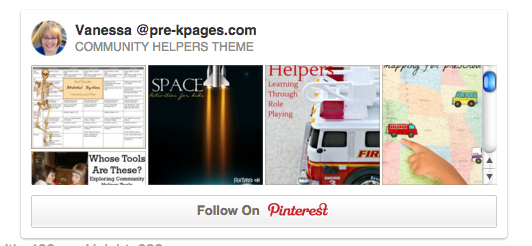 Follow my Community Helpers Pinterest Board for more great ideas!