To introduce shape concepts to my son, I grabbed the book So Many Circles, So Many Squares from our library as the anchor to our learning ship. Using this book, we went on a shape scavenger hunt and made a fun shape keepsake.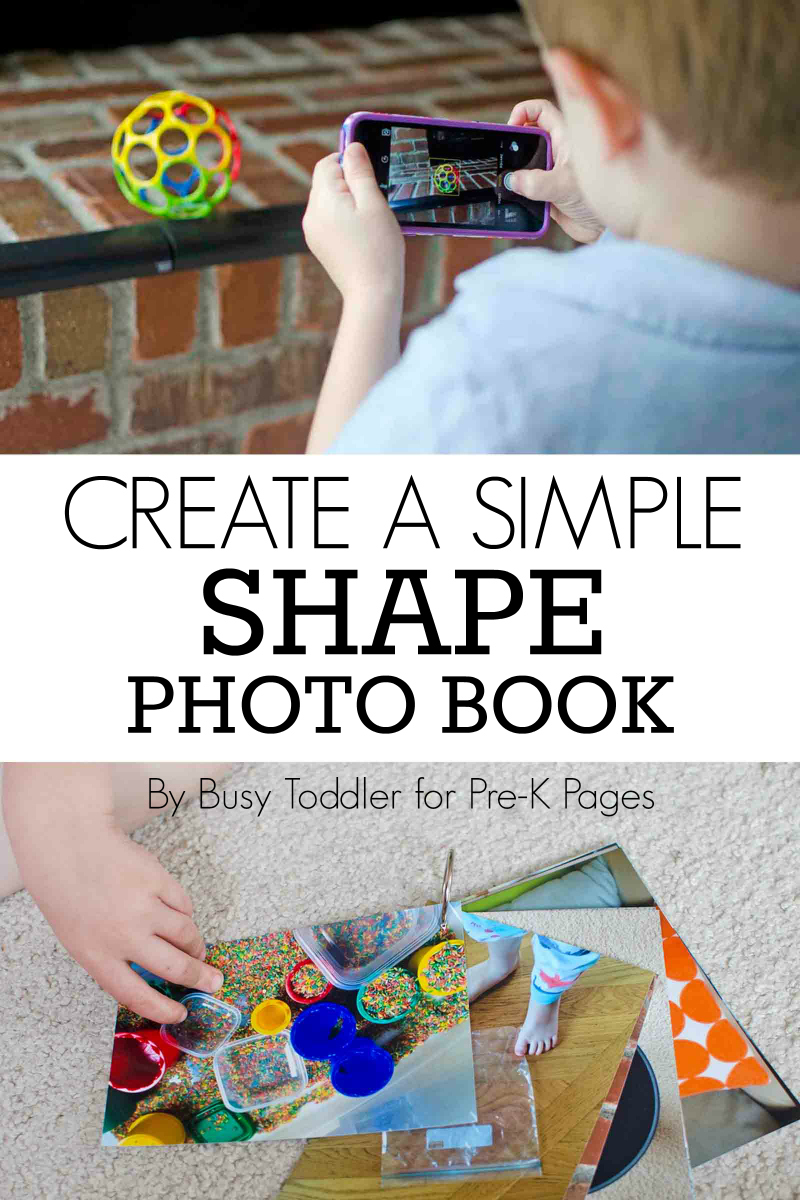 Read So Many Circles, So Many Squares
Using books like So Many Circles, So Many Squares can help kids learn those tricky shape concepts by showing photos of circles and squares in the real world. This wordless book takes children on a journey through the city with countless photos of shapes in the world around us.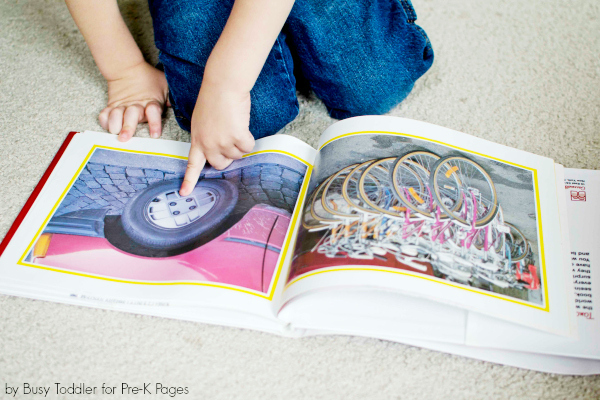 As my son and I looked through this book together, we defined a few attributes of these two shapes:
Circles are round
Circles have no sides
Squares have 4 points
Squares have 4 sides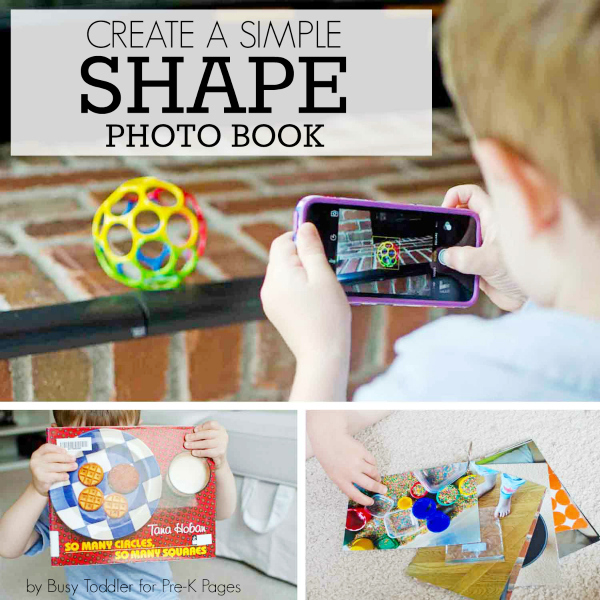 Create a Shapes Photo Book
We read this book for a few days before beginning our activity with it: making our own So Many Circles, So Many Squares book using the shapes in our environment
Materials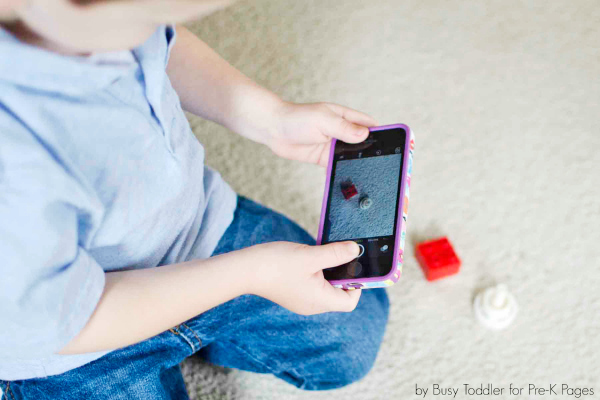 I gave my son my cell phone – aka his favorite camera – and we walked around our house looking for shapes like we'd seen in the book. It was a mini shape scavenger hunt.
I let him take pictures of items we were seeing that were circles or squares or had a mix of both. It was an eye opening, aha moment for him seeing the shapes come to life in our house. Suddenly, pillows were square and cups were circles.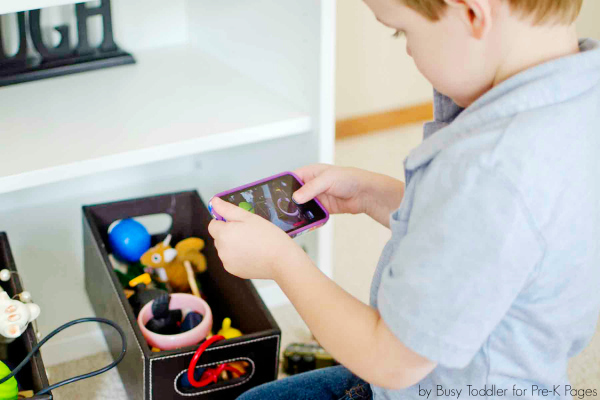 Once we had taken plenty of photos, I quickly uploaded them and sent them to be printed. It was a long hour to wait, but we made it!
With the photos in hand, I simply hole punched the upper corner and looped them through a key ring to make a simple shape flip book. What an easy way to make a lasting connection between a book, a math concept, and the real world.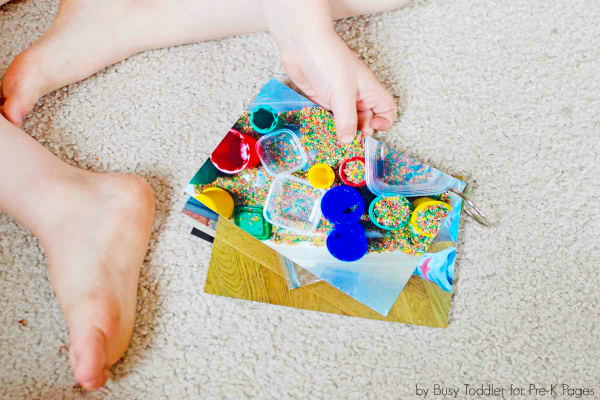 Connecting the abstract concept of shapes to the concrete world around us is a powerful tool for learning. So Many Circles, So Many Squares was the perfect book to help my son see the world of shapes around him. Creating his own shape book was a meaningful experience to cap off his learning.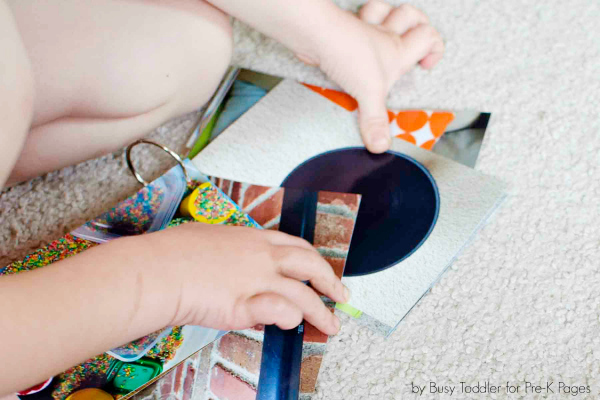 BIO: Susie is a former kindergarten teacher turned SAHM mom who's just trying to make it to nap time. She blogs about the simple activities she does with her kids at Busy Toddler. One of her personal favorite shape activities is Shape Match. You can join her party on Instagram, Pinterest, and Facebook.
More Shapes Activities—
Prefect Square Shapes Art
Teaching 3D Shapes
Counting and Grouping Circles
Make a Tortilla Shape Snack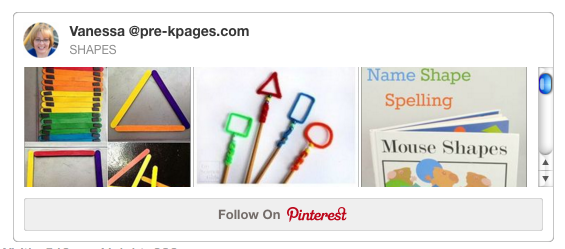 Follow my Shapes Pinterest Board for more great ideas!