Preschoolers love to play and it is truly the best way for them to learn. Add food into their play and you have a double fun learning opportunity.
We have the perfect recipe for exploring a math concept. Read aloud one great children's book. Make a healthy and yummy treat. Combine the two together and you have a lesson on shapes.
Build Literacy and Math Skills
The book Round is a Tortilla: A Book of Shapes teaches children about shapes as well as Spanish words. The snack-making experience gives kids a chance to have a hands-on experience with exploring shapes and making their own snack.
The skills covered in this activity include:
Literacy
listens to and understands increasingly complex language
comprehends language
follows directions
builds vocabulary
Math
understands shapes
demonstrates knowledge of patterns
Fine Motor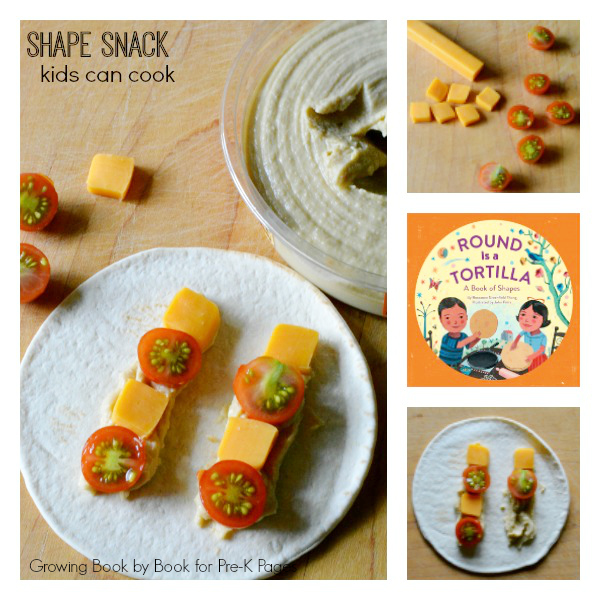 Read the Book: Round is a Tortilla
Round is a Tortilla: A Book of Shapes by Roseanne Thong is a picture journey of kids discovering objects of different shapes all around them. This multicultural title showcases items that would be found in many Latin homes and communities. There are many Spanish words that are introduced and a helpful glossary of those words in the back of the book.
As you read, emphasize the Spanish vocabulary. You may choose to draw each item on chart paper and write the Spanish and English words next to the pictures.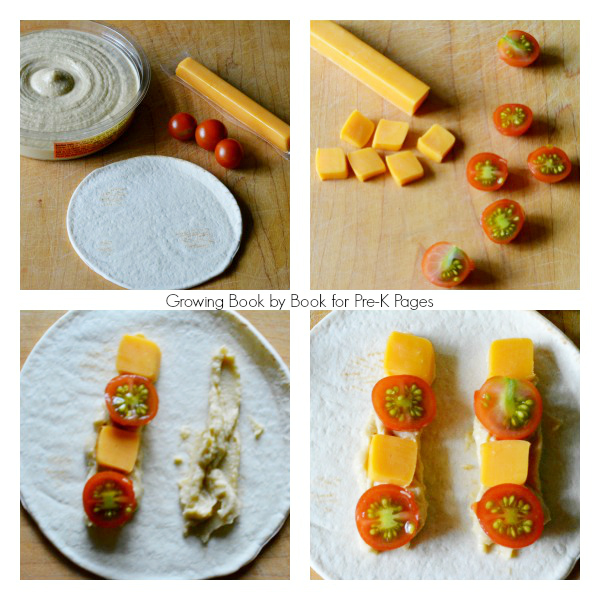 Make the Tortilla Shape Snack
Materials Needed (makes 1 snack)
You will need to multiply the ingredients by the number of children enjoying the snack.
1 small flour tortilla
1 TBSP hummus
1 cheese stick (rectangle shape)
3 cherry tomatoes
Making the Snack
Let the kids help prep and prepare their snack. All steps can be completed by the kids with adult supervision.
Identify the shape of the tortilla and the cheese stick.
Cut the cheese stick into squares.
Cut the cherry tomatoes in half. Describe the shape of the tomatoes after they are sliced.
Spread two lines of hummus down the middle of the tortilla.
Using the cheese and tomato pieces, make a pattern on one line of hummus. Then, repeat the same pattern on the other line.
Roll and eat.
While the kids enjoy their snack, talk about the Spanish translation for each ingredient.
tortilla = la tortilla
cheese = el queso
tomato = el tomate
hummus = el humus
Book-inspired snacks are a great way to help kids build connections and memories. Do you have a favorite book-inspired snack?
More Activities to Explore Shapes—
Perfect Square Shapes Art
Create a Shapes Photo Book
Counting and Grouping Circles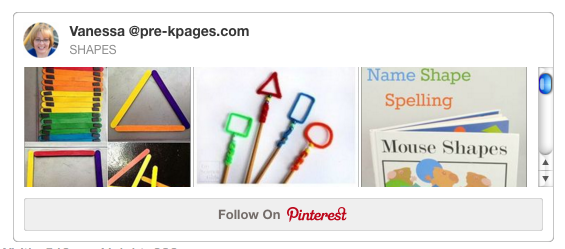 Follow my Shapes Pinterest Board for more great ideas!