Do you teach your kids how to use scissors? Learning how to use scissors can help young children develop their fine motor skills, which are the hand muscles they need to be successful holding and writing with pencils and crayons.
Don't forget to grab the free scissor skills checklist at the very bottom of this post!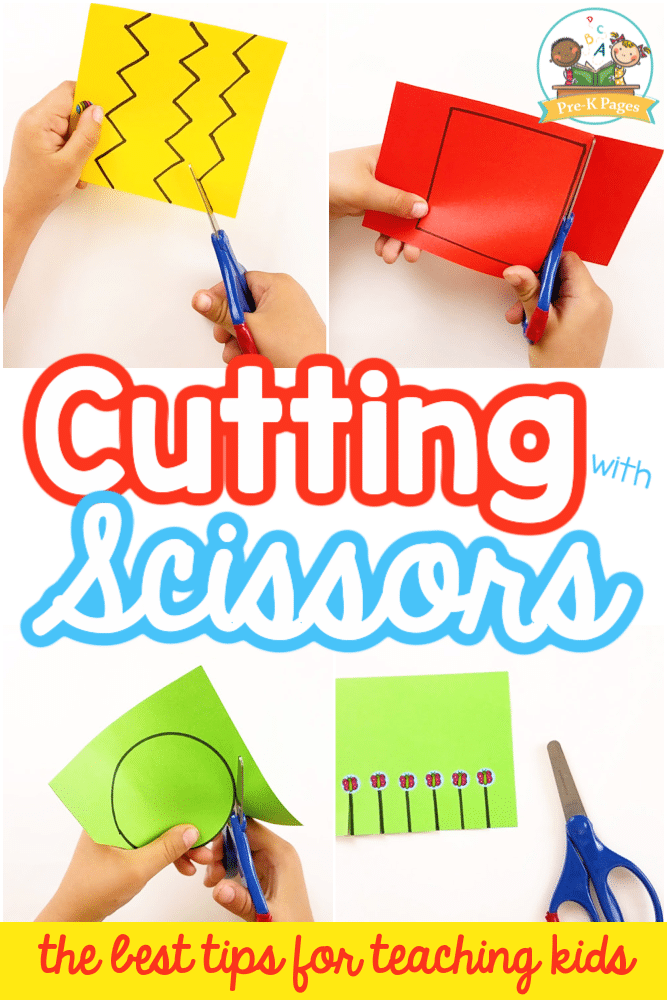 Cutting with Scissors
While it may sound easy to us as adults, cutting with scissors is difficult for many young children in preschool, Pre-K, or Kindergarten and they need lots of practice. Before you introduce scissors, you may want to try some of these activities to provide your kids with practice using both hands together – otherwise known as bilateral coordination.
Tearing and ripping paper
Using rolling pins to roll play dough
Stringing beads
Lacing activities
Putting rubber bands around a pool noodle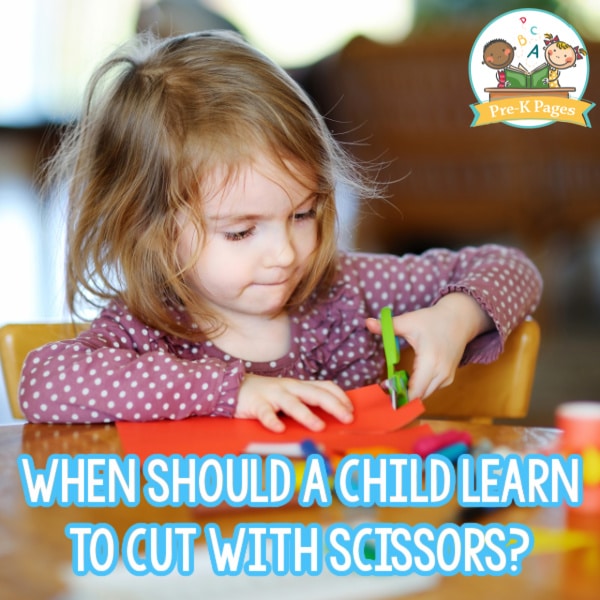 When Should a Child Learn to Cut with Scissors?
The experts say that young children can learn to open and close dough scissors around the age of 2.5, but they're not yet ready to cut a piece of paper. Cutting play dough and clay with dough scissors is just right for your 2.5 year olds.
At the age of 3, most experts agree that young children can handle snipping paper. Notice the word "snipping" – not cutting circles, squares, or cutting on the lines, just snipping. No fancy Pinterest projects for 3's please!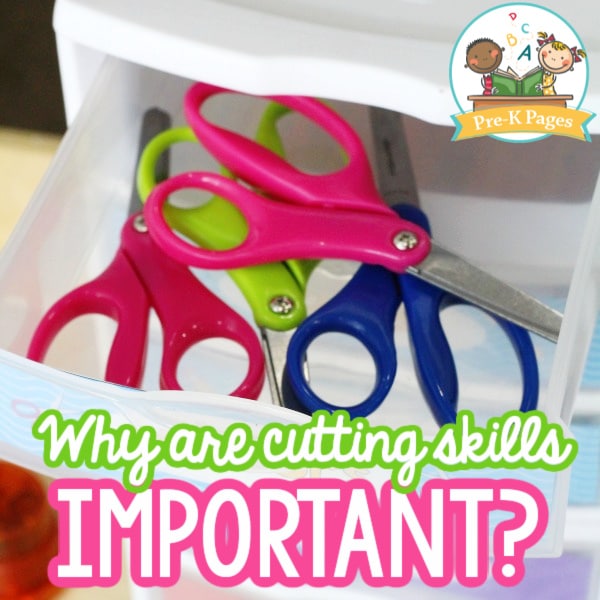 Why is Cutting with Scissors So Important?
The opening and closing motion of cutting with scissors helps children develop the small muscles in their hands otherwise known as fine motor skills. These muscles are crucial for holding a pencil or crayons and gripping and manipulating objects.
Cutting also helps develop eye-hand coordination as children hold the paper with one hand and cut with the other while tracking the movement of the scissors with their eyes.
Another important skill that is developed when children are learning to cut is bilateral coordination. Bilateral coordination involves using both sides of the body at the same time while each hand is performing different tasks. For example, to cut a square, the child must hold the paper with one hand and turn it while the other hand is not only opening and closing the scissors but also moving along the line. Much easier said than done!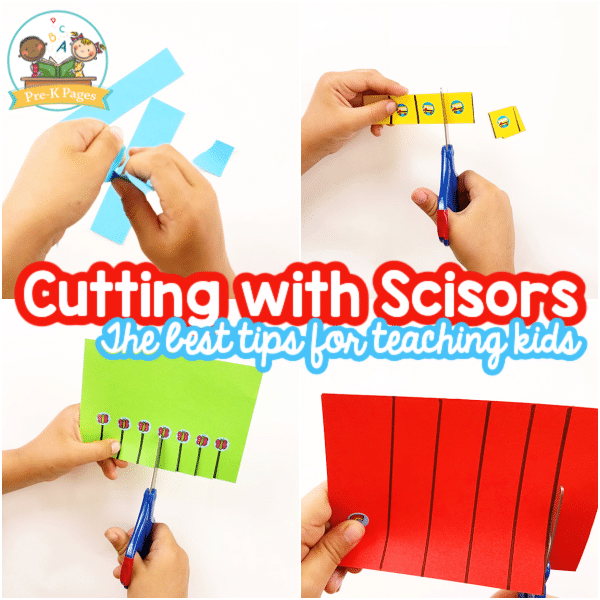 Scissor Cutting Skills Sequence
This is the order to introduce cutting skills to your preschoolers and toddlers.
Rip
Snip
Fringe
Cut on a straight line
Zig zag lines
Cut on a curved line (circles, waves, hearts)
Right angles (squares and rectangles)
You can learn more about what each of the stages above entails in this blog post. Keep reading to grab your free printable scissors skills checklist at the bottom of this post.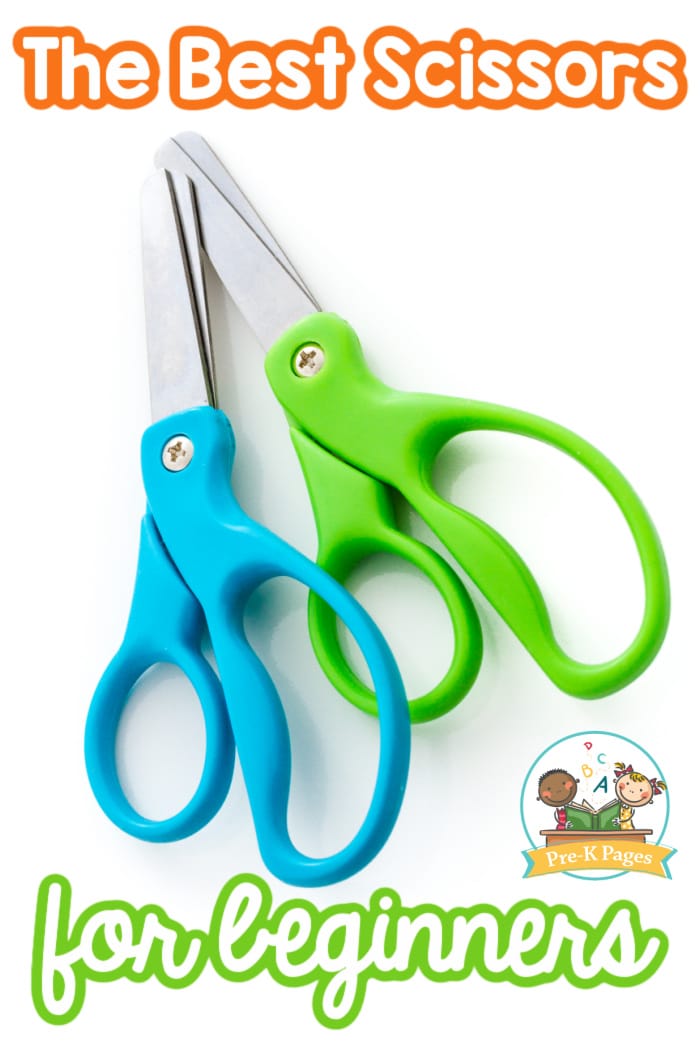 The Best Scissors for Beginners
I'm all about saving money, but when it comes to choosing scissors, you definitely do not want to pinch pennies. I've taught hundreds of young children how to cut with scissors, trust me when I say the type of scissors you choose are super important.
For beginners ages 4 and up, it's always best to use scissors with blunt tips for safety reasons. If your kids will be cutting paper, then you'll want to choose scissors that have good blades that aren't too dull. Most teachers, myself included, prefer the Fiskars brand because they're the gold standard when it comes to preschool scissors. Cheaper scissors tend not to cut as well and lead to frustration. Just like teachers always prefer Crayola crayons, we also prefer Fiskars scissors because of their superior quality and durability.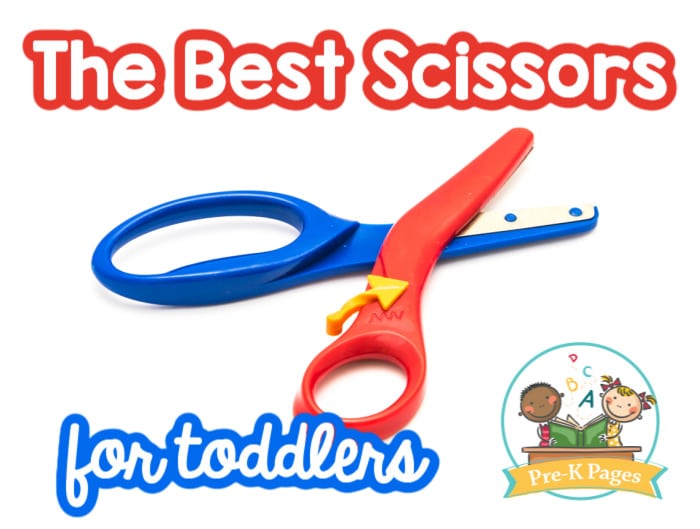 And if you teach 3 year olds, or your students are struggling, you can start them out with dough scissors which feature plastic blades, or training scissors with a bounce back feature. The training scissors are designed to help young children open and close the scissor blades easily.
Pro tip: If you're buying a class set of scissors, choose the same color, this way you'll avoid fights over who gets which color – you'll thank me later!
Cutting with Scissors: Scissor Safety
You've probably experienced your own kids or students cutting their hair with scissors, or you've heard the horror stories. I'm not gonna lie, introducing scissors to your students can strike fear in the heart of even the most seasoned teacher. That's why it's so important to establish clear expectations and rules when introducing scissors to your class. It's always better to err on the side of caution when it comes to safety in your classroom.
Here are the tried and true scissor rules I've used in my classroom for many years with great success:
Introduce scissors to your class after they've become familiar with the rules and routines of school. I usually wait at least 3 weeks into the school year before the scissors come out in my Pre-K classroom. If you teach toddlers then you'll definitely want to wait until later in the school year.
Be very clear about what your students can cut with scissors and what they can't cut.
Explain that scissors can only be used when they're sitting in a chair.
Stress the importance of always pointing the blades down towards the floor when carrying scissors.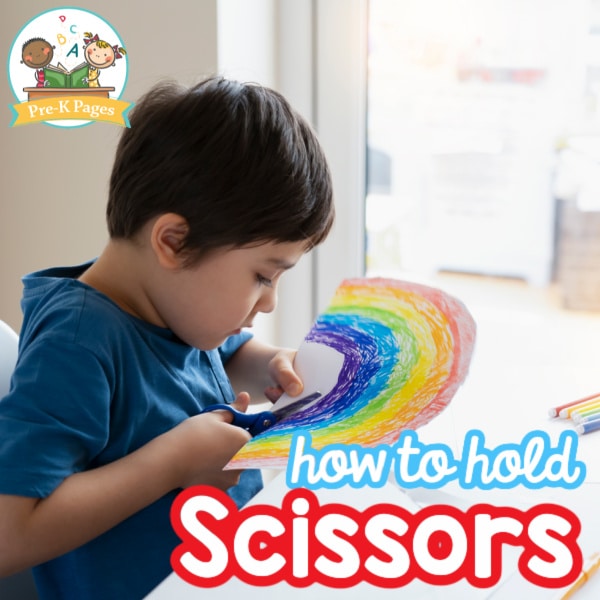 How to Hold Scissors Correctly
You know the scene in Bambi where he's trying to stand up on the ice? That's exactly what happens when you first introduce scissors in preschool. To teach your kids how to hold the scissors correctly, start by showing your kids a thumbs up sign. Explain that when they use scissors they should always be using the thumbs up sign and pointing their thumbs towards the sky.
Of course, telling rarely works with young children, they'll be much more successful if a visual cue is used as a reminder of which way they should hold their scissors. You can use a permanent marker to add eyes to the top of the thumb hole on each pair of scissors. Another trick is to wrap colorful tape around the top of the thumb hole so children will know where to put their thumb.
One of my favorite ways to remind my kids how to use scissors is to sing a song or chant to remind them where their fingers belong. Dr. Jean's Scissor Snips song from her All Day Long album is perfect for this purpose.
Free Scissor Skills Checklist


Yes, it really is free! Just click on the big green button above to download your copy of the Scissor Skills Checklist.
Scissor Skills Printable Bundle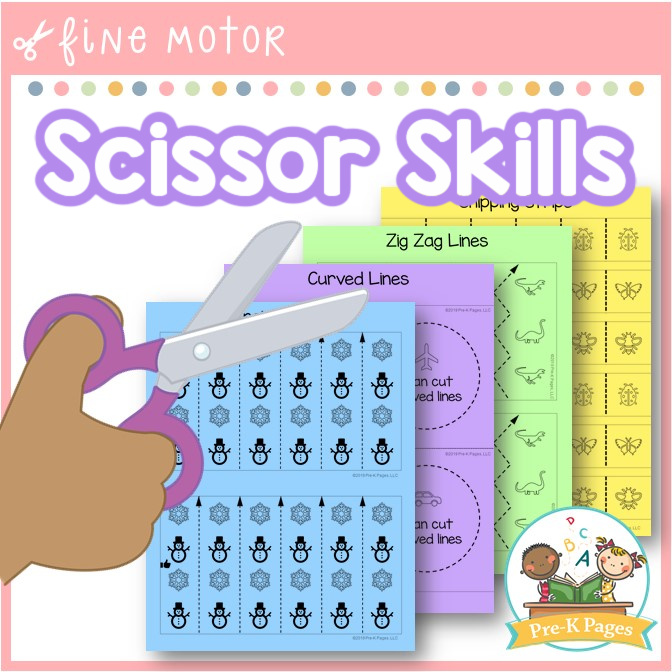 This Scissor Skills Bundle includes an entire year of thematic scissor practice for your little learners.
More Teaching Tips