Teach preschoolers about dental health while inviting them to create process art! Students will explore materials and review vocabulary during this invitation to create.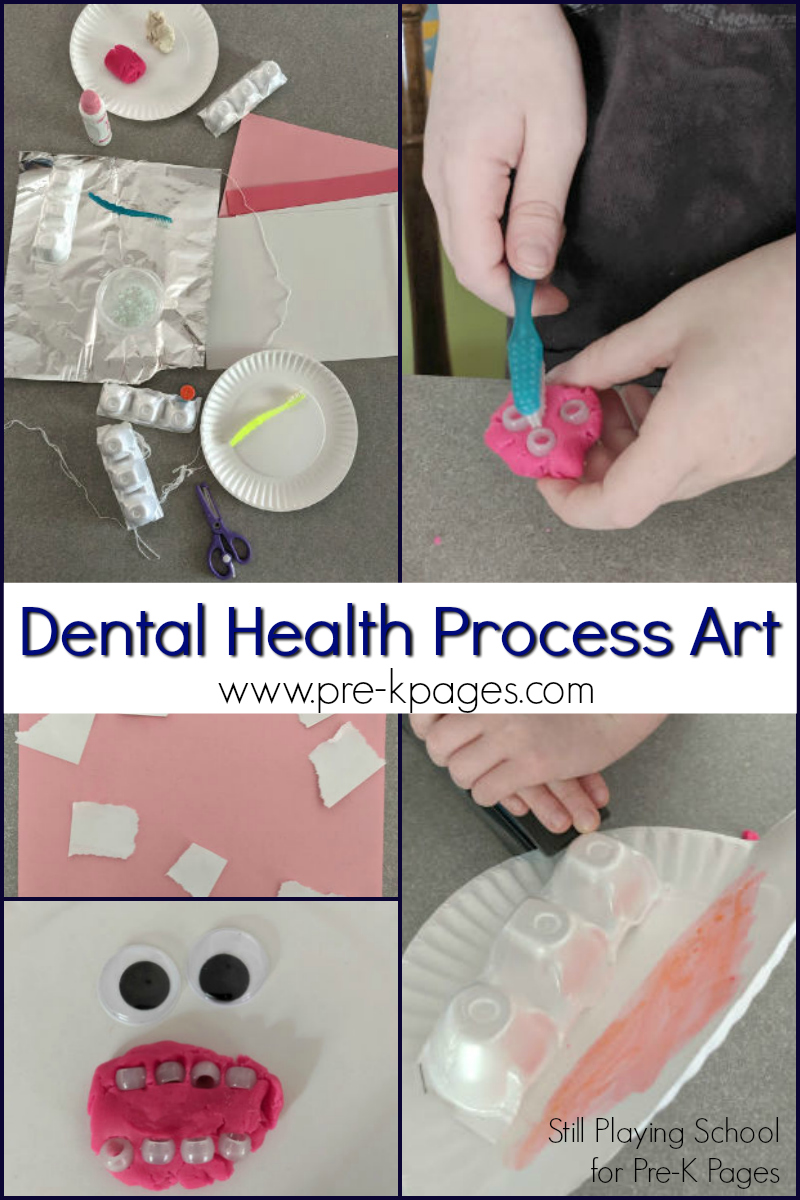 Process Art with Preschoolers
What is process art? Process art is a creative experience that focuses on the process involved instead of the end result. This means that all children's art will look different and no teacher sample is provided. Teachers are artistic partners in displaying the materials and granting permission to allow children to express themselves.
How do I provide a process art invitation in the preschool classroom while also including the current season, holiday, or theme? By presenting materials inspired by the topic that may inspire children to create related to the theme, we spark conversations about the topic as preschoolers make art. The benefits are endless!
Dental Health Process Art Activity
Let's brainstorm dental health process art!
You may want to use:
Paper
Paper plates
Egg cartons
Craft foam
Toothbrushes
String
Foil
Play dough or air dry clay
White pony beads
Googly eyes
For dental health process art, begin by showcasing the materials to the children. I always say something like, "Some of these materials might remind you about what we're learning about this week: Dental health and teeth!" Other times, the children will ask for more materials as they create. One student asked me for the googly eyes during this process art invitation.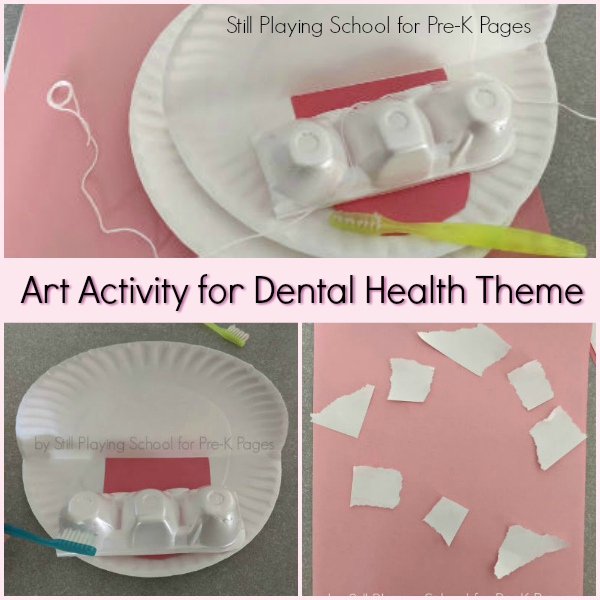 Exploring Dental Health with Art Materials
With little to no direction from the teacher as to what to make, the children caught on to the dental health theme. One created a face with play dough and beads. This inspired others to do the same. Another child ripped paper to make teeth while practicing fine motor skills.
Another child folded a paper plate and used an egg carton like teeth to create a mouth. He decided whether glue or a stapler would work better with the materials he was using. As the teacher, I was there to engage discussion so I asked what else the child might add to the mouth. What happened next was the reason why we provide process art opportunities in the classroom!
I would have been open to the preschooler being finished at this point, but he ripped paper to create a tongue. Then he rejected that idea and grabbed the dot marker to color in a tongue instead. Next he used play dough to feed the mouth and the toothbrush and string to brush and floss! I limited my guidance as the adult, leading him to create not only a piece of art on his own, but a pretend play prompt that inspired more meaningful dramatic play and discussion about dental health!
BIO: Devany LeDrew is a former kindergarten teacher who writes at Still Playing School where she shares play-based learning activities. She spoke about process art in the Soar to Success Summit 2019. Follow Still Playing School for more engaging educational ideas on Facebook, Instagram, Pinterest, and Twitter!
More Dental Health Ideas