Do you need help introducing or teaching scissor skills to your little learners in preschool, pre-k, or kindergarten? Introducing scissors is so much more involved than just handing them a pair of scissors and hoping for the best. This tooth themed scissor cutting skills activity tray makes introducing scissors to your kids much easier.
If you've ever wondered when to introduce scissors to your kids, I've got you covered! I put together a developmental cutting sequence, cutting skills practice pages, and an assessment sheet for you. Now you can meet your kids wherever they are in their individual stages of learning.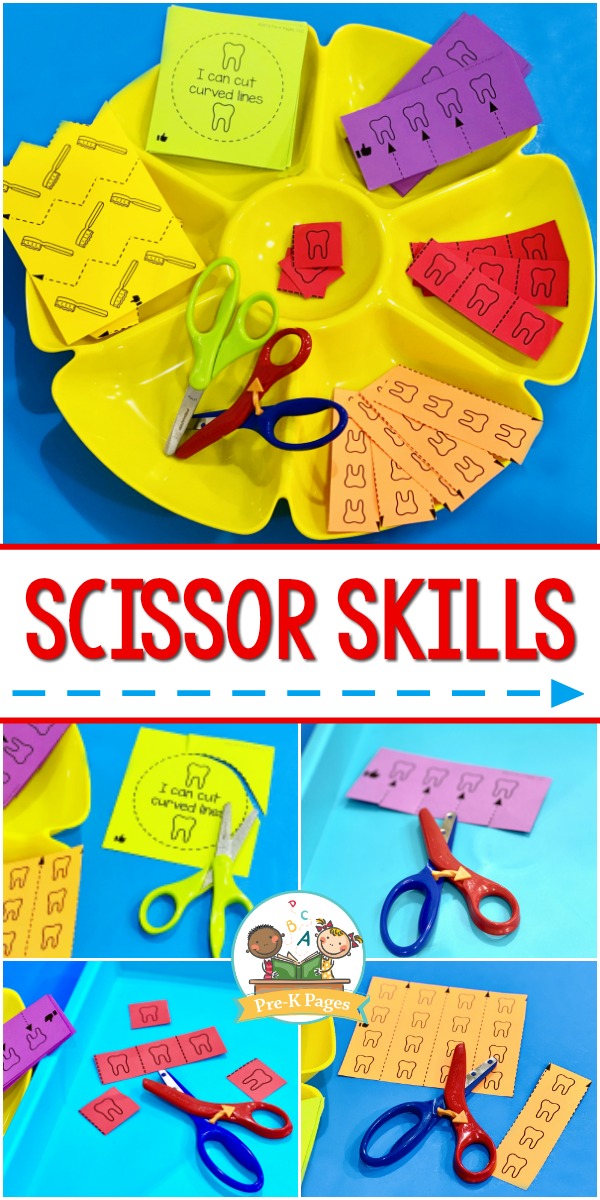 Scissor Cutting Skills Activity
Do you have children that refuse to write? Do they tantrum if you ask them to write their name? Or maybe they just flat out tell you "No!" These behaviors are signs that your students may not have the prerequisite fine motor skills in place to do what you're asking of them.
Instead, focus more on strengthening your student's fine motor skills before asking them to write. One way to do this is by working on scissor skills with cutting activities.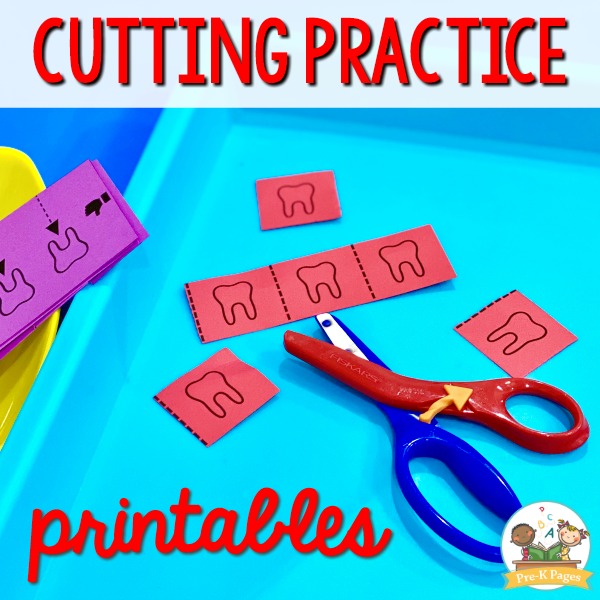 Benefits of Cutting with Scissors
Teaching young children to cut with scissors provides them with opportunities to develop hand strength.
Cutting with scissors has many educational benefits, here's a list of those benefits for you below.
Independent movement of individual fingers in hands
Strengthens small hand muscles (necessary for holding and grasping writing tools)
Bilateral coordination skills (using both sides of the body at once)
Hand-eye coordination
Visual perceptual skills (directionality)
Fine motor skills (opening and closing scissors)
Increases focus and attention spans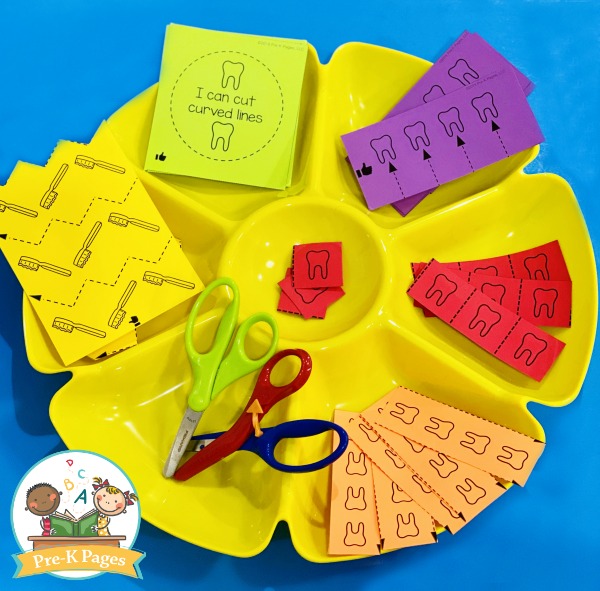 Scissor Cutting Skills Activity Tray
Now that you know what scissor skills are, and why they're so important, you'll need to answer a few questions:
Have you already introduced scissors to your students?
Do your students know how to hold the scissors properly?
Can your students open and close scissors properly?
If the answer to any of the questions above is "no" you'll want to back up and read this post on scissor cutting skills. If you haven't introduced scissors yet, remember that play dough scissors are a great way to expose kids to the idea of cutting and get them familiar with the tool.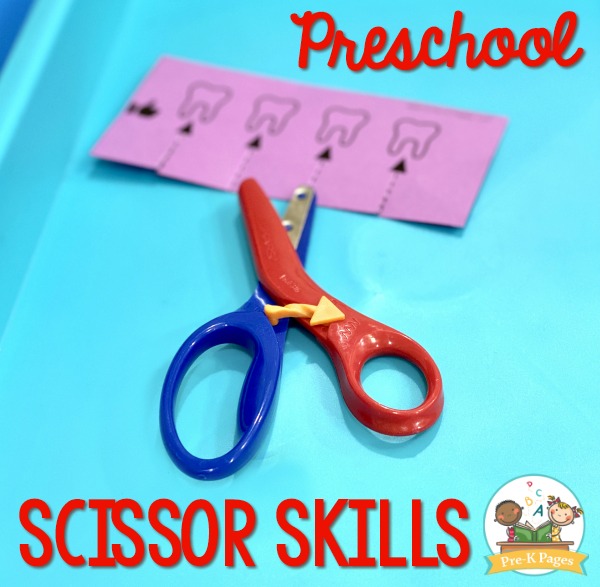 Scissor Skills Checklist
Once you've introduced scissors to your students, and they can hold and are opening and closing the scissors on their own, you're ready to get started.
First things first, you'll need a copy of the scissor skills checklist included in the scissor skills bundle. This will give you a better understanding of the different developmental stages young children go through when learning how to use scissors.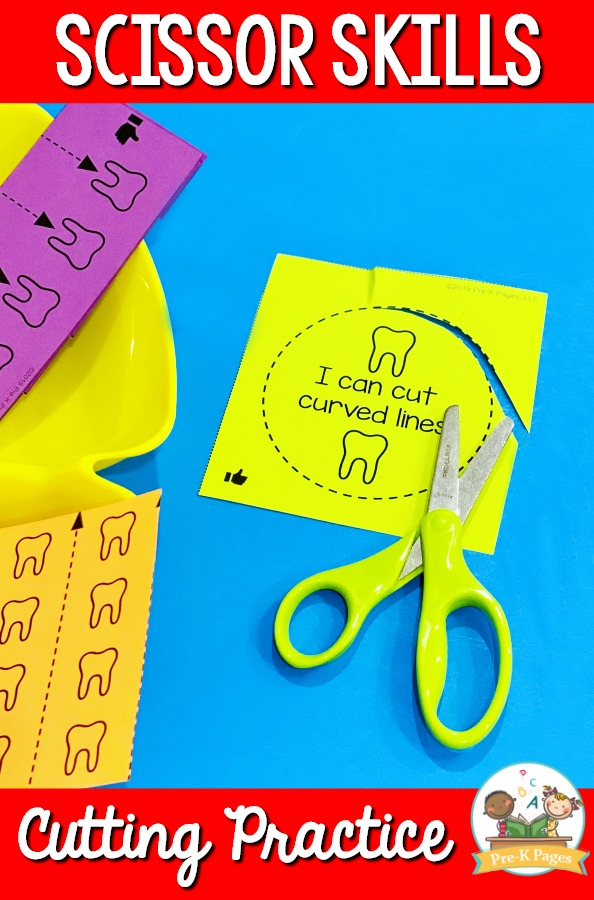 Cutting Assessment
After you've reviewed the checklist, now it's time to assess your students. The scissor skills cutting activity bundle includes a one page assessment sheet that follows the developmental sequence.
This assessment is super easy to administer. Just invite each child over to you and ask them to snip one of the tooth strips. If they can do that, then move on to the next skill on the list. Keep moving forward with the assessment until you reach one that they aren't capable of completing. That's it – easy-peasy!
Now you'll know exactly where each student is in their individual stage of scissor skill development, and you'll also know where they need to go next. Your kids will be much more successful at cutting with scissors when they're not asked to do something they're not ready for.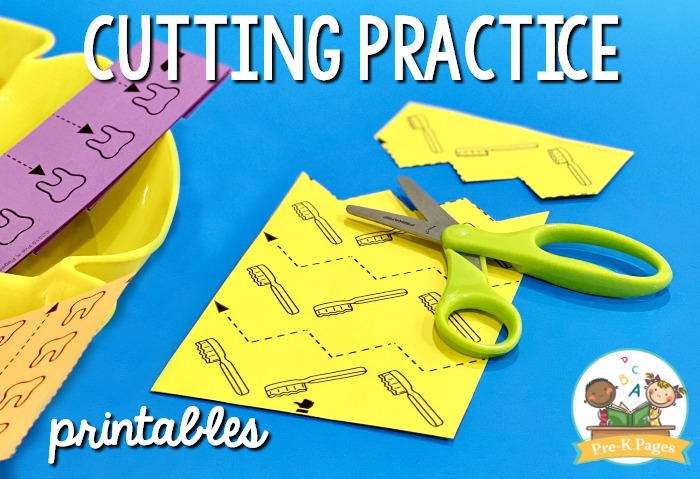 Scissor Cutting Skills Printables
The printable scissor skills bundle includes blackline masters for each of the different cutting skills. You'll notice that snipping is the first skill on the list and generally the easiest. But it's also important to note that crumpling and ripping paper with their hands actually comes before the introduction of scissors.
After snipping, you'll notice that the skills gradually increase in difficulty from straight lines to curved lines, and then eventually to simple shapes. On each printable I have included an image of a thumbs up to indicate where the child should hold the paper while they cut.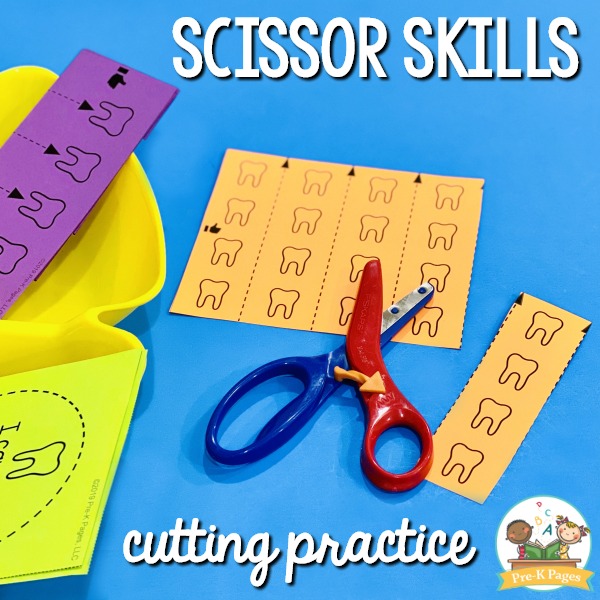 I copied the printables on colorful AstroBrights paper to make them more appealing to the children and to distinguish each stage of cutting. You can use whichever type of paper you prefer or have on hand. Additionally, you can also use a permanent marker on construction paper to make your own. You can grab your copy of this super helpful scissor skills bundle HERE.
More Dental Health Activities