Going to the dentist can be an unsettling or scary experience for preschoolers (and sometimes for adults!). Reading books about dentists and their helpful work can create more positive attitudes in preschoolers.
These books are perfect for talking about dentists and would be great additions to your home or classroom, especially when you are talking about dental health or community helpers.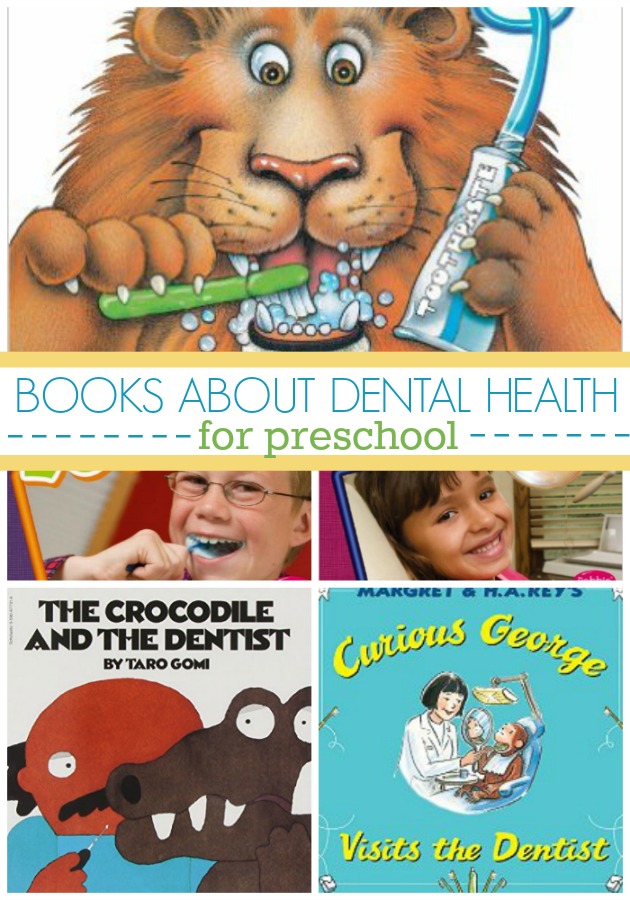 Books About Dentists For Preschoolers
At the Dentist by Mari Schuh
The simple text and photographs of this book show exactly what happens as a child visits the dentist's office for her checkup.
A Trip to the Dentist by Penny Smith
Another story of children visiting the dentist with photographs.
A Day in the Life of a Dentist by Heather Adamson
A nonfiction book with photographs that follows a dentist through her workday. The amount of text may challenge the attention span of younger preschoolers but just a picture-read of this book is good information.
Dentist (First Time) by Jess Stockham
This book helps answer children's questions about a visit to the dentist. You may trigger more conversations with your children after reading this one.
Curious George Visits the Dentist by H. A. Rey
George bites into a wax apple (by mistake) and his tooth begins to hurt. The man in the yellow hat takes George to the dentist to get his teeth checked.
The Crocodile and the Dentist by Taro Gomi
A crocodile is a little afraid of going to the dentist. The dentist is a little afraid of a crocodile coming to his office.
The Berenstain Bears Visit the Dentist by Stan and Jan Berenstain
Sister has a loose tooth. She joins Brother on his visit to the dentist.
Dentists by Cari Meister
Children can learn how dentists help keep teeth healthy.
Dentists Help by Dee Ready
Discover the work of a dentist and tools that dentists use.
If I Were a Dentist by Scholastic
Explore a trip to the dentist office.
Let's Meet a Dentist by Bridget Heos
A group of kids visits Dr Florez to discover how she can help keep teeth clean and healthy.
I Want to Be a Dentist
Learn more about what happens in a dentist's office and what dentists do to prepare for their work.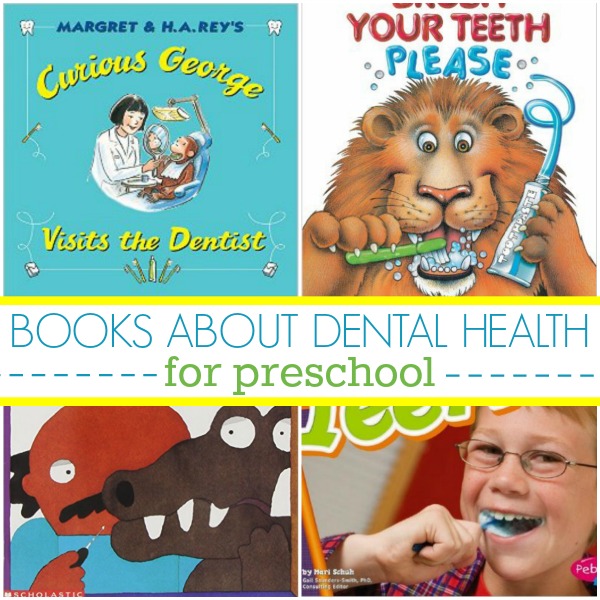 Books About Teeth
Here are a few books about teeth that do not focus on the dentist.
The Tooth Book by Dr. Seuss
"Teeth! You find them everywhere!" This book explores teeth and how handy they are.
The Tooth Book: A Guide to Healthy Teeth and Gums by Edward Miller
Lots of information about dental care, dentists, and teeth.
Brush Your Teeth Please by Leslie Mcguire
This fun pop-up book shows bears, lions, sharks, and other animals brushing and flossing their teeth.
All About Teeth by Mari Schuh
Close-up photographs, diagrams, and simple text help kids learn more about teeth.
Have You Ever Seen a Moose Brushing His Teeth? by Jamie McClaine
Moose heads to the stream to brush his teeth in this rhyming toothbrushing book.
Brushing Teeth by Mari Schuh
Learn more about the proper ways to brush teeth.
Snacks for Healthy Teeth by Mari Schuh
The kinds of foods you eat can affect your teeth. Discover what to eat for healthier teeth.
Taking Care of My Teeth by Terri DeGezelle
Explore ways you can care for your teeth and keep them healthy.
Dental Health Activities
After choosing the perfect dental health book for your preschoolers, then you might also want to choose one of these activities to accompany it!
Dental Health Math Activities for Preschool– You can help your kids have healthy teeth by extending the learning into your dental health math center activities.
Dental Health Literacy Activities for Preschool– Your kids are going to love these fun, hands-on dental health literacy center activities and games that will help them build vocabulary and develop critical emergent literacy skills like rhyming, syllables, beginning sounds and more.
Dental Health Science Experiment – We explored this fun Dental Health Science Experiment that emphasized the effects of different drink choices on our teeth and the importance of brushing.