Outer space can be a fun theme for preschoolers. But with all those things far away, preschoolers can have difficulty understanding the concept of space and planets. Start with objects you kids can see in the sky – like the sun, the moon, and the stars. This moon writing tray activity allows children to explore concepts about the moon and develop writing skills at the same time.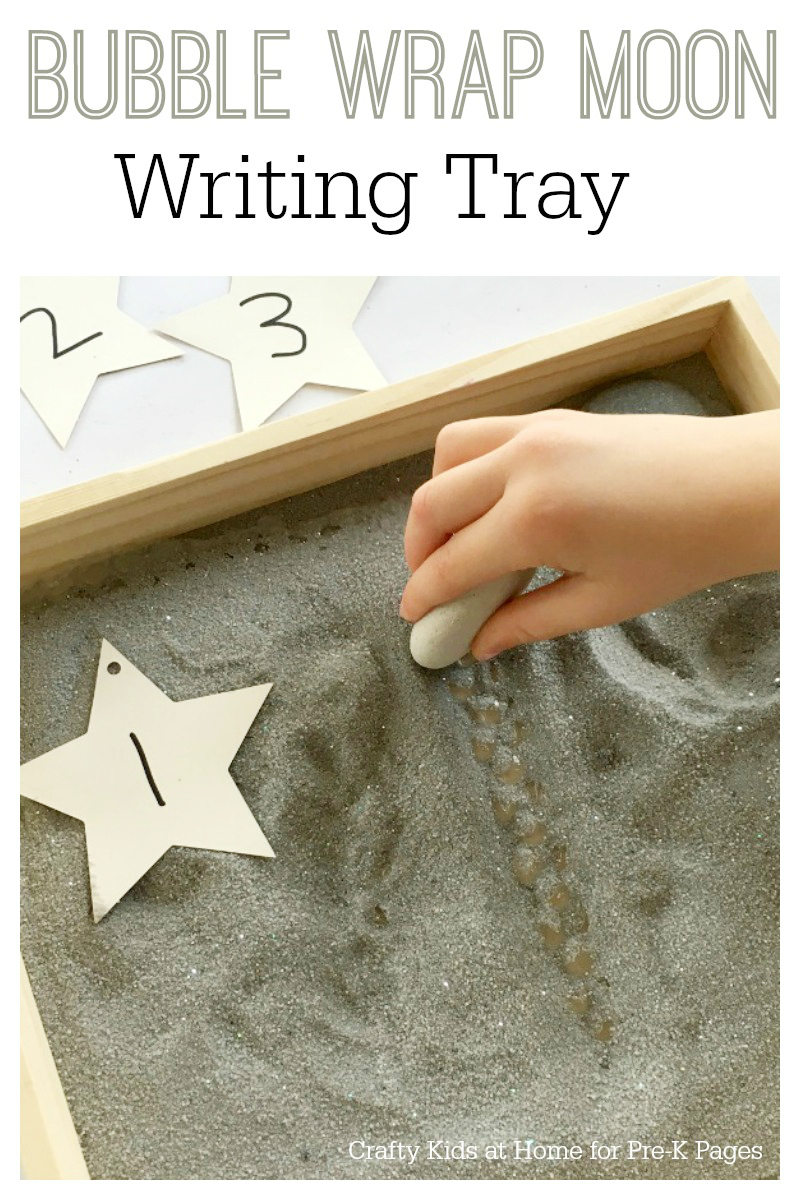 Bubble Wrap Moon Writing Tray Activity
Practice pre-writing skills on the bumpy surface of the moon. Stimulate your preschoolers sense of touch, sight, and sound, while strengthening their fine motor skills in our Bubble Wrap Moon Writing Tray Activity. A fun tactile and sensorial experience to get preschooler ready for writing on paper.
Moon Activity Supplies
Bubble wrap
Salt
Black paint
Glitter
Stones
Star-shaped number cards
Deep Tray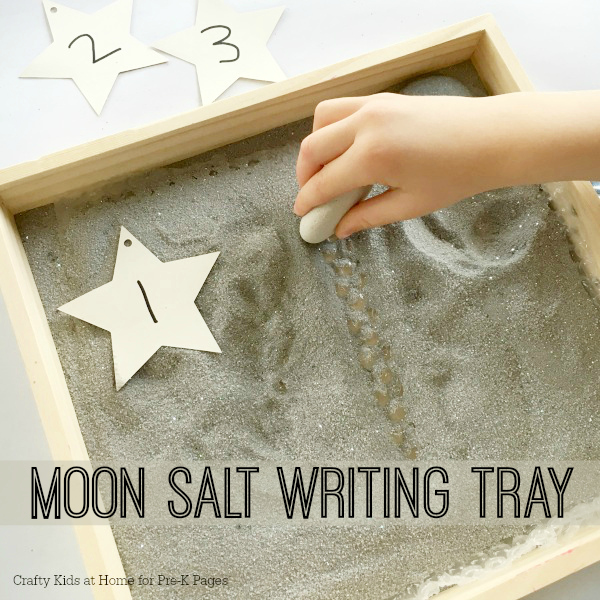 How to Make Moon Salt
To give your salt a moon-like look, place some into a ziplock bag along with a few squeezes of black paint. Give it all a good squish together until all of the salt has turned a nice shade of grey. (If you prefer you can use black food coloring in place of the black paint.)
Tip the salt out of the bag onto a tray and leave to dry for a while. Add glitter to the dry salt to give it an out of this world shimmer.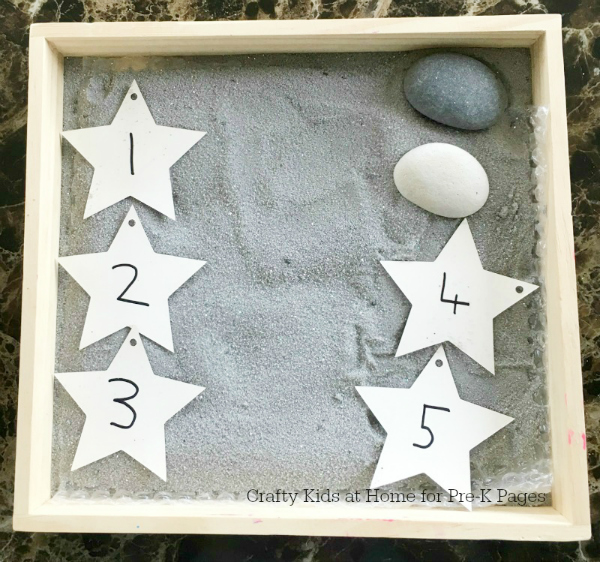 Prepare the Moon Writing Tray Activity
Take a deep tray and add a layer of bubble wrap on the bottom of it. The deeper the tray the better, so as not to lose too much of the salt over the side. Spilling salt will frustrate both you and your kids.
Pour in the colored salt and glitter. Add in a few "moon rocks" (stones) and invite your kids to use them to make marks in the salt.
We have been doing a lot of work on number recognition at home, so I wrote out the numbers 1-5 on pieces of star-shaped card and added these into the tray. My daughter used these cards as a guide to write these numbers in the salt.
If you wish, write letters or shapes or draw patterns in place of the numbers.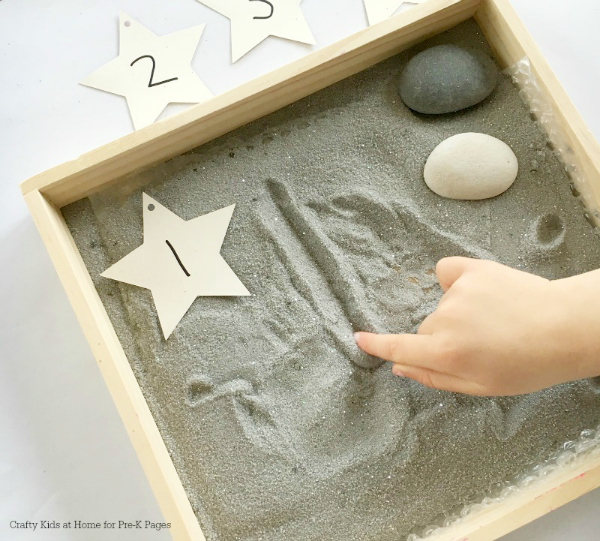 Playing with Our Bubble Wrap Moon Writing Tray
My daughter began by exploring the salt in the tray, running her fingers through it, and picking it up and running it through her hands.
She was delighted when she dug down a little deeper and discovered the bubble wrap underneath it. This prompted a spot of bubble popping and squashing which helped relax her into the activity.
I then introduced the numbers to her and encouraged her to tell me the name of each number. I invited her to have a go at tracing the number in the moon salt.
She used her fingers to begin with and then picked up one of the stones and started to mark the numbers in the salt with it.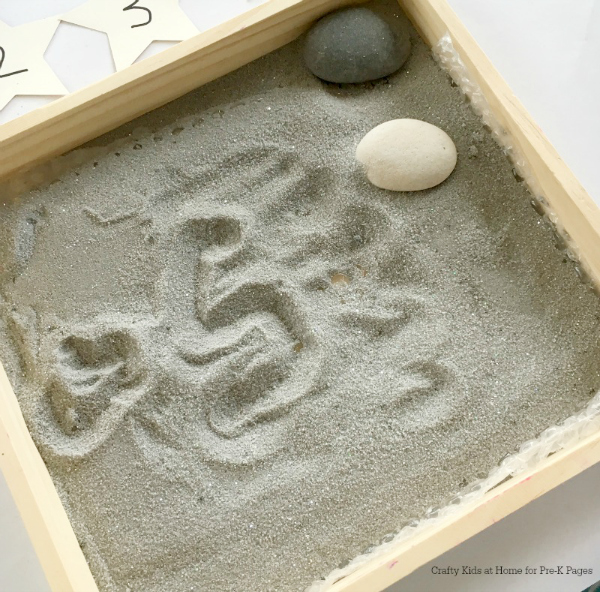 Our bubble wrap moon writing tray was a big hit! I have stored away the salt in an airtight container now, so that we can bring it out to play with again another day.
BIO: Nicola's blog Crafty Kids at Home shares the arts and crafts ideas she does at home with her kids. They are big fans of using Bubble Wrap in their activities and have just completed the A-Z of Indoor Activities. You can find her on Pinterest, Instagram, Facebook, and Twitter.
More Ideas for a Space Theme—
Star Gazing Discovery Bottles
Making Craters: Space Science Experiment
Space Theme Sensory Bin
Dramatic Play Space Theme