Do your kids like learning about rockets and outer space? Try this space theme sensory bin at home or in the classroom. It's super easy to make and will provide plenty of opportunities for developing oral language, vocabulary, communication skills and more!
When paired with a good book, this sensory bin is a great way to introduce your kiddos to the wonders of space travel.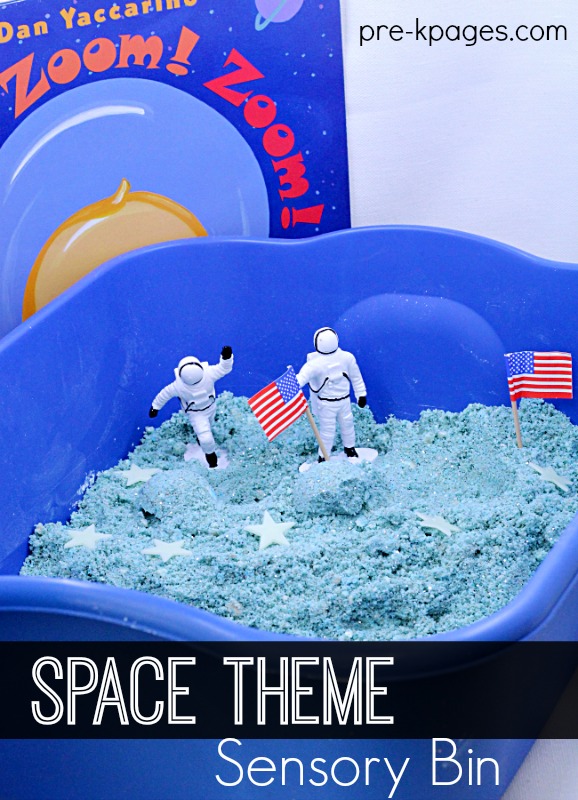 Space Sensory Bin
I remember watching space shuttle launches in elementary school, it was so exciting and such a special treat to watch TV at school!
Reading a book is great way to introduce this topic to your kids, here are some age-appropriate books about space to get you started.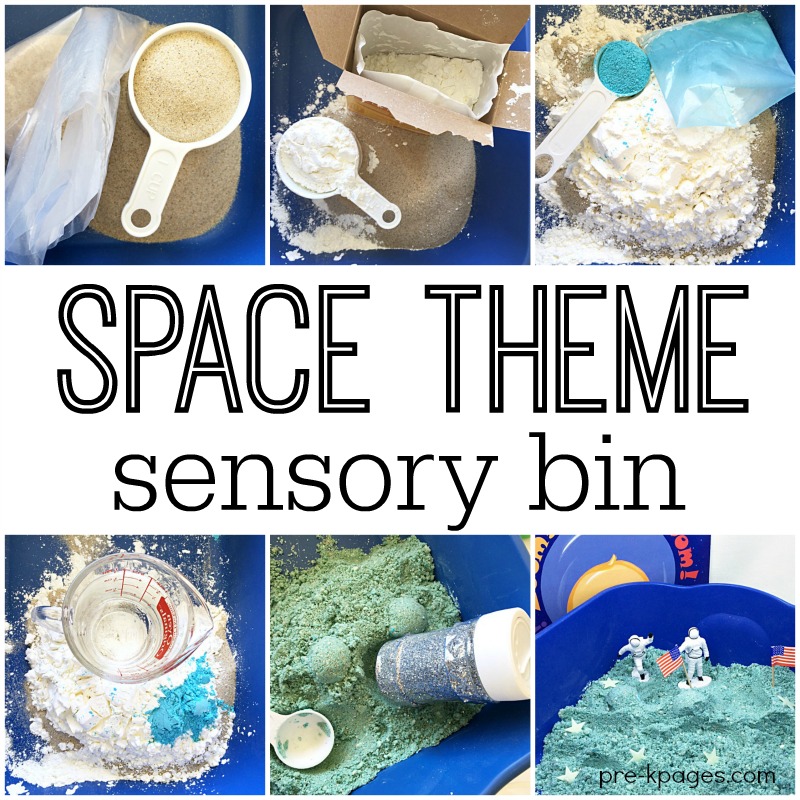 Homemade Moon Sand Recipe
This homemade moon sand recipe is super easy to make and even more fun to play with!
Ingredients
This recipe makes a large batch of moon sand, enough for a large sensory bin that up to four children can comfortably play with at a time. If you are making this at home or for a smaller group of kids you may want to adjust the recipe accordingly.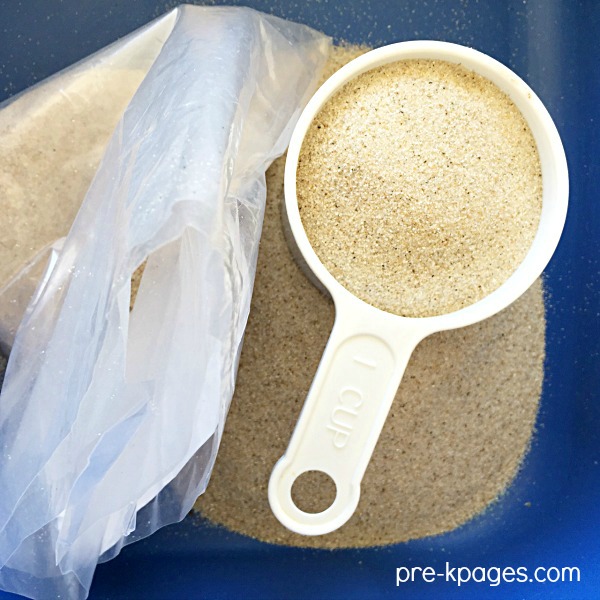 How to Make Homemade Moon Sand
Start by adding the play sand to your container of choice. Invite your kids to help you mix the ingredients to make the experience even more meaningful and fun!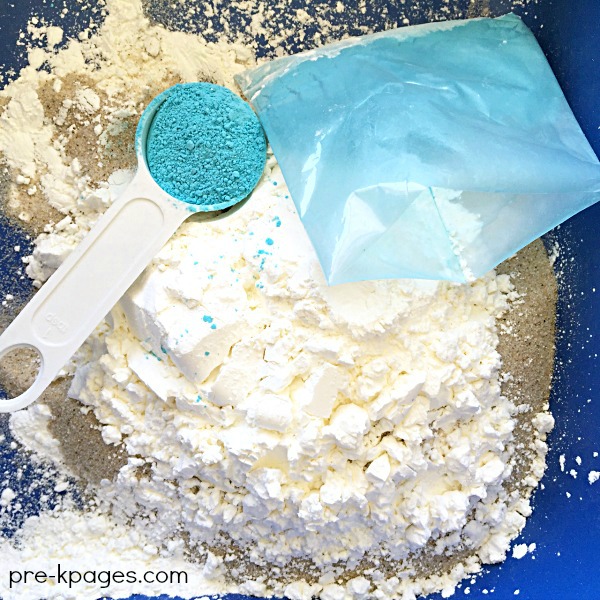 Next, add the corn starch and the color run powder. I was going to use powdered tempera paint for this recipe, but the prices were insane. After thinking about it for a bit, I remembered the color runs so many people enjoy. After a quick browser search, I discovered that I could get a large quantity of colored powder in a wide variety of colors for a fraction of the price of one jar of powdered tempera paint- yea! It was a bit of gamble since I wasn't sure this powder would work in the recipe, but it turns out it works perfectly. Now I have 8 different colors to choose from for future use.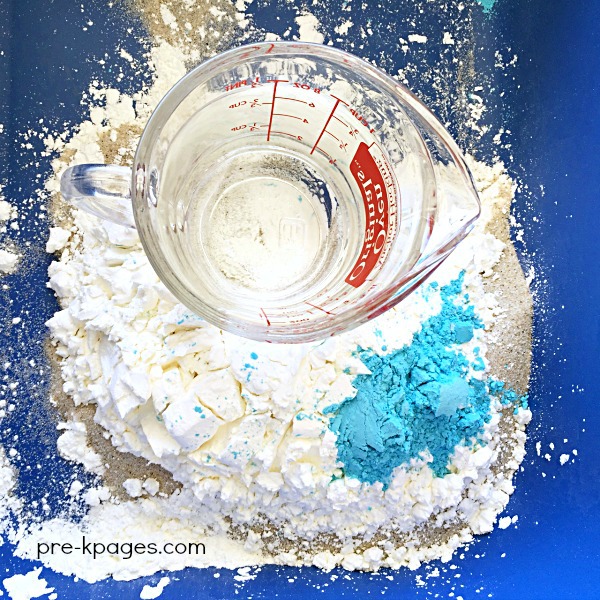 Finally, add the water and silver glitter and mix thoroughly. This is where the kids will come in handy, they can help get all the lumps out of the mixture so it is nice and smooth. The color does not stain hands.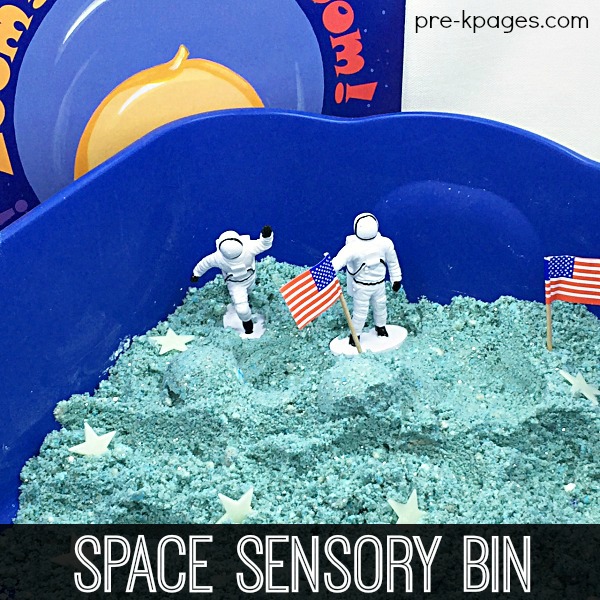 Space Theme Play
After you make the moon sand, add some astronaut figures and whatever else you want or have on hand to inspire open-ended exploration. I added some plastic, glow in the dark stars from the party store to this sensory bin.
Invite your children to explore the sensory bin. They will most likely start retelling stories from the books about space you have read, then branch out into creating their own scenarios. This is great for developing oral language, creativity, vocabulary, and imagination.
DIY Moon Sand for a Space Sensory Bin

Posted by Pre-K Pages on Thursday, March 17, 2016
Want more space activities? Good news! I've teamed up with some of my favorite bloggers to bring you the latest Kids Activities. This week we are focusing on space. Throughout the year, we will join forces to share all sorts of ideas with you- from crafts to sensory play.
More Sensory Bin Ideas