Puzzle Center for Preschool, Pre-K, and Kindergarten
Do you have puzzles and games in your classroom or at home? Would you like to create a puzzle center in your classroom or home that your kids will actually go to and they can clean up independently?
Are you looking for ideas for stocking, organizing, or storing your puzzles and games? If so, you're in the right place!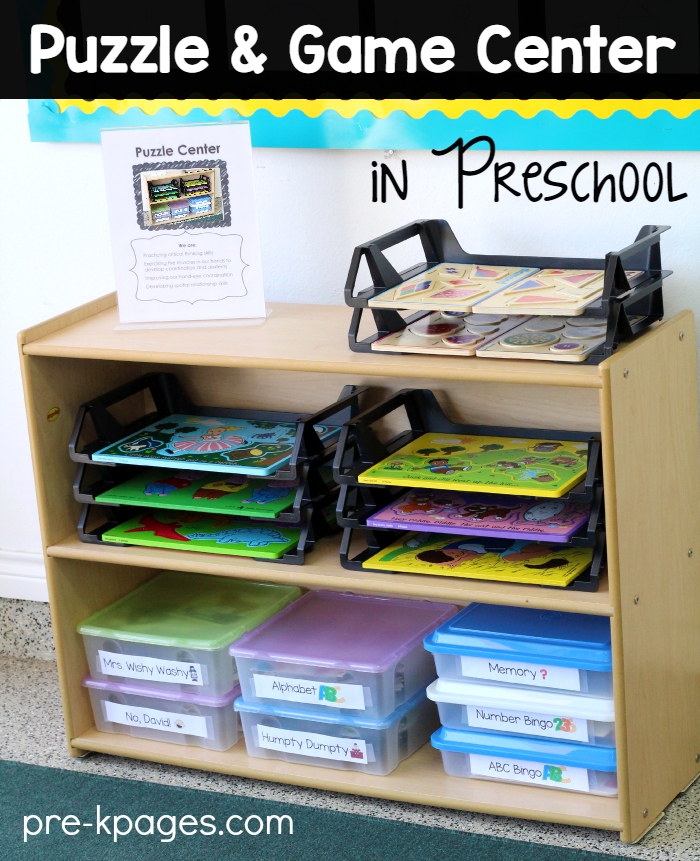 Puzzle Center
Puzzles help young children develop cognitive skills.
The following skills can be developed when children put puzzles together:
Critical thinking and Problem Solving
Visual discrimination
Concentration/attention span
Hand-eye coordination
Fine motor skills
Spatial awareness
Shapes
Colors
Patterns
Visual Memory
Puzzle Center Materials
When it comes to puzzles there are two very important factors to consider – how sturdy the puzzles are and are they age appropriate. These are the puzzles that have withstood the tests of time (and little hands) in my Puzzle and Game Center.
Puzzle Progression
The following is the typical progression of puzzle skills most young children will follow as they grow and develop.
Peg Puzzle – 2 years of age
By two years of age, most young children have developed the concentration skills and ability to grasp and place a single large piece onto a board. Puzzles for this age group will also have a matching picture on the frame to help children self-correct.
Simple Inset Picture Puzzles Without Pegs
When young children are ready to complete puzzles that require more coordination and dexterity, they are ready to progress to puzzles without pegs. Puzzles that include the picture on the frame will allow for self-correction and reduce frustration.
Picture Inset Puzzles
Next in the progression are simple puzzles with about 5-6 pieces that form a basic picture. The outline of the image provides children with guidance as they attempt to complete these puzzles.
Interlocking Puzzles
Interlocking puzzles are the more traditional puzzles that fit together like jigsaw puzzles. When moving on to interlocking puzzles, it's important to start with puzzles that:
Have 4-6 pieces
Have straight edges and corners
Interlocking Puzzles with No Base
If your kids have mastered interlocking puzzles, they may be ready to move on to puzzles with interlocking pieces that don't have a base. These puzzles generally have 6 or more pieces; floor puzzles are a good example of this type of puzzle.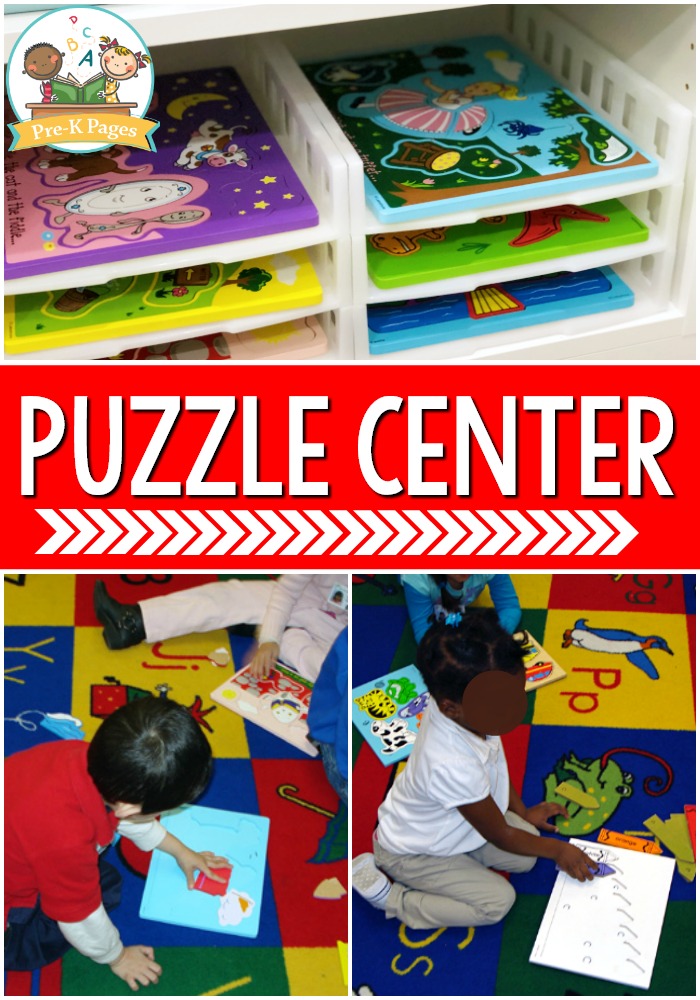 Puzzle and Game Storage and Organization
When puzzles and games are easily accessible and neatly organized they will be used more often by your students.
Label each box or tub as well as the shelf with the picture and the words to facilitate a quick and easy clean up.
Making puzzles and games easy to get out and put away will also make for a quick and easy clean-up.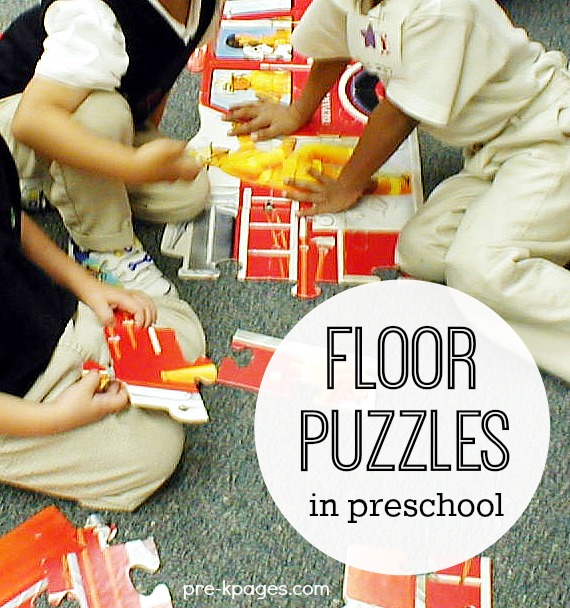 All of the floor puzzles and games are stored in plastic containers from the dollar store. The boxes floor puzzles and games come in don't last very long and end up looking shabby quickly. I put all of my puzzles and games in plastic containers right away to avoid problems. You can cut one side off each box lid and use packing tape to attach them to the sides of the plastic box.
When you store your floor puzzles and games in plastic boxes it is easier for the kids to get the materials out when they want them, and also easier to put them away when they are finished. Have you ever had students struggle with putting the lids on floor puzzle or board game boxes? It creates unnecessary frustration.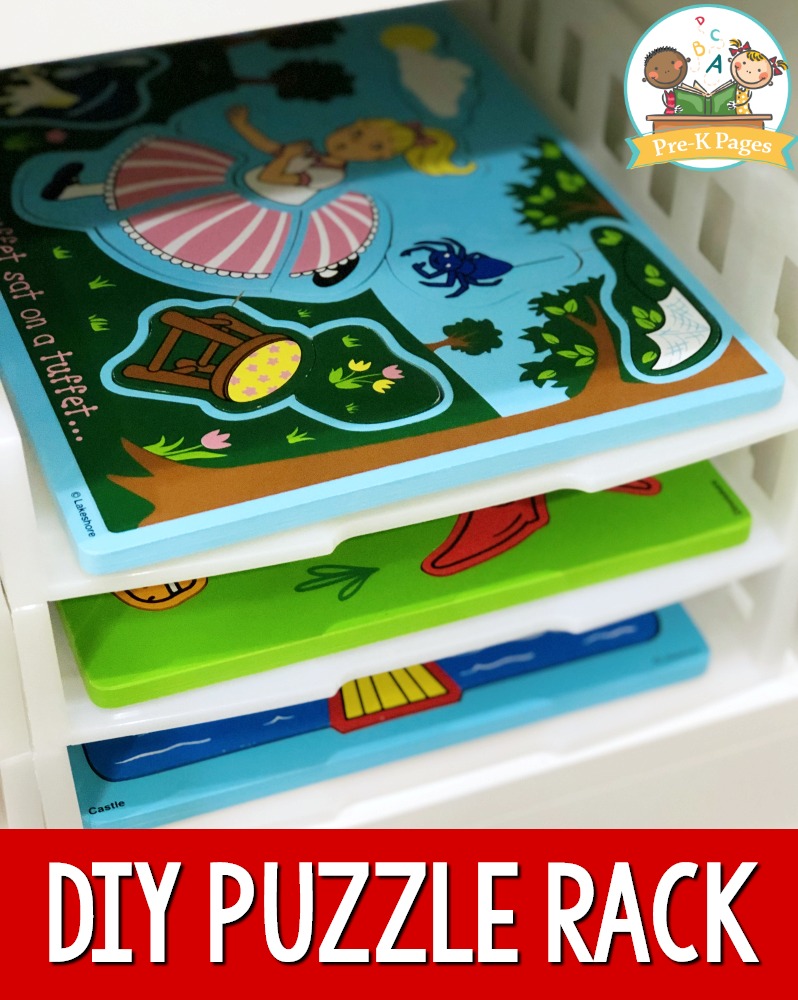 Wire storage racks are the traditional way to store puzzles, however I prefer to make my own inexpensive storage racks, learn how you can too HERE.
The Teaching Tribe
Having puzzles in your classroom is awesome! But let's face it, puzzles can't make you a better teacher. The best place to discuss teaching best practices and get the support you need is in the Teaching Tribe. We have many printable lessons and on-demand video trainings to help you become the best teacher you can be! If you want to get on the waiting list for the Teaching Tribe, do it soon so you don't miss the next open enrollment period!
Preschool Learning Center
Have you always dreamed of setting up amazing, self-directed preschool learning center for your classroom…but feel like something is missing? How do you know which centers you need? What should you put in them?
Center Essentials Guide
Get your ultimate, step-by-step guide for setting up centers HERE
More Center Ideas from Pre-K Pages