School is going to look different this year. But we will still keep reading great read-alouds and engaging students no matter the situation, building early literacy skills. Today's book and activity can be done in person or virtually with students. And, it captures that back to school spirit with a new read-aloud.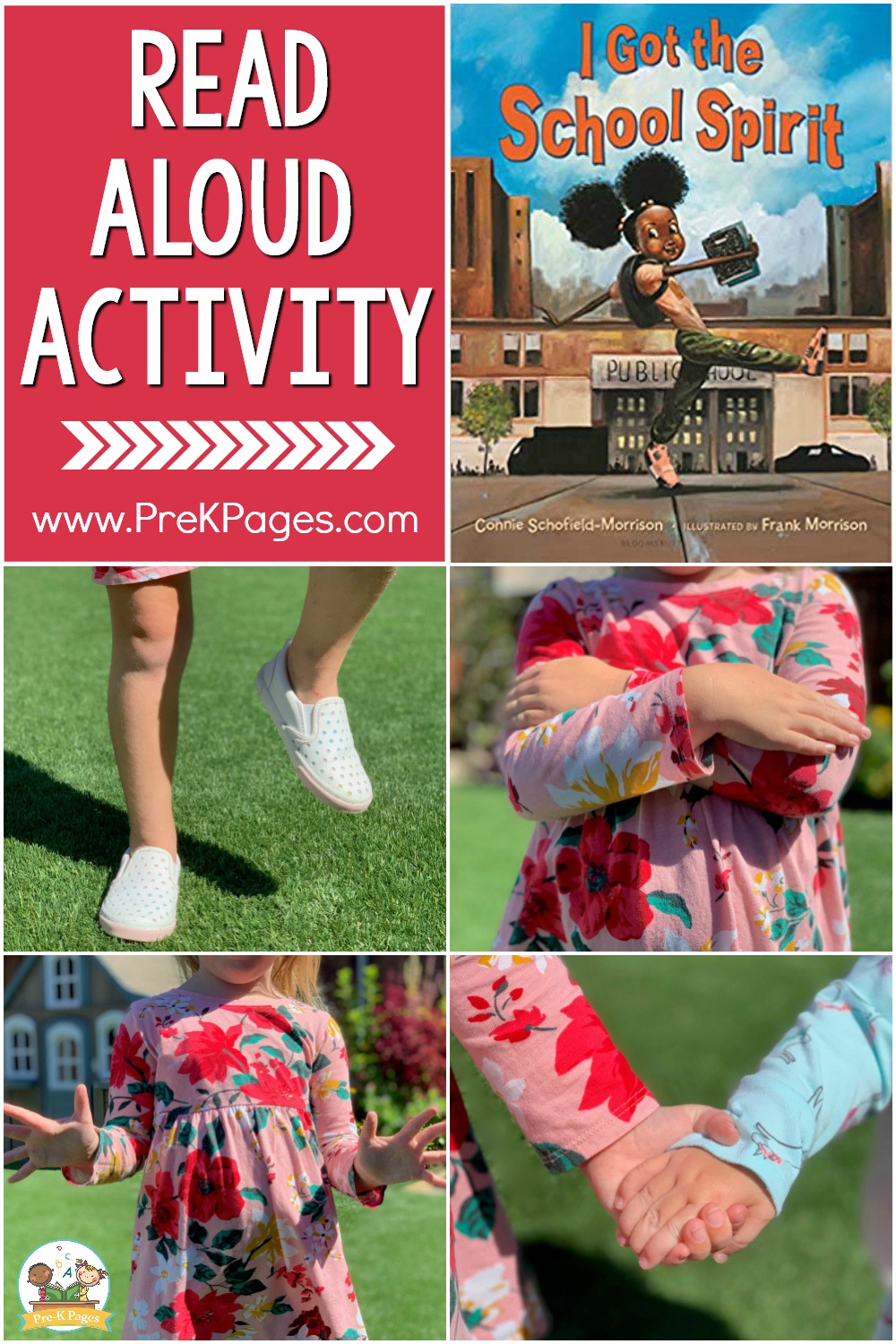 I Got the School Spirit Book and Literacy Activity
The literacy skills covered in this activity include:
listening responsively to a book and the speaker
developing vocabulary
following and giving two and three-step directions
Materials Needed
Read Aloud the Book
I Got the School Spirit by Connie Schofield-Morrison is the third book in the series which also includes I Got the Rhythm and I Got the Christmas Spirit.
In I Got the School Spirit we travel along with a young girl as she prepares for her first day of school. She starts her day at home with getting dressed and having breakfast, riding the bus to school, filing into her classroom, and seeing friends.
All along, the rhythm of the text invites children to join in and even act out parts of the story.
Read the book multiple times throughout the week with the children. Invite the students to join in on the sound words such as "stomp stomp" and "sizzle sizzle." Later in this activity, they will also act out the story. Directions on how to do that are below.
On another repeated reading, you can discuss how the students think the girl is feeling throughout the story.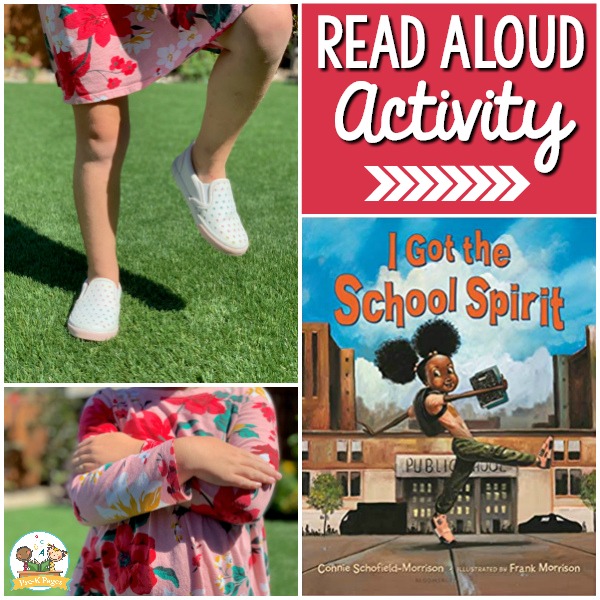 Following Directions Activity
This activity will allow students to practice following and giving multi-step directions. The experience can be done in a whole group setting or as a small group activity.
Setting Up the Activity
Write the following phrases on chart paper. You can also add a picture icon after each line to signal the students.
Stomp, Stomp!
Sizzle, Sizzle!
Zip, Zip!
Vroom, Vroom!
Hug, Hug!
In…2…3… Out…2….3…
Here, Here!
ABC, 123!
Crunch, Munch, Sip!
Ka-Pow!
Once Upon a Time…
Ring-a-Ding!
Squish, Squeeze!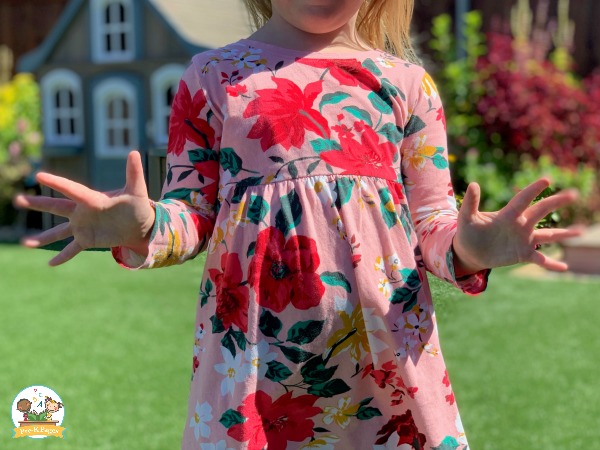 Starting the Read Aloud Activity
Tell the students that they are going to be a part of the story. This story has lots of words that sound like what they describe. We use a big fancy word to describe these types of words. It's called onomatopoeia. For each sound phrase (onomatopoeia), tell children they are going to repeat it after you and add a particular motion.
Step 1: Introduce each motion and have the students repeat it after you. Read the book several times throughout the week so the students get familiar with the sounds and actions.
Stomp, Stomp! (stomp feet)
Sizzle, Sizzle! (flip the hand)
Zip, Zip! (pull the imaginary zipper in an arc)
Vroom, Vroom! (circle fists over each other in rolling motion)
Hug, Hug! (give yourself a hug)
In…2…3… Out…2….3… (breathe in and out or place hand over heart)
Here, Here! (raise hand up and down)
ABC, 123! (hold up one finger, then two, then three)
Crunch, Munch, Sip! (chewing motion with mouth)
Ka-Pow! (small kick forward)
Once Upon a Time…(open pretend book)
Ring-a-Ding! (shake hand)
Squish, Squeeze! (give yourself a big squeeze)
Step 2: For this part of the activity, we will be working on remembering 2- and 3-step directions. Start by picking two phrases with motions from above. Model them and then have the students repeat the sequence. When students are comfortable with two steps move up to three phrases and motions.
From here, students can now be the leader and model a 2- or 3-step sequence for other students to remember and repeat.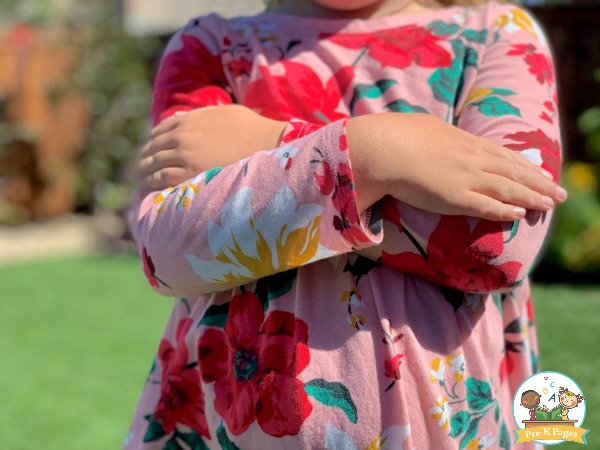 Extensions, Variations, and Modifications
Modify the number of steps in the sequence to fit the needs of your students.
Create your own class book using pictures of the students acting out each part of the story.
Contributed by Jodie Rodriguez, Growing Book by Book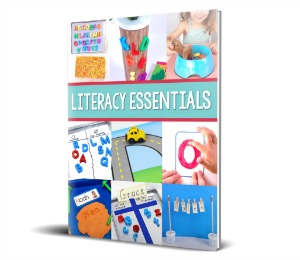 Literacy Essentials
Do you teach your heart out every single day…but your kids just don't seem to be learning the letters? How do you know which skills to teach? Which activities are most effective?
Get your ultimate, step-by-step guide for teaching essential literacy skills HERE
More Literacy Ideas from Pre-K Pages