Transitioning from one activity to another can be challenging for little ones. Then, there are those times when the kids have to wait patiently in the lunch line, standing in line for their turn to use the restroom, or waiting for a specials' class to start. And, have you ever had the kids in circle time and needed to wait a few minutes for others to arrive? Enter song sticks to the rescue!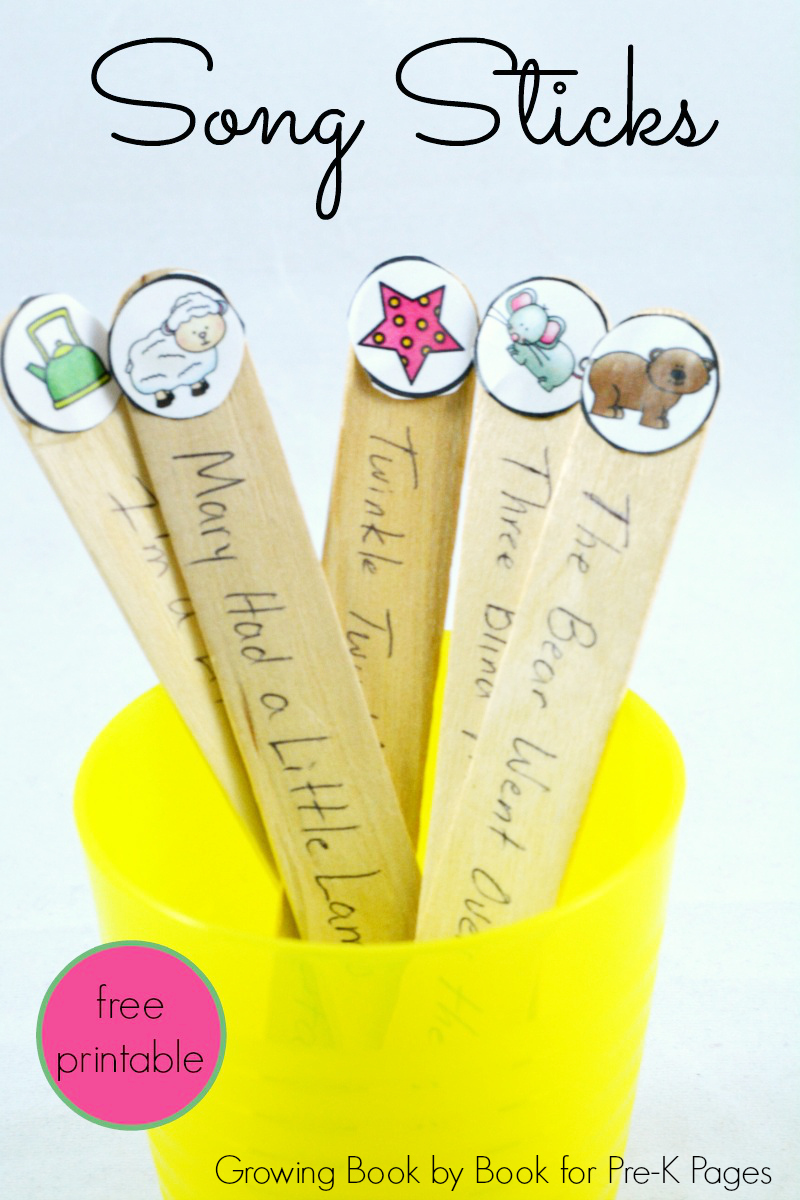 Singing is a fun and engaging way to work on literacy skills. Plus, it's a great educational filler for transition times or when you have just a few minutes between activities.
Song Sticks for Transitions
Song sticks are used to pick a familiar song or rhyme to sing or chant with the class. The repetition of singing songs helps with building memory.
The skills covered in this activity include:
Literacy
speak clearly
notice and discriminate rhymes
hear and discriminate the sounds of language
Social
participate cooperatively in group situations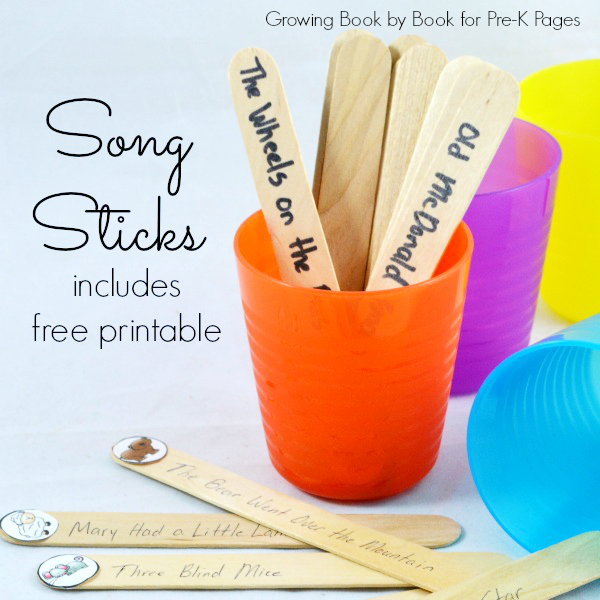 Setting Up the Song Sticks
Materials Needed
15 wide craft sticks
15 glue dots
fingerplay labels (free printable)
scissors
permanent marker
1 small plastic cup or container
Cut each picture circle icon from the free printable.
Glue each icon to a craft stick.
Write the name of each song or rhyme on the appropriate stick. (see below)
Place all the sticks in a plastic cup or container.
Below you will find the icon and song and rhyme pairings. (Click on the link for words to the rhymes.) If you have a favorite rhyme or song, substitute that name on one of the sticks.
Barn – Old McDonald Had a Farm
Bear – The Bear Went Over the Mountain
Star – Twinkle, Twinkle, Little Star
Bus – The Wheels on the Bus
Duck – Five Little Ducks
Pig – This Little Piggy
Egg – Humpty Dumpty
Lamb – Mary Had a Little Lamb
Umbrella – Rain, Rain, Go Away
Sun – Mr. Sun
Teapot – I'm a Little Teapot
Web – The Itsy Bitsy Spider
Moon/Spoon – Hey Diddle Diddle
Mouse – Hickory, Dickory, Dock
Cake – Pat-a-Cake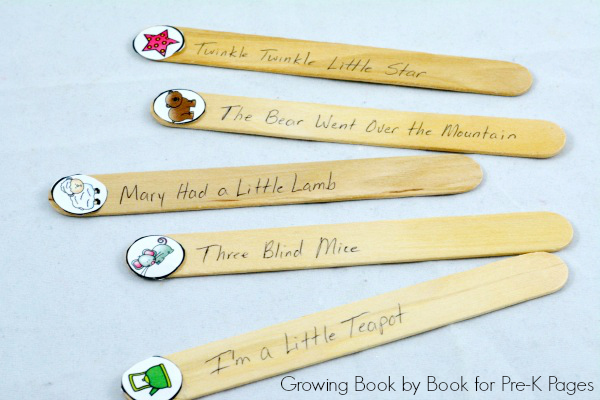 Using the Song Sticks for Transitions
Now, it's time to sing. Carry the song stick container with you whenever your kids will be standing in line or waiting as a group. Choose one stick and name the icon. invite the kids tell you which song corresponds with the picture. Then, enjoy singing the song together. Repeat as often as needed until the next activity is ready to begin.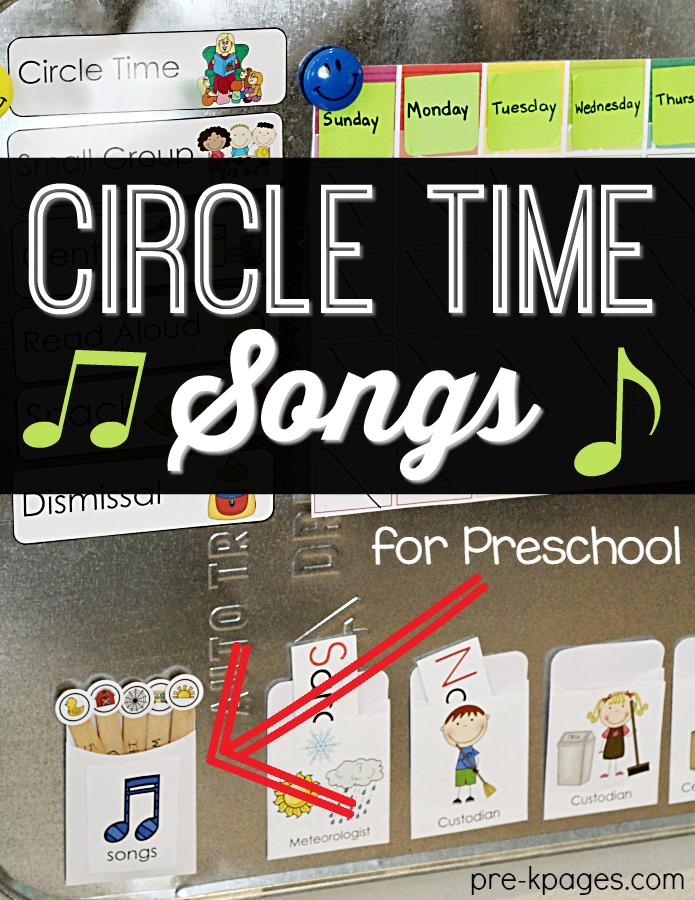 Using song sticks is also a wonderful way to begin your circle time each morning.
For an extra literacy bonus, identify the rhyming words in the song with the kids.
What other ideas do you have for incorporating music and songs into the day?
BIO: Jodie is the creator of Growing Book by Book where she shares book lists, reading and writing activities, and literacy-building tips for young children. She is also the proud mom of 2 little boys- check out their literacy ideas for preschoolers! You can connect with her on Facebook and Instagram.
Other Activities for Fingerplays and Rhymes—
Itsy Bitsy Spider Activity
5 Little Ducks Activity
15 Fabulous Fingerplays and Facts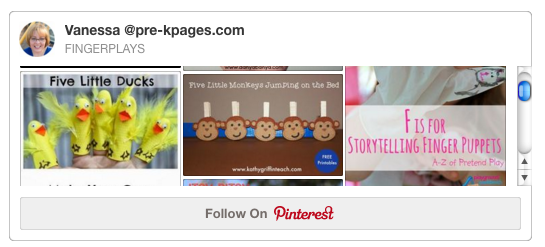 Follow my Fingerplays Pinterest Board for more great ideas!