The recent arrival of Fall, with cooler temperatures and rainier days, has forced us to trade in our flip flops and swimsuits for raincoats and boots. It has also created a lot of discussion with my preschoolers about the seasons and weather. To teach the girls more about this topic through play, I set up a dramatic play and dress up center to play weather forecaster (meteorologist) dramatic play activity this week!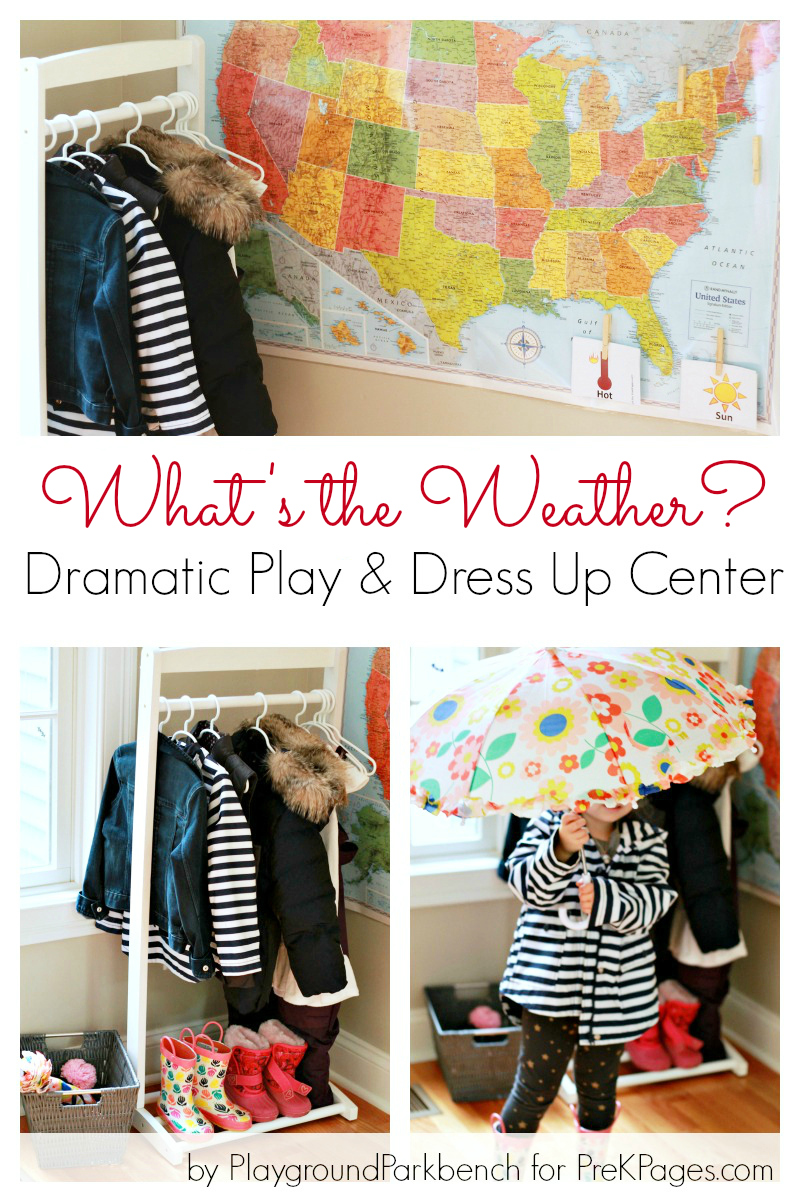 Amazon links included below.
Weather, Temperature, and Dress
A big developmental milestone for preschoolers is increasing self-care. Not only do they become more capable of dressing themselves, they often want to choose what they wear as well.
I know in our house this can be a daily struggle, so I added a dress-up component to our Weather Forecasting center, to help inspire more appropriate dress choices with our new, cooler weather.This also provides great practice for buttons, snaps, zippers, and shoes.
Let's Play Weather Forecaster! Supplies
Laminated U.S. or regional map
Clothespins (4)
Weather Dramatic Play Printable weather cards
Assorted coats, vests, snow suits, and swimsuit coverups
Assorted boots, galoshes, flip flops, and sneakers
Assorted weather accessories, including umbrella, hat and gloves, scarf, and sunglasses
To set up our Weather Forecaster (meteorologist) dramatic play center, I put a laminated U.S. map up on our playroom wall and glued four clothespins to it – two by where we live, and two to hold our printable weather cards featuring weather and temperature options. (I used hot glue gun for this.)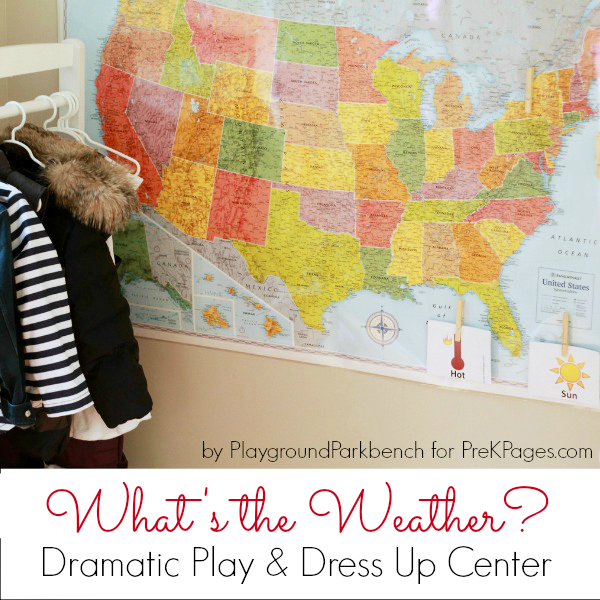 For the dress-up component, I used a small basket and clothing rack to hold attire appropriate for various weather and temperature combinations I collected from the girls' closets.
Let's Play Weather Forecaster!
Big M, my preschooler, was eager to play when she saw her normally princess dress and tutu dominated dress-up area converted to our Let's Play Weather Forecaster center. To get started, I first showed her our different weather and temperature cards. I asked her what the weather was like today – warm and stormy. She selected the thunderstorm and warm cards, attached them to the map with the clothespins, and then she set out to choose the proper attire for the day's weather.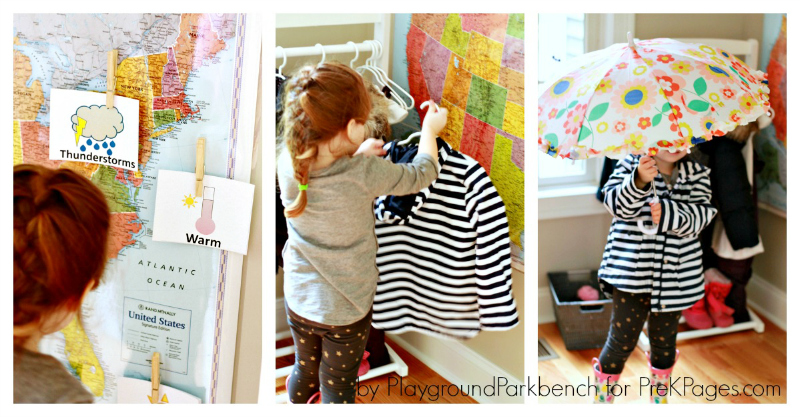 She was very excited to open her umbrella indoors, which is normally against the rules! Then, of course, she immediately wanted to try other weather combinations. We talked about different seasons, and how different weather is associated with different temperatures.
She donned a swimsuit cover-up, flip flops, and her sunglasses for hot and sunny weather. She wore a jean jacket, a scarf, and her fall boots for windy and cool weather. And she tried on her new winter coat, hat, mittens, and snow boots for cold and snow!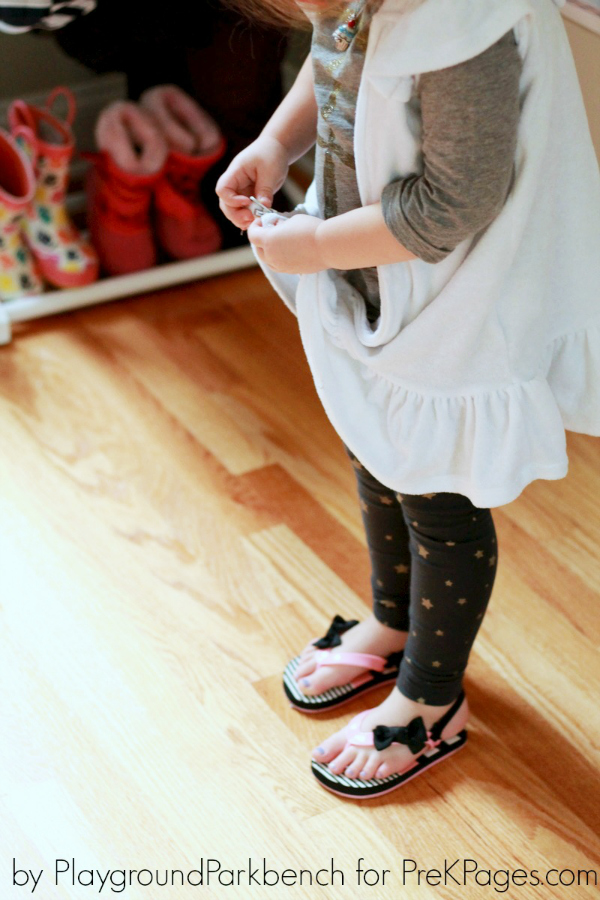 The wardrobe changes provided ample opportunity to practice putting on jackets, buttoning up, and using snaps and zippers.
With every shoe change, she would line them up, left to right, and make sure she got them on the right feet. We even worked on putting the clothes back on hangers and hanging them back up!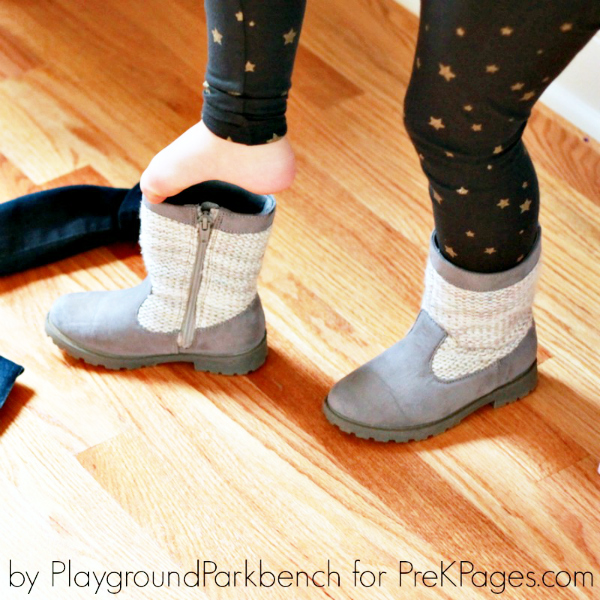 I left our center set up for several days, and she loved changing the weather and teaching her little sister how to pick the right clothes for the weather, too!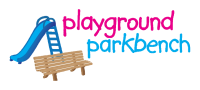 BIO: Meghan is a former hedge fund professional turned SAHM to Big M (4), Lil' M (2), and a baby boy, M3 (2 days old)! She writes at Playground Parkbench, where she shares at-home activities for kids, parenting tips, and financial savvy for the household CEO. Find her on Facebook, Instagram, Pinterest, and Twitter!
Check out these other weather-themed posts—
Raindrop Sun Catcher Fine Motor Art
Three Weather Art Activities
Raindrop Plop: Make an Umbrella
Earth Science Books for Preschool