My favorite activities are inspired by books. Reading opens the imagination, and incorporating an activity into your story time truly brings books to life. This umbrella craft preschool weather activity is perfect for a weather theme, or just to brighten a dreary, rainy day. It supports both literacy and counting skills. It's a lot of fun, includes a number of learning opportunities, and ends with a fun umbrella to take home!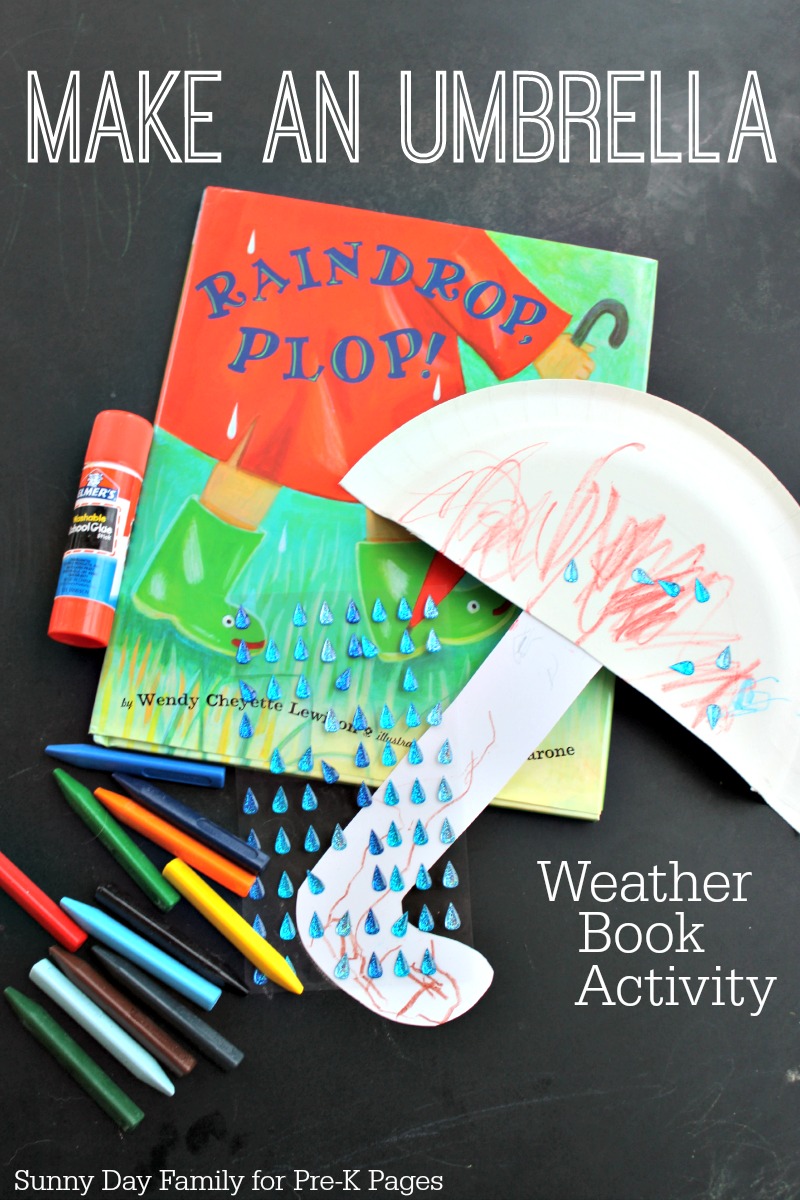 Umbrella Craft Preschool Activity
This activity is based on the book Raindrop, Plop! by Wendy Cheyette Lawson, illustrated by Pam Paparone. Raindrop, Plop! follows a young girl as she navigates through a rainy day, counting raindrops along the way. When the rain gets to be too much, she goes home and counts down until the sun returns. Raindrop, Plop! is perfect for preschool both for a weather theme and for counting to 10 (and back down again).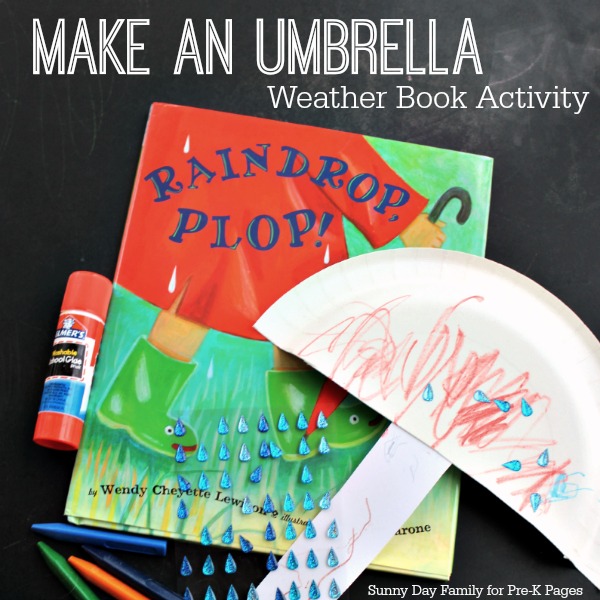 We decided to make a fun umbrella to go along with our reading of Raindrop, Plop! This activity incorporates a number of motor skills including cutting (for older kids), gluing, coloring, and using stickers.
To make your Raindrop, Plop! Umbrella, you'll need:
Copy of Raindrop, Plop!
Paper Plate
Cardstock
Scissors
Glue Stick
Crayons, Markers, or Paint
Rain Drop Shaped Stickers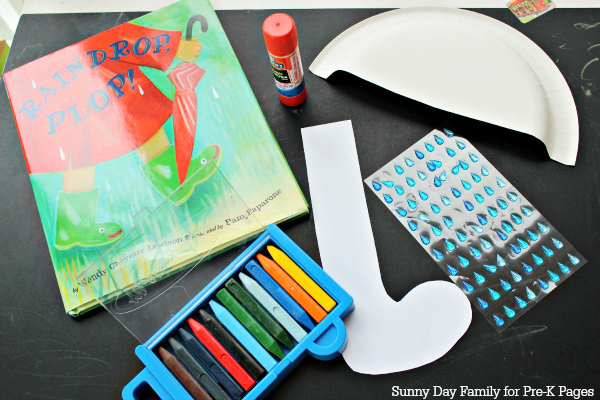 First, cut the paper plate in half. This will be the top of each umbrella. Cut a "J" shape out of the cardstock for the handle. I did this part in advance for my just turned 3-year-olds, but older kids could cut the plates and paper themselves.
Invite the children use the glue stick to adhere the handle to the bottom underside of the plate. You can reinforce it with tape if you don't have time to let it dry before moving on to the next step.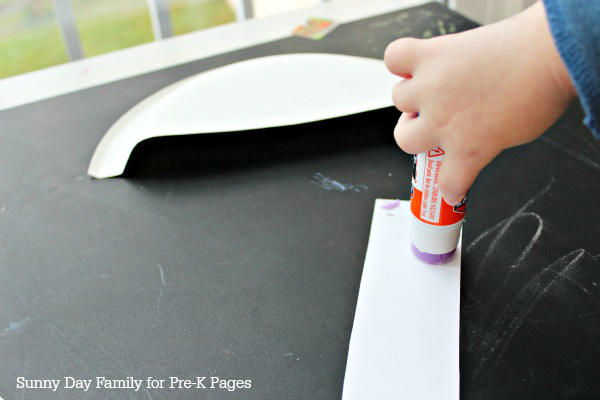 Next, invite the children to decorate their umbrellas. We used crayons, but you can do this with markers or paint if you prefer. (Keep in mind that paint will need additional drying time)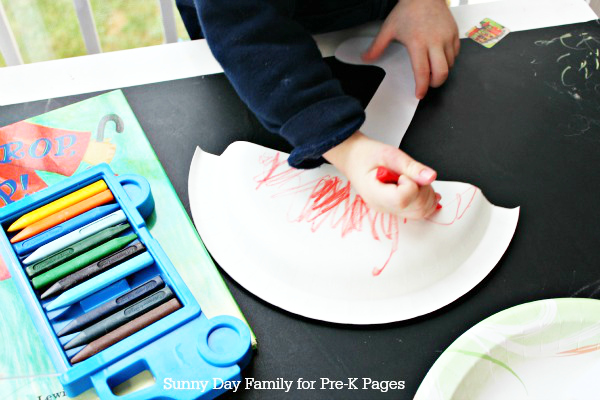 Now that the umbrellas are decorated, it's time to add raindrop stickers! This is a great time to re-read the book and add raindrops as you count along with the story.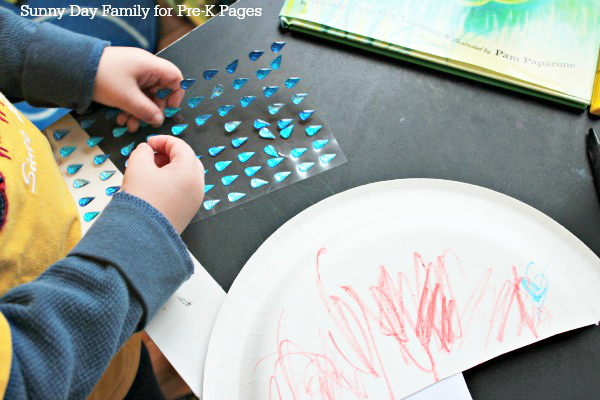 I love using stickers for projects to work on fine motor skills – peeling and sticking is wonderful practice for little fingers (plus kids love them!)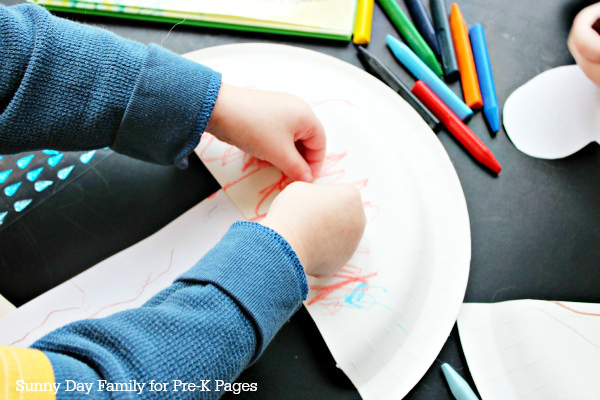 Once you've added all your raindrops your umbrella is complete!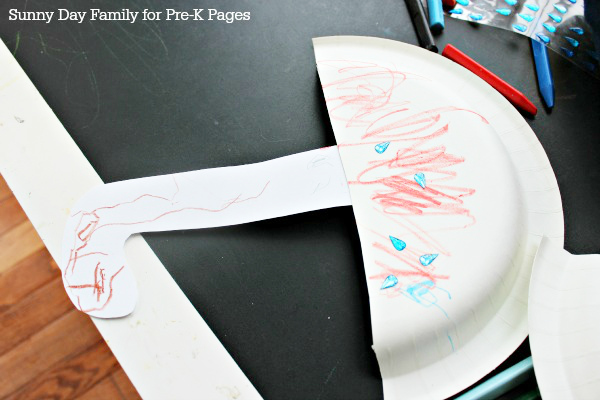 We made our umbrellas on a very rainy day, and it was a wonderful way to enjoy a book, talk about the weather, and use a number of skills to complete our umbrellas. I hope you enjoy it, too!
BIO: Laura is a mom to twin boys and the author of Sunny Day Family, where she shares fun activities, home organizing tips, and easy recipes. Connect with her on Facebook, Pinterest, Instagram, and Twitter.
More ideas for a Weather Theme—
Three Weather Art Activities
Earth Science Books for Preschool
Snow Play Dough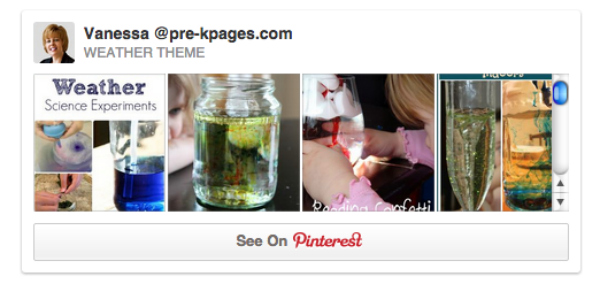 Follow my Weather Theme Pinterest Board for more great ideas!