It's always a struggle to find good science books to use in preschool or kindergarten.
Here's a list of my favorite books to teach earth science concepts to your kids at home or in the classroom.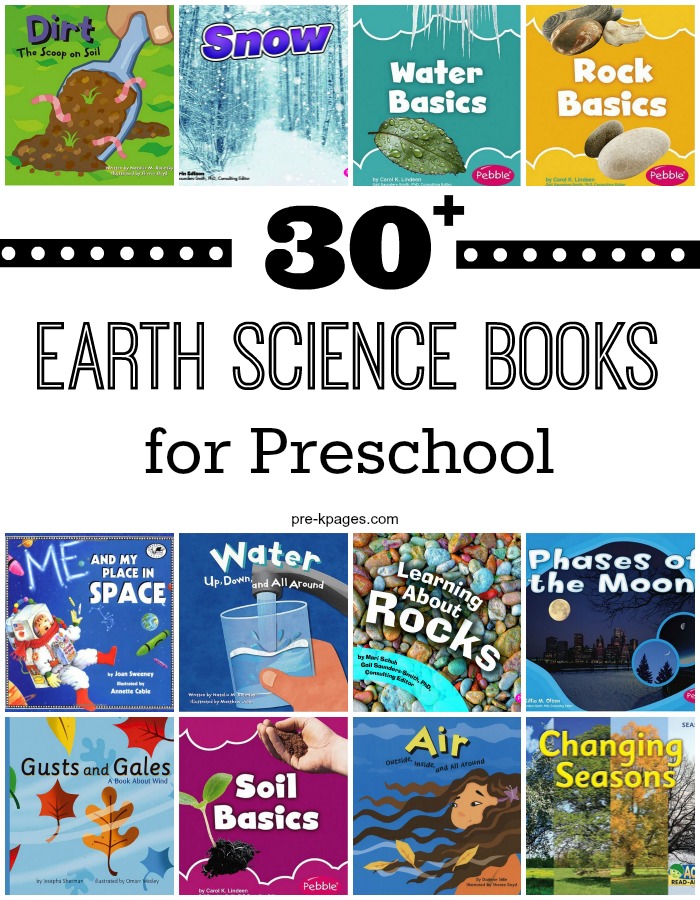 Earth Science Books for Preschoolers
1. A Tree For All Seasons by Robin Bernard
2. Air: Outside, Inside, and All Around by Darlene R. Stille – Learn about the air around you, and find out about oxygen, the atmosphere, gases, and pollution.
3. All the Water in the World by George Ella Lyon – Faucet, well, raincloud, sea … from each of these comes water. But where does Water go?
4. Changing Seasons by Sian Smith – Learn about seasonal patterns, typical weather, changes to plants and animals, and the clothing and activities that are usual for each season.
5. Clouds by Erin Edison – See their shapes. Watch for a thunderstorm.
6. Day and Night by Margaret Hall – Introduces how day and night occur, and explains why they are one of nature's patterns.

7. Like a Windy Day by Frank Asch – The story of a young girl who goes soaring, tumbling, and twirling on an exciting windy-day adventure!
8. Dirt: The Scoop on Soil by Natalie Rosinsky – Discusses the nature, uses, and importance of soil and the many forms of life that it supports.
9. Exploring Fall by Terri DeGezelle – Crunch! Put on a sweater and jump in some dry fall leaves. Cheer your favorite football team. Watch squirrels gather nuts.
10. Exploring Spring by Terri DeGezelle – Splash! Get out your raincoat because spring showers are here. Watch plants sprout and baby animals take their first steps.
11. Exploring Summer by Terri DeGezelle – Sizzle! Put on some shorts and try to stay cool in the hot summer season. Watch fruit ripen and baby animals grow up.
12. Exploring Winter by Terri DeGezelle – Brrr! Even if it doesn't snow where you live, winter is the coldest season. Trees rest and wait for spring. People get out their heavy coats.
13. Gusts and Gales: A Book About Wind by Josepha Sherman – Find out about the different types of winds, including global winds, trade winds, local winds, and breezes. Learn about extreme wind weather like hurricanes and tornadoes.
14. Learning about Rocks by Mari Schuh – Mountains are made of it. Buildings can be too.
15. Lightning by Erin Edison – Watch it light up the sky. Hear its booms.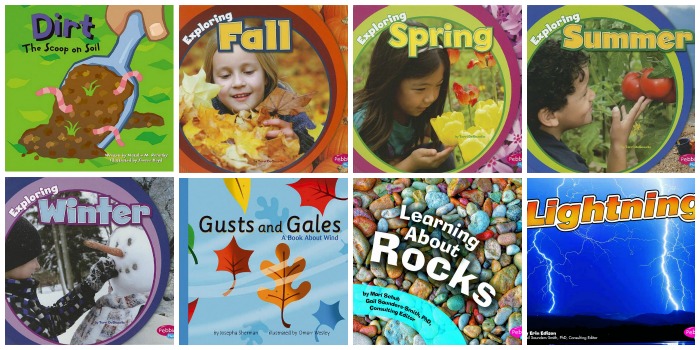 16. Me and My Place in Space by Joan Sweeney – With earth as a starting point, a young astronaut leads readers on a tour past each planet and on to the stars, answering simple questions about our solar system.
17. Phases of the Moon by Gillia M. Olson – Introduces moon phases, including why they occur and what the different phases are called.
18. Rain by Erin Edison – Jump in a puddle. Carry an umbrella. It's time to learn about rain.
19. Rain by Robert Kalan – Blue sky. Yellow sun. White clouds. Then, suddenly, gray clouds. Gray sky. RAIN.
20. Rock Basics by Carol K. Lindeen – Text and photographs introduce rocks and some of their sizes, shapes, and uses.
21. Rocks: Hard, Soft, Smooth, and Rough by Natalie Rosinsky – The rocks you see everyday can be grouped into different types, like igneous, sedimentary, or metamorphic. Some rocks are actually minerals, and you can even find fossils in some types of rocks.
22. Seasons of the Year by Margaret Hall – Explains why the seasons change and how seasons are a recurring pattern in nature.
23. Snow by Erin Edison – Catch a snowflake on your tongue. Toss a snowball.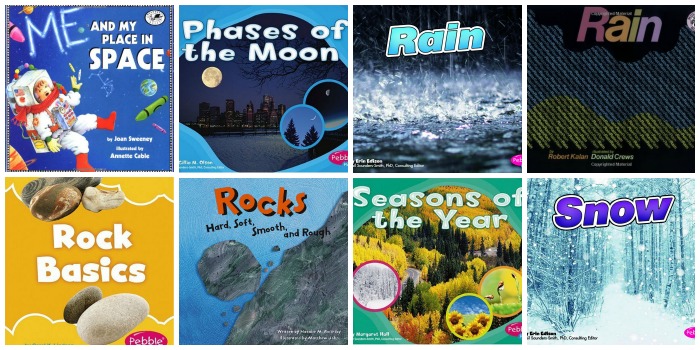 24. Soil Basics by Carol K. Lindeen – Learn about soil including what it's made of and some of the different types of soil.
25. Sunlight by Erin Edison – Put on sunglasses. Feel its warmth.
26. The Snowy Day by Ezra Jack Keats – Vivid full-color illustrations capture a young boy's delight in the first snowfall of the year.
27. The Water Cycle by Craig Hammersmith – Earth's water isn't created it's recycled! Find out how water changes from a puddle on the ground to a gas in a cloud to falling raindrops and back again!
28. The Wind Blew by Pat Hutchins – The wind blew, and blew, and blew! It blew so hard, it took everything with it: Mr. White's umbrella, Priscilla's balloon, the twins' scarves, even the wig on the judge's head. But just when the wind was about to carry everything out to sea, it changed its mind!
29. Water Basics by Carol K. Lindeen – Text and photographs introduce water and the water cycle.
30. Water, Water by Eloise Greenfield – I see lakes, and ponds, and waterfalls, oh water, water, water, everywhere I go.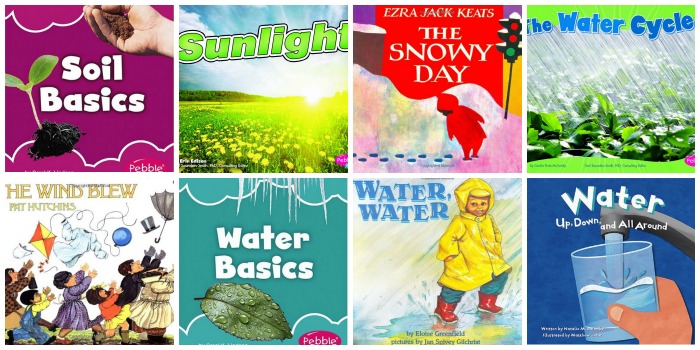 31. Water: Up, Down, and All Around by Natalie Rosinsky – Describes the water cycle and the importance of water, explaining evaporation and condensation, dew and frost, and the three states of water.
32. Wind by Erin Edison – Fly a kite. Watch leaves swirl. It's time to learn about wind.
More Science Ideas