A writing center in preschool is a must for motivating your students to write for a purpose. But let's face it, they would really rather play with blocks or in the dramatic play center. That's why it is so important to provide materials in your writing center that will entice and engage your young learners to visit and explore this center.
Here are some of the tools my students love using the most and motivate them to write.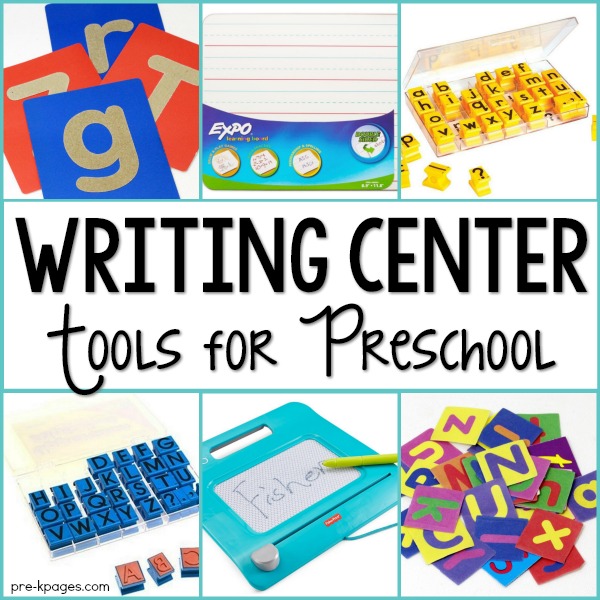 Writing Center Set Up in Preschool
These are my must-haves for the writing center:
Draw and Write Touch Boards (Lakeshore Learning)
Clip Boards
Alphabet Ink Stamps
These alphabet ink stamps, both upper and lowercase, are perfect for little hands. Your kids will love stamping the letters in their names, the names of their friends, or even words with ink stamps.
Pasting Pieces
Pasting pieces are double sided cardstock squares with letters printed in many different fonts. Kids love using these alphabet squares to make their names, the names of their friends, or words and messages by gluing the squares to paper.
Sandpaper Letters
Sandpaper letters, in both upper and lowercase, will provide your children with tactile experiences to help them internalize the shapes of the letters. Young children love using sandpaper letters to create crayon rubbings of the letters in their own names or the names of their friends.
Dry Erase Boards
Dry erase boards are a must-have in every early childhood classroom. Children love writing their names, the names of their friends, or even messages on these boards. They also love using the markers and erasers to make their writing disappear.
Doodle Boards
Doodle boards are always a favorite in the writing center! Kids love writing and drawing on the boards, then erasing and starting over.
Gel Boards
Gel boards are highly engaging for young children, they love to press their finger into the gel and draw, write their names, or practice the letters of the alphabet.
Clip Boards
While clip boards may seem boring to adults, to kids they are exciting tools. Children love to put paper on their clipboards and use fun writing tools like sparkly pens with brightly colored ink to write and draw like grown-ups.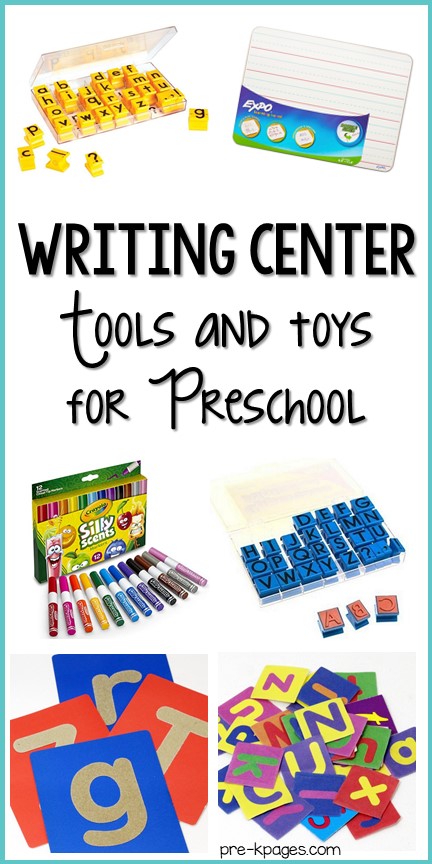 The Teaching Tribe
Having an amazing art center is awesome! But let's face it, writing supplies can't make you a better teacher. The best place to discuss teaching best practices and get the support you need is in the Teaching Tribe. We have many printable lessons and on-demand video trainings to help you become the best teacher you can be! If you want to get on the waiting list for the Teaching Tribe, do it soon so you don't miss the next open enrollment period!
More Teaching Tips