Writing center set up pictures, ideas and resources for Preschool, Pre-K, and Kindergarten.

Writing Center Set Up in Preschool
How to set up and organize a writing center in your preschool, pre-k, Head Start or kindergarten classroom.
Here are some pictures of the materials young children enjoy using in this center so you can get a better idea of how it is set up.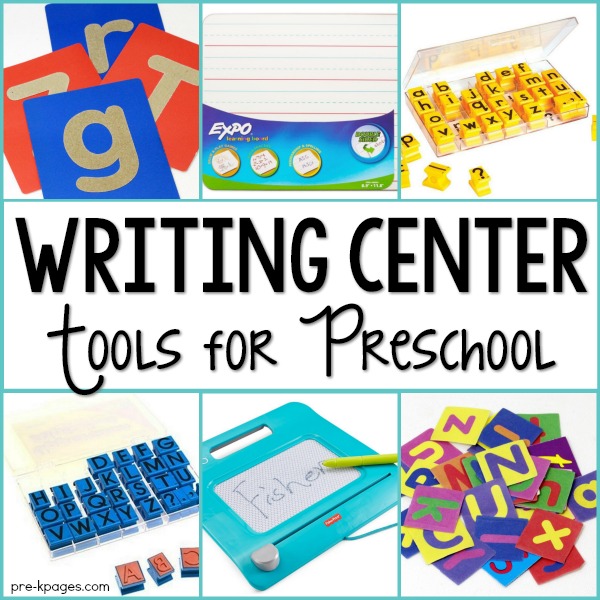 The Best Writing Tools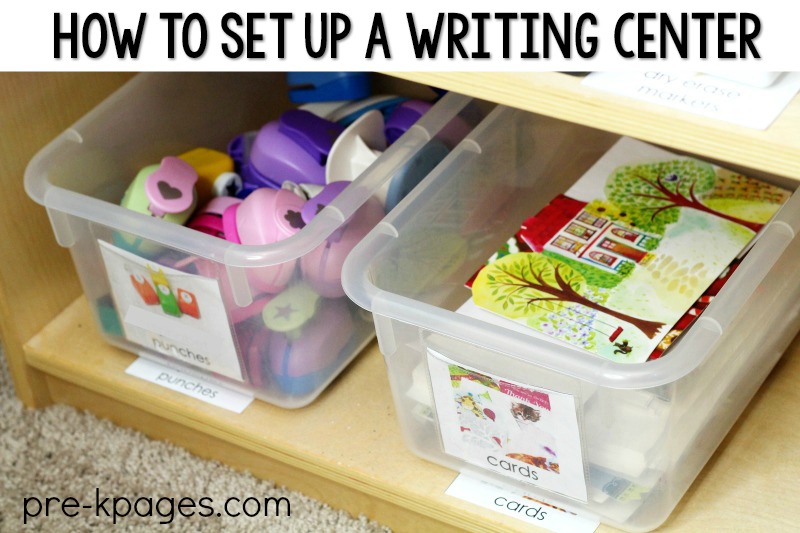 Writing Center Supplies
Craft Paper Punches: Young children love using craft punches to make many different shapes. They enjoy gluing these shapes to paper and drawing and writing about them.
Writing Center Sign: These center signs list what the children are learning in the writing center. You can read more about these signs HERE.
Cutting Practice: This consists of the fronts of old greeting cards. Ask your family and friends collect these for you. Students cut the pictures out and glue them to paper, then write about their pictures. The children are highly motivated to use the cards, it is one of their favorite activities at the writing center and a great way to practice scissor skills. The thickness of the cards offers more resistance; making it easier for little hands to cut.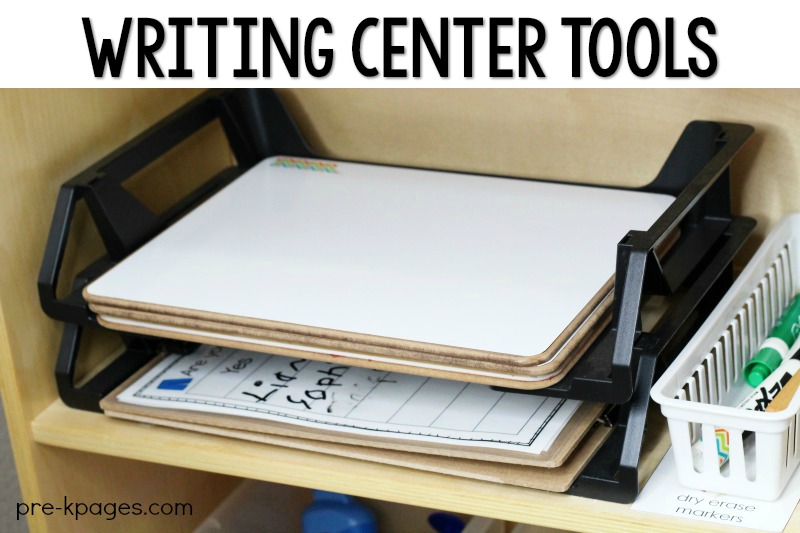 Clipboards: Students can use crayons or markers to write on sheets of blank paper attached to the clipboards. They can walk around the room and record their observations or copy print, this is another one of their favorite activities.
Dry Erase Boards: Children love to use markers to draw, write, and erase on these boards. You can place dry erase boards and clipboards in stacking file trays for easy storage.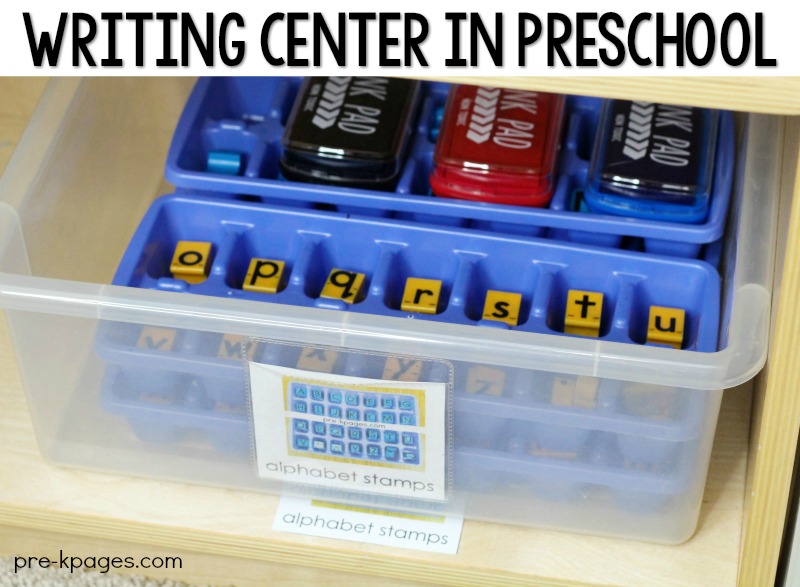 Preschool Writing Center
Alphabet Ink Stamps Keep your alphabet stamps organized by storing them in ice cube trays. Write a letter in each empty space using a permanent marker and the students can match the stamps to the correct space. The students enjoy stamping their names, names of their friends, or words with the ink stamps.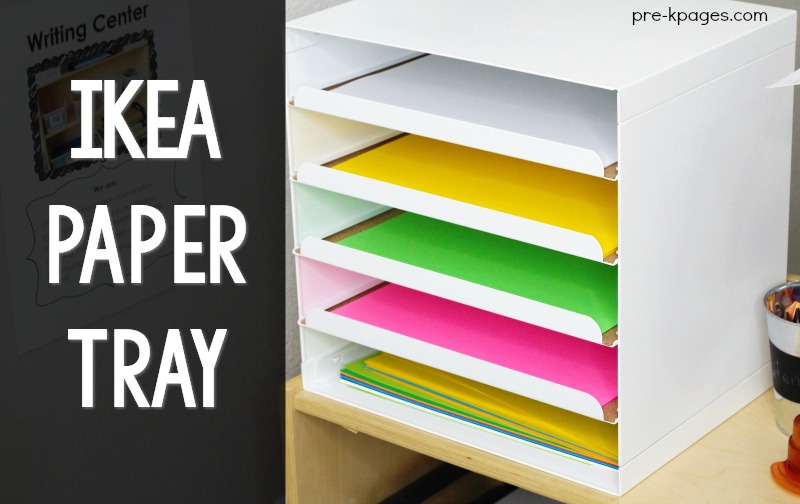 Paper: Students have several different types of paper to choose from. Regular white copy paper, half sheets of copy paper, and half sheets of construction paper so they can make covers for their books. You can read more about this sturdy paper organizer here.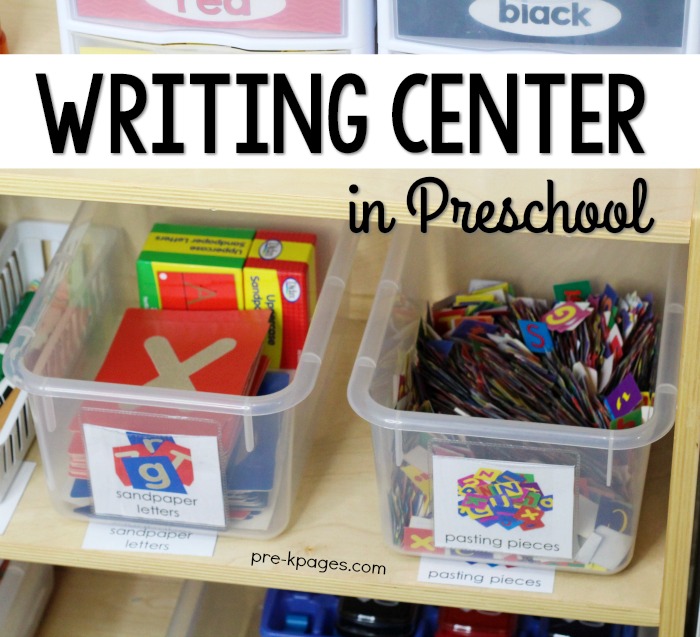 Sandpaper Letters: Place skinned crayons with these sandpaper letters and students can use half sheets of paper to create crayon rubbings of the letters.
Pasting Pieces: These alphabet pasting pieces are always huge hit in my classroom. The students like to glue the letters to paper and spell their names and the names of their friends or even words.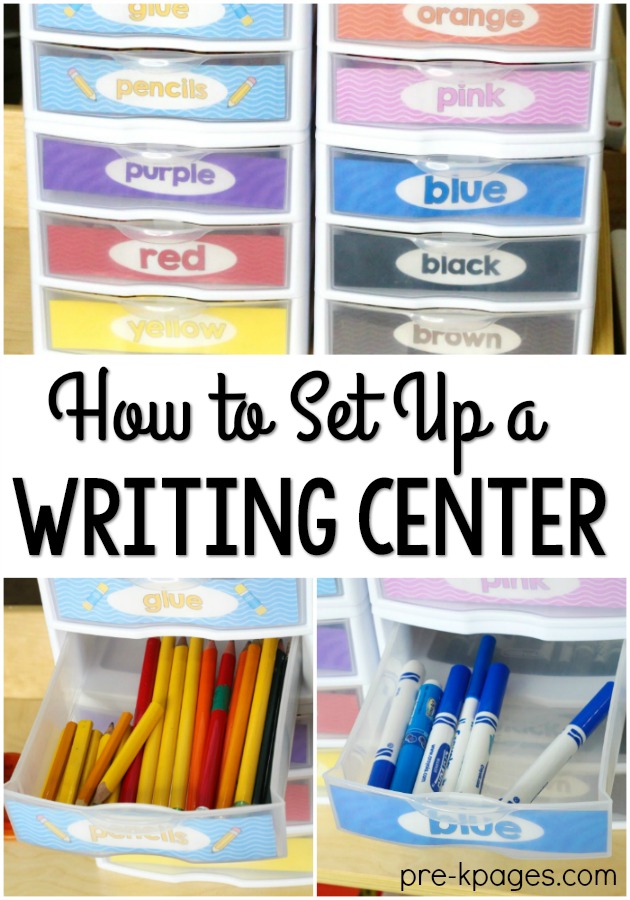 How to Set Up a Writing Center
Above is a close up picture of how I store supplies such as markers, pencils, scissors and glue. These plastic storage drawers can be purchased at most big box stores. I added labels to the front of each drawer from my Classroom Organization Bundle.
Each table in the classroom has a crayon caddy so crayons are readily available throughout the room and don't need a separate storage space in the writing center.
I also have a kid friendly stapler that staples papers without actual staples. It only staples up to 3 or 4 sheets of copy paper at a time, but that's plenty to keep the kids happy.
Writing Center Broadcast
We're talking about setting up a writing center in your classroom- join us LIVE now!

Posted by Pre-K Pages on Monday, April 4, 2016
Writing Resources
More Center Ideas from Pre-K Pages