Learning colors is one of the hallmarks of the preschool year, and one of my twins' favorite lessons from their first year in school. There are so many fun ways for preschoolers to practice identifying colors and to incorporate color knowledge with a host of other skills! We've had fun with a few easy color games for preschoolers to help reinforce color recognition and I'm so excited to be sharing them all with you.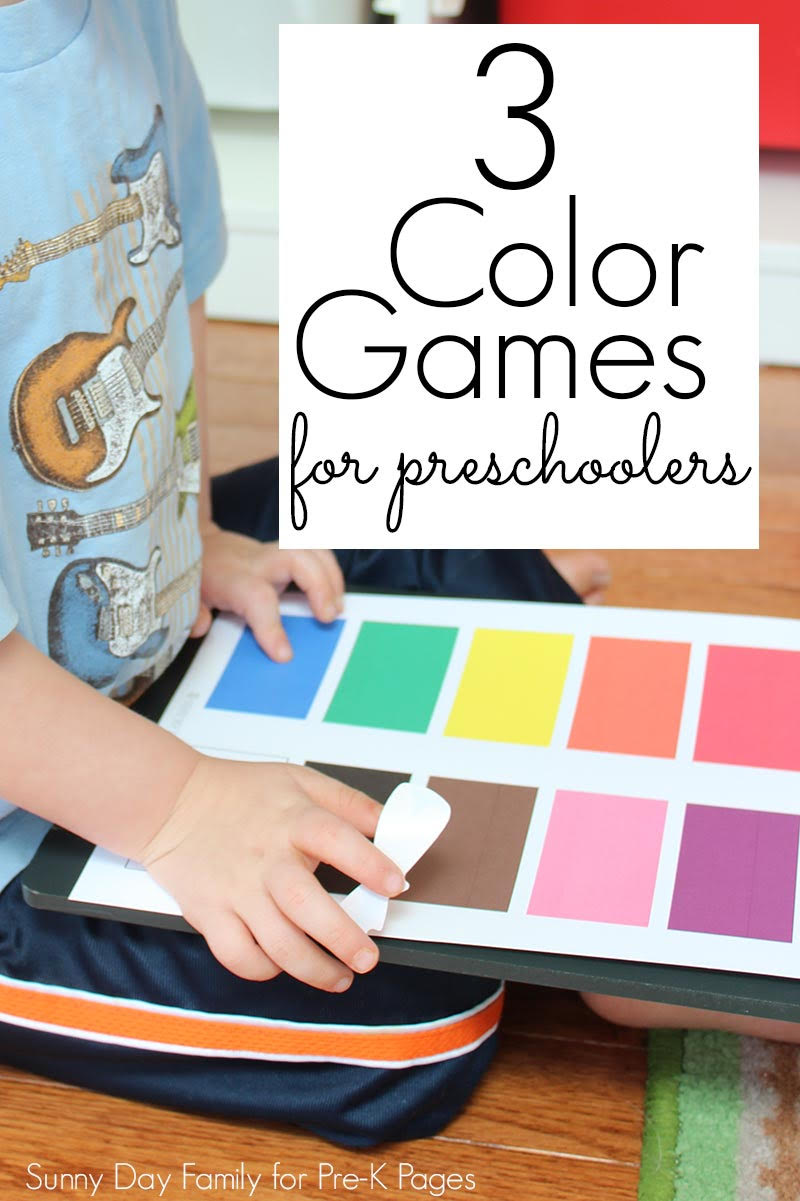 These color games all use one printable set as a starting point. You can download it here on Sunny Day Family for free. In the set, you'll get a color game board and a set of color words. Print as many as you need for each activity!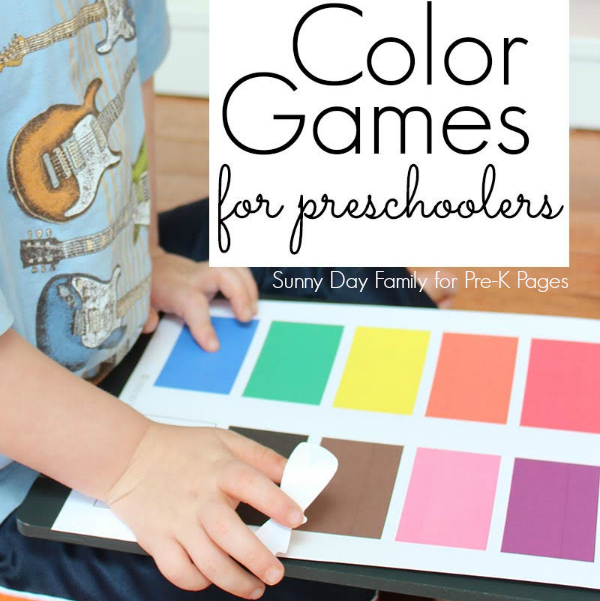 3 Fun Color Games for Preschoolers
Guess the Color
This is the game that first inspired the game board. Based on the popular board game Guess Who?, this color game is played in pairs. One child chooses their favorite color and marks it on their game board. Their partner then asks a series of questions until they can guess which color their friend has chosen. You can read more about this game on the link above. This makes a great getting to know you activity for the start of the school year!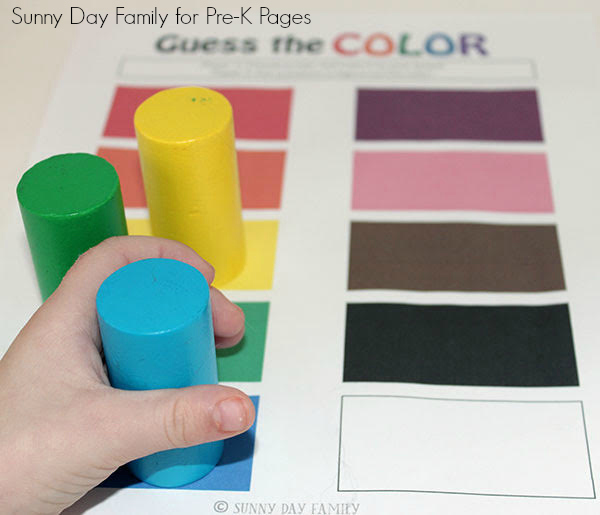 Color Scavenger Hunt
Another fun way to use your game board is as a color scavenger hunt. This can be done indoors or outside. Simply ask the children to find something of each color and mark it on their game board. This is a fun way to get kids up and moving while also reinforcing their color knowledge.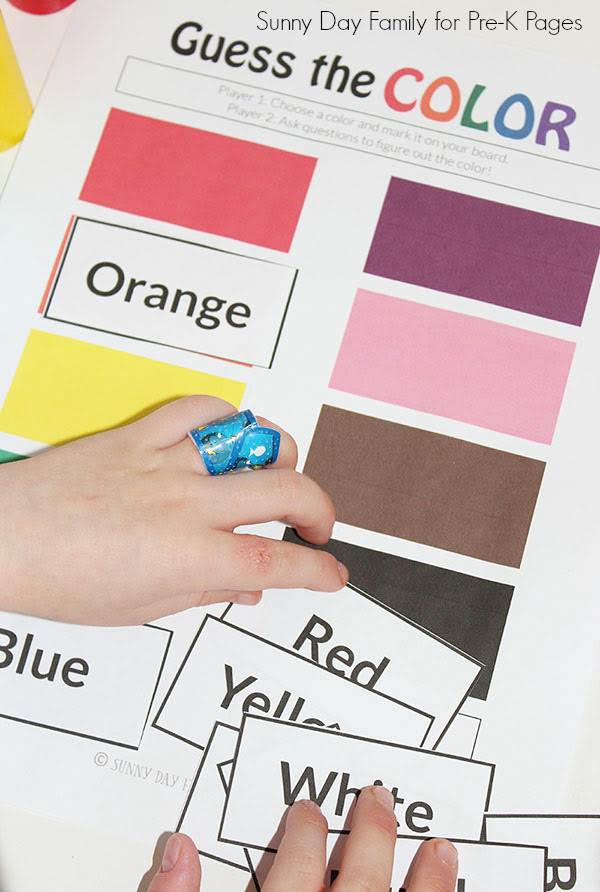 Color Word Match
This is a perfect activity for older children who are beginning to identify color words. Print out a game board and a set of color words for each child. Cut out the color words and invite the child to match the proper word to the colored rectangle on their game board. This is a fun way for them to practice reading and word recognition in addition to color skills.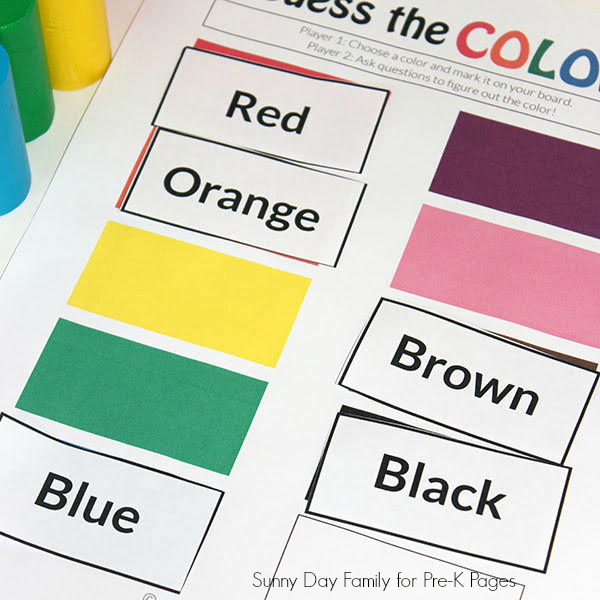 There are so many ways to make learning colors fun and engaging for children. Get the printable game set and try one (or all!) of these fun activities or create your own. The possibilities are endless! (If you do create more games, let us know in the comments below.)
BIO: Laura is a mom to twin boys and the author of Sunny Day Family, where she shares fun activities and easy organizing tips. Find more of her kids' activity printables here. Connect with her on Facebook, Pinterest, Instagram, and Twitter.
More Activities for Colors—
Color Sorting on the Light Table
30 Activities to Explore Colors
Freight Train: Exploring Colors with Trains
Mix It Up: Color Mixing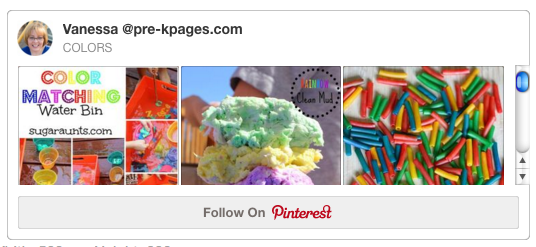 Follow my Colors Pinterest Board for more great ideas!