Color sorting is an important skill for preschoolers to practice. Color identification and math skills are explored simultaneously. Any activity that can be presented on the light table makes learning irresistible and mesmerizing! A bit of prep provides a preschool color sorting center that can be visited by children over and over again.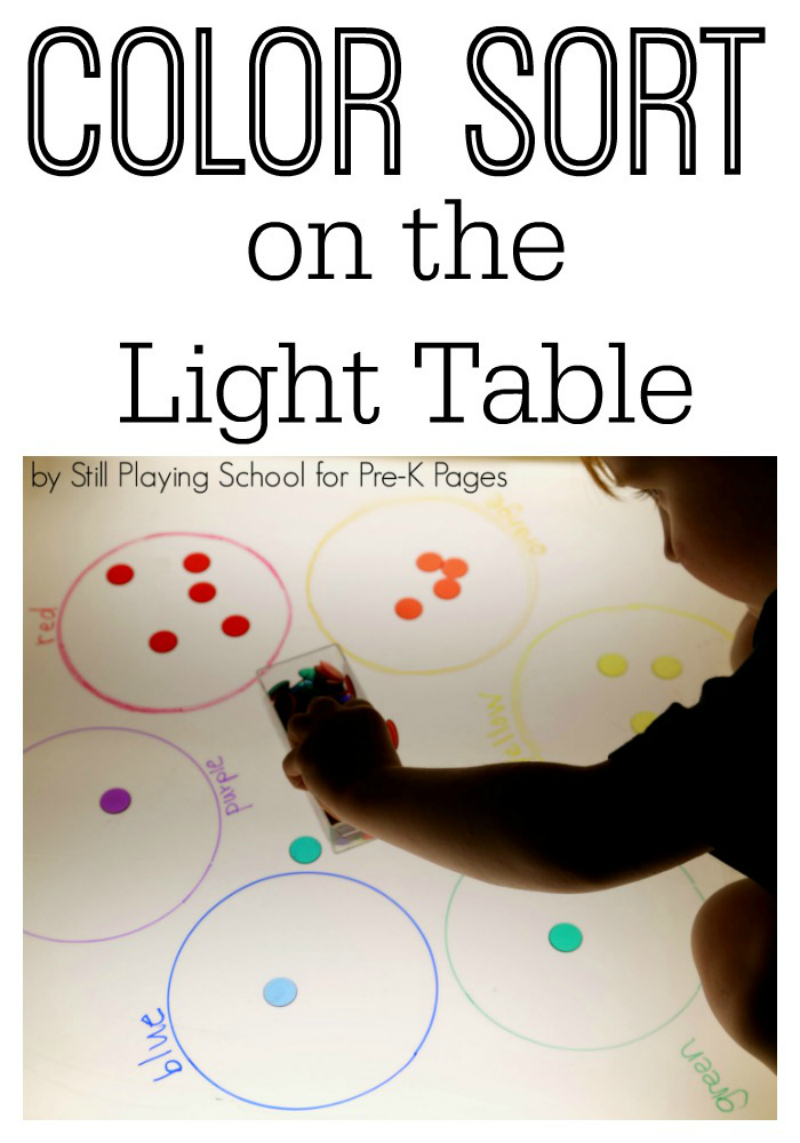 Prepare the Light Table
There are so many light table activities you can use in your preschool classroom. I love that this activity is an engaging activity for your students to work on colors and counting at the same time. For this activity we use some of our favorite go to Light Table Toys And Tools for Preschool.
You will need:
Light Table
Contact Paper
Transparent Color Counters
Colored Markers
Tape
Using the colored markers, draw a space for each color on the non-sticky side of the contact paper. Trace a shape to help ensure the areas are equivalent. Add the color word in the corresponding color to encourage pre-reading skills!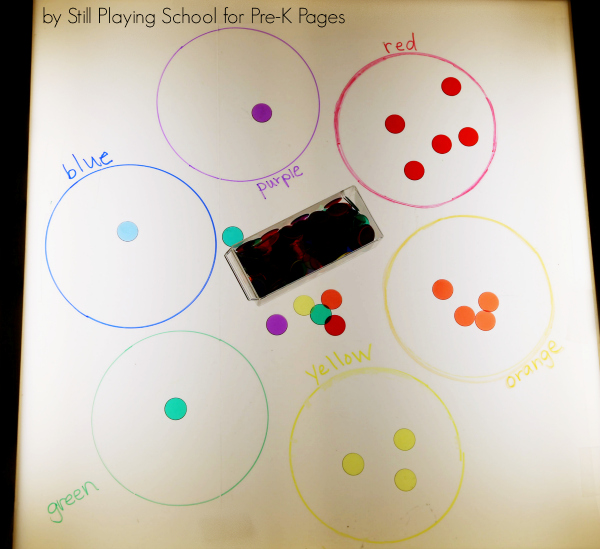 Tape the contact paper onto the light table sticky side up and remove the paper backing. The contact paper allows the colored counters to stay where they are placed but they can still be removed by the children with a bit of fine motor practice to pick them off the sticky table. If you choose, you could use wax paper instead of contact paper for a different sensory experience.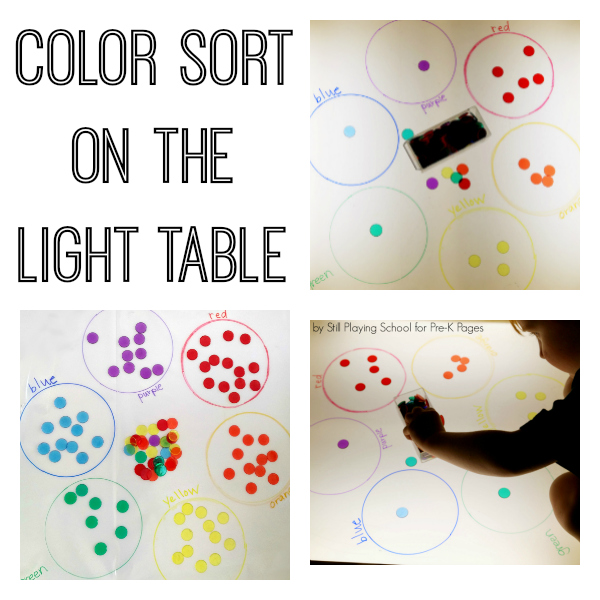 Sort Colors on the Light Table
Place the transparent color counters on the light table. Invite preschoolers to sort the counters by color. Demonstrate putting two of the counters on top of each other and show how primary colors make secondary colors. Red and yellow make orange, yellow and blue make green, and red and blue make purple!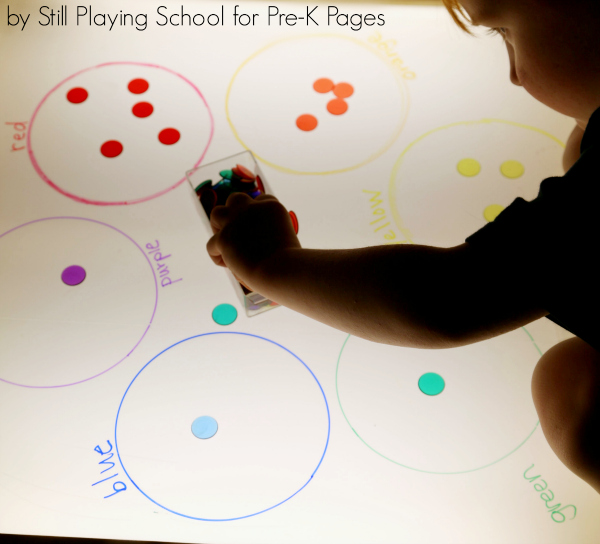 Allow children to revisit this light table color sorting center again as their interest draws them to the learning. It will be a classroom favorite for sure!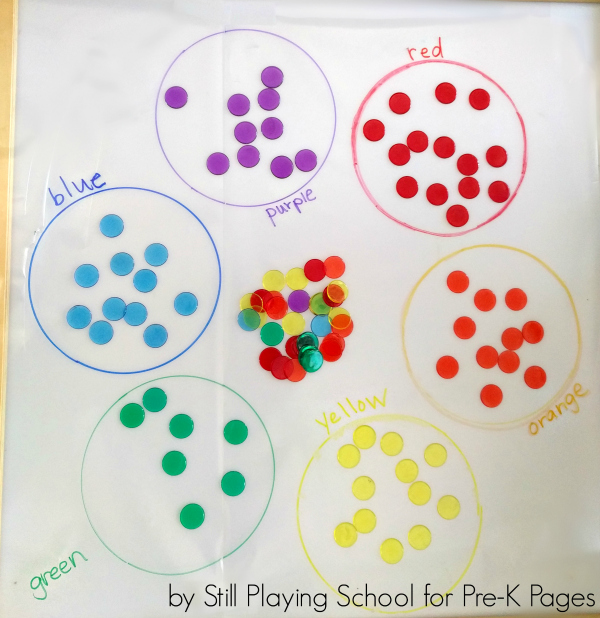 BIO: Devany LeDrew is a former kindergarten teacher who writes at Still Playing School where she shares intentionally planned play based learning activities. She loves to plan ideas using the light table! Follow Still Playing School on Facebook, Instagram, Pinterest, and Twitter!
More Color Sorting Activities
Planting a Rainbow Color Sort- Preschoolers are fascinated by gardens full of colorful flowers! Pair this color word activity with the beloved children's book Planting a Rainbow by Lois Ehlert. Your older preschool or kindergarten kids will delight in working on scissor skills as they create their own garden rainbow!
Red Leaf, Yellow Leaf Sorting Activity- This Red Leaf, Yellow Leaf sorting activity is a great, hands-on way for young children to practice this early math skill. It's perfect for fall!
Valentine Color Sorting Activity- Valentine's Day is the perfect opportunity for sorting hearts by color and design. We added hands-on tools to create a fine motor color sorting station for our preschoolers!
More Ideas for Exploring Color—
Planting a Rainbow Color Sort
Patterning with Flowers
Green: One Color Sensory Bin
Activities to Explore Colors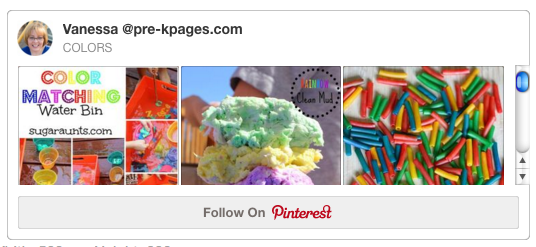 Follow my Colors Pinterest Board for more great ideas!