Little learners love to talk about themselves. Here are several activities children can learn about themselves and their friends. Use these activities in a friends theme or all about me theme. It's also a good way to introduce how we are all the same on the inside, but look different on the outside (great diversity and inclusion concepts).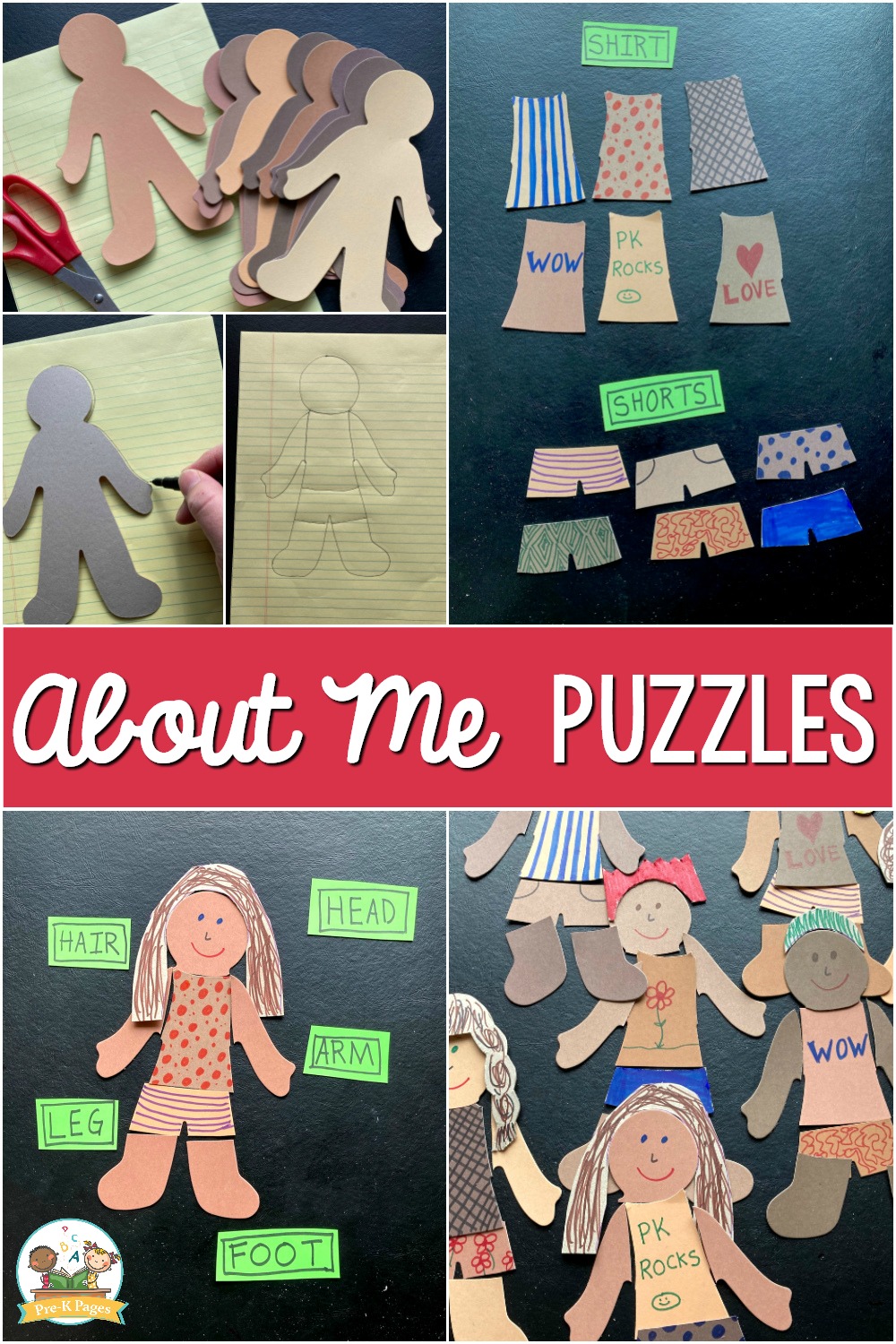 All About Me People Puzzles
Materials
Markers
Scissors
Pencil
Thin Cardboard
Cardstock
Optional: Stickers, yarn, felt
Steps to Make People
Trace one of the people cut outs face down on a piece of paper.
Make lines where you plan to cut for the shirt, shorts, and neck on the paper.
Place one of the people upside down and make a light pencil mark where to cut each person. This helps the pieces fit together better.
Mark and cut all body pieces. Each body should have: 2 arms, 2 legs, 1 head, 1 shirt, and 1 pair of shorts.
Decorate shirts and shorts with things like: markers, stickers, stamps, or yarn. Ensure the clothing looks different than the skin tone.
Make labels written on cardstock: head, leg, arm, hair.
Laminate, if desired.
Optional: Make a jumbo people shapes to provide a larger visual for instructional purposes.
Steps for Hair
Include a variety of hair color and styles to represent all children. Include some fun ones too – like pink or crazy green hair!
Cut thin cardboard (the back of a note pad or a cereal box works great) for hair pieces.
Draw hair with colored markers.
Laminate (if desired),
Optional: Glue hair onto cardboard – using yarn, string, or felt.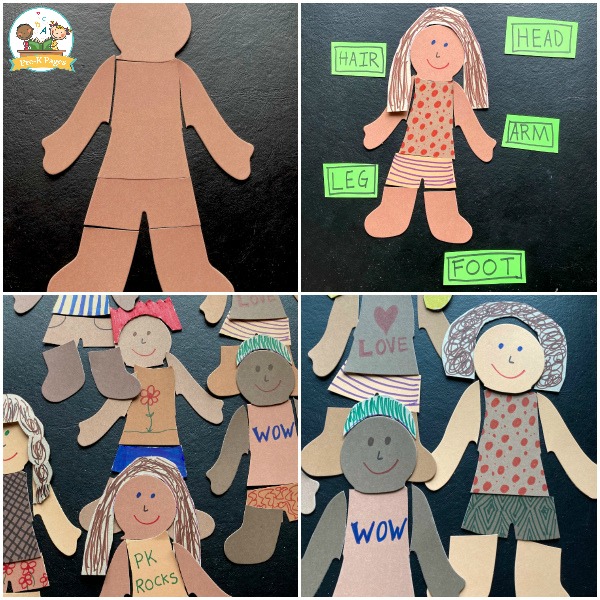 Using Your People Puzzles
Model how to use the people puzzles with one of the following activities. Then place all the pieces in your science/exploration center. Allow children to come up with different ways to sort and interact with the pieces.
Label Body Parts
Name body parts. Talk about how various body parts are used. As you introduce each part, add it like a puzzle piece.
Use labels to identify each part.
Head (senses and thinking)
Arms (to give air hugs)
Legs (to move)
Invite the children to assemble the people puzzles and label body parts. Provide a completed puzzle as a reference.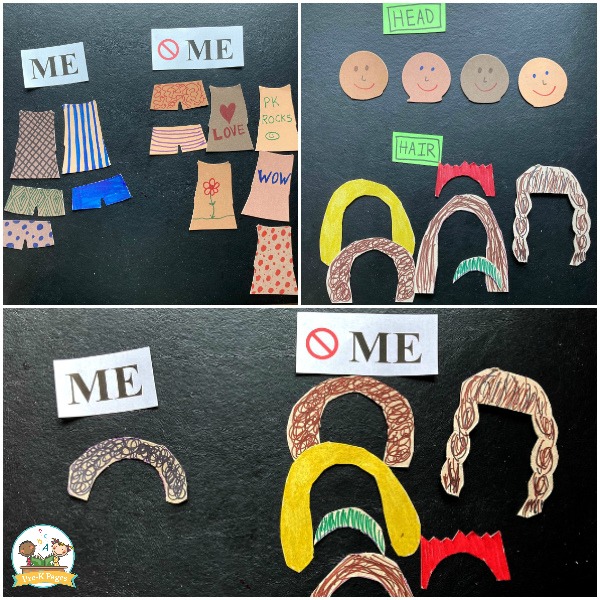 Like Me/Not Like Me Sort
Make Labels: LIKE ME and NOT LIKE ME
Invite children sort the items based on their own criteria. For example, Rebekah has brown hair, so the blonde hair goes on the "Not Like Me" side. Kids might think "I have arms, so it goes on the 'Like Me' side." That is okay. This activity is designed to learn about themselves and their friends. Let them sort the items any way they want.
Sort based on likes and dislikes: hairstyles, shirts, shorts.
Looks Like ______ Activity
Invite kids to make people puzzles based on what their friends look like.
Ask guiding questions like "How could we make it look more like Benjamin?"
Allow children to share their creations with the class.
Expert Tip: Use these activities after reading All are Welcome by Alexandra Penfold, or The Skin You Live In by Michael Tyler.
Contributed by Carla Goldberg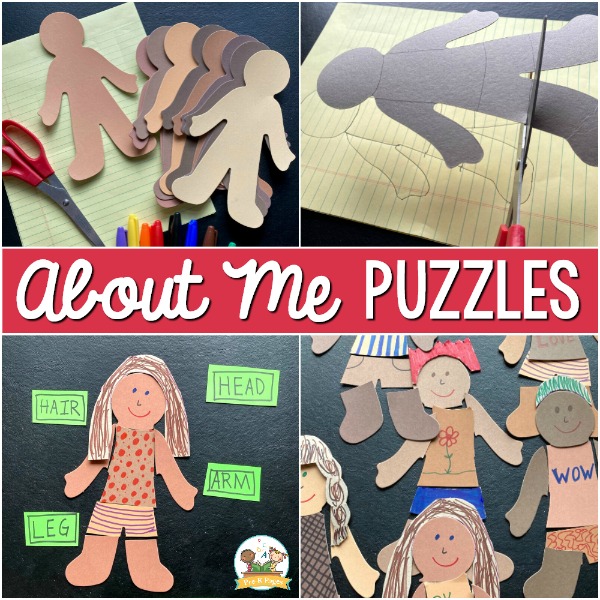 Other books to consider:
All About Me Books
Books About Feelings and Emotions
You may want to start a Question of the Day in your classroom, too!